Yesterday, news hit the Twittersphere that Tom Brady's throwing hand was a bit dinged up.
Tom Brady jammed his throwing hand at practice after accidentally being run into, according to a source. X-rays showed no structural damage.

— Karen Guregian (@kguregian) January 17, 2018
Not something you want to see as a Pats fan, but definitely something you want to see if you're a Pats hater, Jags fan, or Jags bettor.
Today, he was spotted back at practice with…a glove! This has sparked some lively conversations and comical memes on sites across the media industry, as well as some investigative journalism by Twitter folks.
Brady has a gauze under the glove…<yes, this is how Im wasting my lunch break>.. pic.twitter.com/kEDAdHhEDG

— Conference Championship Couch ? (@BCBCouch) January 18, 2018
So how have bettors reacted to the news? Is this all hype or should Patriots fans actually be concerned?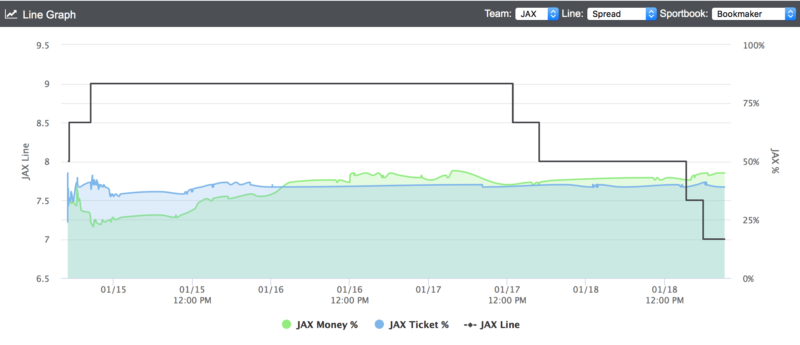 Yesterday, the Patriots were at -9 across the majority of the betting market. However, since the news broke, they've dropped to -8 … then -7.5 … then -7 at two of the sharper offshore books.
Though the Jags are getting just 40% of bets, we've seen their percent of dollars slowly tick up over the past 24 hours to 43%.
Keep track of the situation by following @ActionNetworkHQ.
Photo via Steve Mitchell-USA TODAY Sports