How One Bettor's Tom Brady Prediction Made Him Over $500,000
Credit:
Mike Ehrmann/Getty Images. Pictured: Tom Brady
On Super Bowl Sunday, at the Ocean Casino Resort in Atlantic City, a bettor sits in his chair calmly sipping a  Corona Light in his hand. Judging from his outfit — his shirt has an image of Tom Brady and the phrase "Better with Age" on it — he's clearly rooting for the Tampa Bay Buccaneers, but you can't tell exactly how much is on the line for him.
This is Mark DeRosa, a pro bettor from Florida, who does this for a living. And, by the end of the night, his futures bets that he took out of a safety deposit box just days before are on the Buccaneers and, in total, they will net him $550,000.
DeRosa loves finding early value in futures and betting as much as a sportsbook will allow him. Last year, he famously won $285,500 when Lamar Jackson won MVP. 
"New England wasn't that good last year," DeRosa told The Action Network. "They were running on fumes and some of that was put on Brady. When it was between the Bucs and the Chargers for Brady, I asked some bookmakers and they felt that Brady was pretty much the same as Philip Rivers. They weren't giving him any credit for what he'd done."
So DeRosa went ham. He bet on Brady to join both the Bucs and the Chargers. He bet on both teams to win their division, their conference and the Super Bowl.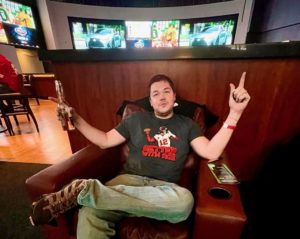 Although his Chargers bets lost, there was plenty to win on the Bucs — an $8,000 bet at 35/1 that they would win the NFC and a $2,000 bet at 65/1 that they would win the Super Bowl. DeRosa had a $10,000 bet at 8/1 on the Bucs to win the NFC South, but that didn't hit as New Orleans took the division.
"When I posted it on Twitter, the trolls came out with their 'Old Man Brady' lines," DeRosa said. "He can't throw down field and how he'll be a shell of his former self. Well, I just thought he'd have doubters until the day he left the game."
As the third quarter ended, with the Bucs up 31-9, it finally hit DeRosa. He was going to win big. 
"They weren't playing that well towards the end of the season," DeRosa said. "What you saw Sunday night was literally their best game all season. There wasn't a single mistake the whole game. There was flawless execution on both sides of the ball."
It wasn't all winners for DeRosa, who tweeted out his stack of losing tickets on Monday night.
Everyone likes to hear about the big long shots that paid off huge, it's a fun story. Here's all the bets I did NOT win yesterday. Eeked out a small win aside from the big futures cash. It's a grind! pic.twitter.com/vMX4cRds8e

— Mark DeRosa (@edteach23) February 9, 2021
 DeRosa will use some of the money to pay for an addition on a house that was already in process. He might buy a vacation property to build on his real estate holdings. And it will also allow him to expand his bankroll. 
"There wasn't as much joy as there was relief when it was over," DeRosa said. "I know I won't ever get the opportunity to capitalize as much on Brady ever again."
How would you rate this article?