Buccaneers vs. Saints Odds & Picks: The Smart Way To Bet On Sunday's Playoff Dog
Credit:
Jonathan Bachman/Getty Images. Pictured: Mike Evans, Marshon Lattimore
Buccaneers vs. Saints Odds
Buccaneers Odds

+2.5

Saints Odds

-2.5

Over/Under

52.5

Time

6:40 p.m. ET

Day

Sunday

Odds as of Sunday afternoon and via BetMGM, where you can bet $1 on the Buccaneers moneyline to win $100 if Tom Brady throws a touchdown.
Over the last three postseasons, the New Orleans Saints have suffered two overtime losses in addition to a loss on the final play of a game, which later became known as the "Minnesota Miracle."
This year, they'll try to erase those memories in what could be Drew Brees' last chance to win a Super Bowl. The future Hall of Famer is rumored to retire at the end of the year.
Awaiting the Saints will be a familiar foe in the Tampa Bay Buccaneers. Although New Orleans has defeated Tampa Bay twice already this season, I wouldn't count out the Buccaneers just yet in this matchup.
Tampa Bay Buccaneers
If you're looking to back the Buccaneers on Sunday, I think the first place to start is by examining their schedule for answers to how they suffered two double-digit losses to the Saints in the regular season. Since it happened twice already, it probably wasn't an anomaly, but explaining how it happened could shed some light on whether it can be corrected.
Tampa Bay faced New Orleans in Week 1. The Saints closed at anywhere from a 4-4.5 point favorite and covered the spread with a 34-23 home win. Sharp bettors were all over the Saints in this spot, and it made sense — after all, it was Brady's first game in a new city, with a new team, a new coach, a new offensive line, etc.
With the NFL scrapping the preseason as part of their negotiation with the players' union, there wasn't any time for Brady and company to fully get acclimated.  Frankly, it's a marvel that Tampa Bay even scored as many points as it did. I don't think it makes sense to view this game as anything more than a throwaway given those circumstances.
When Tampa Bay faced New Orleans again in Week 9, they were 6-2 and came into the matchup on a three-game winning streak. Unfortunately for the Bucs, New Orleans jumped on them with 14 first-quarter points and ended up winning the game handily, 38-3.
Tampa Bay was always going to be in a tough spot going into that game. First, they had to avoid a possible letdown on Monday night against the Giants on the road. Then, they had a shorter week of rest with only five days in between games.
Since 2014, teams in this spot facing opponents on normal rest (six days) the following week are 36-49 (42.4%) against the spread. Tampa Bay was boat raced from the start and even trailed 31-0 at halftime.
Per ESPN.com, the Buccaneers finished the regular season with the fourth-largest point differential (+137).  If you take out their two games against the Saints, their point differential would be +182. While it might sound a bit ludicrous to propose such a thing, Tampa Bay wasn't outscored by more than a field goal in their other three losses. In fact, they were outscored by a total of seven points. Two of those losses were to the Rams and the Bears—both of which are in the top-10 of Football Outsiders' defensive DVOA rankings.
I think Tampa Bay fans can take some solace because the Bucs were within a field goal against a stout Rams defense and also against the defending champion Kansas City Chiefs. Let's not forget that the Bucs also had an impressive 38-10 win over the NFC's top-seeded Green Bay Packers.
It's important to understand why both games worked against the Bucs situationally because that's the only way to make sense of the current spread, which has the Saints only as a 3-point favorite despite winning both games against the Bucs by double-digits. If it seems too good to be true, then perhaps that's because it probably is.
Running back Ronald Jones II (quad/finger) is listed as questionable for Sunday, but at the very leastTampa Bay will be pleased to have Chris Godwin (hip/quad) and Mike Evans (knee) fully available.
New Orleans Saints
Trying to make an argument against the Saints is a tough ask, considering they outscored the Bucs by a combined total of 46 points in the teams' two matchups. We know that the Saints game plan will be to put Brady under pressure and make him see ghosts.
Per Pro Football Reference, New Orleans is ranked fifth in quarterback hits and sixth in sacks on 7.5% of passing plays. The Saints can generate tremendous pressure with their front four despite being ranked 14th in blitz percentage (31.8%).
In the first two meetings, New Orleans intercepted Brady five times, and his Pro Football Focus grade was almost 25 points lower against the Saints than all other opponents combined.
Tampa Bay will need to bring in extra protection on the line against this Saints defense. New Orleans speeds up opposing quarterbacks and baits them to take shots down the field where the Saints' ball hawks are waiting to add to their league-leading 18 interceptions on the season.
Per Sharp Football Stats, no other team completed more explosive passing plays down the field than Tampa Bay.
While this might work against other teams, this is actually disadvantageous when the opposing team is the New Orleans Saints.
The Buccaneers desperately need to change this strategy if they're to have any chance at beating the Saints. This is one instance where less is more, and by that, I mean using a balanced rushing attack to slow the game down.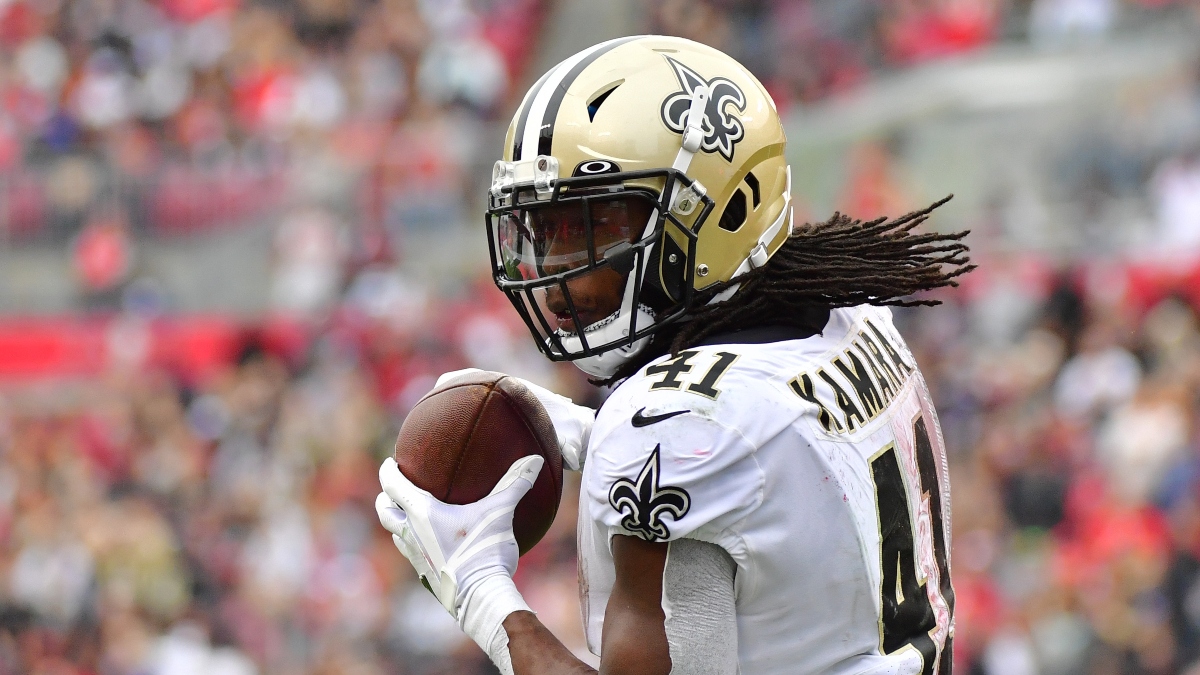 Tampa Bay is ranked 30th with a run play percentage of 36.55%. Contrast that with the Saints, who are fifth in the same category with a run play percentage of 47.23%. New Orleans rushing attack helps them control the time of possession as they're ranked third with almost 32 minutes per game, whereas Tampa Bay is 21st with 29 minutes of possession per game.
Buccaneers-Saints Pick
After looking at all the data, one really has to ponder why the Saints are only 3-point favorites. In fact, they opened as a 3.5-point favorite and were quickly bet down within minutes after hitting the board.
I'm not going to tell you that it's difficult to beat a team three times in a season because Russell Baxter has already debunked that theory at fullpresscoverage.com.
Instead, I did a different query to see how teams have fared when facing an opponent they've defeated by double-digits twice for the third time. Using a database that goes back roughly 20 years, I could only find two examples of this situational spot: The 2007 Cowboys at home against the Giants and the 2017 Saints at home against the Panthers.
Neither team covered the spread in the third meeting.
While it's a minimal sample size, I think the fact that the Bucs were firmly beaten in the regular season actually helps them to make the necessary adjustments this time around.
Our NFL PRO Report has also spotted some reverse line movement on the under in this game, which I think bodes well for a play on Tampa Bay if it turns out to be a lower-scoring game. I don't know if the Bucs can win this game, but I do think that half-point could come into play.
You can buy the half-point to lock the Bucs in at +3.5 (-125) at BetMGM. I'd also give them strong consideration as part of a 6-point teaser, which I made the case for here.
Pick: Buccaneers +3.5 (-125)
How would you rate this article?