Browns vs. Chiefs Odds & Picks: Your Guide To Betting Sunday's Playoff Showdown
Credit:
Getty Images. Pictured: Baker Mayfield, Patrick Mahomes
Cases for both sides of the spread. A pick on the total. A first-half angle. A teaser.
Our staff breaks down how they're betting Sunday's Chiefs vs. Browns showdown.
Find the latest odds and their picks for this NFL playoff matchup below.
Browns vs. Chiefs Odds
Browns Odds

+9.5

Chiefs Odds

-9.5

Total

56.5

Time

3:05 p.m. ET

Day

Sunday

Odds as of Sunday afternoon and via PointsBet, where you can bet $20 on Chiefs-Browns to win $125 if Patrick Mahomes completes a pass.
Reigning champions. Current Super Bowl favorites. Unstoppable force?
The Chiefs sure have the look of it, losing only one game en route to locking in the AFC's No. 1 seed before resting Patrick Mahomes in a meaningless Week 17 loss. Now coming off the bye, they host the 6-seeded Browns, who upset the Steelers in the Wild Card Round.
Is this 10-point spread an accurate reflection of this matchup? Three of our analysts don't think so, but one does. Our staff details how they're betting Sunday's game below, featuring picks on the total and more.
Chiefs vs. Browns Picks
Click on a pick below to skip ahead to that analysis.
Browns Spread
Stuckey: Even after adjusting for the bye and Andy Reid's success in this spot — he's 16-9 against the spread off a bye — I still make this line only Chiefs -8. Therefore, I gladly grabbed +10 with the Browns.
I don't think Cleveland will have any issues moving the ball against a Kansas City team that really struggles to defend the run and play-action pass. The Browns should dominate the line of scrimmage and open up holes for their two dynamic running backs all day.
It's also undeniable how well Baker Mayfield has been playing of late. In fact, over the past 10 games, he and Aaron Rodgers rank first and second in passer rating on first-read throws. You can expect plenty of play-action and short passes to neutralize a Chiefs defense that blitzes at the fourth-highest rate.
On the other side of the ball, getting Denzel Ward back should help Cleveland's defense, but let's not put lipstick on a pig — this defense is atrocious. If you remove the three heavy wind games they played, the Browns rank second-to-last in points per drive. This unit is very reliant on turnovers, but you can't really depend on those against the Chiefs.
I don't think Patrick Mahomes and Co. will have any issues putting up points. That said, the offense just isn't humming at the same level as it was last season — there's a reason they've covered only once over the past two months and haven't won by more than a touchdown since Week 8 against the Jets.
What's the issue? The offensive line certainly has seen a drop in production due to injuries, but some believe it's just complacency.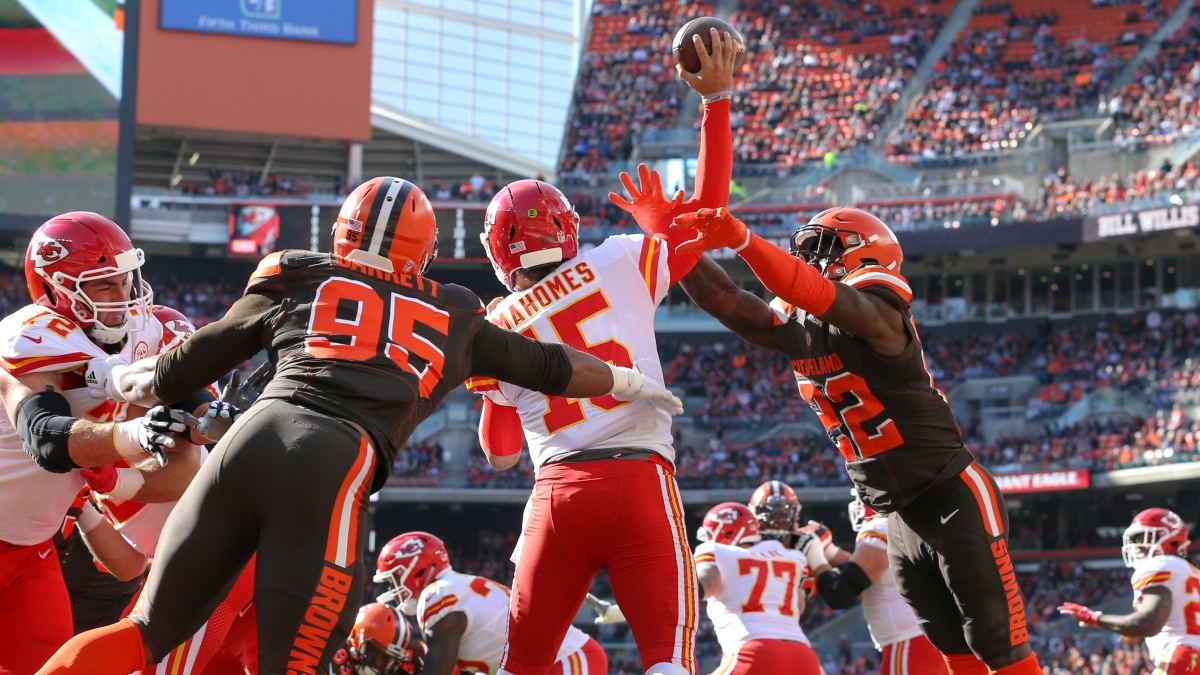 Look, if the Chiefs can simply flip the switch and come out firing on all cylinders right out of the gates here, I will tip my hat. However, I will pay to find out, especially since we could see some rust after coming off a bye after resting their starters in Week 17.
Over the past 10 seasons, Divisional Round favorites coming off a bye after resting their starters in Week 17 have gone 0-5 against the spread. And if you recall, Kansas City went down big early in this spot last year before exploding against Houston.

I just don't see any reason the Browns can't duplicate what we saw from the Raiders in two matchups with the Chiefs this season. Vegas actually won in Arrowhead and lost a tight one at home, covering both while allowing 30-plus points.
Chiefs Spread
Anderson: It's been a dream season for the Browns, but it'll take something special to pull off the upset here. The Chiefs are better on offense, defense and special teams. They have a coaching advantage, home-field advantage and experience.
This is a massive mismatch.
And it gets worse.
Cleveland is one of the worst teams in the league against tight ends. The Browns are bottom five in Football Outsiders' DVOA on passes to tight ends as well as on third down and deep passes. You watch football, right? You've seen Travis Kelce and Tyreek Hill play? Those seem like bad weaknesses to have against the Chiefs.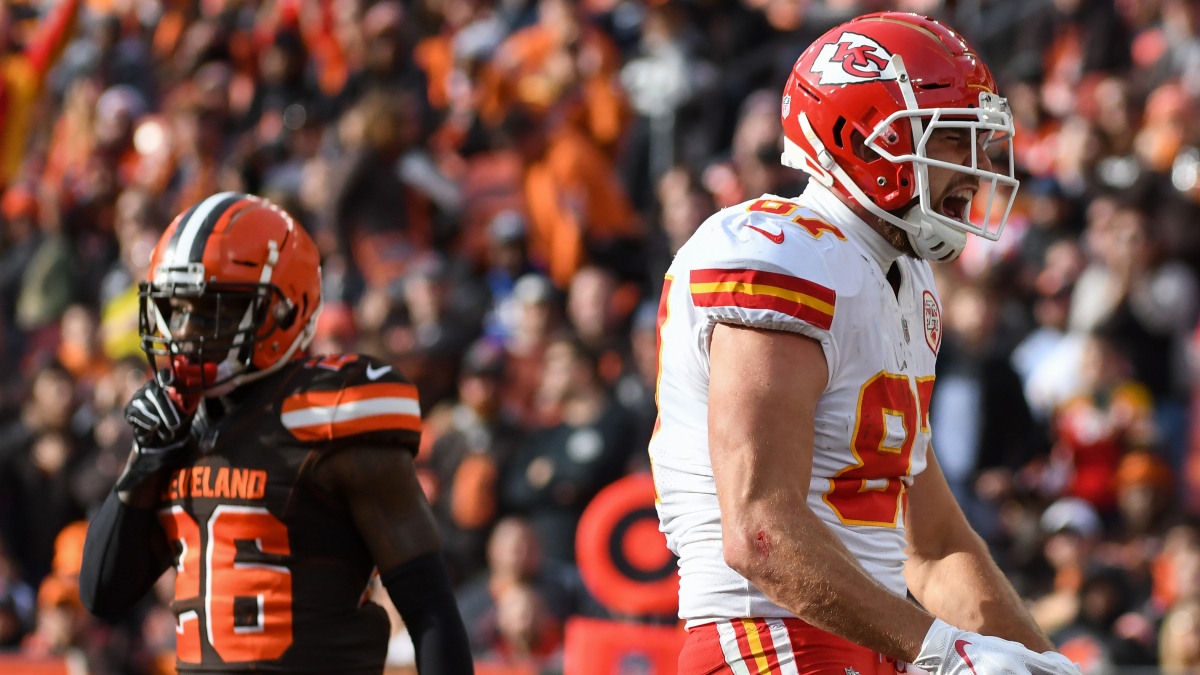 Remember how the Browns were up 28-0 after the first quarter a week ago? If that somehow happened here, I would run to bet on a Chiefs comeback. Look how close a bad Steelers offense got to pulling off an incredible comeback against these Browns, even with that horrid start and five turnovers.
The Chiefs will always have a shot in this one. Always.
If the Browns win, it would be because of their run game on both sides. It would mean their offensive line was the best unit on the field, that Kareem Hunt has a revenge game, and that he and Nick Chubb keep their offense on the field for 40-of-60 minutes. And it would mean a coaching failure on the other end, that the Chiefs over-committed to the run with a banged-up line against a defense that's at least decent against the run.
If all of that happens, Cleveland has a chance.
I can't get there.
The Chiefs should be able to name their final score in this game. Barring another sequence of Browns miracles or a Mahomes injury, the Chiefs should move the ball and score with ease. Nine times this season they scored 32 or more points, averaging nearly that number until taking their foot off the gas over the final two weeks.
The Browns have given up 34 or more points seven times this season, including five of seven games against teams above .500 — that also includes three of their last six games, and all three times they faced an offense that finished top 10 in DVOA.

In the end, I'm just trusting the team that's better at all facets of the game, better at coaching, healthier, faster, more creative, and nearly unbeatable with the best player in the game.
Under
Koerner: The Browns defense, much like all other teams, won't be able to stop Patrick Mahomes. But Denzel Ward's return gives them a huge boost, and his 4.32 speed should allow him to keep up with the human cheetah, Tyreek Hill.
The Chiefs offense should have no problem putting up points when they have the ball. But what if the Browns can play "keep away" instead? That's what I think the game plan will be from head coach Kevin Stefanski.
The Chiefs are vulnerable against the run, ranking 31st in rush DVOA. It's a weakness the Browns can exploit with the NFL's best running back duo in Nick Chubb and Kareem Hunt. They should be able to move the ball and shorten the game with the same run-heavy approach they've used all season. Their pace is slow by design — they're sixth-slowest per Football Outsiders — and I expect them to amply that strategy here, making this total way too high.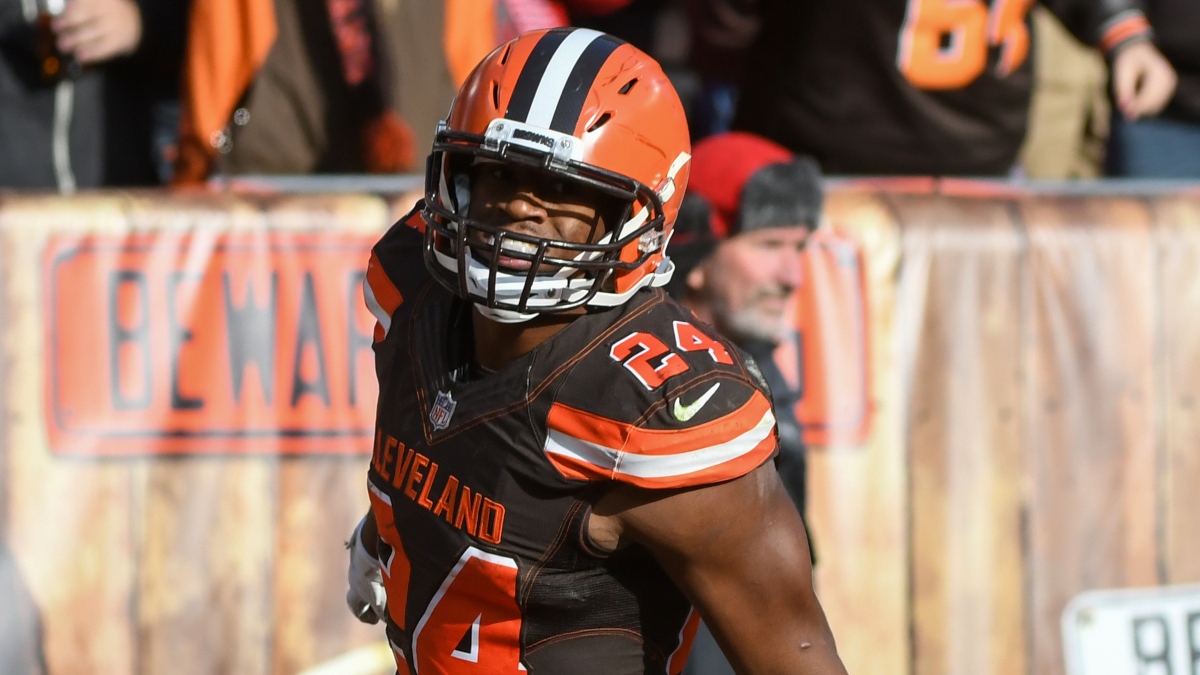 This total could also be overreaction to the Browns' 48-37 win over the Steelers last weekend. The 85 points scored were +30 above my "expected total" of 54.9 points, which attempts to filter out the randomness of big plays and turnovers, and that game had plenty! It's why the public may be overreacting with 80% of the bets coming in on the over as of writing (find real-time public betting data here).

My projected total (54.5) was in line with where this line opened, so I want to lock this under in while BetMGM is offering it at 57.5, considering that's a key number. Plus 58-60 is a bit of a dead zone for totals, so there's no reason to wait and see if it gets bet even higher.

Browns 1H Team Total Over
Palmer: We've all heard "Public Service Announcement" when Jay-Z uttered the words, "My homie Strict told me, 'Dude finish your breakfast.'" Well, the reigning Super Bowl champion Chiefs might have a 14-2 record, but it's not an understatement to say this team hasn't quite finished the job when it comes to closing out games.
The Chiefs haven't covered a game in nearly three months, last getting their backers to the window with their 35-9 victory over the abysmal Jets in early November. While most people are expecting the Chiefs to just magically flip the switch after spending weeks upon weeks playing with their food, I find their play concerning — there's only so many times you can win one-score games before you end up on the wrong side of variance.
Despite winning 14 games, they have a Pythagorean Expectation of just 10.5 wins, which tells us they aren't as good as their record indicates.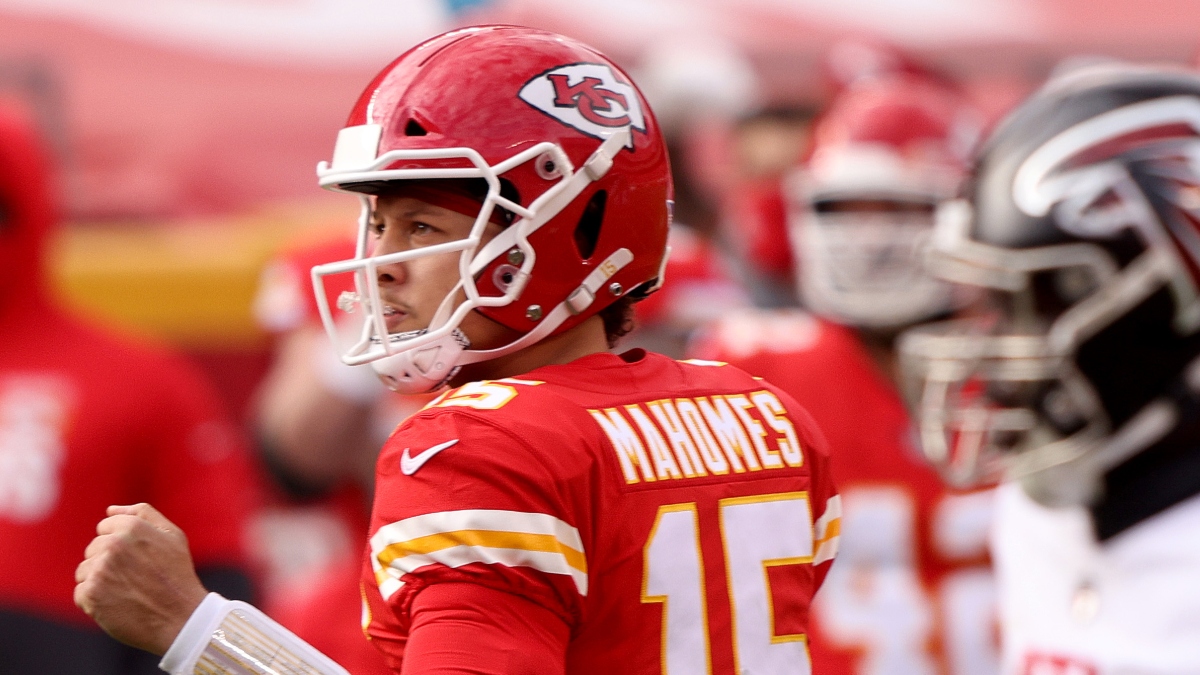 Going back to the 2019 Divisional Round, the Chiefs spotted the Texans a 24-point lead before scoring 41 straight points to put the game out of reach. Then in the AFC Championship Game, the Chiefs spotted the Titans a 10-0 lead before taking control and eventually winning, 35-24. And in the Super Bowl, the Chiefs were down 20-10 with 6:13 left before scoring 21 unanswered points to get Andy Reid and Patrick Mahomes their first championship.
The Super Bowl hangover typically applies to losing teams, but this season has felt like a continuation of the 2019 playoffs for the Chiefs as their tendency to spot opponents leads or let them back into games has been a theme all season.
I've been looking for a way to fade the Chiefs in these playoffs. While my projections make them nearly 9-point favorites, and thus the Browns +10 a positive expected value proposition, as the Double X Posse once rapped then Fab Five and NBA point guard Jalen Rose reintroduced to our vernacular: "I'm not gon' be able to do it."
This spread is a tad bit too high. The Browns offense should find some success through the air and running the ball against a Chiefs defense that ranks 31st in defensive rushing efficiency and 19th in rushing success rate while giving up 122.1 rush yards per game. Kevin Stefanski's offense is largely based on play action, so if the Browns can get the run game going, they will find success through the air as well.
That said, given Cleveland's defensive struggles, I just can't take the +10 despite how appetizing it may look. This unit ranks 25th in defensive efficiency, including 25th against the pass and 19th against the run — that's food for Mahomes and a Chiefs offense that's scoring 29.6 points per game.
Why not remove the Browns defense from the equation?
With the Chiefs resting players in Week 17, they're likely to come out rusty after having two weeks off. With the Browns spending the regular-season finale fighting for their playoff lives then carving up a Steelers defense that ranks first in defensive efficiency, sacks (56) and pressure rate (33.3%) in the Wild Card Round, you have to expect the Browns to score against an inferior defensive unit.
With sharp money hitting the screen on the over to push this total to 57 (find real-time odds here), I'm going to bet on the Browns to come out fast and score some points. Either way, the game script should work well — if they fall behind, they'll be throwing early. If they're ahead on the scoreboard, they'll have their foot on the gas pedal looking to score as much as possible.

I'll take the Browns first-half over up to 12.5 points.
6-Point Teaser: Browns +16/Bucs +9
Michael Arinze: The Chiefs are 14-2, but as my colleagues have covered thoroughly, they've struggled to win by margin and are just 7-9 against the spread with only one cover over their last eight games. They've been welcoming to opponents, continuously leaving the back door open.
Against the better offensive teams in the league, the Browns have done well to hold their own. They have two wins against top-12 teams in offensive DVOA: A road win against the fourth-ranked Titans and a home win against the 12th ranked Colts. Since their bye in Week 9, the Browns are 7-2, and they could've been even better if not for a Herculean effort by Lamar Jackson in Week 14 and a COVID-19 outbreak that left the offense decimated at wide receiver.
The Browns are one of the more balanced team in the NFL with a pass/run play percentage at 51.6% to 48.4%, and they come into this game ranked third with 147.1 rushing yards per game. The Chiefs are 22nd in defensive DVOA but 31st against the run.
Double-digit dogs averaging at least 140 rushing yards have a 14.3% ROI since 2003, according to our Action Labs data.

I like the idea of teasing the Browns up six points and pairing them with the Buccaneers. You shouldn't have much trouble shopping for lines as I don't think we'll get much movement off the key numbers leading up to kickoff.
How would you rate this article?