Where's the Fantasy Football Value in the Lions' Passing Game?
Credit:
Photo credit: Raj Mehta-USA TODAY Sports. Pictured: Marvin Jones
The Lions boast several competent pass-game weapons. Who offers more fantasy football value between Kenny Golladay and Marvin Jones?
It's officially time to start fantasy football prep. I'll be answering the biggest questions heading into the 2019 season; this is part of that series.
---
The Lions selected Matthew Stafford with the No. 1 overall pick of the 2009 NFL draft. He's flashed some tantalizing talent over the years and formed arguably the league's most-productive quarterback-receiver partnership with Calvin Johnson.
Stafford deserves some credit for leading the Lions to as many winning seasons from 2008-2018 (four) as the organization racked up from 1994-2008, but it's tough to get too excited about any time frame that consists of zero playoff wins.
More troubling has been the offense's consistently below-average scoring offense:
Lions rank in points per game since Matthew Stafford took over in 2009:

2018: 25th
2017: 7th
2016: 20th
2015: 18th
2014: 22nd
2013: 13th
2012: 17th
2011: 4th
2010: 15th
2009: 27th

Average: 16.8

— Ian Hartitz (@Ihartitz) July 5, 2019
What follows is a breakdown of what to expect from the Lions' passing game in 2019, as well as who might hold some fantasy football value.
The Lions will have a new-look offense in 2019
New offensive coordinator Darrell Bevell was out of football in 2018. He spent 2006-2010 as the Vikings offensive coordinator before later working from 2011-2017 as the Seahawks offensive coordinator. Bevell consistently led above-average scoring offenses, ranking inside the league's top-12 scoring units seven times over that span.
The biggest change to expect in the Lions' passing game could be an added emphasis on the deep ball. Overall, Russell Wilson posted four seasons with a top-10 deep-ball rate from 2012 to 2017 under Bevell; Matthew Stafford has ranked 17th, 23rd, 33rd, 35th, 25th, 13th and 30th over the past seven years.
This is good news in an offense featuring two wide receivers who are talented at climbing the ladder and making contested catches in Kenny Golladay and Marvin Jones.
Still, Bevell's presence might be best for the fantasy stock of Kerryon Johnson. Former Lions offensive coordinator Jim Bob Cooter had the best name in all of coaching, but he wasn't exactly the best at enabling fantasy-friendly running backs. The Lions ranked 30th, 31st, 31st and 18th in rush attempts in his four years calling plays from 2015 to 2018.
Johnson is certainly a capable talent …
… and Bevell has ranked inside the league's top-10 most run-heavy play-callers in seven of his 12 seasons as an OC since 2006. He's made a concerted effort to get his lead back plenty of touches over the years.
The Lions' decision to trade Golden Tate during the 2018 season reflects their current direction of forming a run-first offense that isn't afraid to take shots downfield. The key question is whether Stafford can play at a level worthy of his price tag and elevate some of his talented teammates.
The Lions have multiple talented receivers
It remains to be seen exactly how the target share will shake out for the Lions' new-look group of receivers, but there's a couple capable options inside of the offense's 3-WR sets.
Kenny Golladay is the frontrunner to lead the offense in targets after coming on strong at the end of the 2018 season. His average of 17.2 PPR points per game in 12 career outings with more than five targets would've been good for the 13th-highest mark among all wide receivers last season.
Golladay possesses the size (6-foot-4 and 218 pounds) and athleticism (84th-percentile SPARQ-x athlete) of a true No. 1 wide receiver. He's demonstrated the ability to take over games with raw ability on more than a few occasions during his short career.
Marvin Jones missed the final seven games of last season with a bone bruise in his knee and underwent a clean-up surgery during the offseason. Jones is on track to suit up for training camp and will look to continue to function as one of the league's premiere contested-catch receivers.
Jones worked as the WR45, WR14 and WR27 in PPR points per game from 2016-2018 with the Lions, respectively. He averaged a league-high 18 yards per reception in 2017 and will be (at worst) a high-end boom-or-bust option next season.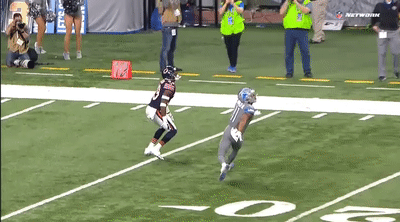 Danny Amendola will slide into the slot between Jones and Golladay in the Lions' starting 3-WR sets.
This role produced an average of 131.8 targets per season from 2013 to 2017 for Tate, although Amendola hasn't seen even 90 targets in a season since 2012. It seems unlikely that the offense will stray too far away from its stud outside receivers.
Amendola will also have to compete for underneath targets with Theo Riddick and Johnson. He's a better real-life addition than someone we should look to target in fantasy football.
T.J. Hockenson was selected with the No. 8 overall pick in the 2019 draft and is expected to start from Day 1. We'll see if Stafford can turn Hockenson into a better weapon than he managed with Eric Ebron, but regardless it seems unlikely Hockenson receives a featured pass-game role as a rookie. Evan Engram is the only player to finish his rookie season as a top-10 PPR tight end since 2010.
Add it all together and …
Jones offers the most fantasy football value in Detroit
It's unlikely this run-first version of the Lions offense manages to enable more than a few players to be consistent fantasy football assets. The entire offense is a bit of an unknown entity, as there are multiple competent talents who warrant a good amount of opportunity in both the run and pass game.
Still, we can use this mystery to our advantage. Golladay narrowly out-targeted Jones 17 to 15 in two games without Tate last season and hasn't posted significantly superior stats since 2017, yet the public has crowned the former receiver as the team's clear-cut No. 1 pass-game target.
Overall, Golladay (PPR WR19 average draft position) is being selected 50 spots lower than Jones (WR38) on average despite posting almost identical numbers over the past two seasons.
Golladay (26 games): 167 targets, 98 receptions, 1,540 yards, 8 TDs
Jones (25 games): 169 targets, 96 receptions, 1,609 yards, 14 TDs
Only Russell Wilson and Tyler Lockett (10.95 adjusted yards per pass attempt), Patrick Mahomes and Tyreek Hill (10.58), Jared Goff and Brandin Cooks (10.47) and Dak Prescott and Amari Cooper (9.92) have been more efficient than Stafford with Jones (9.87) and Golladay (9.86) among all starting quarterbacks and their respective No. 1 wide receivers.
This isn't to say you shouldn't draft Golladay; the man is a beast and fully capable of finishing the season as a WR1. Still, Jones offers the most value at the moment at his reduced cost in an unclear offense.
How would you rate this article?