Drew Brees' Record-Breaking Career: His Journey to Becoming NFL's All-Time Passing Leader
Credit:
Derick E. Hingle-USA TODAY Sports. Pictured: Drew Brees
Drew Brees became the NFL's all-time passing leader en route to the New Orleans Saints' victory on Monday Night Football, unseating Peyton Manning.
The milestone cements Brees' place as one of the most accomplished quarterbacks in league history.
Here's a big-picture look at his place among football legends, how he kick-started the current passing revolution and more.
Drew Brees entered the New Orleans Saints' Monday Night Football matchup third in NFL history with 71,740 career passing yards — only 98 behind Brett Favre and 200 behind all-time leader Peyton Manning.
Facing the Redskins with 11:46 left in the second quarter and the ball on the Washington 11-yard line, Brees passed Favre with a short first-and-10 attempt to running back Alvin Kamara, who picked up six yards.
Later in the quarter, at the 2:46 mark, starting a drive at the New Orleans 38 with 166 yards passing, Brees unleashed a deep pass to third-round rookie wide receiver Tre'Quan Smith, who stood alone near the right sideline. Easily catching the ball, he ran into the end zone nearly untouched.
Record: 71,968 career yards.
And counting.
Here's everything you need to know about Brees' legendary career and his record-breaking night.
All-Time Quarterbacks Drew Brees Has Passed
In 2006, Brees arrived in New Orleans with 12,348 yards passing, one Pro Bowl on his résumé and a damaged right shoulder. To that point in his career, he had never thrown for 4,000 yards in a season, and his long-term NFL future was in doubt.
Since then, with the guidance of head coach Sean Payton, Brees has strung together 12 consecutive 4,000-yard seasons, leading the league in passing yards seven times and hitting the 5,000-yard threshold five times.
Over his 12-plus years in the Crescent City, Brees has passed a number of Hall-of-Fame quarterbacks on his way to the all-time yardage record.
No. 5: Dan Marino (61,361)
No. 9: John Elway (51,475)
No. 10: Warren Moon (49,325)
No. 11: Fran Tarkenton (47,003)
No. 16: Dan Fouts (43,040)
No. 18: Joe Montana (40,551)
No. 19: Johnny Unitas (40,239)
No. 27: Jim Kelly (35,467)
No. 35: Steve Young (33,124)
No. 36: Y.A. Tittle (33,070)
No. 37: Troy Aikman (32,942)
No. 40: Kurt Warner (32,344)
The list goes on: Sonny Jurgensen, Len Dawson, Terry Bradshaw, Ken Stabler, Joe Namath, George Blanda, Bobby Layne, Bob Griese, Bart Starr, Norm Van Brocklin, Otto Graham, Roger Staubach, Sammy Baugh, Sid Luckman.
Every great quarterback ever to play the game at the highest level.
Year-by-year, game-by-game, throw-by-throw, Brees has passed them all.
He has only one All-Pro selection (2006) and Super Bowl title to his name, but Brees has built on the legacy of all the great quarterbacks to play before him.
With this record, Brees is unquestionably one of the most accomplished passers of all time.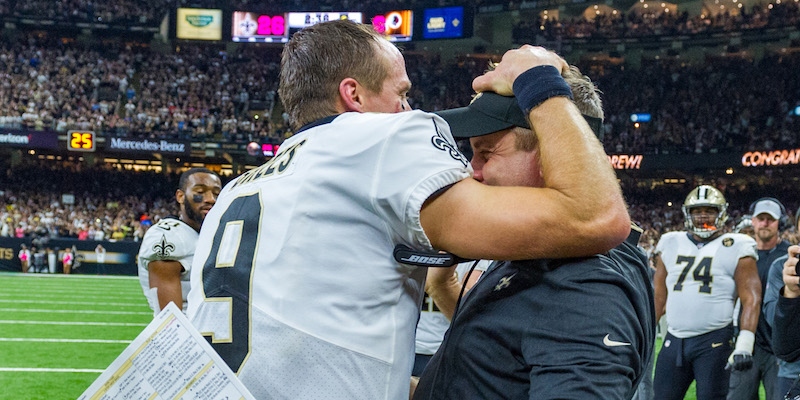 All-Star Teammates Who Caught Drew Brees' Passes
In his quest for NFL immortality, Brees has had some help along the way. He's completed passes to 100 different players, one of which is himself on several batted attempts.
While many of these pass catchers will eventually be forgotten by history, some of Brees' teammates have been all-time greats.
RB LaDainian Tomlinson
In 2001, the Chargers traded the No. 1 overall pick to the Falcons, who drafted quarterback Michael Vick. With the No. 5 pick, the Chargers drafted Hall-of-Fame running back LaDainian Tomlinson.
Then with the first pick in the second round, they drafted Brees.
Over the next five years, Brees helped LT become one of the best pass-catching backs in the league, feeding him 341 targets, which LT turned into 1,750 yards. (LT also completed two passes to Brees on trick plays for 59 yards and a touchdown.)
TE Antonio Gates
In San Diego, Brees also helped an undrafted and raw basketball player-turned-tight end channel his potential and become the All-Pro archetype for the high-upside athlete who transitions to football from another sport.
If not for Brees and the 2,279 yards he distributed to Gates within the first few years of his career, Gates might just be a footnote instead of a future Hall of Famer.
RB Reggie Bush
In New Orleans, Brees has worked his magic with a wide array of players. He gave Bush 121 targets, the most ever for a rookie running back. In his half decade with the Saints, Bush turned his 400 targets from Brees into 2,142 yards as he became the league's premier pass-catching back.
RB Darren Sproles
After Bush's departure, Brees helped the undersized Sproles finally realize his full potential in his seventh NFL season, as he transitioned from a change-of-pace back and return man to a fully integrated member of the league's best passing offense. In his three years with the Saints, Sproles accumulated 1,991 yards on his 308 targets.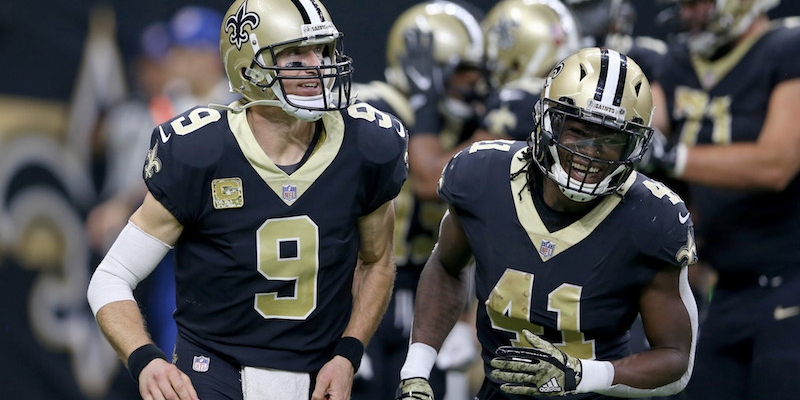 RB Alvin Kamara
Last year, Kamara assumed the pass-catching mantle among the Saints backs. With his 100 targets — the third-highest total all-time for a rookie back — Kamara led all running backs with 826 yards receiving in 2017. In his brief yet impressive career, Kamara has been the most productive receiving back in the NFL.
TE Jimmy Graham
In 2010, the Saints drafted a former basketball player who transitioned to tight end in his senior year at Miami (FL). They hoped he would become their version of Gates.
He exceeded their wildest expectations.
During his five years in New Orleans, Graham helped transform the tight end position, playing essentially as a big-bodied slot receiver. Brees' No. 1 option for several seasons, Graham earned 4,725 yards from the quarterback, the second-highest mark for any of Brees' pass-catchers.
WR Lance Moore
Throughout his career, Brees has shown an amazing ability to help no-name, undersized, slot-bound wide receivers become respected contributors. In 2008 — his fourth year with the Saints — the undrafted Moore led New Orleans with 121 targets, 79 receptions, 928 yards and 10 touchdowns. In his eight years with the team, he caught 4,283 yards from Brees, the third-highest mark.
WR Willie Snead
After the 2013 season, Moore moved on from New Orleans, and Snead — another undrafted and undersized slot receiver from a non-major program — became Brees' go-to option in the middle of the field. In his four years with the Saints, Snead caught 1,934 yards from Brees.
WR Michael Thomas
In his third season, Thomas has emerged as one of the league's most dominant receivers with Brees throwing him the ball. Since Thomas entered the league in 2016, only Steelers wide receiver Antonio Brown has as many receptions as Thomas (242 each).
Even though he's played with Brees for fewer than three years, Thomas has the fifth-most receiving yards Brees has ever bequeathed to a receiver (2,827).
WR Brandin Cooks
A member of the all-time great 2014 rookie receiver class, Cooks played his first three years with the Saints before they traded him to the Patriots for a first-round pick. Only one player in Saints history had more receiving yards in his first three years than Cooks, who caught 2,782 of his yards from Brees.
WR Marques Colston
Colston is the wide receiver most tied with Brees. With 9,701 yards, Colston has more than double the number of Brees-based yards belonging to any other pass-catcher.
A high-upside, small-school, seventh-round rookie in 2006, Colston emerged as Brees' No. 1 option in the quarterback's first season with the Saints. A project player who was the unlikeliest of NFL breakouts, Colston is the receiving embodiment of Brees' genius.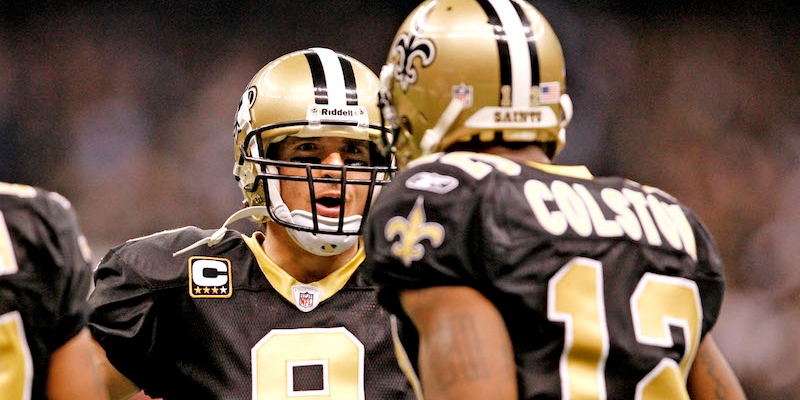 Regardless of the players put around him, as long as they have had some talent, some skill, some ability that distinguishes them in some way, Brees has found a way to turn his teammates into winners.
Colston never played in a Pro Bowl. The school from which he graduated (Hofstra) no longer has a football team. He will never receive serious Hall-of-Fame consideration. And yet, with Brees, Colston was one of the league's most dominant receivers on a per-game basis for seven years.
The wonder of Brees has nothing to do with his accumulation of unreal numbers in a pass-happy era — which he helped usher in, by the way. The wonder of Brees is that for 17 years he has helped great players become Hall of Famers, good players become great and mediocre players become good.
He has been the consummate teammate. He's one of the best ever to play because he's made everyone around him better. He doesn't have the all-time passing record because he's been blessed with great teammates. He has the record because he's made a career of making his teammates the best they can be.
---
>> Sign up for The Action Network's daily newsletter to get the smartest NFL conversation delivered into your inbox each morning.
---
Brees Is the Godfather of the Passing Revolution
For more than a decade, the NFL has progressively shifted toward an uptempo pass-focused style of play — so much so that now the league is on pace to break many all-time marks this year.
Not counting Monday night's Saints-Redskins game, teams are pacing for all-time per-game highs with…
23.9 points
365.4 scrimmage yards
258.1 yards per game
5.7 yards per play
21.0 first downs
23.8 completions
36.6 pass attempts
258.1 yards passing
1.8 touchdowns passing
13.1 passing first downs
65.0% completion rate
7.3 adjusted yards per attempt
Not coincidentally, teams are pacing for an all-time per-game low of 25.3 rushing attempts.
We are in the era of the quarterback, and Brees is the godfather. Before Aaron Rodgers got his first start in 2008, and before Tom Brady and the Patriots broke the single-season scoring records in 2007 with a revamped offensive attack, Brees and the Saints started the passing revolution in 2006.
And they did it by funneling targets to…
A rookie running back (Bush)
A late-round rookie wide receiver (Colston)
A former No. 1 receiver in his final year with the team (Joe Horn)
A straight-line speedster with shaky hands (Devery Henderson)
A "coach's player" who followed Sean Payton from his previous gig with the Cowboys (Terrance Cooper)
A grinding between-the-tackles runner with limited pass-catching ability and a fragile knee (Deuce McAllister)
No tight end to speak of (Mark Campbell)
And, of course, a free-agent quarterback almost no one else wanted.
More than 12 years ago, Brees and Payton worked together to usher in the current era. Brees isn't the greatest quarterback of this generation. But he might be the most important. If not for Brees and what he did in 2006, the game of football today might be utterly different.
Brees Is the King of New Orleans
When Brees signed with the Saints, the city of New Orleans was just beginning its long recovery from Hurricane Katrina. What had once been a vibrant stronghold of the carnivalesque had been reduced to a waterlogged cemetery of ruin.
Joy had left the city. At night, there was still jazz in the air, but it had no soul. It had no spirit. It just hung there, like a ghost.
And then the Saints saved the city.
It's too much to say that Brees is to New Orleans what Aragorn is to Gondor … but that's what I'm saying. Brees is the one true heir.
He is the king of New Orleans.
Is Brees the Greatest Fantasy Quarterback of All Time?
Since Brees joined the Saints in 2006, no quarterback has scored more than his 4,301.6 DraftKings points. Coming in second is Brady with 3,753.2, and only Rodgers has more than Brees' 22.2 DraftKings points per game with his 22.5.
Of course, over that time, Brees has averaged 14.9 games per year while Rodgers didn't become a starter until 2008 and has since played only 13.4 games per year.
Given his production and consistency, it's arguable — and perhaps probable — that Brees has been the best fantasy quarterback of the past 12-plus years. And that might be enough to make him the greatest fantasy quarterback of all time.
All hail the king. Long may he reign.
---
Matthew Freedman is the Editor-in-Chief of FantasyLabs. He has a dog and sometimes a British accent. In Cedar Rapids, Iowa, he's known only as The Labyrinthian.