Freedman: What Happened When I Traded My 2020 Dynasty First-Round Pick for Lamar Jackson
Credit:
Robert Hanashiro-USA TODAY Sports. Pictured: Lamar Jackson
Matthew Freedman details why he traded his 2020 first-round pick for Lamar Jackson in his dynasty fantasy football league.
The discussion includes Jackson's worth in dynasty, general player evaluation, whether trade vetoes should be allowed and more.
As I write this, it's the Wednesday of Week 14. Today is the trade deadline for my longtime dynasty league with friends from high school.
This is the league I care about the most. It's not a stretch to say I am in the fantasy sports industry now because of this league.
I love this league. It's a head-to-head best ball format, which I think is the best league-type possible.
I am the reigning champion and have won the league in four of the past seven seasons, but I still don't have back-to-back championships.
I am the No. 1 seed at 10-3 and lead the league in points scored, but in my estimation, my roster is aging at quarterback and running back and already vulnerable at tight end, which means my realistic championship window might be closing.
Now is the time to go all-in.
So I just traded my 2020 first-rounder (and Saints wide receiver Tre'Quan Smith) for Ravens quarterback and No. 1 fantasy points scorer Lamar Jackson. Fortune favors the bold.
So Is Lamar Jackson Worth a 2020 First-Round Dynasty Pick?
Soon after the trade was executed, one of the owners (we'll call him "Mike") emailed the commissioner and me, saying that he thought the trade was unfair and heavily skewed in my direction.
We don't have vetoes in this league — because this is 'Murica — but Mike wanted to voice his opinion, and that's reasonable.
A few words on Mike: We went to high school together, but this is only his second year in the league. He took over a poor team and has steadily rebuilt it. Now it's one of the best teams in the league. He's actually tied with me at 10-3 but is the No. 3 seed because of a tiebreaker. Tough break.
No one has worked the waiver wire better than Mike has since he joined. He's a good owner who cares about his team and the league.
With a guy like that, even if he's just blowing off some steam, I think it's worthwhile to try to explain my position. I want a guy like Mike to stay invested in the league.
With that in mind, I want to show the email exchange we had because I think it touches on a lot of points worth considering.
Jackson's current value in dynasty leagues.
The different approaches people have to evaluating players and trades.
The importance of having a no-veto policy.
The role of the fantasy commissioner.
The value of respectful back-and-forth conversation between league mates.
I've gotten permission from both Mike and the commissioner to publish this email thread (with some slight edits).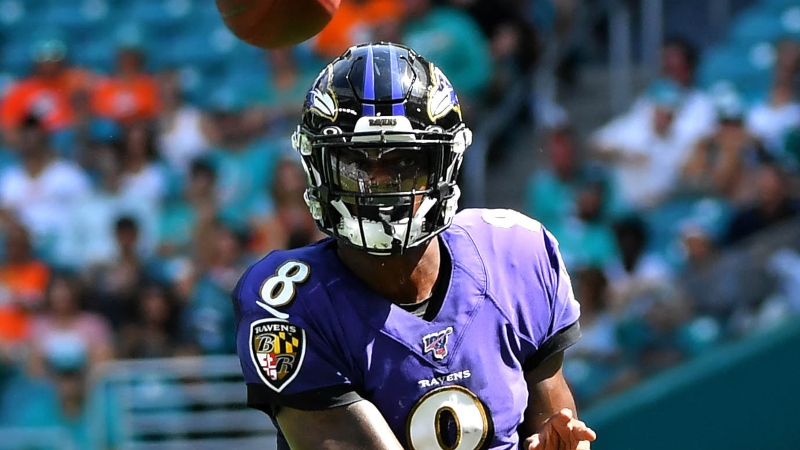 Lamar Jackson Is Worth Way More Than a First-Round Pick
Here's the initial email from Mike:
Not sure who to send this to, and I don't see where to vote or protest trades. The No. 112 receiver and No. 12 rookie pick in the draft for the No. 1 QB? Sorry, but that's bogus. And I'm not saying that just 'cuz Matt's in first place. I'm hard-pressed to recall a more unbalanced trade in fantasy leagues I've been in. That's crazy.
Clearly, Mike thinks Jackson is worth way more than a first-round pick.
I could've let it go. I almost did. But I figured this might be an opportunity to have a fruitful conversation about player valuation.
And, at a minimum, I wanted to try to deescalate the situation because I wouldn't want Mike to leave the league over it.
I'm Not Sure Lamar Jackson Is Worth a First-Round Pick
Here's my first response:
I get what you're saying, but "John" (the guy who traded away Jackson) was in the market to trade, and I made him an offer he liked better than the other offers he got.

A lot of people in the dynasty community don't value QBs the way that you do, and there's definitely an argument to be made on both sides of this, especially given the best ball format, which is probably what indicates that it was a trade both parties can agree to.

There are some really sharp dynasty players who would never — and I really do mean never — spend a rookie first-rounder on a QB, even one already in the league. And that would be especially true with a loaded 2020 draft class.

And then some other sharp dynasty players would say it's OK to spend the first-rounder on a QB if he's someone with league-winning potential.

I was honestly hesitant even to make the trade, because I usually value first-rounders so much and QBs so little. But I figured YOLO, let's go try to win a championship right now before my RBs get too old.

If the Commish has feedback on this, he can give it, but John can make a legitimate argument for why he accepted the trade, I can make an argument for why I made the offer, and the entire league knew that Lamar was on the market.
If I say so myself, that was a pretty reasonable response. I didn't come in heavy. I acknowledged his perspective and noted that some people might see it his way.
My sense is that about 80% of league strife can be avoided if people stick to the substance of any issue and refuse to get sidetracked with personal attacks or ancillary matters.
Is Jackson worth a 2020 first-rounder? Maybe. To me, with the team I have, he evidently is. If I were in a different position, probably not.
So What's the Best Way to Evaluate a Dynasty Trade?
Mike's response was reasonable and not nearly as hot:
Thanks for taking the time to respond to my last email.

My contention has nothing to do with what position the guy plays. He's the No. 1 player in the league, our league, by points, not by position. The highest-scoring player in the league for the No. 112 WR and the No. 12 pick in the draft is not even close to equal value. What's a reasonable estimate of a No. 12 draft pick? Top 20 in the league maybe? If you draft well, possibly. If the roles were reversed, would you consider a trade of the 112th-best player at his position and a maybe-top-20-player for the best player at his position and the highest-scoring player in the league? Regardless of position, I strongly doubt it. But maybe that's just me.

I don't see best ball format as an argument in favor of this trade. I see the opposite. But I don't want to get into all the idiosyncrasies of format, scoring, etc.

I didn't even offer up a trade, because I looked at my RBs and WRs and was confident that I couldn't offer fair value. I was obviously wrong, but I'm not making a stink because I'm unhappy that he declined my offer and accepted yours ('cuz I didn't offer at all).

I understand why you offered; you got the MVP of the league. No need for explanation there. He needs WRs and RBs, and yours was probably the best offer, fair enough. Can't fault you for offering, can't fault him for accepting the best offer if he wanted to fire sale Jackson.

If the argument is fair value, no way. If the argument is that it's your team and his team to do with as you please, then no disagreement from me.

I realize that much of this is subjective. It is what it is.
We evidently disagree on how to value players and trades, but Mike's second email was pretty much a best-case scenario given where he started.
Just How Replaceable Are Quarterbacks in Dynasty?
Since Mike's response was so even, I thought it might be worth diving a little bit more into my perspective on the trade:
I get your perspective. I think it's good for league members to have conversations about trades, how they look at players, etc.

Here are some thoughts: I tend not to use total points scored as a way for evaluating what players might do on a weekly and yearly level. Smith is the No. 112 WR right now in points scored, but he has way more value than the No. 112 WR because of what he did as a rookie, what he did in college, his athletic profile, his third-round draft pedigree, and his offense.

And Jackson is the No. 1 player in points scored, but his position is important — at least in my mind — because I think of QB scoring as fairly replaceable and easy to find. Since he became a starter this year, Ryan Tannehill is the No. 6 fantasy QB. David Blough just scored 21.3 points. At the extremes, there can be big scoring differences between quarterbacks, but QBs rarely have multiple outlier seasons — Mahomes has come down to earth this year — and the difference between a low-end QB1 and high-end QB3 is not all that great. Ryan Fitzpatrick was the No. 3 fantasy QB in Week 13. Kyle Allen was No. 7. Quarterback production can be found.

And the best ball format factors into it for me like this: If I don't have to pick a starting QB each week, then I am much less incentivized to value consistency at the position, so I'd be less inclined to value Jackson's weekly steadiness and high floor. In best ball, I care much more about volatility and ceiling, because it's possible to have multiple mediocre QBs and end up with QB1 production most weeks since you need to optimize for only one spot.

That's part of why John was looking to trade one of his QBs: He already has a strong QB in Russell Wilson, who can cover his one QB spot most weeks. And he can find more QB production later on the cheap to make up for the weeks when Wilson underperforms. John needs help elsewhere on his roster, especially at RB/WR, and most people think it's a lot harder to find RBs and WRs than QBs.

Looking primarily at raw points, your perspective makes sense. But given quarterback replaceability, I think this trade is actually pretty close. If I didn't think it were, I wouldn't have made it. Maybe 5-8 years ago I would have, because I wouldn't have been able to help myself. I was crazed for championships. But now I care much more about the longevity of the league than about whether I win a championship in any given year.

Plus, if John were to feel ripped off, I'd ruin that trading relationship forever, and I am really incentivized not to do that since John is one of the few active traders in the league.

John and I talked about the potential for a trade for a couple of weeks. He considered it from both sides. If I were John, I probably would have tried to trade Wilson instead of Jackson, but I think he has the right idea. His team is going nowhere as it is now. He needs first-rounders, and the 2020 class is stacked. He figures it's better to take his shots now.

If I could have traded my first-rounder and Smith for a top-tier RB, WR or TE, I probably would have done that. But that's a trade that's hard to get done, and it requires lots of conversations that go nowhere. Almost no one wants to part with a top RB, WR, or TE once they have one. So in order to maximize points this year, I had to go after a QB, and Jackson was the clear one to target.

And I'll say this, because there's a chance you actually might be interested: If you want Lamar Jackson (who you think is worth more than my first-rounder), I'll trade him to you right now for Derrick Henry. Jackson has scored more points this year, and you like QBs. You'd get the highest-scoring player in the league, and I'd get a player at a position I didn't think I'd be able to address in a trade.

If you don't want to do that trade, I might consider trading Jackson after the season for your first-rounder. At the same time, if I win the championship, I probably won't want to trade Jackson, because I get nostalgic about guys I win with. That's why crusty Jimmy Graham is still on my roster. That, and my TE position sucks and I sadly need him.

But I'm serious: After the season, depending on who declares, what they do at the combine, and where they get drafted, I would strongly consider trading Lamar for a first-rounder. That's how you know I think the trade with John was reasonable.
Was I trolling Mike by offering to trade Jackson for Henry? Yeah, a little. Like 1%. But I was also serious, because if he values quarterbacks so much he might actually be willing to make that trade.
And if he starts to think about Jackson vs. Henry, then that might make him think a little bit more about the relative value of quarterback production in general. And that's really the point of the email.
Is Jackson worth a late first-round pick in the 2020 rookie draft?
In a class loaded at running back, if John is able to find a player who turns into a Henry-caliber player, then that guy will probably be worth more to him than Jackson was, especially given that John already has another strong fantasy quarterback.
A Strong Commissioner Is Necessary
In my view, no league should allow owners to veto. As long as there's a strong commissioner in place to make a ruling in the case of collusion or untoward dealing, then that's good enough.
Owners should be allowed to determine what is best for their teams.
Here's what The Commish had to say after I sent my second email:
So upfront let me say I am in the camp of not allowing vetoes of trades and just ensuring there isn't collusion going on. It's very subjective to say a trade is fair as everyone values players/strategies differently, as both your emails demonstrate. Lots of fantasy analysts point to this.

Things are very team and owner dependent, so that's why I support trades being allowed to happen without the league weighing in first. The future is very unknown, and trades that look lopsided at first can turn out very differently.

I'll use a trade of mine as an example, where I sent Robby Anderson and Matt Breida to "Tom" (another owner) for Demaryius Thomas and a second-rounder at the end of the 2017 season. That's not looking so hot now for my side, but upfront I had a couple of league mates indicate I got the way better end of the deal and one questioned if it should have been allowed. I wish I had never made that trade at this point. Overall, it's better to let each team do what they think is best and have an environment that encourages rather than discourages trades, at least in my opinion.

I'm also in the camp of QBs being worth less than other positions in 1-QB leagues, even for best ball. I won't rehash what Freedman has laid out above; there are also a lot of articles on this to read about as well. Folks definitely have differing opinions, so again that's another reason to leave it up to the owners involved.

It also gives good incentive to inquire on anyone who is made available to gauge prices and see how each owner values their players. I know I didn't want to give up my first-rounder this next draft to acquire Jackson, so I didn't talk with John about it. No one is required to publicly announce they are looking to trade someone or should be IMO. For this trade, he did make it known beforehand that both his QBs were available and had multiple folks inquire from my understanding. If this is the best he was offered in his opinion, it's up to him to talk with others who haven't made offer to verify or be satisfied with what he was presented.

For Jackson specifically, I've seen some speculate that this may be Jackson's peak season due to QB regression season to season, his offensive coordinator Greg Roman likely to move on to a head coaching gig and his past performances with athletic QBs, and the possibility of injury from how much Jackson runs. John may be selling at the best time as a result.

I know I'm hitting on subjectivity a lot. I think it just shows why it's hard to deem any trade fair due to uncertainty and everyone's different approaches. Because of that, I will be on the side of letting things ride as they played out. Trades will range from great deals to fairly even to pure duds for both sides and only time can tell.
What a baller commissioner, right?
He gets what both sides are saying, he considers the issue from multiple perspectives and in the end, he lets the free market dictate the value players are assigned.
How to Know When It's Time to Move On
After that, Mike gave his final response.
Understood. Thank you both for responding.
In this email exchange, Mike was able to vent, I got the opportunity to explain my side of the trade and The Commish gave an evenhanded analysis of the situation.
That's just about as well as something like this can go.
And most importantly, I got Jackson.
If in a few weeks I get my fifth dynasty championship in eight years, I'm sure you'll hear about it then. In victory, I'm modestly insufferable.
How would you rate this article?