Freedman: Profitable NFL Betting Trends for Week 1
Credit:
Christian Petersen/Getty Images. Pictured: Kliff Kingsbury and Kyler Murray.
Against all odds, Week 1 of the NFL season is here. It's time to put some money into action.
Although I am not a trends bettor, I find that trends help me identify spots I should consider further when analyzing games.
Using our Bet Labs database, I have uncovered some intriguing NFL trends for five games this weekend.
---
Odds as of Monday night and via PointsBet, where Action Network users can access an exclusive promotion to get a 200% deposit match (deposit $50, bet with $150). No strings attached. No rollover required.
---
Seahawks -1.5 at Falcons

Now that Jason Garrett is no longer running a team, Dan Quinn tops my personal "Bet against him no matter what" rankings.
During Quinn's five-year tenure as the Falcons head coach, opponents are 44-36 against the spread (ATS) — and 38-26 ATS if we remove the Kyle Shanahan-spurred 2016 season, good for a 15.1% return on investment (ROI) and an A- grade in BetLabs.
It's just gravy on the betting biscuit that opponents are 4-1 ATS (58% ROI) against the Falcons in Week 1 over the past half decade. Historically, Quinn is not a fast starter.
As for the Seahawks, quarterback Russell Wilson is 68-53-7 ATS (9.5% ROI) in the regular season for his career. If you actually need extra incentive to fade Quinn and the Falcons, there it is.
But what about the whole idea of a West Coast team traveling east and playing an early game? Am I worried about that with Seattle?
Nah.
With the Seahawks, HC Pete Carroll has had 22 East Coast games with a start time of 1 p.m. ET: He's 12-7-3 ATS (21.4% ROI) in those games.
The Falcons enter the year with PFF's No. 30 secondary, while the Seahawks in 2019 were No. 4 in pass offense (per Football Outsiders' DVOA metric).
Action: Seahawks -1.5 (-110) at BetMGM
Limit: -2.5 (-110)
[Bet now at BetMGM and get an INSTANT $500 deposit match.]
Buffalo Bills-New York Jets Under 40
The Jets are in offensive disarray under HC Adam Gase: Running back Le'Veon Bell has reportedly had an ugly training camp. Perimeter wide receivers Breshad Perriman and Denzel Mims have both missed significant time to injury. And quarterback Sam Darnold is still Sam Darnold.
On top of that, the offensive line is projected to have four new starters this year. Although upgrades were necessary, continuity is crucial along the offensive line, so the unit could have major communication and protection issues in Week 1.
The Bills defense was Nos. 2 & 6 in DVOA in 2018-19 and has playmakers at each position. If you look in our FantasyLabs NFL Models, you'll see that the Jets have a slate-low implied Vegas total of 16.5 points — and even that feels high.
It's hard to imagine them scoring against this strong Bills defense.
And on offense, the Bills tend not to run up the score. Instead, they prefer to control the ball. Last year they were No. 7 with a 45.0% run rate. The year before that, No. 4 at 46.4%. Especially if they get a lead — and they're -6.5 favorites at most sportsbooks — the Bills are likely to rely on the ground game, and that could drive the total to the under.
In three years under HC Sean McDermott, the Bills are an A-graded 31-19 to the under (21.2% ROI), and with quarterback Josh Allen, the under is 20-8 (38.8% ROI).
Under the circumstances, the Jets will likely be unable to score lots of points, and the Bills probably won't need to try.
Action: Under 40 (-110) at BetMGM
Limit: -38.5 (-110)
[Bet now at BetMGM and get an INSTANT $500 deposit match.]
Panthers +3 vs. Raiders
Over the past two years, the Raiders have had a tremendous home-field advantage (relatively speaking) under HC Jon Gruden (per RotoViz Team Splits App).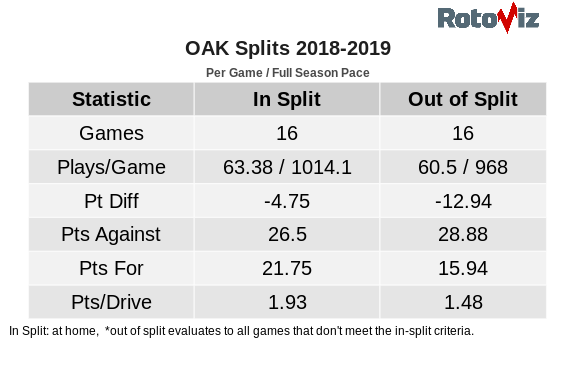 The Raiders have been 8.19 points better at home, scoring 5.81 more points and allowing 2.38 fewer points. In particular, they have run 2.88 more plays per game at home and scored 0.45 points more per drive.
Whether these splits indicate that the Raiders are good at home or merely extraordinarily bad on the road — and it's probably the latter — the upshot is that home teams are 10-6 ATS (24.2% ROI) against Gruden's Raiders since 2018.
And the Raiders are playing the ultimate "coverdog" quarterback in Teddy Bridgewater, who is an outstanding 27-7 ATS (55.5% ROI) for his career and a friscalating 17-3 ATS (66.2% ) as an underdog.
In the words of Eli Cash, "Vamanos, amigos."
Action: Panthers +3 (-110) at BetMGM
Limit: +3 (-115)
[Bet now at BetMGM and get an INSTANT $500 deposit match.]
Saints-Buccaneers Over 49.5
For years, the Saints have had a prolific offense, and they have been especially potent at home in the Mercedes-Benz Superdome: The Coors Field of Fantasy Football.
With quarterback Drew Brees, the Saints home over is an A-graded 66-48-2 (13.5% ROI).
Last year, the two Saints-Bucs games totaled 55 and 51 points (Weeks 5 & 11), and the Bucs had a league-best 12-4 record to the over (47.2% ROI) under HC Bruce Arians in his first year in Tampa Bay.
Because of the COVID-impacted training camps, this year feels similar to 2011, when the NFL lockout truncated the offseason and resulted in lots of sloppiness for the first two weeks of action.
The effect was a league-wide over record of 22-9-1 (38.9% ROI) in Weeks 1-2.
I won't blindly bet overs to start the season, but if there are games where I'm inclined to take the over anyway, I'll be all the likelier to invest.
Action: Over 49.5 (-110) at DraftKings
Limit: 50.5 (-110)
[Bet now at DraftKings and get a $1,000 sign-up bonus.]
Cardinals +7.5 at 49ers
49ers HC Kyle Shanahan isn't really the type of guy to press his advantage. If he were, he'd probably have won Super Bowl 54 … and Super Bowl 51.
That's harsh, but the numbers suggest I'm right. In the ultimate "press his advantage" spot as a home favorite, Shanahan has regularly fallen short, gifting road dogs an 8-3-1 ATS record (38.4% ROI).
Starting wide receivers Deebo Samuel (foot) and Brandon Aiyuk (hamstring) are both banged up and uncertain for Week 1, and the 49ers defense, although good, could struggle against the Cardinals.
Last year, the 49ers had a league-best 92.9 PFF coverage grade — but you wouldn't know it based on the way Cardinals quarterback Kyler Murray as a rookie put up fantasy points against them.
Week 9 (at home): 23.0 FanDuel points | 241-2-0 passing | 5-34-0 rushing
Week 11 (on road): 26.7 FanDuel points | 150-2-0 passing | 8-67-1 rushing
If the Cardinals go with a four-wide set, as they did frequently in 2019, the 49ers might be exploitable. No. 1 cornerback Richard Sherman tends to struggle with small-and-fast receivers like Andy Isabella, and the team might be forced to put both cornerbacks Emmanuel Moseley and Ahkello Witherspoon on the field, each of whom was notably targeted in the playoffs last year.
I like the Cardinals to progress in HC Kliff Kingsbury's second year, and he was 5-1-2 ATS (46.2% ROI) as a road underdog in 2019.
Against the 49ers in Weeks 9 & 11, the Cardinals covered and pushed. They can hang with the NFC Champions.
Action: Cardinals +7.5 (-110) at William Hill
Limit: +7 (-110)
[Bet now at William Hill. NJ only.]
---
---
Matthew Freedman is 591-466-22 (55.9%) overall betting on the NFL. You can follow him in our free app.
He's the Editor-in-Chief of FantasyLabs. He has a dog and sometimes a British accent. In Rosemount, Minnesota, he's known only as The Labyrinthian.
How would you rate this article?