Freedman: What Would Happen If Kyle Shanahan & Sean McVay Swapped Teams?
Credit:
Maddie Meyer/Getty Images. Pictured: Head coach Kyle Shanahan of the San Francisco 49ers.
It's Monday, Feb. 3, the first day of the PARSB era. Yes, PARSB. It stands for "post-Andy Reid Super Bowl." Try to keep up.
In the PARSB era, the Chiefs look like a lock to compete for championships on a yearly basis for the next decade. With Reid as their head coach and Patrick Mahomes as their quarterback, they are set.
But what about the 49ers?
On today's Action Network Show on SiriusXM Fantasy Sports Radio — you can catch the show on demand on the SiriusXM app — Chad Millman asked this question.
Who is better: 49ers head coach Kyle Shanahan or Rams head coach Sean McVay? If they switched teams, who would have the better chance of winning a Super Bowl within the next five years?
I think the answer is clear: Shanahan is better.
If he were coaching the Rams and McVay were coaching the 49ers, I'd give Shanny's team the better odds to win a championship within the next half decade.
Sean McVay: Could He Handle the 49ers?
I don't want to undermine what McVay has done in his three-year tenure as a coach. He's gotten the Rams to a Super Bowl, and for the 2017-18 seasons, they had one of the league's most explosive teams, averaging a smoking 29.9 points per game.
But last season, their offensive scheme got stale, high-priced quarterback Jared Goff regressed, franchise running back Todd Gurley looked geriatric, All-Pro kicker Greg Zuerlein missed a field goal in nine games and the Rams missed the playoffs.
They are in disarray.
They have fired defensive coordinator Wade Phillips, they are loaded with horrible contracts and they desperately traded away their 2020 and 2021 first-round picks in the middle of the season in order to get cornerback Jalen Ramsey, who might leave the team in free agency.
There's a non-zero chance McVay won't be coaching the Rams in two years. What was once a strong roster now looks like a team on the decline. That doesn't speak well for McVay.
If he were coaching the 49ers, I am doubtful he would find a way to keep that team together and to keep the offense fresh.
Kyle Shanahan: He Has a Proven Record
Shanahan is different than McVay. He has rebuilt the 49ers without mortgaging their future. I imagine that he could do the same with the Rams if he were given enough time as their coach.
Additionally, he has a long record of success. McVay has two good seasons and one mediocre season with the Rams, but he doesn't have much otherwise for us to evaluate. He did well as the offensive coordinator for the Redskins in 2015-16 — but he had the benefit of relying on quarterback Kirk Cousins, whom Shanahan helped to develop as his coordinator in 2012-13.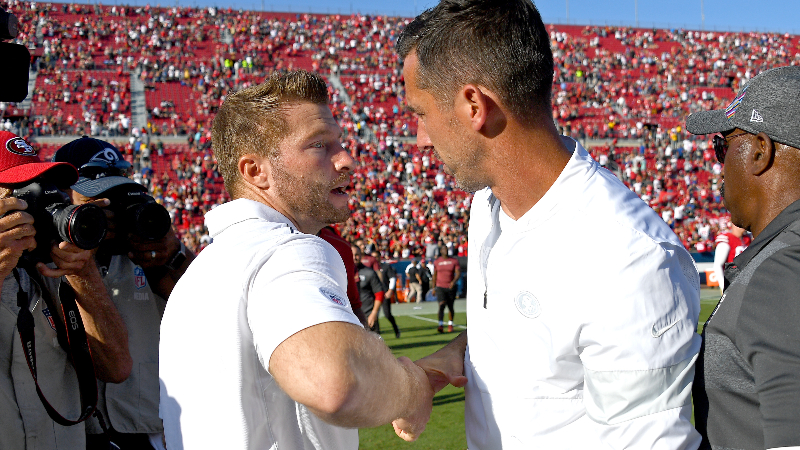 For over a decade, Shanahan has gotten the most out of his quarterbacks and offenses.
In 2008-09, Shanahan with the Texans guided quarterback Matt Schaub to the best season of his career.
In 2012, he designed a Redskins offense around quarterback Robert Griffin III, who won Offensive Rookie of the Year with an electric campaign as both a passer and a runner.
In 2016, he turned the Falcons into a juggernaut and made quarterback Matt Ryan look like a borderline Hall-of-Famer with an MVP campaign and Super Bowl trip.
And in 2019, he transformed the 49ers into one of the highest-scoring teams in the league with an inventive ground-based offense while getting a top-three mark of 8.4 yards per attempt out of quarterback Jimmy Garoppolo.
Regardless of whatever team he coaches, I like Shanahan's odds to win a Super Bowl in the next five years.
In a PARSB world, I can't say the same for McVay.
---
Freedman is 591-466-22 (55.9%) overall betting on the NFL in The Action Network App.
How would you rate this article?