Mattress Mack Bets $1 Million on Titans Moneyline for Sunday's AFC Championship vs. Chiefs
Credit:
DraftKings. Pictured: Jim McIngvale aka "Mattress Mack"
"Mattress Mack" is back.
And it has nothing to do with a mattress promotion.
Jim McIngvale — the man who hedged $20 million in liability from his Houston furniture and mattress store promotion that would have given free product if the Houston Astros had won this past World Series — has bet $1 million on the Titans moneyline at two Mississippi-based sportsbooks.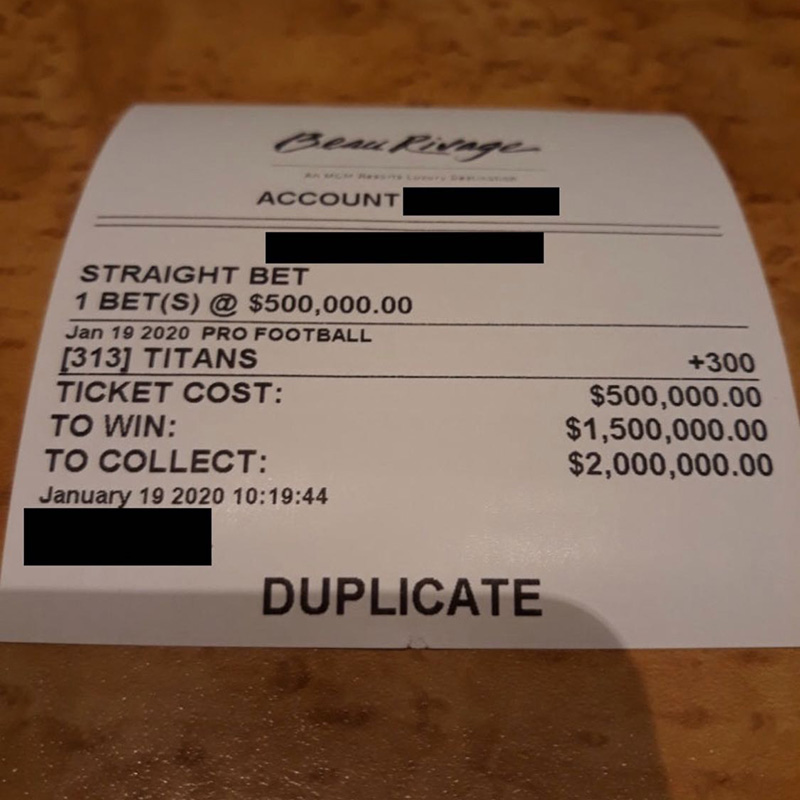 On Sunday morning, McIngvale flew into Biloxi, Mississippi, and placed a $500,000 bet at the Beau Rivage and another $500,000 bet at the Scarlet Pearl. Both books offered what he was looking for: +300 odds. The bets would net Mack $3 million if the Titans beat the Kansas City Chiefs on Sunday.
Although it wasn't reported at the time, McIngvale had a $1 million moneyline bet on the Houston Texans to beat the Chiefs last week. It would have netted $3.85 million. The Texans did jump out to 24-0 lead in the first half, but the Chiefs went on to outscore the Texans, 51-7, after that.
McIngvale didn't have to give away the furniture as a result of his store's World Series promotion as the Astros lost in seven games to the Washington Nationals, but he did lose more than $13 million to cover his bets.
How would you rate this article?