NFL Sharp Picks: How Pros Are Betting Seahawks-Eagles
Credit:
Jacob Kupferman/Getty Images. Pictured: Pete Carroll
Using The Action Network's betting tools, we break down how sharp bettors are playing Seahawks-Eagles (4:40 p.m. ET, NBC).
Starting Sunday, only nine games remain in the NFL season. The NFL Playoffs last a month, but in terms of game volume, there are very few opportunities for bettors to make money. Sharps haven't been letting any chances go to waste, though, hopping on lines early and hitting them throughout the week. Heck, even buying back lines that they inflated themselves.
Here's how they're betting both NFC Wild Card games on Sunday — Vikings-Saints and Seahawks-Eagles.
Seattle Seahawks @ Philadelphia Eagles
4:40 p.m. ET | NBC
Seahawks-Eagles is a tale as old as time. Squares love the Seahawks, sharps love the Eagles. Much like oil and water, sharps and squares often clash (I believe oil and water always clash, but at least these two types of bettors get along sometimes).
There have really been two chunks of sharp activity that have shaped this spread. The first took place between Monday and Thursday.
After the line had reached SEA -2.5 at many books, and even -3 at a few, Bet Signals began to roll in on Philly.
Later in the week, the line was back down in the 1.5 area, give or take a half point depending on the book. On Saturday evening, a second wave hit with the swiftness of a cheetah and the ferocity of … also a cheetah.
Two key Bet Signals moved the Eagles from dogs to favorites in a heartbeat, which marked the first time they were favored all week. They have not seen any sharp action as favorites, but we've tracked Bet Signals on them at essentially every half point they were available at as underdogs — +3, +2.5, +2, +1.5 and +1.
Sharp Angle: Eagles (moved from +2.5 to -1)
---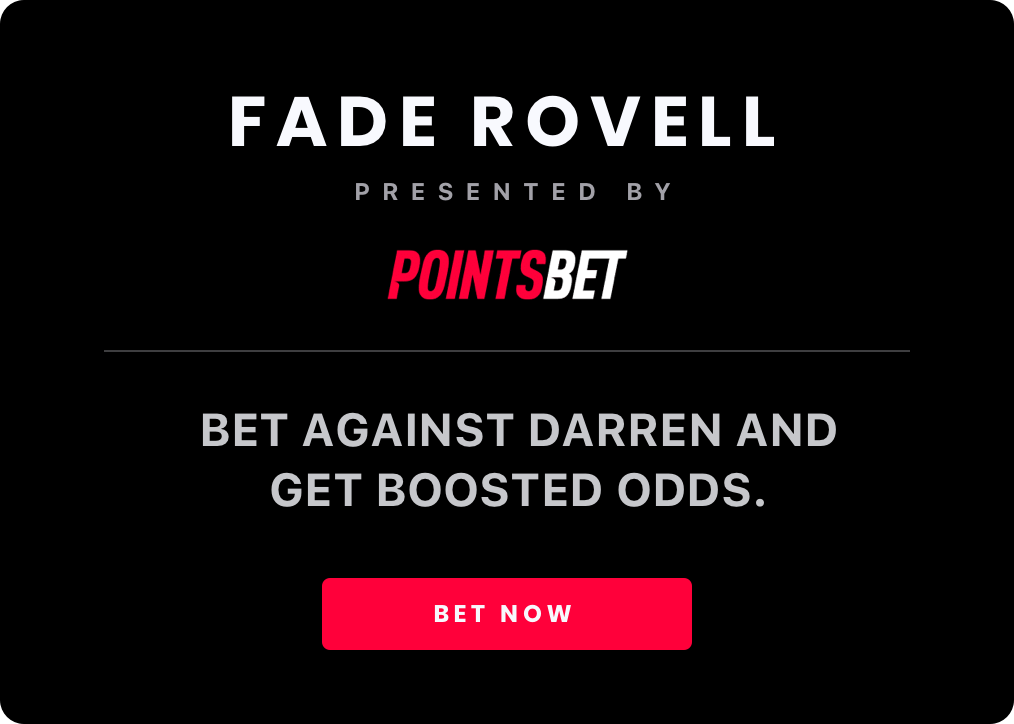 Darren Rovell isn't buying Carson Wentz to continue his recent hot streak. PointsBet is giving everyone in New Jersey boosted odds to Fade Rovell and bet on the Over of 265.5 Passing Yards for Wentz (normally -115, now +110). New customers get an exclusive promotion: Deposit $50, bet with $150. No strings attached. No rollover required.
---
Minnesota Vikings @ New Orleans Saints
1:05 p.m. ET | FOX
We all remember the Minneapolis Miracle, don't we? I certainly do, as I bet on the Saints moneyline (which lost in heartbreaking fashion) instead of the spread at +5.5, which would have actually still cashed.
Well, here we have a playoff rematch between the two potent offenses, this time in the Saints' home dome.
The spread has been hovering around the fairly inconsequential number of eight all week, with Minnesota getting some sharp action, but not enough to keep the number down at +7.5 or move it to the key number of +7.
The over/under has seen some decisive sharp action, though — on both sides.
For much of the week, both Pros & Joes were on the over. Basically all of the activity before Thursday was on the over, as it was receiving more than 80% of the bets and 90% of the money. With that said, it wasn't too surprising to see the number rise from the opener of 47 all the way up to 50.
Sharps like playing the numbers game, though. Once a line reaches a certain point, there's always going to be opportunities for buyback — which is just what happened here.
A Steam Move and Reverse Line Move both hit under 50 on Friday afternoon, which makes perfect sense given the importance of the numbers 50, 49 and 47 in NFL over/under betting.
The over is still seeing 79% of the tickets, but this line appears to have settled in at 49.5, as it's remained there over the past 36 hours since the buyback hit.
Early Sharp Angle: Over (moved from 47 to 50)
Sharp Buyback: Under (moved from 50 to 49.5)
How would you rate this article?