The NFL Bets Our Experts Made Early for Week 12
Credit:
Steven Bisig-USA TODAY Sports. Pictured: Seattle Seahawks quarterback Russell Wilson (3).
Betting early in the week is often the best way to beat closing lines, and get the most value out of your picks.
Our experts reveal the early NFL bets they made for Week 12 below.
NFL spreads usually open up on Sunday evenings for the following week — and after they do, they're almost immediately on the move. The early bets serve as a signal to bookmakers for what the "true" odds should be, and sportsbooks aren't shy about adjusting on the fly if the market is telling them they missed the mark.
Betting earlier in the week is a key way you can beat the closing line, which should be your goal as a bettor.
Our NFL experts hopped on four games early in an attempt to beat the market:
Buccaneers at Falcons (Odds: Falcons -4.5)
Raiders at Jets (Odds: Raiders -3)
Seahawks at Eagles (Odds: Eagles -3)
Panthers at Saints (Odds: Saints -9.5)
Mike Randle: Falcons -4.5 vs. Buccaneers
I am a believer in the Falcons' resurgence. They always had talent on offense, but after a complete overhaul of the team's defensive coaching responsibilities, Atlanta is rolling.
After their bye week, the Falcons announced that linebackers coach Jeff Ulbrich and former wide receivers coach Raheem Morris would share the defensive coordinators duties. Since that change, Atlanta has seen a dramatic improvement on defense.
NFL's best 3rd down defenses past 2 weeks:

1. Falcons – 19.2%
2. Chiefs – 22.2%
3. Patriots – 23.1%
4. Steelers – 23.3%
5. Raiders – 26.1%

— Aaron Freeman (@falcfans) November 18, 2019
Over those past two games, the Falcons have accumulated 11 sacks and four interceptions, which has more than doubled each of those statistics for the season.
This is coming at a bad time for the turnover-prone Jameis Winston, who now has 21 turnovers (18 interceptions, three fumbles) in just 10 games.
The Buccaneers' pass defense is also a terrible match against Atlanta. The Buccaneers allow the second-most fantasy points to opposing quarterbacks and the most fantasy points to opposing wide receivers.
The Falcons' end of season rally will not get them to the playoffs, but they certainly can enjoy playing the role of spoiler. With consecutive road wins at New Orleans and Carolina, I expect Atlanta to roll a Buccaneers team with a poor pass defense and turnover machine at quarterback.
[In New Jersey? Bet now at PointsBet]
John Ewing: Jets +2.5 vs. Raiders
The Jets are 3-7. The Raiders are 6-4. It is easy to understand why the oddsmakers opened Oakland as a 3-point road favorite.
However, Jon Gruden's team is overrated. While the Raiders have a winning record the team has a -25 point differential. Oakland is the only team with a winning record to have a negative point differential.
Historically, it has been profitable to fade squads with winning record but negative point differentials as point differential is a better indicator of future success.
The Action Network simulations agree that the Raiders are overvalued. According to our model, the Jets win on average by 2.5-points.
By record, Oakland looks like a superior team but point differential suggests these teams are more evenly matched. Steam move bet signals have been triggered on the Jets indicating that sharp bettors are backing New York.
[In New Jersey? Bet now at PointsBet]
Matthew Freedman: Seahawks +2 at Eagles
As Gandalf tells Radagast, "It's undoubtedly a trap." Still, I'm betting on the 8-2 road underdog Seahawks coming off their bye week.
I just have no respect for the 5-5 Eagles. They are screwed at wide receiver. DeSean Jackson (abdomen, IR) is out for the year. Alshon Jeffery (ankle) didn't practice or play last week. Nelson Agholor and Jordan Matthews — who are both best in the slot — have been forced to play on the perimeter because the Eagles are using two tight ends in their base set.
All-Pro right tackle Lane Johnson (concussion) exited Week 11 and is uncertain to play this week. Quarterback Carson Wentz has a below-average 7.0 adjusted yards per attempt (AY/A).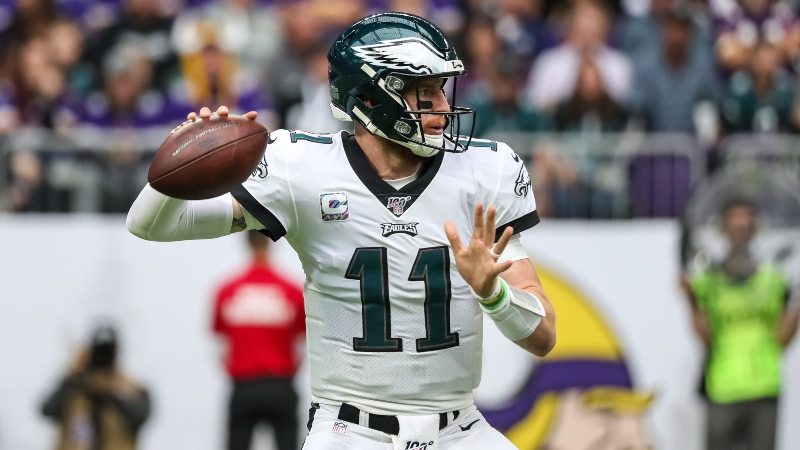 I get that the Eagles are probably better than 5-5 record. They have a good coaching staff, and they're at home. And the Seahawks — a west coast team traveling east — don't have the benefit of their legendary home-field advantage.
But the Seahawks do have a quarterback in Russell Wilson who is playing almost as well as anyone in the league. He's No. 2 with a 9.5 AY/A.
On top of that, their situation at wide receiver is improving. Tyler Lockett (leg) is expected to be healthy coming off the bye. Josh Gordon should be more acclimated to the offense. And D.K. Metcalf is another week further into his NFL career.
[In New Jersey? Bet now at PointsBet]
Sean Zerillo: Under 47, Panthers at Saints
The Saints and Panthers have yet to play this season – their second meeting will occur in Week 17 in Carolina – but both teams have put ten games worth of their offense on film, and they are extremely familiar with one another thanks to their biannual meetings.
For trend bettors, this game represents another spot to play a late-season under in a matchup between divisional opponents:
After exploding onto the scene with four consecutive wins in September and October, Panthers quarterback Kyle Allen has recorded three touchdowns against nine interceptions in his past four games, while averaging just 6.3 yards per pass attempt.
The Panthers offense ranks fourth in offensive pace, but I would look for them to slow it down and keep the ball on the ground, this week, after Allen's 93 inefficient passing attempts over two consecutive losses.
Coming into Week 10, the Panthers offense ranked fifth in rushing DVOA, but 25th in passing.
Furthermore, the Saints will look to control the game on the ground against the Panthers' 32nd ranked rushing defense, with Alvin Kamara and Latavius Murray, and avoid Carolina's strong passing defense (third in DVOA).
The Saints rank 29th in offensive pace, and Kamara now appears fully healthy, recording more than 20 touches on Sunday for the first time in six weeks.
How would you rate this article?