NFL Odds & Picks For Every Week 16 Game: Dolphins, Bills, More Bets To Make
Credit:
Joshua Bessex/Getty Images. Pictured: Josh Allen.
Merry Christmas, one and all!
We've got Christmas football this year, and we might end up with a few more Monday and Tuesday games too if we're not careful. The NFL continues to be ravaged by COVID up and down the league, and that means we need to be super cautious as we bet.
I'm checking our official COVID tracker early and often, and I won't be making many bets until just before kickoffs this week. We love to grab early line value, but it's just too hard to plan ahead the way players are bouncing in and out of protocols. And because it's Christmas week, there are no "Wait" picks this week either, so we're just going to pass on some of these games since this column goes final Thursday night for the holidays.
I've tried to include some contingency in the text for picks below as best as we can, and your best bet is to follow me @wheatonbrando on both the app and on Twitter. You'll see final picks there and real-time notifications on late plays and angles.
One angle you can expect a lot of this week is playing short road dogs. That trend continues to be the story of the betting season, with road dogs of 6.5 points or fewer an incredible 54-26 Against the Spread (ATS) for the season, covering 68% of the time by 4.9 points per game. Those teams are 45-34-1 straight up, with a 48% Return on Investment (ROI) for moneyline bettors.
It's time to get to our picks, and remember, this column is final for the week. That means every play is labeled 'Bet,' 'Lean' or 'Pass' — and it's mostly leans right now until we get more information and COVID clearances near kickoff.
Note: Odds highlighted below are the best available for each pick as of writing. Shop for the best real-time lines with our NFL odds page.
---
Thursday Night Football
49ers (-3) at Titans

I wrote about this game in our staff best bets and backed the Niners -3.
THE PICK: 49ers -3 (Lean)
---
Christmas Day
Browns at Packers (-7.5)

I really want to believe in the Browns here, but it may take a little Christmas miracle to keep Cleveland's season alive and make the NFC 1-seed awfully interesting for the final few weeks. Green Bay has struggled to defend the run all season, ranking just 25th in run defense DVOA, and that's what Cleveland does best. If Nick Chubb gets going, he could have a monster game.
But running backs don't act alone, and Chubb is missing multiple starting offensive linemen. He doesn't have a QB yet either since we still don't know for sure whether Baker Mayfield is a go or how healthy he'll be, and the Packers D should be better with the return of Kenny Clark.
Besides, the other side of the ball is the real worry. Cleveland has hung around with good defense, but they're still getting crushed by injuries and COVID absences. DPOY candidate Myles Garrett is a question mark, and that's a huge deal against a banged-up Packers line. The Browns are also missing safety John Johnson along with most of their best corners, leaving a secondary that could be ripe for the picking against an MVP candidate playing his best ball.
Aaron Rodgers covers 66% of the time at home, including 6-0 this season. He's 31-21-2 ATS (60%) as a home favorite of seven or more. There are scripts where Cleveland hangs around this game with a heavy dose of Chubb and lots of defense, but I just can't back the Browns in Lambeau with so many huge names questionable or missing.
THE PICK: Packers -7.5 (Pass)
Colts at Cardinals (-1.5)

It's a second straight marquee Colts game on a Saturday, and it's time to see what Good King Wentzeslaus brought us for Christmas.
We know the Colts' plan here, and it might very well work. Indianapolis will run early and often with Jonathan Taylor, and they've been killing with the run game all season. Indianapolis has the No. 1 rushing attack by DVOA, and over the last six weeks, Indy's EPA per running play has ranked higher than all but five teams' passing games, per RBSDM. That's really saying something.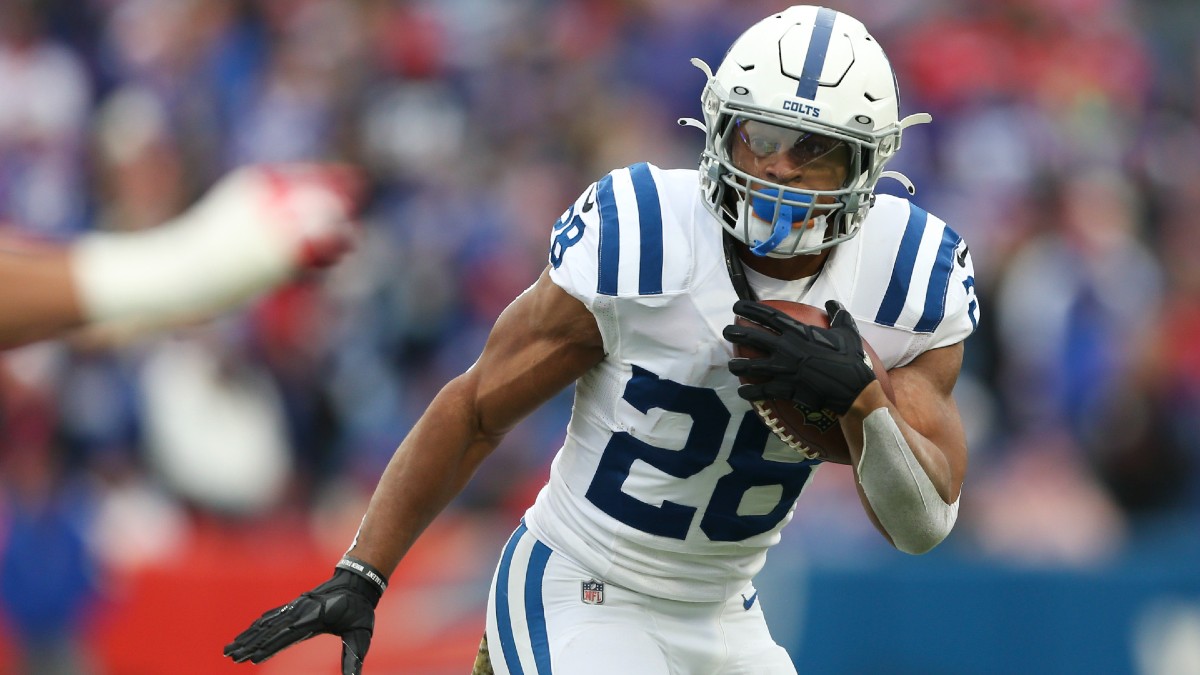 Arizona has lost two in a row, and this team's metrics have fallen off hard after a hot start. Could this be yet another late season collapse from Kliff Kingsbury's guys? The offense misses DeAndre Hopkins and looks a bit gimmicky lately, and the defense has fallen apart without J.J. Watt. They rank 25th in EPA per play since Watt went out injured, including fourth worst in the NFL against the run. That's gonna be a problem against the Colts.
I loved the Colts on the Lookahead segment on The Action Network podcast last Friday at +4, but the line move has robbed a lot of the value here as money pours in on the Colts. I still like Indianapolis, but a lot of the value is gone, especially with Indianapolis possibly missing its starting center and right guard — and that offensive line is the real MVP on this team.
If the Colts come through again, this time on the road, with yet another big Jonathan Taylor game, this Christmas evening game could be an MVP moment. I have to trust what I'm seeing and ride the hot hand, especially as a short road dog.
THE PICK: Colts +1.5 (Lean)
---
Early Sunday Afternoon
Bills at Patriots (-2.5)

For the second time in under a month, Buffalo and New England square off in a huge AFC East battle. The winner here controls its destiny in the division, and that's a huge opportunity for Buffalo here to wrest back control after giving it away in the first meeting.
You remember that one as the one effectively played in a tornado, with the Pats eking out a close win. So what can we take away from that battle? I thought Buffalo was the better team, on both ends really. The defense shut New England down outside of a long run, and the offense moved the ball more consistently. Buffalo had a couple key drops and just-barely-missed throws or it might have won. Play that exact game again 10 times, and I think the Bills win six or seven of them.
That's because Buffalo is the better team. The Bills have eight wins, and all eight of them have been by 15 or more points. They're 0-5 in one-score games, but those games tend to be random and even out over time — just like that Pats matchup we just mentioned. What if Buffalo had won two or three of those close games? Wouldn't we think of the Bills very differently at 10-4 or 11-3? Maybe even as the class of the AFC — like we did all season?
With weather less of a factor, that's just more room for the better team to be, well, better. These are the top two teams in the NFL defensively by DVOA, but I trust Josh Allen more in a big game.
Allen is 15-7-2 ATS (68%) as an underdog, and he was inches away from a few huge game-turning plays even in the windstorm. I expect a big game from Allen, and I'm also looking to play Allen rushing overs on attempts and yards (35.5) with Buffalo unleashing its franchise QB as a runner in its biggest game of the season.
New England doesn't have great playmakers, and Damien Harris, Rhamondre Stevenson, Brandon Bolden, Nelson Agholor, and N'Keal Harry are all injury question marks. Cole Beasley could be a big miss for Buffalo too, if he's out. But if the game is close and low scoring as expected, I have to back the QB I trust. And no matter how nice a rookie season Mac Jones has had, that's still Josh Allen.
Remember, we're looking to back short road dogs. Even better if it's a divisional game. In division games, short road dogs this season are 20-7 ATS (74%), covering by almost a full touchdown, and they're 18-9 straight up with a 77% ROI.
The Bills think this is their time now. They're ready to prove last year wasn't just a one-year bridge from one New England era to the next. I like the Bills to cover and win. Even better, I may play Buffalo to win its division (+130 at BetMGM) and/or New England to be a wildcard team (+175 at DraftKings). A Buffalo win here makes both of those scenarios very likely, and those are even better odds on what is effectively a moneyline play.
It's Buffalo's time now.
THE PICK: Bills +2.5 (Bet)
Ravens at Bengals -3.5

This is a huge AFC North battle with the division on the line, and the winner here is in pole position heading into the final two weeks.
Lamar Jackson still isn't practicing, which means we might get another week of Tyler Huntley. But is it crazy to wonder if that's a bad thing at this point? Huntley has been pretty solid in relief, and Jackson had really been struggling. The Ravens need a healthy QB to trigger the running game since the RBs aren't doing much, and Huntley has done that for Baltimore.
The Ravens have lost by one, two, and one point over the past three weeks. It's the lowest margin of defeat total over a three-game stretch in at least two decades. But Baltimore is fighting hard, and John Harbaugh is delivering a Coach of the Year performance, giving his shorthanded team chances to win.
The Ravens have played in seven straight one-score games out of the bye, and 11 of their 14 games this season have been one-score affairs. But the last game that wasn't within one score was the previous Bengals game, when Baltimore got pantsed at home, 41-17.
Joe Burrow had a massive game in that one with 416 passing yards and three scores, and Ja'Marr Chase was a monster with 201 receiving yards. The Ravens secondary is in shambles with Marcus Peters and Marlon Humphrey both out for the season, and even the remaining corners are question marks with injuries and COVID protocol.
Baltimore's saving grace could be Cincinnati's overcommitment to the run game. The Ravens are stout up front, top five against the run, and the Bengals have not run the ball efficiently. Every Cincinnati running play is one fewer pass, and that's a win for the Ravens. It's one more chance for Baltimore to hang close and have a shot late.
Remember, we need to bet short road dogs, especially in division matchups. Cincinnati's passing game has the tools to dominate this matchup, but I trust John Harbaugh against Zac Taylor in a serious coaching mismatch, and with this line rising past the key number, I have to give the underdogs a shot as long as Baltimore's COVID issues don't get too out of control.
I may stay away from the moneyline here since we know Baltimore can cover and lose a close one. I'll also pass on using this game to bet on the division. The AFC North plays each other over the final two weeks, and I expect Cleveland and Pittsburgh to still play a role.
THE PICK: Ravens +3.5 (Lean)
Rams (-3.5) at Vikings

The Rams were the COVID team last week, with their game delayed until Tuesday and any number of players missing. This week, it's Minnesota with the key name missing, as Dalvin Cook went into protocol and will miss this game.
Could Cook's absence actually turn out to be a boon, though? Minnesota relies heavily on its run game, but the Vikings have actually been far better passing than running this season.
Minnesota ranks 25th in rushing DVOA on the season but seventh in passing DVOA, and the Vikings rank fifth in EPA per pass over the past six weeks. Justin Jefferson has exploded as one of the league's elite receivers, and Kirk Cousins continues to post underrated numbers.
Perhaps the absence of Cook could push Minnesota to pass more, though it could be tough sledding. Jalen Ramsey is as good a corner as there is in the NFL, and if Adam Thielen can't play, Ramsey should be able to focus on Jefferson and leave Minnesota without many options.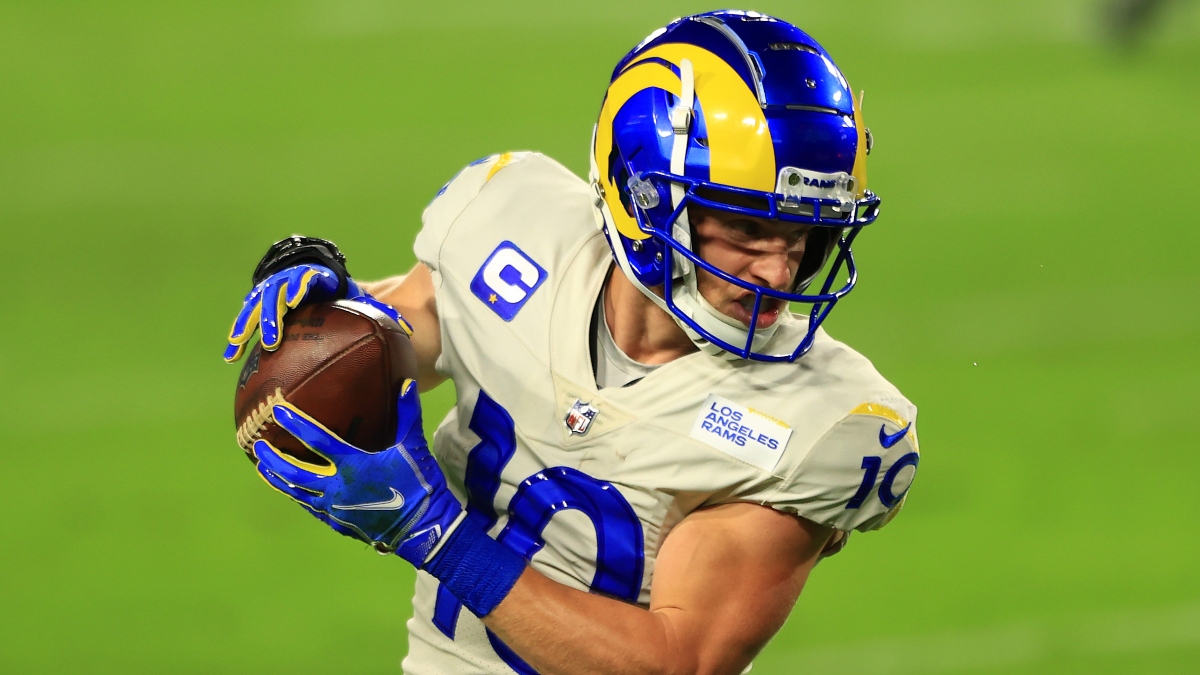 The Vikings also struggled to block Akiem Hicks on Monday night up the middle, and Aaron Donald is far more dangerous in that same spot. The Rams match up well, and their passing game should light up Minnesota's defense. Cooper Kupp might be able to name his stat line.
Still, Cook's absence did one other thing — it bumped this line up past the key number, and that makes Minnesota a dangerous home dog. Mike Zimmer has covered 61% of his home games with the Vikings. He's also 10-5 ATS as a home underdog, and as a home dog of more than a field goal, he's 6-1 ATS with a pair of wins and four losses by three or fewer.
Zimmer's defense has also killed Matt Stafford over the years. Stafford is 6-13-2 ATS lifetime against Minnesota, his toughest opponent of his career.
Remember, the Vikings have only lost by more than a field goal three times all year. They've led by at least six in every game, and 13 of their 14 games have been one-score affairs. That means you have to love Minnesota as a teaser play here since that gets them to +9.5, and the Vikings have covered that spread in every game this season. A Vikings-Bills underdog teaser might be my favorite play of the week.
For just this game, I have to take the points now that this line has risen. The Vikings are tough at home and fighting for the playoffs, and they can cover this game even without winning. It's just too many points to pass on.
THE PICK: Vikings +3.5 (Lean)
Bucs (-10) at Panthers

Well this Bucs season sure came crashing down in a hurry. The defending Super Bowl champs laid a complete egg on Sunday night live in primetime against a mediocre Saints team, Tom Brady's MVP case came crashing down to earth, and the injuries piled up in a huge way.
Chris Godwin and Leonard Fournette are out for the regular season, joined by star LB Lavonte David. Mike Evans and Antonio Brown are question marks too, and the secondary has really never been healthy. It's ugly.
The saving grace is the schedule: Panthers, Jets, then Panthers again. Tampa is still in the running for the 1-seed and a bye, but with all these IR moves, it sure feels like the Bucs are just going to try to pack it in, scratch out a few wins, and try to get healthy for the playoffs.
That may mean winning ugly, and the Panthers defense has been just as good as the Saints defense. They're especially good defending tight ends and backs in the passing game, so the Bucs could struggle to score a second straight week, especially on the road.
Tampa is only 4-3 on the road this season, with three one-score wins, and they're just 2-5 ATS in those games. Double-digit division favorites have covered only 39% of the time on the road since 2003, and this line feels too high with Tampa missing so much of its offense.
Still, I can't put too much faith into the Panthers. Cam Newton has lost 12 straight Carolina starts, going 1-11 ATS in that span. Maybe he's due a little regression in what could be his last home start ever?
THE PICK: Panthers +10 (Lean)
Giants at Eagles (-10)

We're not positive what's happening at QB for either team. Jalen Hurts continues to be limited in practice and has a short week here after a Tuesday game, and it could be Mike Glennon, Jake Fromm, or both for the Giants.
If Hurts and the Eagles were healthy and rested, this line might be deserved. Philadelphia is playing really well with its new run-first identity, and the defense has been great lately too. Philly should dominate in the trenches, and that should be enough against a bad Giants team that's not playing well.
Still, it's a high line for a division rivalry, especially considering the Giants just beat this team 13-7 less than a month ago. 10 of the last 15 games between these teams have been one-score affairs. Since 2003, teams on a three-game losing streak, like the Giants, are 60-32-2 ATS (65%) against teams on a two- or three-game win streak like the Eagles, and they've covered eight straight, per Action Labs. The line is just too high for an improving but not great Eagles team.
THE PICK: Lean Giants +10 (Pass)
Chargers (-9.5) at Texans

Somehow the Texans have won three games, but those wins have come against teams ranked in the bottom 10 of the DVOA. Against any other competition than that bottom 10, Houston is 0-9 with 31 or more points allowed in seven of those losses and all but one of the losses by double digits. The Texans are barely averaging double-digit points in those games and losing by an average of 21.0 PPG.
The Chargers may actually be a bit underrated. They've played the league's toughest schedule so far, per Football Outsiders, with only one bottom-10 DVOA opponent. The Texans will be their second, and this could set up for an easy blowout win. Los Angeles's big weak spot is run defense, and the Texans can't run to save their lives.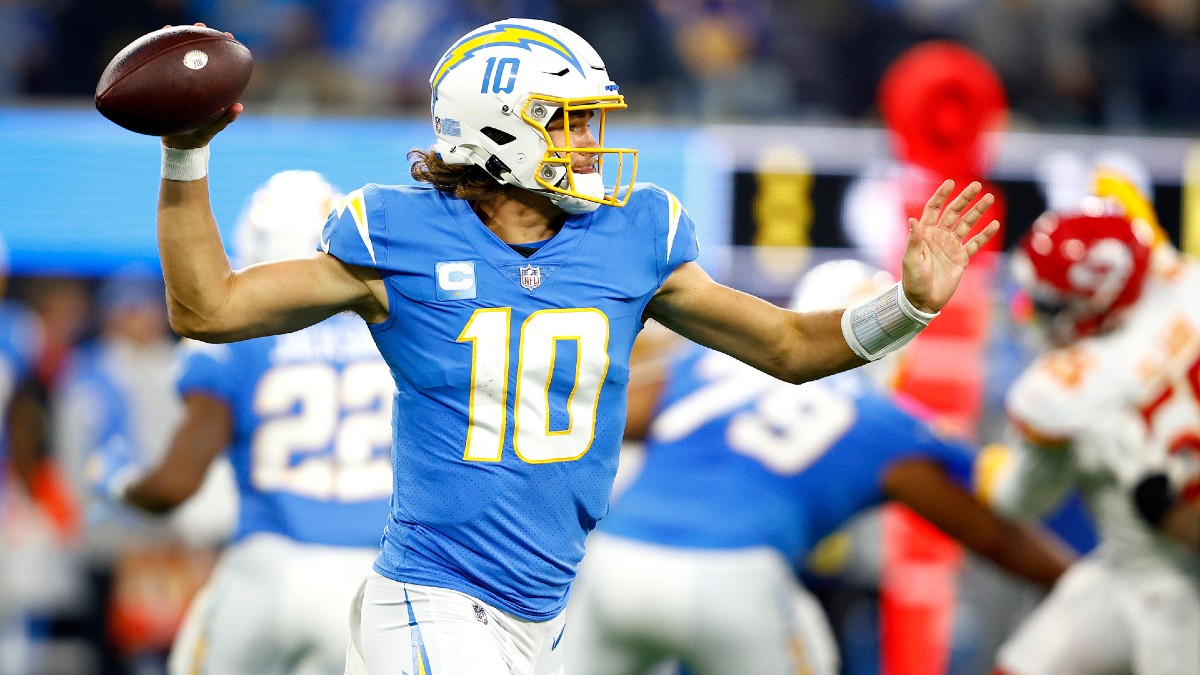 This would be a Bet, but there are too many COVID question marks on each side. Joey Bosa is out for the Chargers while Austin Ekeler and C Corey Linsley could miss, and Brandin Cooks is a big miss for the Texans since he's about their only offense. It wouldn't be a shock to see this game moved back, but I'll look to Bet if I feel confident in enough Chargers players hitting the field.
THE PICK: Chargers -9.5 (Lean)
Lions at Falcons (-6)

I played Atlanta -4 on Sunday night with the line deflated after Detroit's big win over the Cardinals, but now the line has moved back to near a touchdown where it was before the temporary drop.
Atlanta is 0-6 against current playoff teams (including the Eagles with their tie) with an awful -145 point differential, but the Falcons are 6-2 against everyone else. Detroit is firmly in the "everyone else" category. Atlanta is 5-1 against bottom 10 DVOA teams — but all of those games have been one-score affairs.
The Falcons just aren't very good. By DVOA, they're actually the worst team in football, benefiting from close-game luck against these bad teams. I won't be shocked if they find a way to get another win here, but with the line move, it's just too many points to lay, even with Jared Goff potentially out. The Lions have played one-score games in five of their last six.
THE PICK: Lions +6 (Pass)
Jaguars at Jets (-1)

These might be the two worst teams in the league, and you cannot make me care about this game. With a coin flip line, there's just not much here. Maybe Jacksonville comes out fired up with a full week away from Urban Meyer, or maybe the Jags pack it in and try to keep the No. 1 pick.
Underdogs with a scoring margin average of -14 or worse over the last five games cover 60% of the time since 2003, including 7-4 this year. That fits the Jags at -18.2 over the last five. Teams on a five-game ATS losing streak like the Jaguars have also covered 59% of the time in that stretch. Both of these teams are decent running the ball, but the Jags can stop the run a little too while the Jets defense is bad at, well, pretty much everything.
Besides, the Jaguars are literally the only team in the NFL without a single player in COVID protocol this weekend — turns out Jacksonville already rid itself of its virus. Let's call for an upset!
THE PICK: Jaguars +1 (Lean)
---
Late Sunday Afternoon
Steelers at Chiefs (-7.5)

I was way out on Pittsburgh heading into the season, but somehow I keep betting on the Steelers. The books continue to disrespect the black and gold, and Pittsburgh is still, somehow, in the mix in the AFC North and playoff races.
At first glance, this immediately looks like another great spot to back Mike Tomlin as an underdog. If you've been reading regularly, you know that Tomlin has covered 73% of his games as an underdog, including 4-2 this season, and that he's 30-20 straight up in those games.
But that trend grows stronger when Pittsburgh is playing at home, and it's also stronger when Tomlin is a shorter dog. He's only 2-2 lifetime as more than a touchdown underdog, so the usual underdog trends may not apply here — and that's a bummer since Pat Mahomes is only 9-13-1 ATS (41%) as more than a seven-point favorite.
Look past the trends though and you see that the Chiefs lead the entire NFL in EPA over the past six weeks, top-three on both offense and defense, while the Steelers are bottom-seven in both areas. Pittsburgh is bleeding out defensively, especially against the run, and the offense is struggling to move the ball. Underdog trends or not, this game shapes up as a massive mismatch.
However, we don't know if we're getting the Chiefs from the last six weeks. We still don't know if Tyreek Hill or Travis Kelce will play, with both in COVID protocol, and K Harrison Butker is a sneaky big miss too. It's tempting to play Chiefs -7.5 and hope Hill and Kelce are cleared, but it's too risky. I'm not sure we'll see either one of them this week.
If Kelce and Hill both play, I'll take the Chiefs up to -9.5. Even with both presumed missing, this shapes up as a game Kansas City can win with its defense and improved run game. Right now, we have no choice but to pass on this game without knowing about Kelce and Hill.
THE PICK: Chiefs -7.5 (Pass)
Broncos (-1) at Raiders

This isn't necessarily a playoff game, but it's likely an elimination game for both teams as they sit on the fringe of the playoffs. Neither team has any business playing postseason football.
Denver will be without Teddy Bridgewater, and Drew Lock is a massive downgrade and probably not an NFL quarterback at this point. Derek Carr is the far better passer, and neither defense is doing much lately. The Raiders rank dead last in the NFL against the pass in EPA per play over the past six weeks, but I'm not convinced Lock can do much about it.
There's just no way I'm taking Drew Lock as a road favorite. The home team has won nine of the last 11 games in this division rivalry, and the Raiders have won five of the last six head to head. I'll stick with the trend and with the QB I know actually belongs in the NFL.
THE PICK: Raiders +1 (Lean)
Bears at Seahawks (-6.5)

Both of these teams are playing on short rest, and they're doing so after seeing the last fading glimmer of hope for their seasons go awry. It's over now for Chicago and Seattle, and it could be over soon for the Russell Wilson era in Seattle too, and it's almost certainly over for the Matt Nagy era in Chicago. That means it's tough to know how either of these teams shows up mentally.
The Seahawks offense is the best unit on the field by a wide margin, and I'm willing to trust Russ at home, especially since Justin Fields is banged up and not practicing again. Besides, Matt Nagy's Bears are an ugly 6-18 ATS when they're more than a field goal underdog, failing to cover 12 of their last 14.
THE PICK: Seahawks -6.5 (Lean)
---
Sunday Night Football
Washington at Cowboys (-10)

Unfortunately, it appears that the books have caught on to Washington not being a particularly good Football Team. WFT won four games in a row in November, but three of those wins were eked out over mediocre teams, and Washington never really impressed.
It doesn't help that this is one of the most injury and COVID-stricken teams in the league. It looks like Taylor Heinicke is back to play QB, but we forget that he was the backup when the season started anyway. RB Antonio Gibson is doubtful, WR Terry McLaurin is playing hurt, and TE Logan Thomas is out.
The trenches have been especially problematic, with significant absences on both the offensive and defensive lines as the team still struggles with an outbreak. Now Washington will play on four days rest, a big disadvantage against a rested Cowboys team that barely broke a sweat Sunday against the Giants.
This Dallas offense continues to struggle to find its way, but this is another chance at a get-right spot for Dak Prescott with Washington's pass rush struggling and its secondary porous. The Cowboys led comfortably all the way against WFT just two weeks ago until a late pick-six, and they were up 24-0 at the half on the road.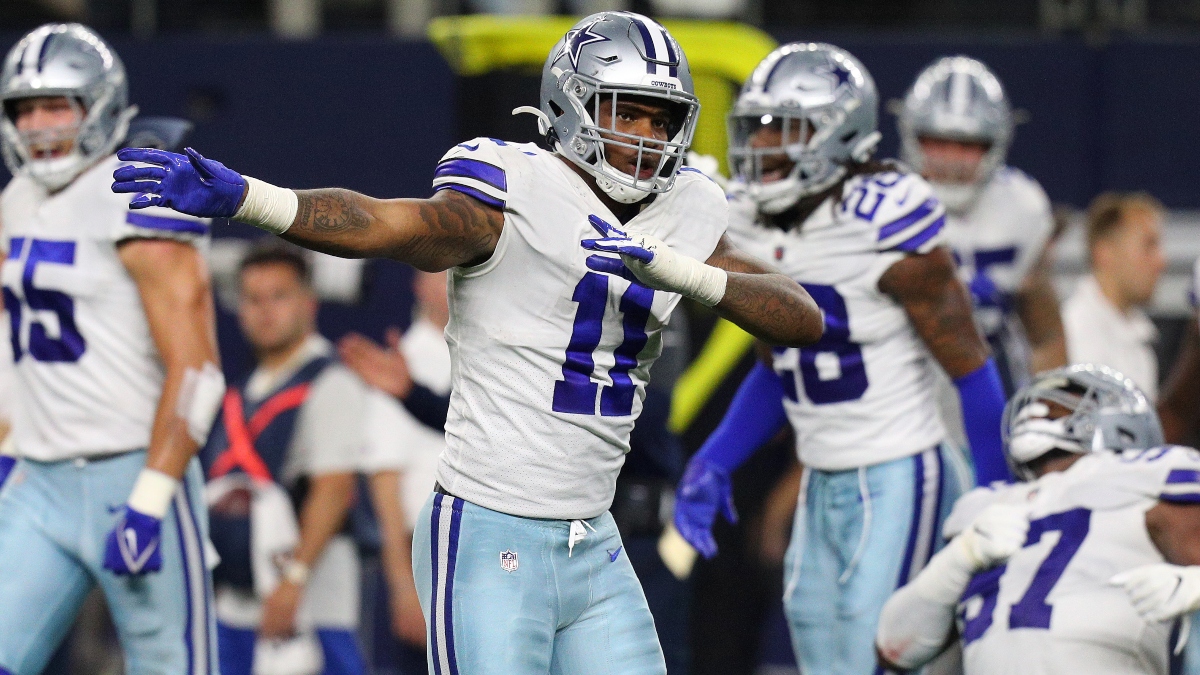 And while the offense still isn't right, the defense is playing as well as anyone right now, especially that fearsome front four with Micah Parsons, Randy Gregory, and DeMarcus Lawrence. That trio each had a sack in the game two weeks ago and dominated, and they should do so again.
Dallas has won eight of 11 in this rivalry, and seven of the last nine matchups were at least an eight-point margin. These games usually are not close, and Dak Prescott is 21-8 ATS (72%) in the division, including 4-0 this year. Dallas clinches the division with a win Sunday night. It's time to party.
THE PICK: Cowboys -10 (Lean)
---
Monday Night Football
Dolphins -1.5 at Saints

Sigh.
On a messy, ugly week of games, this was the one pick I was ready to lock in as my favorite bet of the week. I absolutely LOVED the Dolphins as a field goal underdog in this spot with New Orleans overinflated after its big Sunday night shutout win over the Bucs.
And then the news came out that Trevor Siemian and Taysom Hill have both gone into COVID protocol, which means Notre Dame alum Ian Book will make his NFL debut Monday night. And just like that -poof!- much of the line value disappeared. But not all of it, thankfully.
The Saints offense is running on fumes. This is a fourth-string QB who has never taken an NFL snap, and right now he'll be without both of his tackles. The Saints rank second to last in EPA per snap offensively over the last six weeks, and Miami leads the league in defensive EPA during that stretch, especially against the pass. Talk about a rough first start for Book, who's sure to see a ton of blitz and pressure from this aggressive Brian Flores defense.
The Dolphins have won six games in a row, all by seven or more points. And, yes, those wins came against the Texans, Ravens, Jets, Panthers, Giants, and Jets again, but is this version of the Saints much better? Tua Tagovailoa leads the league in Completion Percentage Over Expectation the last two months, per RBSDM, and he's sixth in EPA. The Dolphins should get rookie WR Jaylen Waddle back, and that makes their offense far better than New Orleans's.
I like the under for this game, even with an already low line. The Saints are struggling to move the ball and score, and Miami shouldn't put up a big number against a tough D that just shut out Tom Brady. Since 2003, night games with a total that closes between 37 and 40 have gone 60-39-3 to the under (61%).
I'm still playing the Dolphins if you can grab them under a field goal, and I'll play the under 37.5 (down to 37) too. And in case it's not clear, you can probably make some family Christmas plans Monday night and just let your bet cash on its own while you play some Monopoly.
THE PICK: Dolphins -1.5 (Bet)
How would you rate this article?
This site contains commercial content. We may be compensated for the links provided on this page. The content on this page is for informational purposes only. Action Network makes no representation or warranty as to the accuracy of the information given or the outcome of any game or event.