Colts vs. Jaguars Odds & Picks: How To Bet Sunday's Massive Spread
Credit:
Julio Aguilar/Getty Images. Pictured: Philip Rivers
Colts vs. Jaguars Odds
Jaguars Odds

+14 [BET NOW]

Colts Odds

-14 [BET NOW]

Over/Under

49.5 [BET NOW]

Time

4:15 p.m. ET

TV

CBS

Odds as of Saturday and via BetMGM, where you can bet $1 on the Jaguars or Colts moneyline to win $100 if they win.
The Jaguars' and Colts' seasons come full circle on Sunday with a rematch of Week 1. This game will have much more on the line, though, as the Colts need a win — and then a little help — to make the playoffs.
After pulling off that season-opening upset, it's been all downhill for the Jaguars, losing 14 straight games. Things have fallen off even worse recently, as Jacksonville lost its last three games by at least 21 points. The only positive to come from the losing streak is the rights to the first overall pick in the 2021 NFL Draft.
Blowing their 24-7 lead against the Steelers cost the Colts control of their destiny. Now to make the playoffs, they need a win and one of the following teams to lose: Tennessee, Baltimore, Cleveland or Miami.
With Jacksonville's recent struggles and Indianapolis' playoff hopes on the line, the Colts should play with urgency and win. Let's dig deeper to see if it will be enough to cover the 14-point spread.
Jacksonville Jaguars
As losers of 14 straight, not much has gone right for the Jaguars. The main issue has been uncertainty at quarterback as Gardner Minshew, Mike Glennon and Jake Luton have all been used as starters.
Glennon will start against the Colts despite his 75.4 quarterback rating being far worse than Minshew's 95.9. While the rotation at quarterback made this season one to forget, it did put Jacksonville in position to grab top quarterback prospect Trevor Lawrence.
Unlike the passing game, the rushing attack has shown promise throughout the year. At 4.6 yards per carry, the Jaguars rank 10th in rushing yards per attempt. Much of this success came from the surprise play of undrafted rookie James Robinson.
However, when Robinson missed last week, Dare Ogunbowale filled in just fine with 71 yards on 14 carries. We will see if Ogunbowale can replicate that performance against the Colts' second-ranked rushing defense with Robinson out again.
The defense was bad to start to year, but things have gotten worse over the past three games. Injuries played a major role, as the Jaguars are without their top three cornerbacks and best pass-rusher. Missing their best players led to a helpless-looking defense in recent weeks, allowing 418 yards and 37 points per game over their past three games.
Indianapolis Colts
After their collapse against the Steelers, the Colts need to bounce back against the Jaguars to keep their playoff hopes alive. With Jacksonville's mound of injuries and choice to start Glennon, this will be Indianapolis' game to lose.
To keep that from happening, the Colts need to protect the ball on offense as they are 3-5 in games they have a turnover, compared to 7-0 when they have none.
Philip Rivers made major mistakes that cost the Colts the win in Week 1. However, a short offseason made the first week a difficult one for teams with new quarterbacks or coaches.
Since that disappointing loss, though, Rivers has shown an excellent ability to take care of business against bad teams — Indianapolis is 6-0 against teams worse than .500.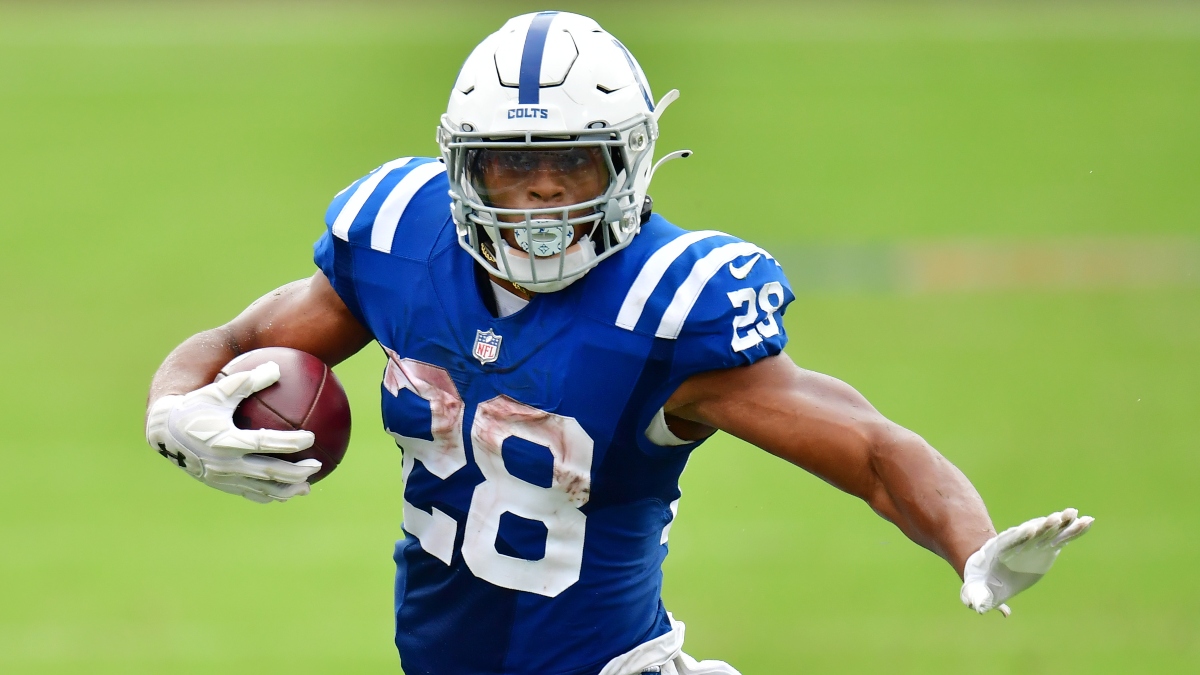 Running back Jonathan Taylor has come on strong after a slow start. He has five straight games with at least 70 yards rushing, after having just one prior to the hot streak. His emergence has given the Colts a workhorse running back to complement their passing attack.
Facing the Jaguars, Taylor is primed for another dominant performance against their 30th-ranked defense against the run.
Defensively, the Colts' offseason additions of DeForest Buckner and Xavier Rhodes have paid off. Ranking fifth at defensive tackle, Buckner brings both a pass rush and run stopper from the inside. And ranking sixth at cornerback, Rhodes provides the ability to take away opposing offenses' lead receiver. Their play has led the Colts to eighth in yards allowed and third in turnovers forced.
Jaguars-Colts Pick
Jacksonville looks lost, as each week seems to go from bad to worse. With the No. 1 pick locked up, it's surprising that the Jaguars choose to continue with Glennon at quarterback despite his miserable play. Pairing his struggles with a defense crushed by injuries explains why the blowouts seem to only be getting worse.
After a devastating loss and their playoff hopes on the line, the Colts will be focused coming into Week 17. With the offense hitting its stride thanks to Taylor's emergence, a motivated Colts team would give anyone trouble.
Against the depleted Jaguars, the Colts should dominate from start to finish — back them to make it a fourth straight blowout loss for the Jaguars.
Pick: Colts -14
How would you rate this article?