NFL Odds, Picks, Predictions: Bet Chiefs, Steelers, Ravens, Dolphins; Expert Advice On Every Week 17 Spread
Credit:
Jamie Squire/Getty Images. Pictured: Chiefs QB Patrick Mahomes
With so many fluid factors in play for Week 17, which spreads are actually worth betting?
Our analyst makes picks for every game below, rating his confidence in each on a "bet" to "pass" scale.
Find out why he's putting his money on the Chiefs, Steelers, Ravens and Dolphins to cover below.
Happy New Year! We made it to 2022, now we're almost to the NFL playoffs. But with two weeks of the regular season to go, it feels like we've never known less.
Only one AFC playoff spot is locked up, the entire NFC seeding picture is unclear, and rosters around the league are still a mess with players entering and leaving COVID protocol. But Week 17 is here whether we're ready for it or not, so it's time to finalize our picks for every game.
We already covered every game in detail below earlier in the week, but there were more "waits" on picks than any week this week, and a few games that need circling back to now that the lines have settled with player availability coming in.
Before we get to those, let's recap picks from below that remain unchanged.
NFL Odds, Picks, Predictions
The Chiefs' line has moved in our favor, so I'm ready to make it a "bet" now. (I wrote a full preview on that game here.)
I'm also betting the moneyline on these Dolphins and Steelers underdog spots:
Bet Chiefs -4 at Bengals
Bet Dolphins +4 at Titans
Bet Steelers +3.5 vs Browns
Lean Bills -14 vs Falcons
Lean Jets +13.5 vs Bucs
Lean Cardinals +6 at Cowboys
Remember, our best advantage is that we don't actually have to bet every game. Sometimes when the games are meaningless or there are just too many injuries or COVID absences to parse, it's better to just stay away.
Here are the picks for games we're passing on this week:
Washington +4.5 vs Eagles
Giants +6.5 at Bears
Patriots -16 vs Jaguars
Lions +7.5 at Seahawks
Alright, now let's dive deeper into the games that shifted this week with injury news and line moves.
Vikings at Packers (-13)

Welp, so much for Sunday Night Football.
Kirk Cousins was a late-week addition to the COVID list and is officially out, which leaves backup Sean Mannion making his first start of the season in the freezing Lambeau tundra with the Packers' 1-seed on the line. And just like that, this line doubled.
Mannion has started two meaningless games the final week of past seasons, but this game is anything but meaningless. The Vikings desperately need a win to keep their postseason hopes alive, while the Packers need a win to stay ahead of the pack for the 1-seed race.
And that means it's Aaron Rodgers versus Sean Mannion with a whole lot on the line.
The Packers covered a spread this big only four times all season, but all four came at home against non-playoff teams: The Lions, WFT, Seahawks and Bears. There are also wins by 10 and eight against the Steelers and Rams at Lambeau.
Cousins had been playing excellent football, so he's a huge loss considering Mannion yet to take a snap all season — plus missing practice all week due to COVID. The Packers offense, meanwhile, is too hot. They're going to score points and the Vikings just can't match blow-for-blow, not without Cousins.
THE PICK: Lean Packers -13 | Previously Vikings +6.5
Raiders at Colts (-7.5)
The midweek COVID rule changes mean we still might get Carson Wentz, who was activated off the list on Saturday but is not officially cleared as of Sunday.
The Colts do get the excellent interior of their offensive line back, so that's a big boost, but it looks like they'll be without one or both tackles plus TE Jack Doyle. The Raiders are missing some key names as well, particularly on defense.
The Raiders have the NFL's third-best run defense in Expected Points Added (EPA) per play over the past six weeks, per RBSDM. We know the Colts want to run the ball, and that'll be especially true if Sam Ehlinger is under center. I'm also counting on a little extra edge from the Raiders, who undoubtedly feel hard done by the late rule change that might allow some of these key Colts back on the field in a big game with playoff implications for both.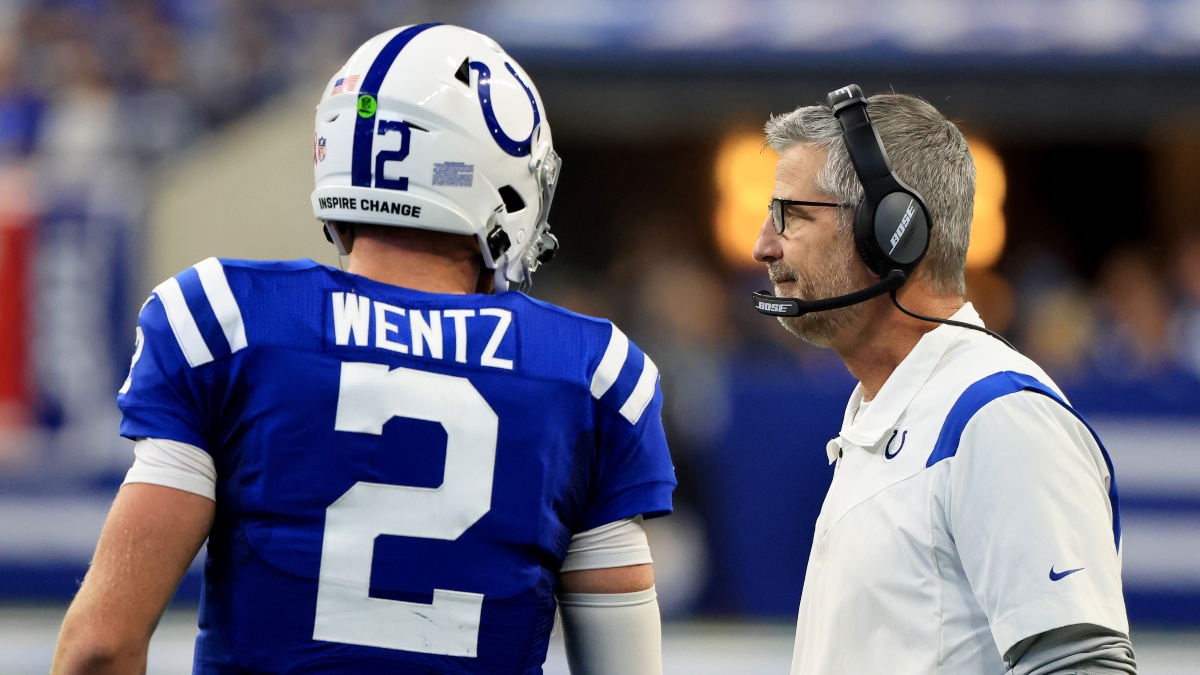 If you want to stay away from this one entirely without knowing definitively about Wentz, I don't blame you. But I liked the Raiders when they opened at +9, and there's still some value here at +7 — even if it's a full Colts go. I'm also not certain the unvaccinated Wentz will be a definite go, and we already know the books think this is more like a 3-point line if he's out (check real-time NFL odds here).
I'm only going to wade in, but I'm ready to back the Raiders with a line past the key number.
THE PICK: Lean Raiders +7.5 | Previously "Wait"
Rams (-5.5) at Ravens
It looks like Tyler Huntley will get the start at QB for the Ravens as Lamar Jackson struggled through practice this week, and that likely news has shifted this line even further in the Rams' favor. And honestly, that's a bit odd to me. Are we sure it's good news for the Rams that Huntley is playing? He's been pretty good in his starts while Jackson had been struggling mightily and was playing hurt. Huntley has proven more than capable as a passer and as a runner.
Baltimore's secondary is in rough shape without Marlon Humphrey and Marcus Peters, but they do get Jimmy Smith and Tavon Young back which should give them a fighting chance. They also got Justin Houston and Tyus Bowser back off the COVID list, which is huge since that's their best two pass rushers. This pass defense will have a shot against Matthew Stafford.
Remember, Stafford has been miserable against teams above .500 in his career. He's 9-40 straight up in November or later against teams better than .500, which includes 5-7 as a favorite — and that's not just because the Lions stunk. Against the spread (ATS), his teams are 13-31-2 ATS in November or later when facing a team better than .500, a horrid 29% cover rate.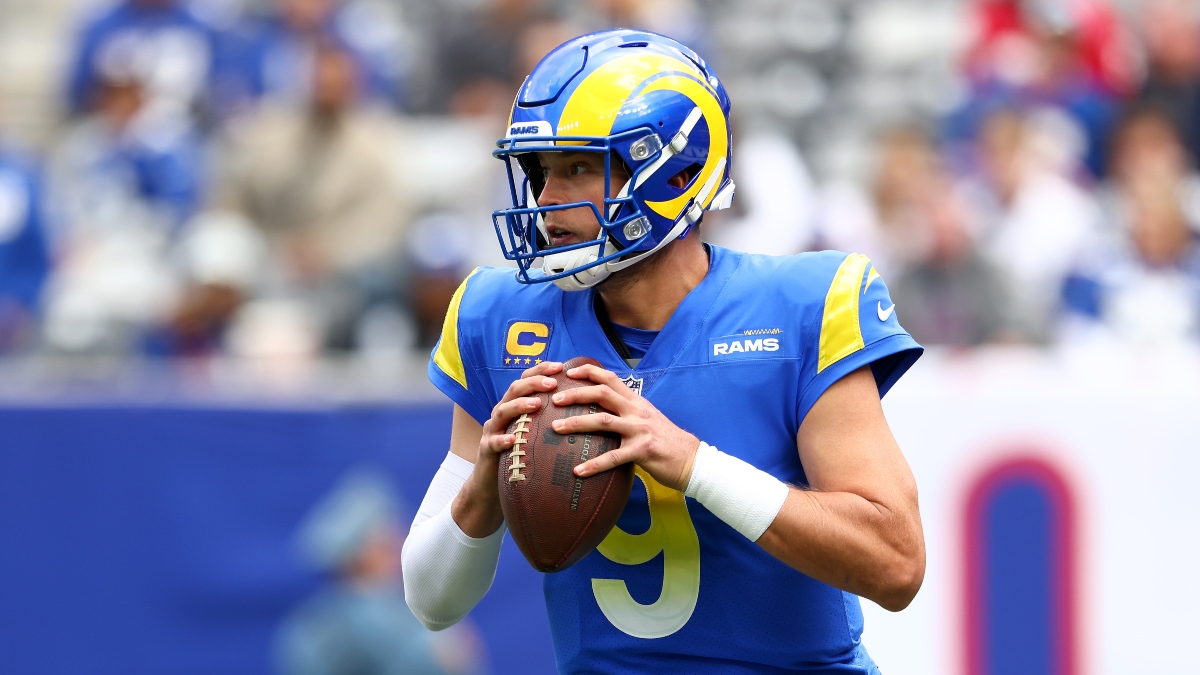 It's also a cross-country trip and an early kickoff for the Rams.
I'm seeing a whole lot of warning signs for Los Angeles. Baltimore has lost four in a row, but three were by four combined points. This is a proud, well-coached team that's fighting hard, and I'm not going to read too much into last week's results with a QB signed off the street and the entire secondary in the hospital.
I would have made the Ravens a home favorite if Jackson was healthy and playing, but Huntley and John Harbaugh will give this team a chance.
I expect the Ravens to be a live dog.
THE PICK: Bet Ravens +5.5 | Previously "Wait"
Broncos at Chargers (-8)
Both these teams are still alive in the playoff hunt, but this game is a mess.
We know Drew Lock will start in place of Teddy Bridgewater again, so that's not great. We also know WRs Jerry Jeudy and Tim Patrick are out, while Courtland Sutton is questionable. And the Broncos defense is almost entirely missing. Eight usual rotation guys are on the COVID list, and between that and the injuries, they could be without almost their entire front seven.
The Chargers got a lot of their names back but are still short in the secondary with Chris Harris, Nassir Adderley and Derwin James in question, which is a rough look at tight end and on the right side of the offensive line, too. But the Chargers do get back some of their biggest names like Joey Bosa, Austin Ekeler, Corey Linsley and Mike Williams, so they're clearly the healthier team.
I would absolutely love this road underdog spot for the Broncos if Teddy were out there, but do you really want to put your faith in Lock? Denver just won this matchup 28-13 a month ago, leading by two touchdowns most of the way, and Justin Herbert struggled against Vic Fangio's defense. Herbert was intercepted twice, once for a pick-six.
Herbert will have to be much better this time.
Herbert is actually my favorite way to bet this game. The Chargers will be throwing early and often these final two games as they fight for the playoffs, and Herbert has a chance to lead the league in passing yards, touchdowns and/or interceptions. He's a nice long shot gamble, especially since Tom Brady leads two of those categories and could sit out a meaningless Week 18 game.
As for this one, it's too much of a mess to get a great read on it. Lock is actually 3-1 ATS as an underdog of more than seven points, and this line feels too high for a division rivalry with both teams still in the playoff hunt.
THE PICK: Pass Broncos +8 | Previously "Wait"
Panthers at Saints (-6.5)
We've got a starting QB for both teams now. It'll be Sam Darnold starting for the Panthers instead of Cam Newton, and Taysom Hill returns to start for the Saints now that he's off the COVID list.
When Hill starts, games go under. Unders are 6-1 in Hill's starts, which makes sense. The Saints run the ball more, running the clock and taking the life out of the game, and this game won't have much life in it. All seven Hill starts have failed to hit 46 points.
Even with a total at 37.5, the under looks tempting here. The Saints defense is by far the best unit on the field, and the Panthers defense has been pretty good itself at times, though faltering lately.
Actually, by EPA, these are the two worst teams over the past six weeks. You knew the Panthers were that bad, but the Saints haven't been much better. They're usually awesome offensive line is decimated right now, and the offense just doesn't have any punch. The Saints rank last in both running and passing EPA per play over the past six weeks, the passing by an outlier amount. And while the Panthers' secondary is in miserable shape, the Saints don't have the pass protection, quarterback or receivers to beat it.
The trends say the Panthers are being undervalued. Teams that have lost at least five in a row ATS (like Carolina) cover 59% of the time, while teams with a margin of defeat of 14+ over the last five cover 60% of the time.
If we really expect this game to go under 37.5 points, then 6.5 is actually a pretty high line. Probably too high.
THE PICK: Lean Panthers +6.5 | Previously "Wait"
Texans at 49ers (-12.5)

Jimmy Garoppolo (doubtful) is expected out, so Trey Lance will likely make his second start. Lance's first one didn't go too well, way back in Week 5 against the Cardinals, as Lance struggled to move the ball as a passer or as a runner. He did run 16 times for 89 yards with a litany of designed runs, so it would be a wise idea to look for Lance rushing prop overs here.
As for the game itself, it could be tough sledding for Lance against a Texans defense that's been surprisingly competent under Lovie Smith. Their defense ranks 18th in DVOA on the season, and the passing defense in particular has more than held its own. The run defense has been suspect at times, so it's possible the Niners could unleash a power run attack behind Trent Williams and George Kittle that would more than take care of business.
But don't forget about that rookie on other side of the field.
Davis Mills has actually been playing pretty quality ball in recent weeks. He's been about equal in EPA to guys like Kirk Cousins and Carson Wentz over the past six weeks, and the Texans offense actually ranks 12th over that stretch. They've really fought hard all season and maximized its meager talent.
I thought this opening line was too inflated for the 49ers, and I don't think it's moved enough in Houston's direction with Garoppolo out. Jimmy G has been really good! He actually ranks top three in both EPA and CPOE over the past six weeks. He's a real loss, especially to a quarterback Kyle Shanahan clearly isn't comfortable playing since he pushed for Garoppolo to play all week and hasn't even been putting Lance out there in designed packages.
Remember, Kyle Shanahan is miserable as a favorite. His teams are 13-24-1 ATS when favored, covering just 35% of the time. The Niners are a brutal 9-12 straight up as favorites the last two seasons.
We just don't know what to expect with Lance. Maybe the Niners have been prepping him all season and are about to unleash a beautifully devastating power run game on the rest of the NFC. It's certainly possible — I looked at 49ers conference and Super Bowl futures this week! But until we see it, Shanahan's shaky history as a favorite beckons.
And yes, that means we sprinkle the Texans moneyline, too. Hey, we've done it three other times this season and came out winners all three times. Besides, we're already backing Tyler Huntley, Sam Darnold, Tim Boyle and Zach Wilson, so why not add Davis Mills to the mix?!
It could be a very weird Week 17.
THE PICK: Lean Texans +12.5 | Previously "Wait"
---
Editor's Note: The content below was published on Wednesday. Please check out the information above to see how Brandon Anderson's picks have changed — and why — since then.
---
We're down to two weeks left in the regular season, and as we head into 2022, almost the entire NFL playoff picture is still up for grabs.
Five NFC teams have clinched a playoff berth.
The Packers, Cowboys and Bucs are division winners but are still battling each other for position and the 1-seed. The Cardinals and Rams are going head-to-head for the NFC West, but they're both in the postseason, too. After that, it's six teams fighting for the final two spots, with the 49ers and Eagles currently leading the way.
Meanwhile, the AFC is an absolute mess.
Only the Chiefs have locked in a playoff berth by virtue of winning their division. They'll be the 1-seed if they win out, but a single loss would open the door for the Titans, while two could leave the Bengals, Bills, Colts or Patriots at the top. None of those five other teams have even clinched a playoff spot yet, though. In fact, 12 teams are still fighting for the conference's final six spots, with the entire AFC North and West divisions still alive.
Suffice to say there's a lot at stake — not to mention the draft picks at the other end of the spectrum.
And then there's the NFL's new COVID protocols, which will allow individuals to test safely back onto rosters after five days instead of 10, regardless of vaccination status.
That's huge news, because it means that players who are added to COVID lists Tuesday or earlier still have a chance of getting back into lineups by Sunday. It also means we need to tread lightly with our early-week picks since there are even more variables for us to sort through. That translates to more "waits" below.
We'll circle back this Saturday with final picks, but for now, we'll label every pick as a "bet," "lean" or "wait."
Note: Odds highlighted below are the best available for each pick as of writing. Shop for the best real-time lines with our NFL odds page.
---
Chiefs (-5) at Bengals
This is the biggest game on Sunday's slate with both teams vying for the AFC's  1-seed. Cincinnati is two games back, but can catch Kansas City if it wins out, and fans are dreaming big after Joe Burrow recorded the fourth-most passing yards in a game in NFL history last week.
This is Cincinnati's biggest home game in a very long time. Burrow has been scorching hot, and it's fair to wonder if he might even be the better quarterback in this matchup right now. But Patrick Mahomes is playing better again, too, and he should get Travis Kelce back for this marquee game.
No team has been hotter than the Chiefs, who have won eight straight and covered six in a row. The big turnaround in their season has been the turnover battle. Over the first seven games, they turned it over 17 times and forced only seven, and subsequently went 3-4. Over the eight-win  streak since, they've forced 21 turnovers and had only eight of their own.
Kansas City's offense is playing well again while the defense has been even better. The Chiefs defense ranks 16th in Football Outsiders' DVOA but ninth in Weighted DVOA and is No. 1 in Expected Points Added (EPA) per play over the past six weeks, per RBSDM. The Chiefs have allowed only 14.5 points per game over the last 10 and more than 17 points only twice.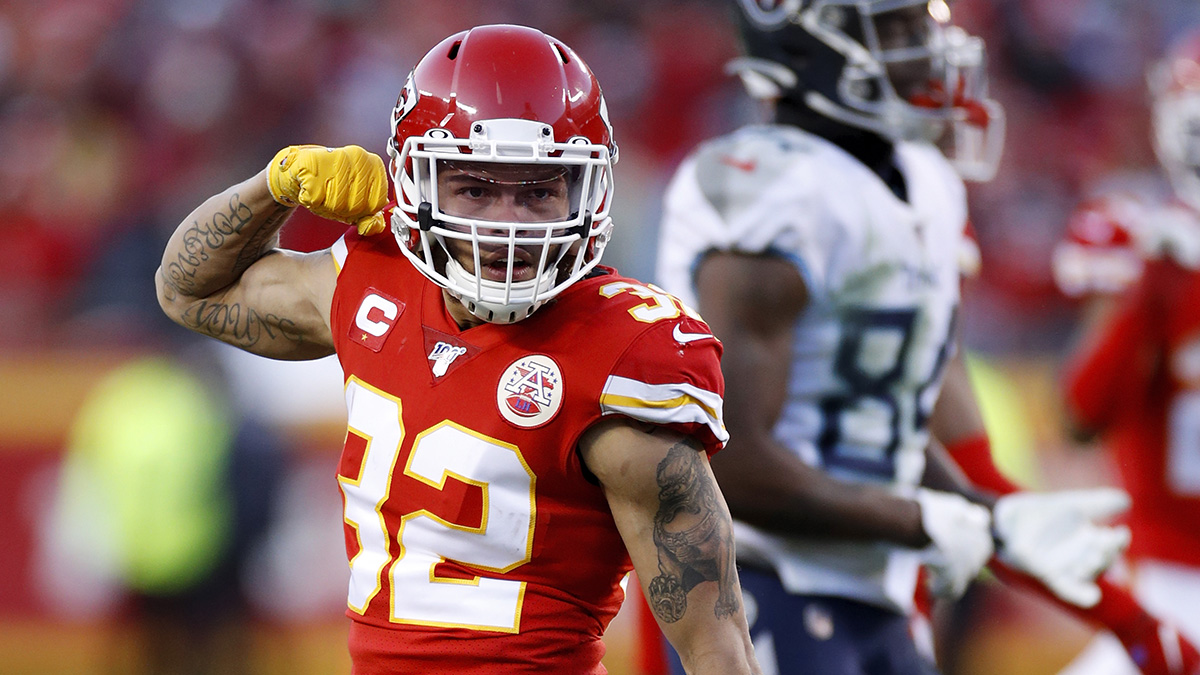 The Bengals feel red-hot after last week's blowout win over the Ravens, but remember that was against a quarterback Baltimore signed off the street and a makeshift secondary. Cincinnati has faced the NFL's softest schedule so far, per Football Outsiders. The Bengals have blown out the Steelers and Ravens twice each, but is it possible the Bengals are just the class of the league's worst division? They've otherwise played one-score games against the Bears, Jaguars, Jets and Broncos, and were blown out by the Browns and Chargers.
When it's good for Cincinnati, it's really good, but the results have been all over the map while the defense has allowed big yardage and points to good offenses (on the rare occasions it's faced one). The Bengals have also somehow faced only four top-20 DVOA defenses and struggled to score in those games.
This is effectively a playoff game with the 1-seed on the line. We know what we'll get from the Chiefs, but I'm going to have to see it from the Bengals against a great opponent before I trust them.
THE PICK: Lean Chiefs -5
---
Dolphins at Titans (-3.5)

The Titans are rooting for the Bengals to win this Sunday, because Tennessee is quietly only one game back in the race for the AFC's 1-seed and hold the tiebreaker over Kansas City as the team responsible for the Chiefs' most recent "L." That Titans win came back in Week 7, though, and they haven't been the same since.
Derrick Henry played only one more game before landing on injured reserve, and the Titans have missed A.J. Brown and Julio Jones much of the time since, too. Brown is back now, but Jones is in COVID protocols along with pass-rusher Bud Dupree. The Titans are also still shorthanded on the offensive line.
Tennessee's offense ranks fourth-lowest over the past six weeks, including fourth-worst in passing. Ryan Tannehill has six fumbles and six interceptions over that stretch. It looks like he's turning into a pumpkin. This is his first game against his longtime team that drafted him, and Dolphins fans must be starting to feel pretty good about their new QB. Tua Tagovailoa leads the league in Success Rate over the past six games and ranks top-five in EPA and Completion Percentage Over Expectation (CPOE) at RBSDM.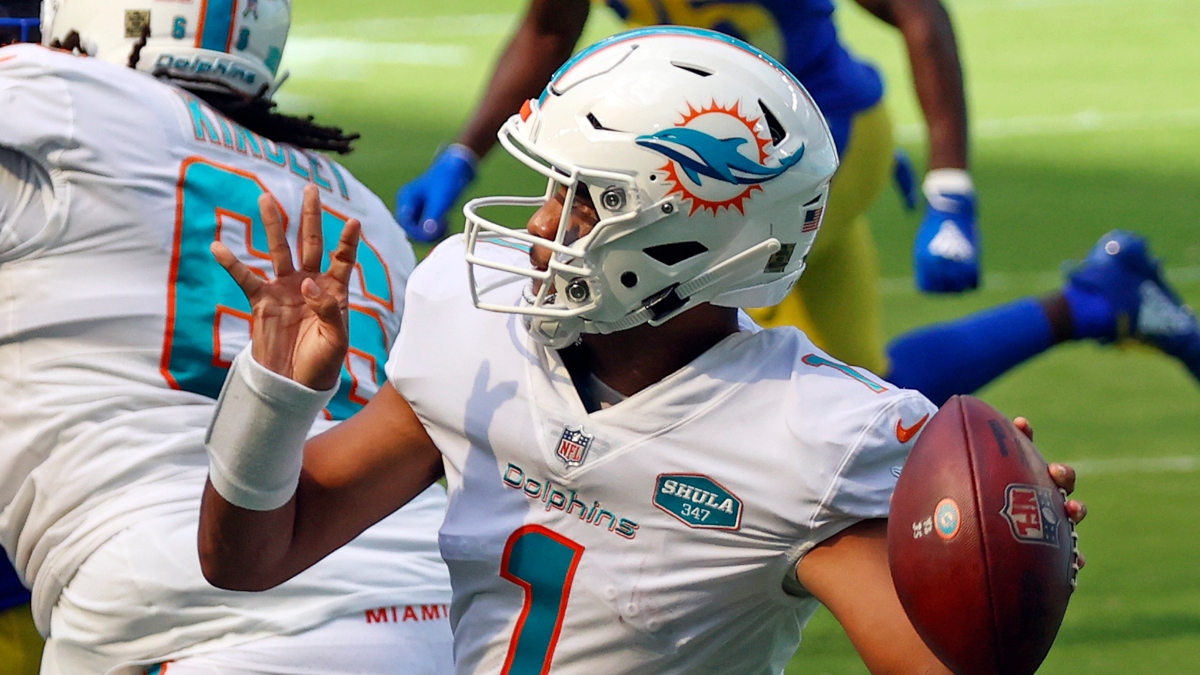 Miami may have its QB of the future.
Tagovailoa has the Dolphins on a seven-win streak, going 6-1 against the spread (ATS) over that span. They also have the league's top defense over that stretch, allowing just 11.7 points per game, though they haven't exactly faced a murderer's row of QBs: Tyrod Taylor, Lamar Jackson, Joe Flacco, Cam Newton, Mike Glennon, Zach Wilson, and Ian Book. Even the shell of Tannehill is near the top of that list, but he has struggled mightily under pressure, and no defense brings more pressure than Miami.
The season-long metrics say these teams are about dead-even, but they're headed in opposite directions. Tennessee no longer has the run game to hurt Miami where it's weak, and the Dolphins should be able to pass on the Titans.
The Titans stole last Thursday night's game against the 49ers after a lifeless half. This feels like the perfect spot to fade them against a scorching-hot Dolphins defense.
THE PICK: Bet Dolphins +3.5
---
Raiders at Colts (-6.5)

Will Carson Wentz play? That's the big question hanging over this big AFC game with the news that Wentz entered COVID protocols on Tuesday. It's a big drop from Wentz to Sam Ehlinger at QB, big enough that there's been rumors of a possible Philip Rivers return. We also don't know if stud LG Quenton Nelson or LB Darius Leonard will clear COVID protocol in time to play.
We recommended betting the Raiders after they opened as high as +9 on The Hot Read segment of The Action Network Podcast, but now that the line is jumping around and so much is up in the air, we better wait.
THE PICK: Wait to see what happens with Wentz and the Colts stars
---
---
Eagles (-4) at Washington

These teams played just a week ago, and it wasn't close — the Eagles won by 10 but doubled the Football Team in yardage, 519 to 237, thanks to a dominant rushing attack with 238 yards to control the game. With this game kicking off only 12 days later, the Eagles having won five of six, and the Football Team laying a complete egg last Sunday night in Dallas, this feels pretty easy.
Maybe a little too easy.
A lot can change, even in 12 days. Washington was coming off a weird COVID week and still missing players, notably along both lines, where the Eagles dominated. And now the Eagles will be without Miles Sanders while Jalen Hurts ran only twice last week and still might not be fully healthy.
There are also some major red flags for Philly in our Action Labs trends. Teams on two- or three-win streaks facing an opponent on a three-loss streak are just 33-60-2 ATS, covering only 35% of the time. Teams that win by 17+ against an opponent that just lost by 17+ are also 64-98-4, covering less than 40% of the time.
I really like the identity the Eagles have captured and think they'll find a way with defense and a run-first attitude, but road division games late in the season with both teams still in the playoff hunt are always tricky.
THE PICK: Lean Washington +4
---
Rams (-3.5) at Ravens

This line is fishy. So very fishy.
Baltimore is more than a field goal underdog at home with its season on the line against a quarterback who can't beat teams over .500 to save his life? What do the books know that we don't?
Baltimore is still sorting through a long list of injuries and COVID absences, missing most of its corners and now potentially both of its top two pass rushers.
And, most importantly, we don't know who will play QB yet. Will Lamar Jackson finally practice? Will Tyler Huntley clear COVID protocols? It feels like this line suggests another Josh Johnson start, but it's such a huge discrepancy I'm going to have to wait to see before betting, even though it'll move the line.
THE PICK: Wait on Baltimore injury and COVID news, especially at QB
---
Giants at Bears (-6.5)

I'm sorry, what is this line? We're making the Bears nearly touchdown favorites? Against a real NFL team?
Okay, fine, the Giants hardly qualify as a real NFL team these days — and they don't exactly have a quarterback, or much else, for that matter. But what are the Bears doing well? They rank bottom-five in defensive EPA over the last six weeks and bottom-three running the ball. They also have a lame duck coach playing out the final two games of his contract.
This game is pretty meaningless, but there's no way I'm giving the Bears a touchdown of respect. Not even against the Giants.
THE PICK: Lean Giants +6.5
---
---
Falcons at Bills (-14)

Not every early game is good.
We've got three huge favorites this week, all by more than two touchdowns. And while you would think these are awfully high lines, history tells us huge favorites tend to cover more often than not this late in the season, when they're heavily favored for a reason.
Since 2003, teams over .500 that are playing at home and favored by 10-17 points in December or later are 99-78-3 ATS, covering 56% of the time.
We know the Bills are really good — they just proved it with an MVP Josh Allen performance against the Patriots to retake control of the division. They have nine wins, all by 12 or more points, and they had all been by 15 before last week's 12-point victory.
The Bills are 0-5 in one-score games, but when they win, they dominate.
The Falcons are 7-8 and still in the playoff mix, but they're the single worst team by overall DVOA. And it's easy to see why when you split Atlanta's season in two. Against teams currently outside the playoff picture, the Falcons are 7-2, with all seven wins coming by one score. But against current playoff teams, they're an awful 0-6 with a -145 point differential, losing by 24.2 points per game.
It's pretty clear at this point which category Buffalo falls into. Bills roll.
THE PICK: Lean Bills -14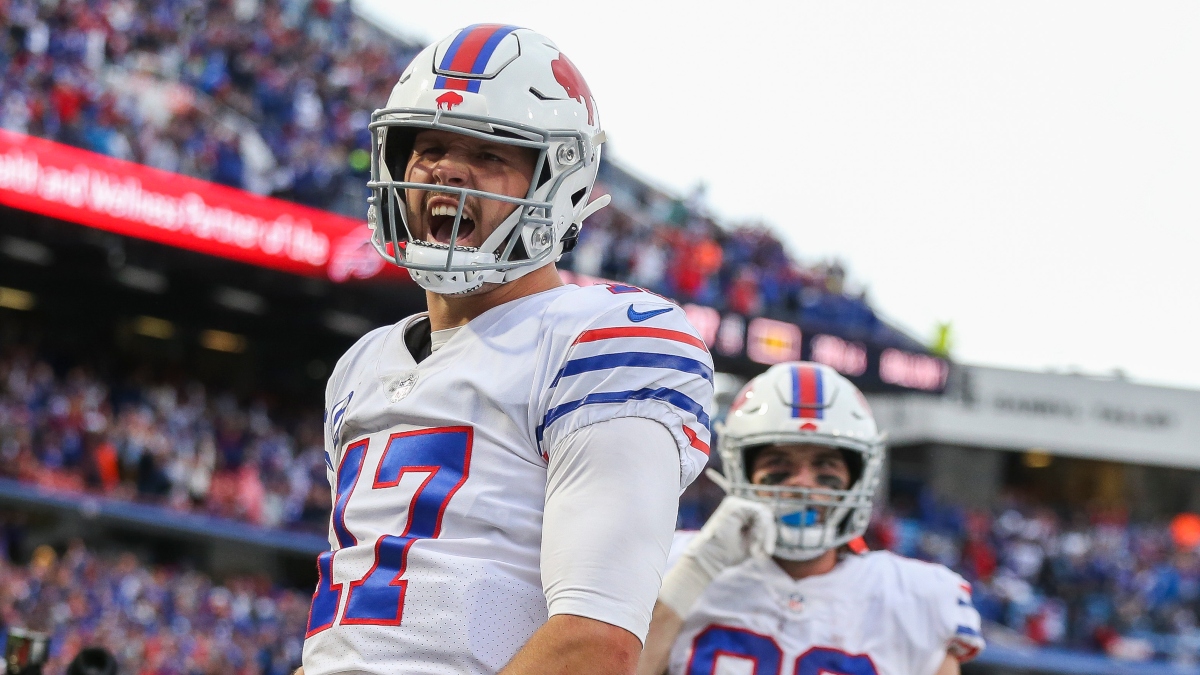 ---
Jaguars at Patriots (-14.5)

Despite their loss to the Bills, the Patriots are also two-touchdown favorites at home.
Star pass rusher Matt Judon is a question mark in COVID protocols, but the entire Jaguars team is a question mark, even after moving on from Urban Meyer. This organization is a mess.
Trevor Lawrence has had a brutal rookie season. He's thrown only one touchdown over his past eight games, and the Jaguars have lost seven straight while failing to cover their last six. And you surely know by now how dominant Bill Belichick is against rookie QBs. His Patriots are 23-6 against rookie signal callers, including a perfect 14-0 at home. The 2021 Patriots have also covered this spread six times already while the Jags have lost by this much six times. Belichick is 14-8 (64%) ATS as a favorite of 14.5 points or more and 22-1 straight up.
The Patriots never ever lose games like this one. The question is whether they'll cover it, and though this line feels a few points inflated, it's too hard to trust a struggling rookie on the road against a team you give him no chance against.
THE PICK: Lean Patriots -14.5
---
Bucs (-13.5) at Jets
It's a third two-touchdown line, but there's one key difference: The Bucs are on the road, where they've struggled all season, and otherwise feel like they're limping to the finish line.
The 1-seed is all but out of reach, Tom Brady's play has slipped, and the injuries are piling up. Chris Godwin and Leonard Fournette are out until at least the playoffs, now joined by star pass rusher Shaq Barrett. Mike Evans is on the COVID list. And the secondary has been a mess all year and just saw two starters enter COVID protocols Tuesday.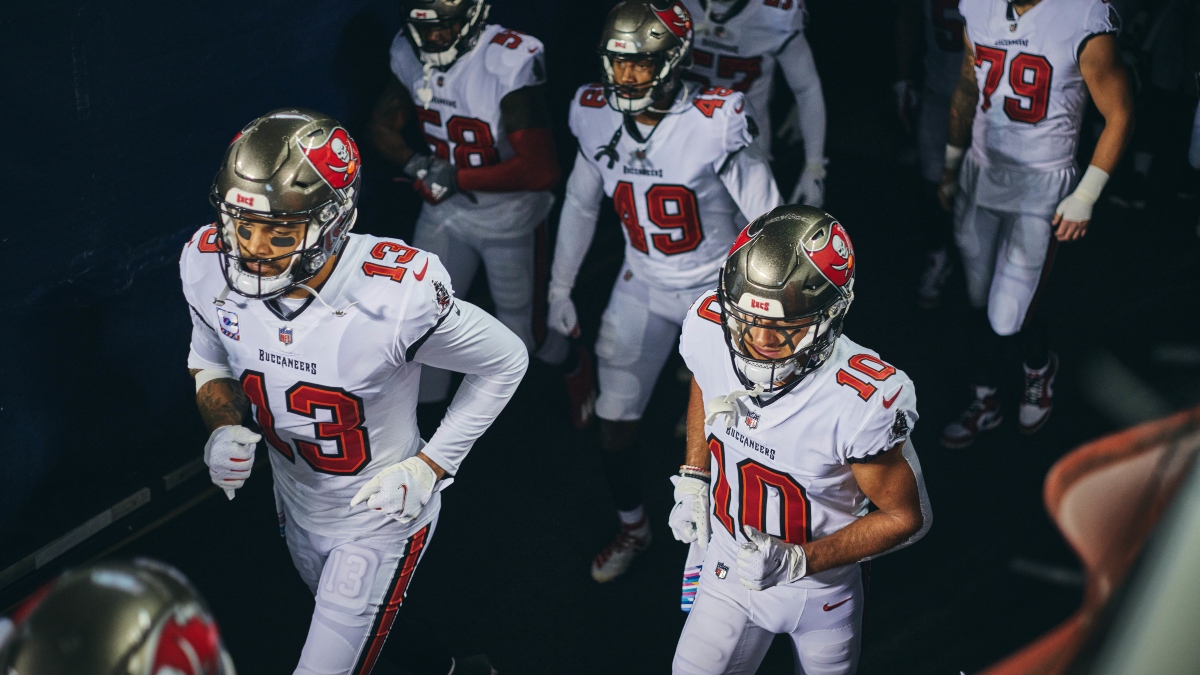 The Jets are a mess all their own, but they're fighting hard down the stretch for Robert Saleh, and this feels like a spot in which the Bucs do the bare minimum to get a "W" and keep what's left of their roster healthy for a playoff game in two weeks.
And remember those big favorite trends? They flip the other direction for road favorites. Home underdogs of 10-14 points are 56-42 (57%) ATS, and they're even better in December or later at 29-17 (63%) ATS.
It's ugly, but the Bucs are too banged up to be getting this many points.
THE PICK: Lean Jets +13.5
---
Cardinals at Cowboys (-5.5)

After all of Sunday's early AFC battles, the big NFC showdown comes in the late afternoon, and these teams feel like ships passing in the night. The Cardinals have lost three in a row and look like they're on another Kliff Kingsbury late-season meltdown while the Cowboys are flying high after clinching the division with a dominant 56-14 Sunday night win.
Be careful, though.
Arizona is certainly reeling; that part is true. Kyler Murray hasn't looked the same since returning from injury, and the offense is feeling gimmicky and lifeless without DeAndre Hopkins. The defense has also fallen off mightily to the bottom 10 in the league without J.J. Watt and especially vulnerable against the run.
The Cowboys have been elite defensively. That front four might carry them all the way to the Super Bowl. They lead the league in defensive DVOA, but the secondary is still beatable at times, and the Cowboys can be run on.
And I'm not sold that the offense is all the way back just because of the Washington blowout. It's been very hit-or-miss since the bye, the run game hasn't been great, and Dak Prescott's metrics have been pretty mediocre. If the Cowboys play like they did this past Sunday night, they can win it all — but I need to see more than one game to trust this offense again.
This is just a classic buy-low, sell-high spot. No one wants to back the Cardinals on the road, and that's exactly why we have to. Teams coming off a cover of 26+ points are 118-147-11 (44%) ATS the following week, while teams that have lost and failed to cover three straight are 133-108-7 (55%) ATS.
We know how good short road dogs have been all season.
I know Dallas feels unstoppable right now and Arizona feels buried and dead, but this is too many points in an old rivalry with so much on the line. These teams used to be division rivals, and the Cowboys won 13 straight in the 90s against the Cards, but Arizona has won five of the last six and is fighting to save its season from slipping too far away.
I think it's close all the way.
THE PICK: Lean Cardinals +5.5
---
Broncos at Chargers (-5.5)

Will we get Teddy Bridgewater or Drew Lock? We don't know yet, and the Broncos are two entirely different teams depending on that question. We're also waiting on a whole lot of Chargers news from key players stuck in COVID protocols like Joey Bosa, Chris Harris, Corey Linsley and others.
This is a huge game, and maybe an elimination contest with the AFC so congested, so you have to imagine anyone who can possibly play will give it a go. We'll wait and see how things look this weekend.
THE PICK: Wait for injury news on both sides
---
Lions at Seahawks (-7)

Don't tell anyone, but the Seahawks really aren't that good. Definitely don't tell the books, because they're still giving them way too much credit. They just lost at home to the Bears, then opened as 9-point favorites that night against the Lions.
I was all over that line on The Action Network Podcast, and though the line has slipped some, there's still value.
Just look at the last seven games: Detroit is 6-1 ATS with a pair of wins, a tie and three close losses while Seattle is 2-5 ATS and straight up. The Seahawks are officially eliminated from the playoffs now, which means this could be Russell Wilson's last home game ever.
The Seahawks are more like a .500 squad than a 5-10 one, but they just don't have anything left to play for and I can't give them a touchdown of a respect against a team fighting hard and biting kneecaps every week.
THE PICK: Lean Lions +7
Panthers at Saints (-7.5)

Yep, it's another "wait" — I mean, it has to be, right?
We have no idea who will start at QB for either team. In one corner, we've got Sam Darnold, Cam Newton and maybe P.J. Walker. In the other, it could be another start for Ian Book if Trevor Siemian and Taysom Hill don't clear protocols.
So, basically, we've got six options and no real quarterbacks.
Even so, some of these options are worse than others, so we'd better wait. Though if you want to bet this matchup early, I'm liking the under a lot. Both defenses are good, and it's hard to score points without a QB on either side.
THE PICK: Wait for QB news but play the under
---
Texans at 49ers (-12.5)

Yep, it's another late-afternoon "wait."
We don't know yet if Jimmy Garoppolo will try to play through that thumb injury, and the 49ers would be an entirely different team if rookie Trey Lance gets the start. Besides, about half of the Texans roster is still in COVID protocols.
We'll wait and decide this weekend.
THE PICK: Wait on 49ers QB news
---
---
Vikings at Packers (-6.5)

Sunday Night Football
Our other big NFC battles is the Sunday nightcap, when the Packers will hope to stay ahead of their conference brethren in the race for the NFC's 1-seed while the Vikings fight to keep their season alive.
Minnesota won the first meeting this season thanks to a monster game from Justin Jefferson with eight catches for 169 yards and two touchdowns — and Green Bay has no cover for Jefferson right now. That said, the Vikings will be without Adam Thielen, so that gives this blah Packers defense a leg up and a chance to focus on Jefferson. Minnesota led that first meeting 16-3, blew the lead, scored the late go-ahead touchdown, immediately gave up the tying score, then walked it off with a field goal at 0:00.
But Aaron Jones missed that game, and he's been great in recent years against the Vikings, and it's not like they've shut the Packers down. Davante Adams has 48 catches for 546 yards and seven TDs in his last five games against the Vikings while Aaron Rodgers has 11 TDs the last three matchups.
Both of these defenses are struggling to get off the field, so this shapes up as another shootout and could come down to who has the ball late.
The trends will always back Aaron Rodgers here. He covers 65% of the time at home, 64% in the division, 64% as a home favorite, 68% in home night games. Rodgers is balling right now, and so is the Packers offense, with an EPA (0.347) more than double all but one team over the past six weeks. The Vikings offense ranks seventh in EPA during that stretch, but at 0.086, they need four plays to equal just one Packers play.
That's how good the Packers have been.
You might think Green Bay has dominated this division rivalry, and it did earlier this decade with Minnesota winning only two of 12 at one point, but the Packers have won only four of the past 12 meetings and just one of the last four at home. Mike Zimmer's guys show up for the Packers and these games are usually close, with five of the last seven ending as one-score affairs. That type of close game wouldn't be anything new to the Vikings, who have played 14 one-score matchups already this season — all but one of them.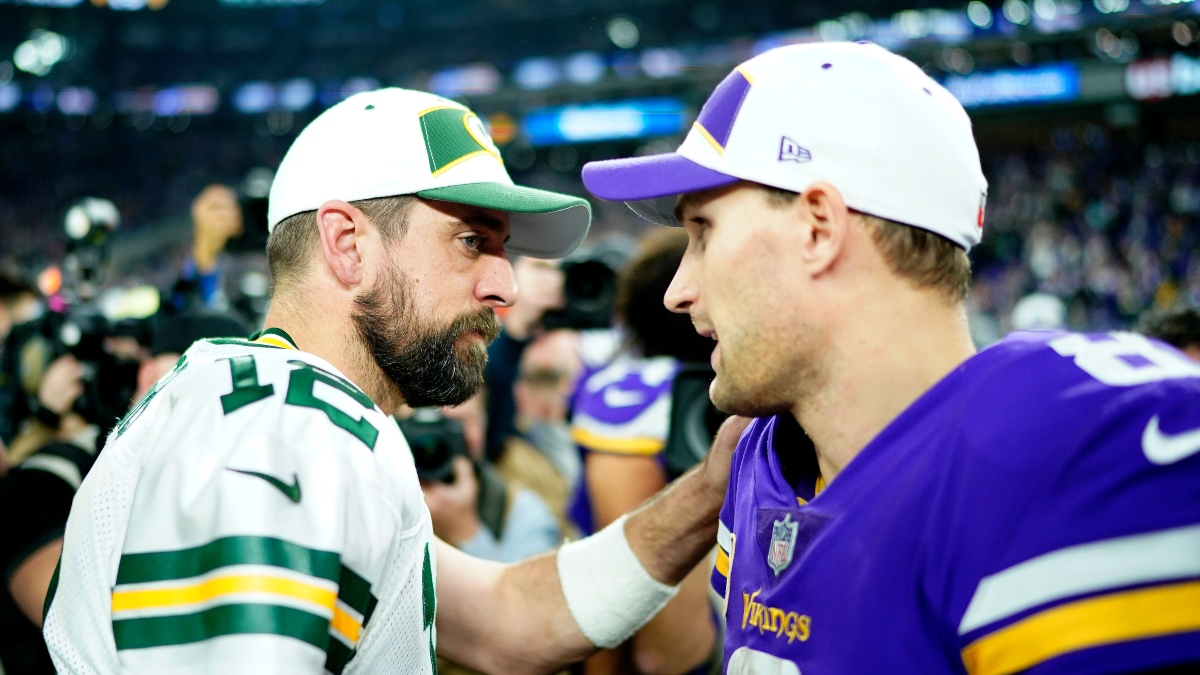 Just about any one-score game gets the cover here in a spot where the line feels too inflated. The Packers are better, but not that much better. We know to fade Kirk Cousins in primetime games, but he's 4-1 ATS in his last five night games after starting out 7-15 ATS.
The Vikings are playing for their season, and as we've said, Zimmer's guys always show up for these games against Rodgers. The Packers are getting a little too much respect. I've gotta take the Vikings and I have to sprinkle the moneyline just in case they decide to upend the entire NFC infrastructure.
THE PICK: Lean Vikings +6.5
---
Browns (-3.5) at Steelers

Monday Night Football
Oh, you better believe we are going back to the Mike Tomlin underdog well one more time. Surely you know the numbers by now.
As an underdog in Week 5 or later, Tomlin's Steelers are 35-13-1 ATS, covering 71% of the time. They're 29-21 straight up in those game — the equivalent of a 10-7 season as an underdog!! — with bettors returning a 46% ROI on the moneyline.
It gets even better when Pittsburgh's at home, where Tomlin improves to 12-2-1 ATS as a dog, covering 86% of the time by almost eight points per game. The Steelers are 11-4 straight up in those games and have won their last five games as a home underdog outright.
Those are strong enough trends to bet blindly, even without more analysis, but the analysis shows a Browns team stumbling to the finish line that might be ready to be put out of its misery.
Baker Mayfield just isn't healthy and can't make big plays, even against a pretty poor Pittsburgh defense. The Steelers are especially vulnerable against the run, which could be a big problem since the Browns are built to run, but their run game has been below average over the past six weeks by EPA per play.
Pittsburgh can still win the division, and Ben Roethlisberger and T.J. Watt will not go quietly, not at home.
The Browns embarrassed the Steelers in the playoffs last year, and these home fans haven't forgotten. The Browns won a meaningless Week 17 game a week before that one, but had won only five of 36 games against the Steelers before that. Big Ben is 24-2-1 lifetime against the Browns — his last regular-season loss to them was in 2014, and their last regular-season win in Pittsburgh was almost 20 years ago.
Oh, and by the way? Kevin Stefanski is an ugly 1-9 ATS in division games.
I don't care how awful and lifeless Pittsburgh looked last week in Kansas City last week. The Browns are not the Chiefs, and all that loss did was buy us value. This is a classic rah-rah Tomlin underdog spot with a chance to keep Pittsburgh's season alive and guarantee him a 15th straight season at .500 or better.
We're really giving Mayfield more than a field goal on the road against a team that's owned Cleveland for multiple decades? The Browns have literally won nine of their last 52 against Pittsburgh. Nine of 52!! Remember how the underdog Steelers are the equivalent of a 10-7 team? The Browns over the past 25 years are the equivalent of a 3-14 team against the Steelers.
Take my money, Cleveland, I dare you. Yeah, we're playing the moneyline, too.
THE PICK: Bet Steelers +3.5
How would you rate this article?
This site contains commercial content. We may be compensated for the links provided on this page. The content on this page is for informational purposes only. Action Network makes no representation or warranty as to the accuracy of the information given or the outcome of any game or event.