NFL Picks & Predictions: The Week 13 Spreads To Bet Now
Credit:
Billie Weiss/Getty Images. Pictured: Cam Newton, James White
With no Thursday Night Football to kick off Week 13, our staff is looking ahead to Sunday's slate. Find the spreads they've already bet below.
NFL Picks & Predictions
Vikings -8.5 vs. Jaguars
Kickoff: 1 p.m. ET | More Odds
Matthew Freedman: Not since his first season with the Vikings in 2014 has head coach Mike Zimmer had a losing record. But at 5-6, Zimmer has disappointed in 2020 — his team is barely in the running for the final NFC wild card.
But this is a get-right spot for them.
Since 2014, Zimmer is an A-graded 66-40-1 against the spread (ATS) for a 21.1% return on investment (ROI).
With his elite ATS record, Zimmer has exhibited all sorts of regular-season edges throughout his tenure:
At home: 34-19-1 ATS | 24.8% ROI
As favorite: 38-23-1 | 21.4% ROI
Outside of division: 45-21-1 | 32% ROI
These trends make sense within the context of who Zimmer is as a coach and what kind of team the Vikings have been under him: Zimmer is a focused, no-nonsense, risk-adverse, process-oriented, defense-directed "manager," and the Vikings have historically been a disciplined team that doesn't often make big mistakes.
They don't waste the natural advantage they have at home. They don't play down to the level of their underdog opponents. They don't present a known and easy challenge to teams that aren't familiar with them.
This week, the Vikings are in a "solar eclipse" spot with all of Zimmer's historical edges lining up. As non-divisional home favorites, the Vikings are 19-7-1 ATS (41.4% ROI).

As for the Jaguars, opponents have been profitable against them each year of the post-hype era following their near-Super Bowl run back in 2017.
2018 (16 games): 9-5-2 ATS | 22.6% ROI
2019 (16 games): 9-7 ATS | 9.3% ROI
2020 (seven games): 6-5 ATS | 7.4% ROI
In total, opposing teams are 24-17-2 ATS (13.8% ROI) against head coach Doug Marrone's Jags since 2018.
I would bet them to -10 (-110).

Raiders -7.5 at Jets
Kickoff: 1 p.m. ET | More Odds
Brandon Anderson: Recency bias is a heck of a drug.
Remember the Raiders a week ago? Everyone was feeling pretty great about them, and rightfully so. They came a two-minute drive away from sweeping the Chiefs for the season. Derek Carr was playing great football, and the Raiders offense could run or pass or do pretty much anything they wanted. They scored at least 31 points in three straight games (and six on the season).
Everyone moved the Raiders into the top 10 of their power rankings and penciled Vegas into the playoffs. And then Sunday happened.
The Raiders played their worst game of the season by a wide margin, getting absolutely crushed by the Falcons in an ugly 43-6 loss. It was the proverbial game from hell. The Raiders turned it over five times, and the game got completely away from them.
But the thing about those games is that they happen sometimes, and they almost never repeat again the following week. Hey, you know what's a good salvo for a rough game? Playing the 0-11 Jets, that's what.
The Jets have lost every game this season by an average of 15.5 points. That's… a lot of points. They're averaging fewer than two touchdowns per game, dead last in the NFL, and the defense isn't doing much better. The Jets are especially bad against the pass, one of the worst in the league, and that's where the Raiders offense excels.
Normally, you wouldn't bet a 7.5-point favorite early in the week, hoping the line might drop a half or full point and cross that magic number. That's not going to happen against the Jets. This line could hit double digits by kickoff — the Jets are 2-9 ATS against this number and have lost by double digits seven times.
Take the Raiders in a big bounce back spot before this line gets too high, and throw them into an early teaser under the same premise.

Patriots +1 at Chargers
Kickoff: 4:25 p.m. ET | More Odds
Raheem Palmer: When I pulled up the odds on Monday morning, this game immediately jumped out to me: Is there a bigger coaching mismatch this season than Bill Belichick vs. Anthony Lynn?
Coaching is the one place in professional sports that allows a team to buy an edge without impacting the salary cap, and these teams are the polar opposite in this regard. With the emergence of rookie quarterback Justin Herbert, Lynn appears to be a lame duck coach — he's just 29-30 during his tenure and an abysmal 8-19 since the start of the 2019 season.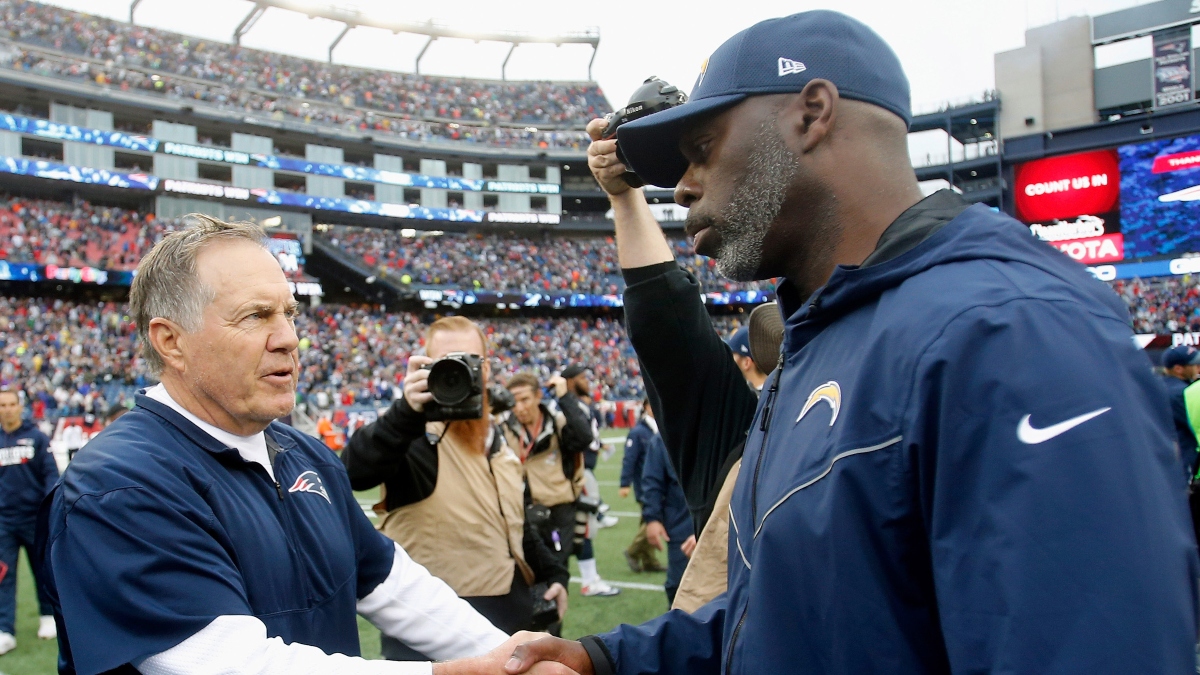 Even more troubling, the Chargers are 4-16 in one score games since the beginning of 2019, by far the worst in the NFL. Lynn and his coaching staff are essentially the Murphy's Law of NFL coaching, anything that can go wrong, will go wrong: Poor clock management, calling a run and not a spike to stop the clock, down two scores after completing a Hail Mary, calling a quarterback sneak with the offensive line in pass protection … you name it.
Not even Herbert and his 3,015-yard, 23-touchdown season can overcome it.
With oddsmakers installing the Chargers as 1-point favorites, you can assume that this will also be a close game. With just a -23 point differential and coming close to winning games against Super Bowl contenders in the Chiefs, Buccaneers and Saints, the Chargers may be better than their 3-8 record indicates.
Still, how can you trust this coaching staff against arguably the greatest coach in NFL history?
With Lynn at the helm, the Chargers will essentially be bringing a knife to a gun fight against Belichick, who has gone an impressive 19-5 against rookie quarterbacks and hasn't lost to a rookie quarterback in seven seasons. Only two of these teams didn't make the playoffs the seasons they played Belichick, with Colt McCoy's Browns finishing 5-11 and Geno Smith's Jets finishing 8-8.
All things considered, these two teams are pretty evenly matched.
The Chargers are 24th in Football Outsiders' DVOA while the Patriots are 26th. The Chargers are 18th in offensive expected points added per play while the Patriots are 19th. But the Patriots have a pretty substantial advantage in total success rate, ranking seventh compared to 25th for the Chargers (per Sharp Football Stats).
With the Chargers defense struggling against the run, giving up the fifth-worst yards per carry (4.8) with a 54% success rate, the Patriots' run-heavy offense led by Cam Newton should be able to have their way in this matchup.
Based on some of their previous games, it's clear that the Chargers can't stop opposing rushing attacks as all but three of their opponents have rushed for more than 100 yards:
Bills: 172 rushing yards (23rd rushing efficiency)
Raiders: 160 rushing yards (14th rushing efficiency)
Jaguars: 140 rushing yards (18th rushing efficiency)
Chiefs: 125 rushing yards (19th rushing efficiency)
Bengals: 122 rushing yards (25th rushing efficiency)
Patriots: ??? (third rushing efficiency)
With the Patriots' run-heavy attack and substantial coaching advantage, I like them to win this game and move to .500 for the first time since Week 4. My projections make the them -2.40 in this matchup, so at +1 (down to a pick'em), this is a +EV proposition.
At +1, I recommend adding them in 6-point teasers to cross out key numbers of 3, 6 and 7. And at a PK, I recommend adding them in 7-point teasers. You can tease them with Titans (-6 to PK) or the Lions (+3 to +9).
How would you rate this article?