NFL Playoff Odds & Picks For Bears vs. Saints: Chicago Is A Double-Digit Underdog For A Reason
Credit:
Getty Images. Pictured: Mitch Trubisky, Drew Brees
NFL Odds: Bears vs. Saints
Bears Odds

+10

Saints Odds

-10

Total

47.5

Time

4:40 p.m. ET

Day

Sunday

Odds as of Thursday and PointsBet, where you can bet $20 on this spread or moneyline to win $125 if the team you pick scores.
Here we go, it's playoff time, featuring the best the NFL had to offer … and the Chicago Bears.
The Bears had one of the iffiest 3-0 starts in NFL history and made it all the way to 5-1 before their season fell apart. They lost six straight in the middle of the season, including one to these Saints, but won three straight December games before backing their way into the postseason with an ugly Week 17 loss.
The Saints' season hasn't exactly gone as planned, either. You know the Saints you remember from the last decade, with Drew Brees lighting up the passing charts and the defense hanging on for dear life? This was a different version entirely, led by a dominant defense that made up for an offense that never really found its rhythm.
The Saints nearly got a first-round bye but fell short. Could the Bears act as the bye the Saints missed out on, or can Chicago actually give New Orleans a game? The double-digit spread suggests the former, but let's take a closer look.
Chicago Bears
History tells us not to overlook these 8-8 teams. Since the strike-shortened season in 1982, we've seen 12 teams make the postseason with a .500 record or worse. Six of those 12 won outright, and overall those sub-.500 teams were 9-3 against the spread in their playoff debuts. Only three of them lost by double digits.
But the Bears are looking for a win, not a cover, and they'll have to rely on their defense to get there. They rank eighth in Football Outsiders' defensive DVOA, but the offense ranks just 25th. In other words, the Bears offense is in the bottom quarter of the league while the defense is in the top quarter.
Chicago's defense has faced the league's toughest schedule and it won't get much easier in the playoffs. It also doesn't help that the Bears look like they'll be missing two key starters: Roquan Smith is in serious doubt, and his absence would leave a gaping hole in the middle of the defense. Rookie Jaylon Johnson may also miss, and he has been a huge addition at corner this year.
Chicago's defense is good but not great, and these injuries could leave the unit vulnerable.
The offense is mostly offensive.
Mitchell Trubisky is back at quarterback, and you don't need any numbers to tell you that he's probably not going to go win this game on his own. Chicago has had some success running the ball with David Montgomery down the stretch, but the offensive line is down two starters.
The offense simply isn't reliable. There's a reason the Bears lost half of their games and backed into the playoffs, after all.
Chicago is only here because it took care of non-playoff teams, going 7-2 against them. The Bears were only 1-6 against playoff teams, and that one win was by a single point against the Bucs when Tom Brady forgot how to count downs.
Football Outsiders ranks the Bears as the lowest variance team in the NFL. That means the Bears are what they are — when a game script is in their favor against a bad team and they can play good D, run the ball and limit quarterback involvement, the Bears can win.
When they play good teams, they usually lose.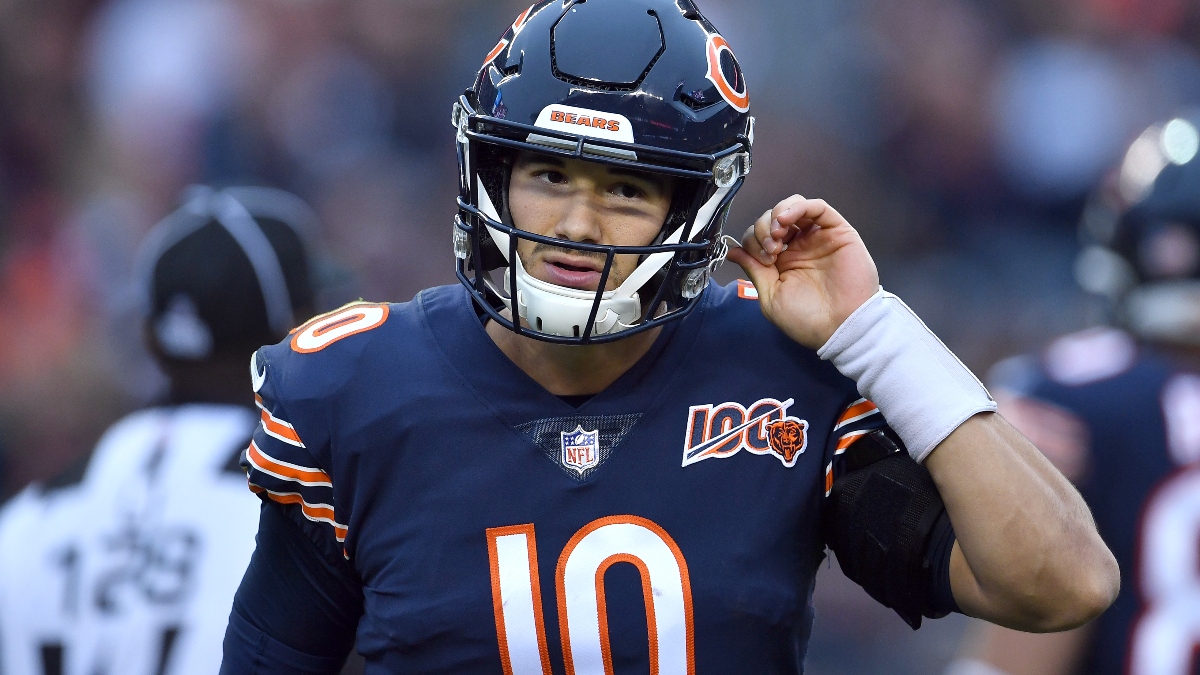 New Orleans Saints
The Saints are far better than the Bears.
New Orleans is the best team in football according to overall DVOA. And the Saints are doing it with an elite defense — like the one you'd typically expect the Bears to have. The Saints have a fierce pass rush and often get to the quarterback with just their front four.
New Orleans faces some injury issues in the secondary at corner and safety, but it remains to be seen if Trubisky can make the the Saints pay. They're the one team that has shut down the Bucs this season and have held opponents to single digits four times this season, all in November or later.
This is a Super Bowl defense.
Is it a Super Bowl offense?
It was supposed to be, coming into the season. But Brees has looked poor, at least by his standards, and mostly average by the NFL's current ones. He's been missing Michael Thomas for most of the season, so that certainly hasn't helped. Thomas is one of the NFL's best receivers, and he's reportedly back at practice and ready for a playoff return.
It looks like Alvin Kamara should play, too.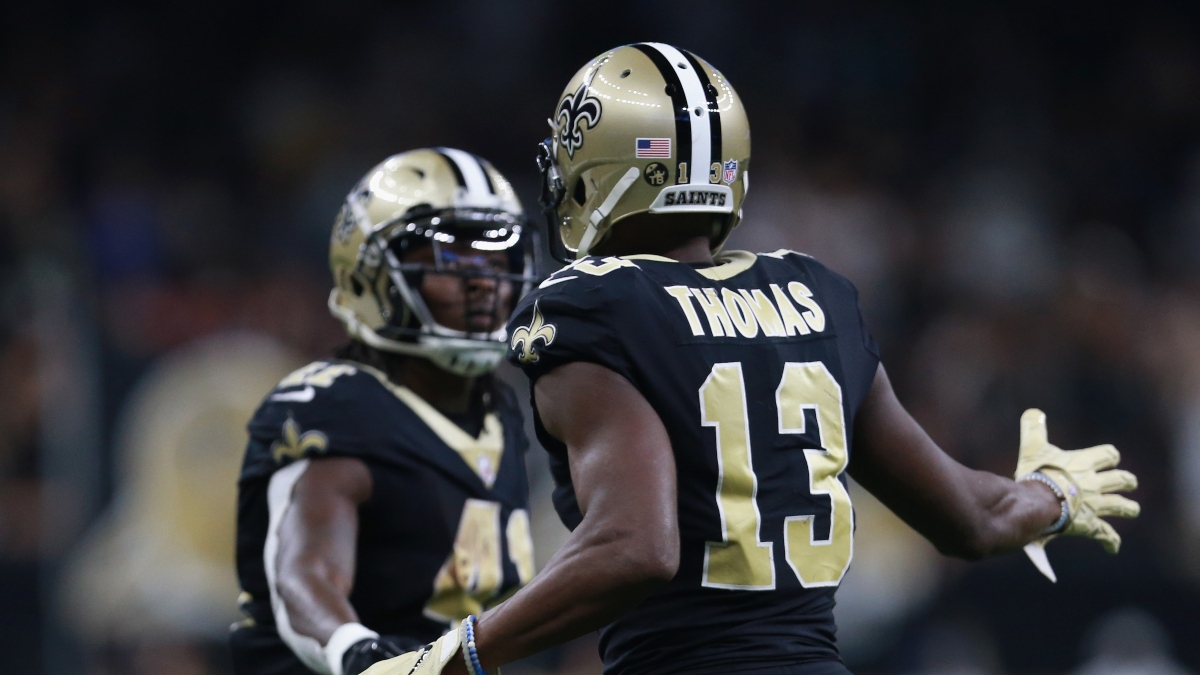 The running back missed Week 17 after testing positive for COVID-19, but can clear protocol on the day of the game. He's been practicing remotely and ESPN's Adam Schefter reported that the Saints are hopeful Kamara can play on Sunday. Kamara had been up and down, too, but his production has been great when Brees played instead of Taysom Hill.
The Saints have one of the best offensive lines in the league, and that should help them keep Khalil Mack and the Bears' pass rush at bay. If the Saints can keep Brees upright and clean, they should be in control. But if Brees looks his age, succumbs to pressure all game and makes mistakes, this will be a game.
Bears-Saints Pick
These teams met in Week 8 in Chicago. The Saints won but needed overtime to do it. Brees played in that game, but Thomas and Emmanuel Sanders were out, and Nick Foles was still playing for the Bears. Brees and the Saints were only 2-of-13 on third down and didn't get the offense moving much but pulled out the win anyway.
The teams played in Chicago a year ago, too. Brees missed that one, but Teddy Bridgewater led the Saints to an easy 36-25 victory.
The Saints should certainly win here, too.
What does a Bears victory look like? It looks like a very long offseason for the Saints and plenty of retirement questions for Brees, because if the Bears win, it would almost certainly mean a terrible Brees game.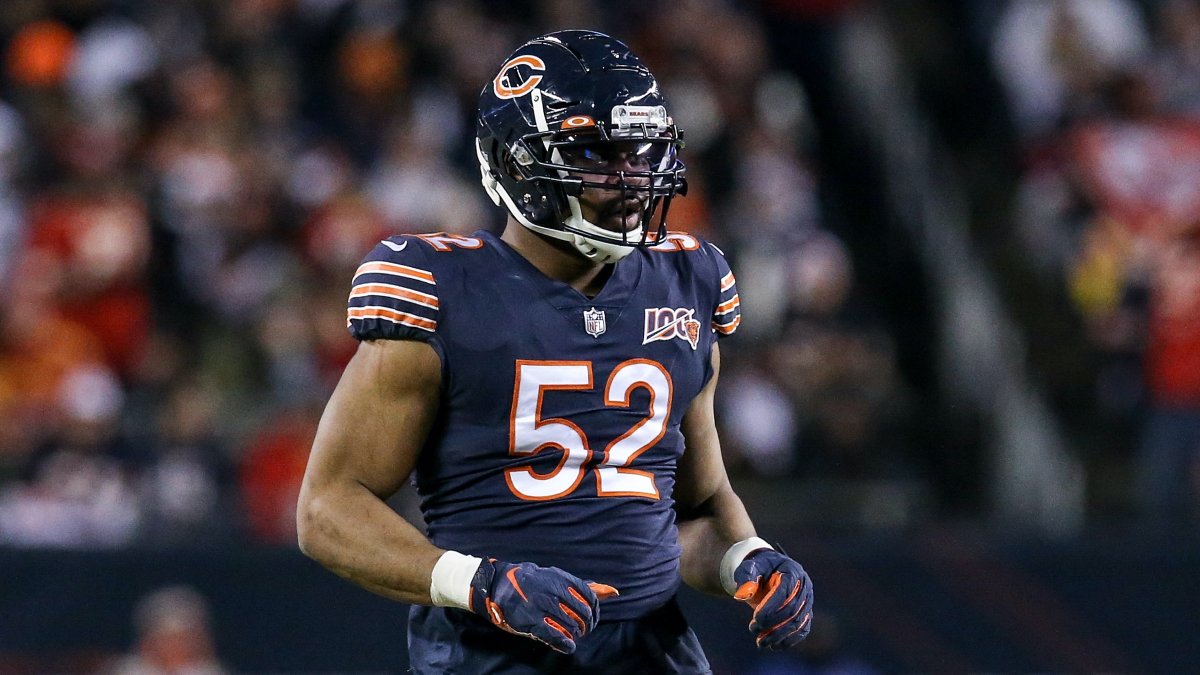 Brees may not have been as sharp as usual, and he's certainly not throwing downfield much, but he still completed more than 70% of his passes and threw only six interceptions with just 13 sacks taken all season.
The Bears would need some big defensive plays, a good game from Montgomery and a couple key throws by Trubisky. They would also need their defense to outplay New Orleans, and they may need Trubisky to outplay Brees.
I don't buy it.
Brees may not have four postseason wins in him, but the Saints are a different team at home on the turf, and I expect this offense to find its rhythm with Kamara and Thomas possibly back on the field. Thomas' return would be huge — remember, he caught 149 passes a year ago, and he gives Brees a level of comfortability he missed much of the season.
But for all the attention on Brees, it's both defenses that swing this for me. New Orleans is the better defense this time, and I worry that Smith and Johnson will be big misses for Chicago
Still, 10 points is a high line. The Bears lost by double digits only three times all year, and remember, the worst teams to make the playoffs over the past few decades have typically made a game of this.
So does Chicago cover? I just can't talk myself into putting money on a Bears cover and seeing them fall behind early with no ability to come back or close a gap. If the Saints struggle to get moving, maybe the Bears stay in this and keep it close, but there are just too many scenarios in which the Bears fall out of it.
I grabbed the Saints when this line opened at single digits, and I'll take them here at -10. But if the line rises any further from there, I may wait for a slow start and look to live bet the Saints at closer to a touchdown closer to halftime.
Pick: Saints -10
How would you rate this article?