NFL Playoff Odds & Picks For Colts vs. Bills: There's Betting Value On This Underdog
Credit:
Getty Images. Pictured: Josh Allen, Philip Rivers
NFL Odds: Colts vs. Bills
Colts Odds

+6.5

Bills Odds

-6.5

Total

51

Time

1:05 p.m. ET

TV

CBS

Odds as of Wednesday and via PointsBet, where you can bet $20 on this spread or moneyline to win $125 if the team you pick scores. 
After a long and tumultuous offseason filled with uncertainty as a result of COVID-19, a cancelled preseason and 17 weeks of regular-season football with games postponed to Tuesdays and Wednesdays due to outbreaks, we've successfully made it. Whoo! The NFL playoffs are here!
Hopefully you're just as excited as I am, including for the brand new format.
This season there's only one bye week per conference, which means that the 2-seeded Bills (13-3) won't play their first playoff game during the Divisional Round, but rather on Wild Card Weekend, when they'll host the 11-5 Colts to open Saturday's playoff games.
Bills Mafia should be particularly excited coming into the postseason as Josh Allen has led them to a dream season, winning six straight games and nine out of their last 10. They hope to erase the demons of last year's playoff loss to the Texans in which the Bills blew a 16-0 third-quarter lead before eventually losing 22-19 in overtime.
Nevertheless, oddsmakers opened the Bills as 7-point favorites with an over/under of 52.5 before we saw the side move to 6.5 and the total get steamed to 51.5.
So where is the betting value in this matchup? Let's find out!
Indianapolis Colts
The Colts have been a solid team on both sides of the ball — they're 10th in Football Outsiders' overall DVOA, including 12th in offense and seventh in defense.
Now for just the second time all year, they find themselves in the unfamiliar role as underdogs, and it's not a surprise given how well the Bills have performed recently.
The Colts' defensive metrics have been overrated based on playing the 15th-ranked schedule of opposing offenses, but this is still a defensive unit that has a solid defensive line led by DeForest Buckner, Justin Houston and Denico Autry — a trio that should put fear into any opposing quarterback.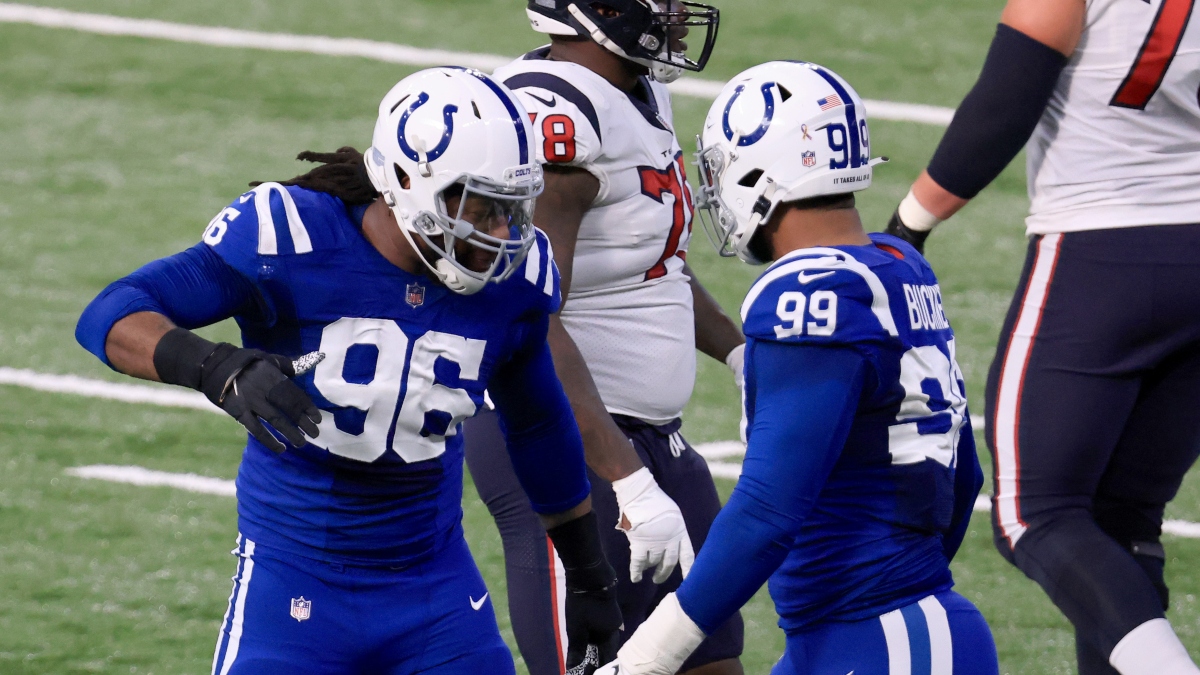 Still, the question is how this unit can slow down the Bills offense.
There's a clear discrepancy between how this unit has performed against elite offenses vs. how they've performed against the league's bottom feeders — against teams with top-tier passing offenses, the Colts have struggled. In games against the Packers, Titans (twice), Raiders and Texans (twice), the Colts have given up 31, 45, 26, 27 and 20 (twice) points. Interestingly, the Colts won all of those games, losing just once to the Titans.
Nonetheless, despite the perception of Philip Rivers being old and washed up, this team is capable of winning and performing well in shootouts.
Rivers may not be lighting up the advanced metrics in the same way that Allen is, but the 39-year-old has been solid, throwing for 3,967 yards and 24 touchdowns to just 11 interceptions. The offense isn't devoid of weapons, either — T.Y Hilton, Zach Pascal, Michael Pittman Jr,  Nyheim Hines and Mo-Alie-Cox all present a challenge for this Bills defense that really hasn't played anyone over the last six weeks.
The emergence of rookie running back Jonathan Taylor has been huge for this offense that struggled to run the ball early in the season. He rushed 232 times for 1,169 yards with 11 touchdowns while catching 36 passes for 299 yards. The interesting thing is that he rushed for 741 yards over the final six games of the season, which tells us how much this running game is hitting its stride.
Against a Bills defense that ranks 17th in defensive DVOA, gives up the fifth-most yards per carry and is 27th in rushing success rate (45.3%), you have to expect Frank Reich and Co. will exploit this weakness to keep the Bills offense off the field.
Buffalo Bills
With a 13-3 record, Allen led the Bills to their best regular season in nearly 30 years when Jim Kelly and Thurman Thomas led them to a 13-3 record and second consecutive Super Bowl in 1991.
With the last two times the Bills finished 13-3 resulting in trips to the Super Bowl, do the the 2020 Bills have a chance to repeat history? Based on what we've seen from this team so far this season, they certainly have a shot.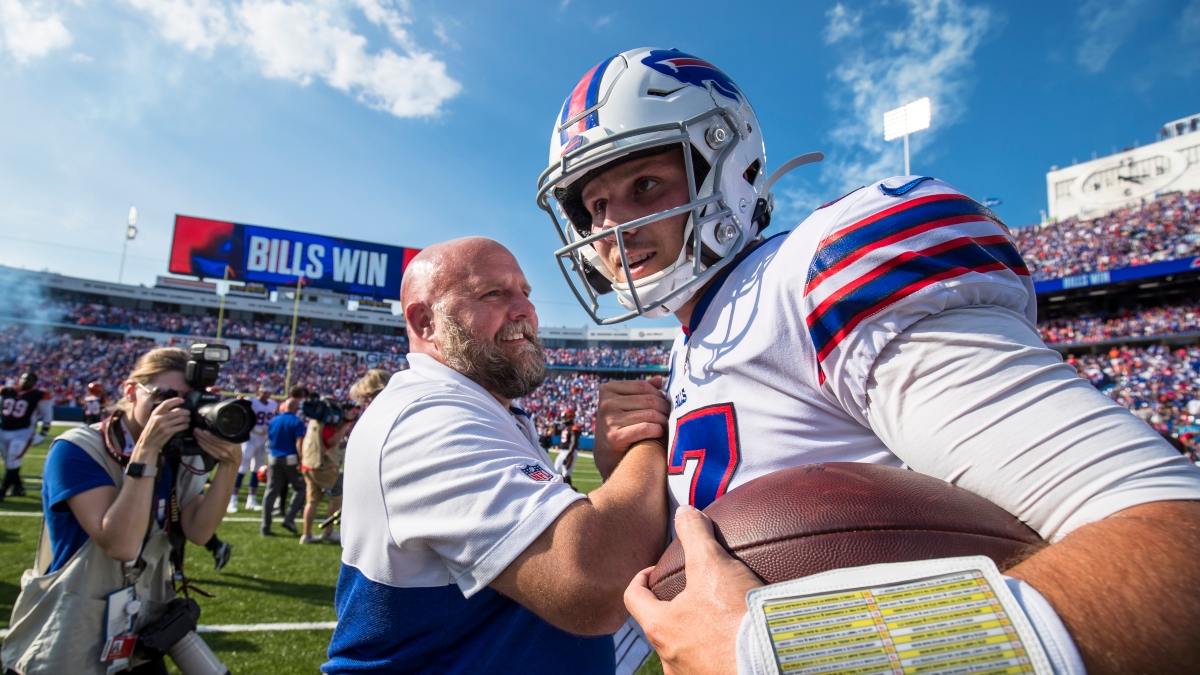 Brian Daboll has arguably been the NFL's best offensive coordinator. The Bills rank in the top five of nearly every offensive metric, including second in points per game (31.3), fifth in offensive DVOA, third in offensive success rate (50.9%) and fourth in expected points added per play.
As Warren Sharp shared on the Bill Simmons Podcast, the Bills are just the second team in NFL history to record at least 20 first downs every single game of the season — the 2012 Patriots were the only other team to achieve this feat. The Bills have also punted the second-fewest times in a 16-game season in NFL history.
The perception heading into the season was that the strength of this Bills team was its defense, but Allen has taken a massive step forward — to the point the offense actually carries them.
He's quietly put together an MVP-caliber season, and if it wasn't for Aaron Rodgers and Patrick Mahomes, Allen would have more hype around him. He ranks in the top five in most quarterback metrics, throwing for 4,544 yards with 37 touchdowns to only 10 interceptions while completing 69.2% of his passes. His dual-threat ability has made him even more dangerous — he's also rushed for 421 yards and eight touchdowns.
Nonetheless, it's no surprise that he ranks first in success rate (56.6%) and second in expected points added as well.
Unfortunately, the Bills have some key injuries on offense: Wide receiver Cole Beasley is week-to-week with a knee injury while Stephon Diggs sat out Wednesday's practice with an oblique injury (we're tracking their practice participation here).
And with Daboll emerging as a head coaching candidate, you have to wonder whether that's at all a distraction for this team.
Although the Bills are 12th in defensive efficiency, they've played just the 20th-ranked schedule of opposing offenses. This unit has improved from its early-season form, giving up only 18.6 points per game over the past five weeks. However, they've played 49ers, Steelers, Broncos, Patriots and Dolphins offenses that rank 20th, 22nd, 30th, 23rd and 18th in offensive DVOA over that stretch, so this Colts offense will be the best that the Bills have faced since the Chargers in Week 12.
Colts-Bills Pick
The Bills have been a favorite of seven or more points just twice this season — in their 18-10 win over the Jets in Week 8 and 38-9 win over the Patriots in Week 16. It's one thing to cover seven points against the Jets and Patriots, but it's another thing to cover against a Colts team that's solid on both sides of the ball.
Although the Bills have been dominant, winning six straight games and nine out of their last 10, oddsmakers are making you pay a premium to back them in this spot. My projections actually make this game Bills -4.7, so this line feels a little high.
The Bills are worthy Super Bowl contenders, but up until a few weeks ago, there were plenty of question marks surrounding them. They closed as 1.5-point favorites against the 49ers in Week 13 and as 2-point favorites against the Steelers in Week 14. While the Bills have performed like a top tier team, they've largely spent the last month beating up on teams that aren't in their weight class: The Broncos, Patriots and Dolphins.
Although their power rating should increase based on what we've seen, this is still a quarterback in his second career playoff start, and the Bills aren't exactly unbeatable.
The Bills should win this game, but I expect the Colts to keep it close. I'll take the 6.5 points with the Colts and would recommend buying up to +7 if you can find a cheap buy point.
Pick: Colts +7 (-125)
How would you rate this article?