NFL Prop Bets & Live Betting Strategies For Bills vs. Chiefs
Credit:
Scott Winters/Icon Sportswire via Getty Images. Pictured: Travis Kelce
At this point in the NFL season, the market is usually extremely efficient. From a pure numbers perspective, most professionals are going to have both championship games lined right around a field goal. The margins are minimal.
However, one can still find value on Championship Sunday in the pregame prop and live betting markets. I also believe you can gain an edge by diagnosing how a team might approach a certain game from a scheme perspective.
For example, I was convinced Buccaneers defensive coordinator Todd Bowles would utilize much more press man coverage in the third meeting against the Saints last weekend, which would completely stifle Drew Brees. Fortunately, it played out that way.
Below I'll take an in-depth look at both matchups, touching on all three of the aforementioned angles:
Schematics
Player props
Live betting approach
Can either the Bucs or Bills break the current streak of 14 straight conference championship wins for home teams, who are also 10-4 against the spread? Let's dive in.
Editor's note: Bucs-Packers has been moved below Bills-Chiefs.
---
Bills at Chiefs
Spread

Chiefs -3.5

Total

54.5

Time

6:40 p.m. ET

TV

CBS

Odds as of late Friday. Compare real-time lines with our NFL Odds Page.
Similar to the NFC matchup, these two teams also met in a Week 6 game that I also don't put too much stock into.
Buffalo dared Kansas City to run the ball, which the Chiefs did without much resistance en route to a 26-17 win in Orchard Park. To illustrate just how much things have changed since then, though, the Bills were 6-point home underdogs. Now they're 3-point road underdogs.
So, what has changed? Well, most importantly, Buffalo's defense has improved significantly. During the bye week, the Bills made some key schematic changes at linebacker. That group also now features a healthy Tremaine Edmunds and Matt Milano (who didn't play in the first meeting).
The defensive line is also playing at a much higher level. In fact, things were so bad along the defensive line early in the season that Sean McDermott healthy-scratched both Harrison Phillips and Trent Murphy for that Week 6 game and replaced them with two practice squad call-ups. This is a completely different and superior front 7 than what the Chiefs saw earlier in the season.
In regards to the secondary, it's also in much better shape. Starting wide corner Levi Wallace didn't play in Week 6 and slot corner Taron Johnson (who had the game-changing pick-six against the Ravens last week) has transformed from a liability to an asset in the slot.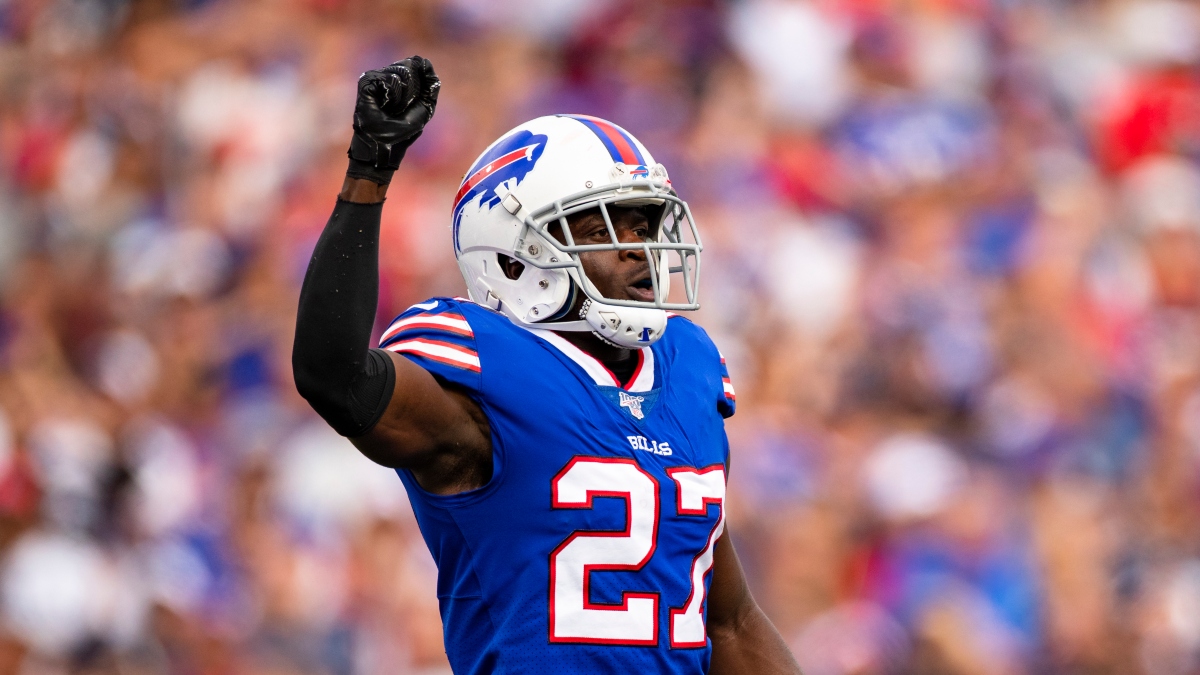 And we already know Buffalo has a lockdown corner in Tre'Davious White and one of the better safety duos in the league.
It's incredible how much better this Buffalo defense has played after the bye week — there's a reason it ranks eighth in Football Outsiders' weighted DVOA, which puts less emphasis on early-season results.
On the other side of the ball, the Chiefs pass defense has deteriorated over the second half of the year, while the Bills offense has morphed into an unstoppable force.
When the Chiefs Have the Ball
I'm assuming that Patrick Mahomes is a full go at this point. However, there are still some questions about his toe injury — that's a major factor, in my opinion, because his mobility is one of the reasons he's the best quarterback in the league.
During last postseason, Mahomes ran it 16 times for 156 yards (excluding kneel downs) in three games for an average of just fewer than 10 yards a pop. His mobility is also what makes him so effective against the blitz, as he led the NFL in almost every single category in that department — despite dealing with subpar offensive line play many times during the season.
As I mentioned previously, the Bills simply sat back and invited the Chiefs to run the ball in the first meeting. They blitzed Mahomes only once on a passing play. However, with the front 7 now fully healthy and playing at a much higher level, I expect Bills defensive coordinator Leslie Frazier (who generally does blitz at an above-average rate) to bring much more pressure against a potentially hobbled Mahomes — specifically up the middle, where I think the Chiefs are vulnerable.
How Buffalo plays this on the outside is intriguing. If Sammy Watkins plays, I think White may shadow Watkins while they provide safety help to wherever Tyreek Hill goes in the formation. The Bills have excelled at taking away explosive passes all season, which is obviously a major key against the Chiefs.
Look, even if Mahomes is indeed hobbled, he's going to get his against any defense in the NFL — he's the best quarterback in the league and could go down as the greatest to ever play the position when it's all said and done. However, given the Bills' improvements on defense, there's a path to a few key stops (especially if Mahomes isn't 100%), and that's all it might take in this game.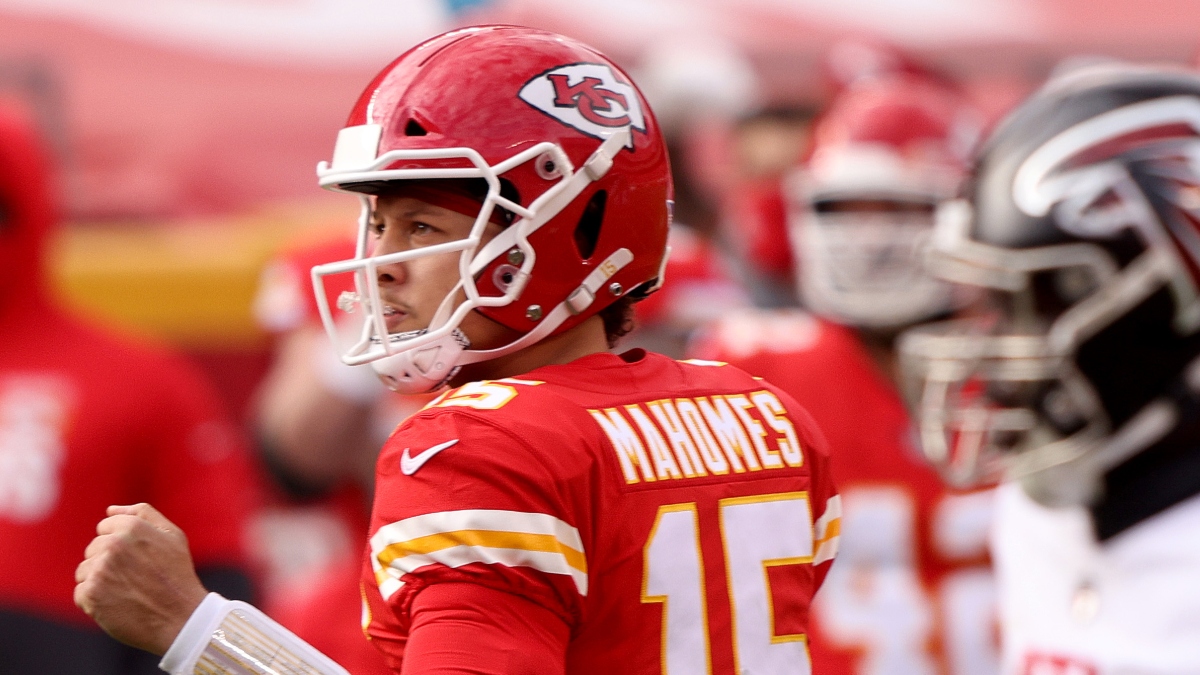 When the Bills Have the Ball
I expect the Chiefs to play a high frequency of dime, which they play at a top-three rate. They'll likely have some new looks for Allen that focus on taking away the deep pass by inviting the run and forcing Josh Allen to sustain longer drives down the field.
However, from everything I've seen this season, Allen is up to the task. Buffalo should be much more aggressive than the first meeting when it had an uncharacteristic almost even run-pass split. Keep in mind that game was played in less-than-ideal weather conditions with a banged up John Brown. I just don't see these Kansas City cornerbacks winning too many battles on the outside with Stefon Diggs and Co.
Allen may start slow if he has some nerves while getting a feel for what Kansas City is trying to do defensively, but he should eventually have no issues moving the ball with his elite group of weapons.
How I'm Projecting This To Play Out
Based on more than a full regular-season worth of results, the Bills have been the better overall team. Since that Week 6 loss, their average margin of victory is right around two touchdowns, while the Chiefs' sits at just under a touchdown.
The Bills have been covering machines, while the Chiefs have failed to cover since a Nov. 1 meeting with the Jets.
Now the question is: Have the Chiefs been coasting all season? Have they just been waiting to flip the switch in the postseason? It's possible, and we did see some of that in the first half last week, but that Browns defense is a horror show.
However, I simply can't argue against my numbers at this point. And while I do still give some benefit of the doubt to Mahomes and this excellent coaching staff in my power ratings, I still make this line only Chiefs -2.5 — and that's assuming they are at full health, which they are not.
I can't play +3, but would take +3.5, which is available at multiple sportsbooks as of writing. If not, I'll look for a better position live in a game that will likely provide profitable opportunities when either team is trailing.
I personally don't give as much of a bump to Kansas City for home-field advantage here as I do Green Bay. There will be some fans and the Chiefs did benefit from the lone bye in the AFC, but the Bills have been at home for two weeks and are used to playing in similar outdoor conditions.
Also, don't sleep on the special teams edge for Buffalo. This has been Andy Reid's worst special teams unit in Kansas City by far. Look out for a big play from return man Andre Roberts against a coverage unit that's struggled all season.
What Could Go Wrong for the Bills?
Chiefs defensive coordinator Steve Spagnuolo draws up a brilliant zone-heavy game plan that confuses Josh Allen into key mistakes.
The Chiefs really have been coasting and simply flip the switch.
Chiefs kicker Harrison Butker makes all of his extra points.
Mahomes does Mahomes things.
Favorite Prop Bets
With Zack Moss now out, Devin Singletary should get almost all of the work out of the backfield.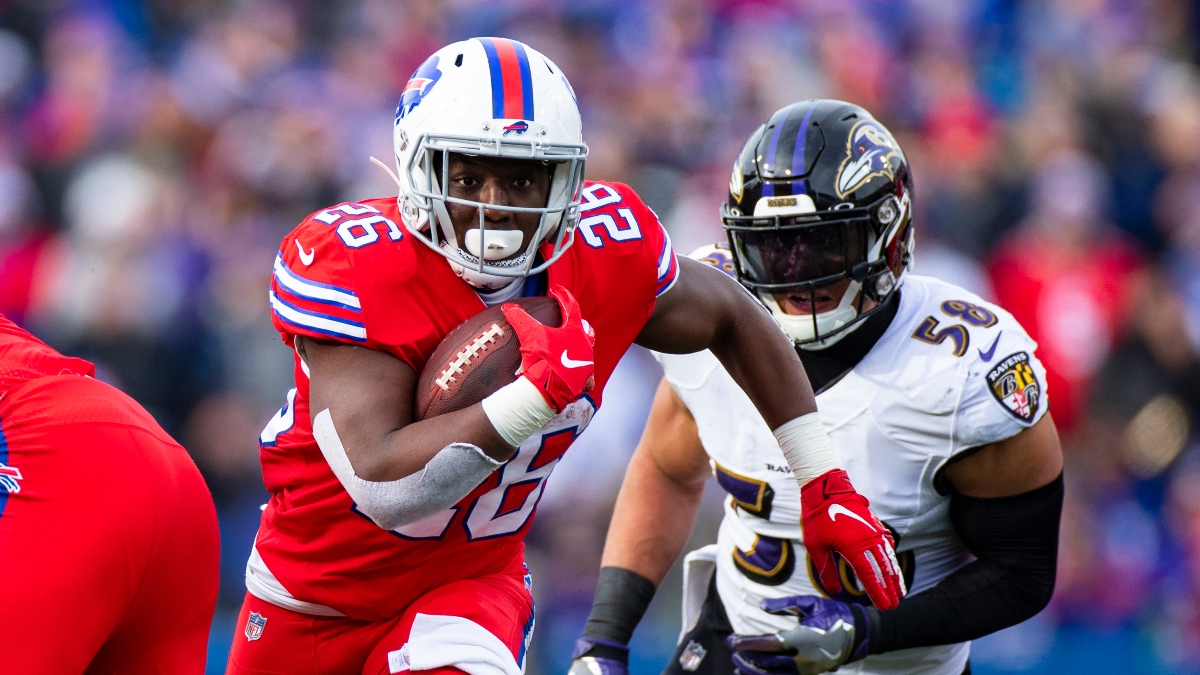 Against the Ravens last weekend, Singletary played 84% of snaps. And as they've done all season, I expect the Chiefs to focus on taking away the Bills' receivers. That should provide ample opportunity for Singletary to get involved in the passing game, especially if Allen is confused by some zone concepts and blitz packages Spagnuolo may have up his sleeve.
The Chiefs have really struggled to defend opposing backs all season, allowing the most receiving yards in this department. From a DVOA perspective, Kansas City's pass defense ranks 31st against running backs.
Count me in on over 2.5 catches and over 18.5 receiving yards, both of which are available at FanDuel. In 17 games, 13 backs have had a least three catches against the Chiefs.
PICKS: Devin Singletary Over 2.5 Catches; Over 18.5 Rec Yards
---
Buccaneers at Packers
Spread

Packers -3.5

Total

51.5

Time

3:05 p.m. ET

TV

FOX

Odds as of late Friday. Compare real-time lines with our NFL Odds Page.
Aaron Rodgers will try to end his streak of three straight losses in the NFC title game while Tom Brady will look to pocket as many NFC championships in one season as Rodgers has in his career.
Brady shouldn't have any issue with the cold, but Green Bay deserves a home-field advantage bump playing in front of a limited crowd against a warm-weather team. The Packers also had a bye prior to a home game last week, while the Buccaneers hit the road for the third straight week.
Teams playing their third straight road game in the playoffs have gone 3-11 straight up and 4-10 against the spread (ATS) over the past 35 seasons. Interestingly, Rodgers experienced two of those three wins — he was a backup for Brett Favre when the Packers lost to the Giants in 2008, then Rodgers beat the Bears on the road in 2011.
When the Bucs Have the Ball
When Tampa Bay dominated Green Bay way back in Week 6, the offense didn't have to do much since the defense did all of the dirty work en route to a 38-10 blowout victory.
Brady had an efficient day at the office, but threw for only 166 yards. He fed Rob Gronkowski over the middle (five catches for 78 yards) against a weak coverage group of Packer linebackers, while Ronald Jones eclipsed the 100-yard mark on the ground.
I just don't take too much away from that game. This Packers defense is a completely different unit than the one we saw that week. Kenny Clark and Rashan Gary had just returned from injury and were both clearly still limited. Starting cornerback Kevin King also didn't suit up, although his status is now in question with a back injury.
Speaking of Rashan Gary, he's been remarkable late in the year, making up for the drop-off in production from Preston Smith. In fact, Gary has been the top rated edge rusher since Week 16, per Pro Football Focus. The Packers can actually once again generate pressure with their front 4, which they need to do since Mike Pettine isn't a heavy blitz guy.
What if I told you that Rashan Gary might be the key to the Packers season

— Stuckey (@Stuckey2) November 22, 2020
In that Week 6 meeting, the Packers pressured Brady on only 5-of-27 passing plays. Last week in the Divisional Round, they pressured Rams quarterback Jared Goff on 50% of his dropbacks. Gary was responsible for seven.
The Packers play a lot of Cover 3 and 4, but will use a higher frequency of man against immobile quarterbacks. However, while Brady fits that mold, I don't expect them to go heavy man here.
Brady has shredded man coverage and really struggled against zone defenses this season, especially Cover 4, which can neutralize the deep pass — a staple of Bruce Arians' offense. When Brady was in New England, you never wanted to zone the Patriots, but this is a completely different offense.
With all of the Buccaneers' talented weapons and lack of a reliable check down option, you really want to avoid playing man-to-man against this offense unless you have three elite corners (which the Packers don't have).
The Packers do have one elite cornerback in Jaire Alexander, who was arguably the best in the NFL this season by most metrics. The $64 million dollar question is will he shadow Mike Evans like he did in Week 6? Evans did have only one catch, but he wasn't completely healthy. Plus, the Packers didn't have King.
Alexander hasn't shadowed a receiver in the past two months, including in two matchups against Allen Robinson and the Bears. Even with Antonio Brown out, the Bucs have capable receiving options behind him. However, with King potentially limited, there's about a 60% chance Alexander will shadow. I had that at around 35% before the Brown and King news.
Regardless, the Packers should go with a heavy dose of Cover 4 to neutralize the Bucs' vertical aerial attack with two of the best coverage safeties in the NFL over top. I also think the Packers will generate much more pressure with their front than they did earlier this season.
When the Packers Have the Ball
As I mentioned above, the Bucs defense completely stumped the Packers offense in that first meeting. As a result, Rodgers had the worst game of his season by far.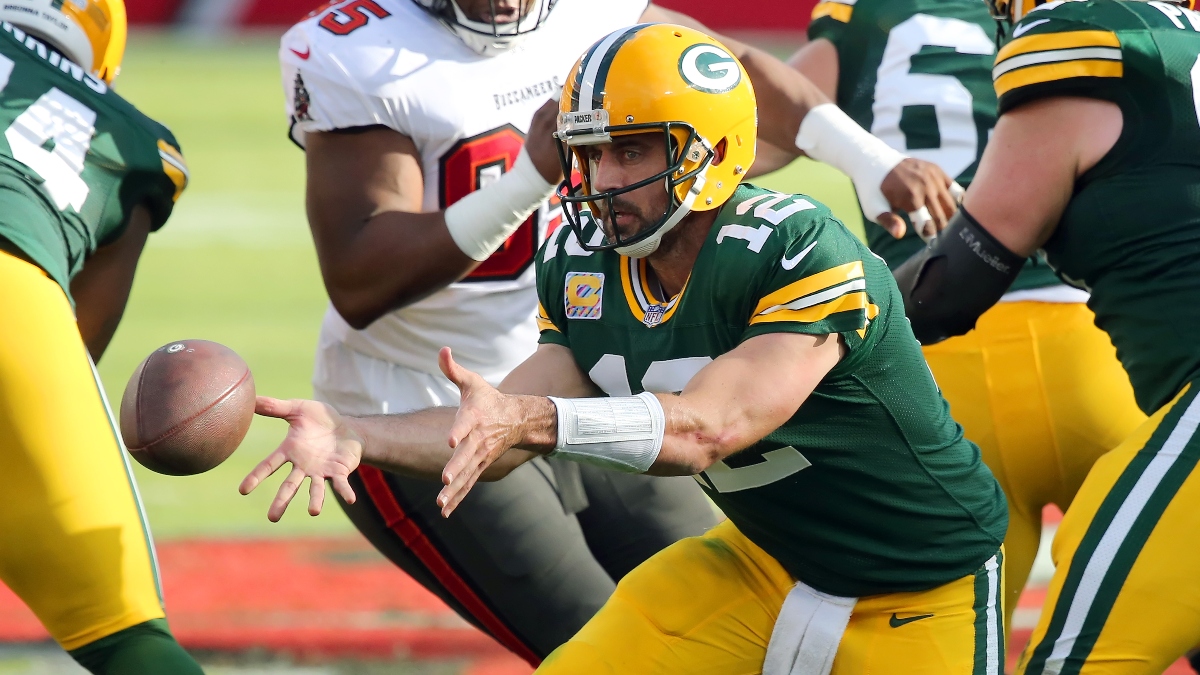 So, what did the Bucs do? Nothing out of the ordinary for them.
Defensive coordinator Todd Bowles blitzed (which they disguise very well) and played zone on the back end. The offensive line didn't seem to know who was coming from where, and Rodgers appeared confused by the coverages on the back end. Against the blitz, Rodgers went 6-of-17 for 63 yards with no touchdowns and two interceptions. He was also sacked three times and finished with a 7.4 mark in ESPN's Total QBR.
Upon re-watching that game, it's clear the Packers offense made a few mistakes that they can easily correct. For example, they could mix in more short routes for Rodgers to get the ball out quick if pressured — those throws can also set up deep shots. I also expect them to use more tempo and hard counts in order to provide a better pre-snap read of where the pressure is coming from.
It's also worth noting that Allen Lazard didn't play and Davante Adams just returned from injury. Yes, I know the Packers recently lost All Pro tackle David Bakhtiari, but Billy Turner filled in tremendously in his place last week when the offensive line handled the Rams at the line of scrimmage.
I expect the Bucs to once again bring pressure and play more zone on the back-end — that's what they've done most of the season, and it worked like a charm in the first meeting when Rodgers went 10-for-24 for 93 yards against zone coverage. It's possible they decide to play more man coverage like last week, but I don't think they go that route often.
Unlike Drew Brees, Rodgers can actually throw it downfield.
If Green Bay has a better read on where the blitzes are coming from this time around, Rodgers should have a field day. For the season, he had the best numbers of any quarterback in the league against zone defenses.
Last week's win over the Saints is fresh on everyone's mind, but the Bucs' secondary really struggled down the stretch, including in the Wild Card Round against Taylor Heinicke. They also could be without safety Antoine Winfield, who has been tremendous in his rookie season.
How I'm Projecting This To Play Out
Not only is this a significantly improved Green Bay defense since that Week 6 affair against Tampa Bay, but I believe the Packers will make the proper adjustments to attack this Buccaneers defense. I expect the Packers to utilize much more varied tempo, hard counts and short passes in order to give Rodgers a read on where the blitzes are coming from and to set up deep shots.
They'll also benefit from just having played (and dominating) an elite Los Angeles defense that runs some of the same concepts. If Green Bay can get anything on the ground against an elite run defense, I don't see Tampa Bay getting many stops — especially since Rodgers has been flawless in play-action all season (22 touchdowns to zero interceptions), something the aggressive Bucs defense struggles to defend.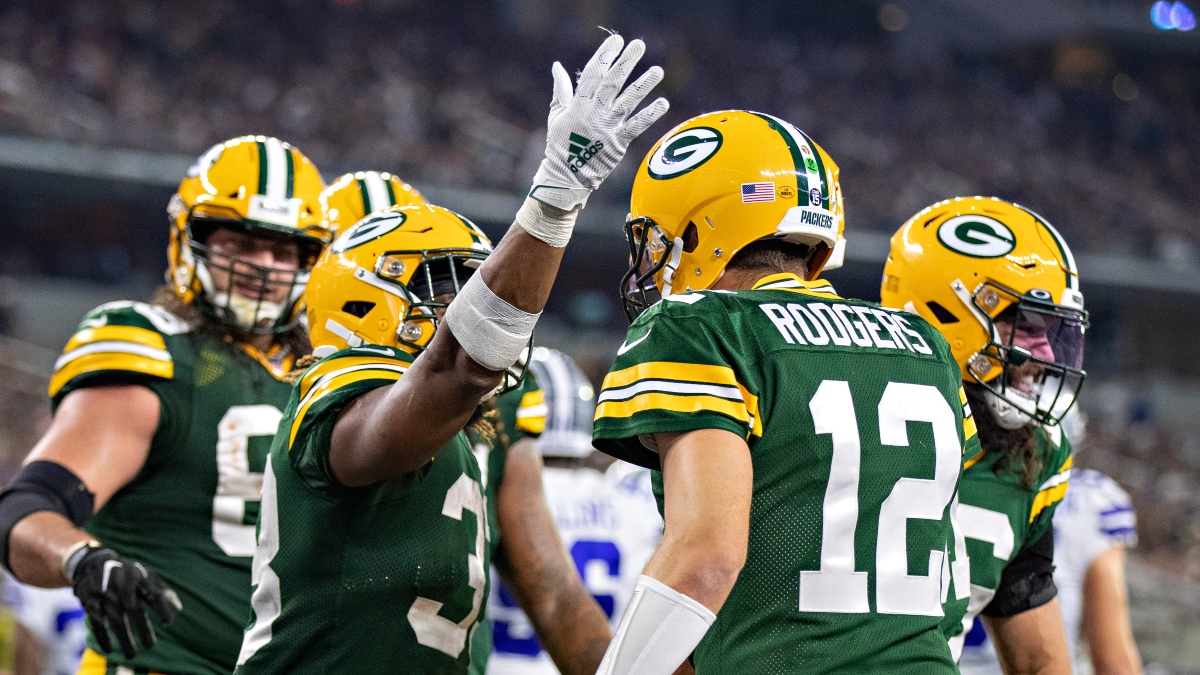 The return of Vita Vea could potentially make that task more difficult, but I would imagine he'd be severely limited if he does suit up.
For what it's worth, Rodgers is 27-12-1 (69%) ATS as home favorite under a touchdown according to our Action Labs data. I think he gets this done and the Packers can make the most impactful changes from the earlier season meeting.
However, from a line value perspective, I can't bet them at -3.5 — if this line never comes down before kick, I will wait to see if I can get under a field goal live in the first quarter. Keep in mind that Green Bay was the most dominant second-quarter team in the NFL this season by a wide margin.
What Could Go Wrong for the Packers?
A few things could:
Todd Bowles could confuses Rodgers again with his blitz packages, forcing a key turnover or two.
Packers could struggle to get anything on the ground to set up the play-action.
In a matchup of two sloppy special teams units, the Packers make the critical mistake(s).
Brady pulls another Brady in January.
Live Betting Over/Under Strategy
I don't see a ton of value in either pregame total, but will be targeting a live over if we get a slow start in either game.
Over the past 15 years, conference championship games and Super Bowls have had lower-scoring first quarters than the average of all games over that span, while the other three quarters have all had higher averages.
Could a sample size of about 50 games be partly random? Sure. However, I do actually see the logic, so it's something I can buy into for a no-risk strategy of waiting to see if I can get a nice live over.
There are nerves early in these games. Quarterbacks don't want to make an early mistake before settling in. Plus, offenses try to get a feel for what the opposing defenses are trying to do in these big games where you can see drastic wrinkles due to the magnitude of these games. And despite these slower starts, conference championship overs have gone 20-11-3 (64.5%)
There are a number of factors working in favor of a live over as well. We have four pass-friendly teams on early downs with dynamic aerial attacks led by arguably the NFL's four best quarterbacks this season, who each can fly down the field in a two minute drill. I also expect all four teams to play ultra aggressive on fourth downs, which will generally benefit an over.
From a pace perspective, only the Packers don't rank in the top 11 in neutral game situations (per Football Outsiders) — they actually rank dead last. However, as I stated above, I think they'll use more tempo.
Lastly, I don't see many scenarios in which a team can effectively or will decide to start to chew the clock on the ground.
Favorite Prop Bets
Since I anticipate a heavy dose of Cover 4 from Green Bay, Godwin should have a massive day in the slot. He's usually there about 65% of the time, but that should rise this Sunday — the option routes he can run from the slot are one of the ways you can move the ball effectively against Cover 4.
Even without Brown, I don't expect Godwin's slot snaps to be impacted. Godwin played 66% of snaps there in four games without Brown and 66% in 10 games without him.
Chandon Sullivan has been respectable in coverage from the slot, but he's overmatched here. I expect Brady to feed Godwin early and often, so I fancy over 63.5 yards and over 5.5 catches, both of which are available at DraftKings.
Let's just hope he left all of his drops in New Orleans.
I also don't hate Gronk props in a favorable matchup and just have a feeling AJ Dillon catches a deep ball that the Packers have been setting up recently.
PICKS: Chris Godwin Over 63.5 Rec Yards; Over 5.5 Catches
How would you rate this article?