Wild Card Round WR/CB Matchups: A.J. Brown vs. Stephon Gilmore
Credit:
Getty Images. Pictured: Tennessee Titans WR A.J. Brown (11), New England Patriots CB Stephon Gilmore (24).
We've finally reach the NFL Playoffs where the WR/CB battles will become even more important and pressure packed.
Matthew Freedman grades every wide receiver/cornerback matchup as we head into Wild Card weekend.
Wide receiver-cornerback showdowns might be the most important individual matchups in football.
In this piece, I leverage snap data from Pro Football Focus to project NFL Wild Card weekend WR/CB matchups.
For more, see the FantasyLabs Matchups page, where we provide basic and advanced data — including fantasy and red-zone performance — for each offensive skill-position player based on his matchup.
Also consult our Wild Card injury report for status updates on receivers and corners. I will update my WR/CB projections throughout the week.
Wild Card Round WR/CB Matchups
Buffalo Bills at Houston Texans: Saturday, 4:35 pm ET
Bills WRs: John Brown and Cole Beasley didn't play a snap in the meaningless Week 17. After his 108-yard performance last week, Duke Williams might push Isaiah McKenzie for a few snaps this week.
Texans CBs: Bradley Roby (hamstring) sat out last week, but I expect him to play. Johnathan Joseph (hamstring) exited Week 17 early, but even if he sits, his absence won't be noticeable: He has been largely replaced in nickel sets anyway by corner Gareon Conley.
Houston's defense ranks 25th against the pass (per Football Outsiders' DVOA metric). This is a good matchup, especially for Brown and Beasley.
Texans WRs: DeAndre Hopkins (illness), Will Fuller (groin) and Kenny Stills (knee) all sat last week and are dealing with various health issues, but Hopkins and Stills are fully expected to suit up. Fuller is questionable after exiting Week 16 early. If Fuller is out, that will be a big negative for the passing game.
Three year trend now

2018
On: 249 plays, 48.5 EPA
Off: 483 plays, 27.8 EPA

2017
On: 142 plays, 38.0 EPA
Off: 125 plays, 11.2 EPA

— Kevin Cole (@KevinColePFF) December 26, 2019
UPDATE (Jan. 4): Fuller is inactive.
Bills CBs: Levi Wallace (ankle) suffered an injury in Week 17 and is uncertain. If Wallace is out, he'll likely be replaced by 2015 Texans first-rounder Kevin Johnson, who has played well this year as a rotational corner and will have the #RevengeGame narrative in his favor.
Star cover man Tre'Davious White rested in Week 17 and should be ready to go this week for his mano-a-mano matchup with Hopkins. White has held receivers to a 53.5% catch rate since his 2017 rookie season.
Last year in Week 6, Hopkins was 5-63-1 receiving on six targets against the Bills and specifically 2-27-1 on three targets against White, who shadowed him on 69.4% of his routes.
UPDATE (Jan. 4): Wallace is inactive.
Shadow Matchup: Hopkins vs. White
---
Tennessee Titans at New England Patriots: Saturday, 8:15 pm ET
Titans WRs: Adam Humphries (ankle) hasn't played since Week 13, and Kalif Raynond (concussion) missed last week. Tajae Sharpe is locked in as the No. 3 receiver with a defined slot role. With his 124-yard performance last week, A.J. Brown has gone over 1,000 yards receiving on the season. It will be almost impossible to take him too high in 2020 fantasy drafts.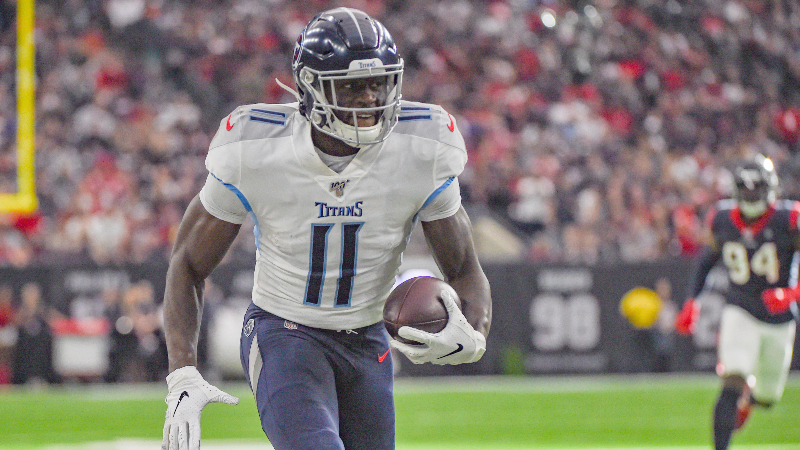 Patriots CBs: Jason McCourty (groin) sat last week and has played just eight snaps since Week 12. He's questionable at best. But Jonathan Jones (groin) returned to action last week after missing Week 16, and with J.C. Jackson playing in McCourty's place, the Pats still have a strong trio of corners.
The Pats are the league's most shadow-heavy team and No. 1 in PFF coverage grade, thanks in large part to All-Pro corner and likely Defensive Player of the Year Stephon Gilmore. But over the past two weeks, Gilmore has been exploited by John Brown and DeVante Parker, who combined for 190 yards and a touchdown.
Gilmore has held receivers to a 44.9% catch rate over the past two years (including playoffs), but Titans quarterback Ryan Tannehill is playing with no fear right now, and Brown is the type of big-bodied dominator who might be able to give Gilmore problems.
UPDATE (Jan. 2): McCourty has practiced on a limited basis this week and might suit up, although I am still skeptical.
Shadow Matchup: Brown vs. Gilmore, Davis vs. Jackson & Sharpe vs. Jones
Patriots WRs: Edelman (shoulder, knee) has a scoreless 107 yards on a meager 18 targets over the past three weeks. He will play this weekend, but the 33-year-old slot receiver is reportedly dealing with significant injuries.
As for Mohamed Sanu and N'Keal Harry, they're like the men at the Battle of Helm's Deep: "Most have seen too many winters. Or too few."
Titans CBs: Perimeter corners Malcolm Butler (wrist, IR) and Adoree' Jackson (foot) are both injured. Jackson hasn't played since Week 13 and is yet to practice. Butler suffered a season-ending injury in Week 9, and since then the Titans defense has ranked No. 30 in pass success rate allowed (per Sharp Football Stats).
LeShaun Sims has played on the perimeter for most of the past two months, but in Week 17 he was benched for career special-teamer Tye Smith, who is almost certainly not much better.
Opposite Smith on the perimeter is aged veteran Tramaine Brock, who was claimed off waivers a month ago, and in the slot is former Pats starter Logan Ryan, who has allowed an NFL-high 112 targets, 79 receptions and 932 yards.
UPDATE (Jan. 2): Jackson practiced fully on Tuesday and Wednesday and is expected to play.
Minnesota Vikings at New Orleans Saints: Sunday, 1:05 pm ET
Vikings WRs: Stefon Diggs and Adam Thielen rested in Week 17 and should be relatively healthy this weekend. With Thielen back, Olabisi Johnson has been the team's primary slot receiver, although the Vikings tend to use two tight-end sets as their base formation.
Saints CBs: Eli Apple (ankle) missed Week 17 with an injury and is uncertain to suit up against the Vikings. Former Giants teammate Janoris Jenkins has played in his stead for the past two weeks, and there's a chance he'll continue to play ahead of Apple once he returns.
Free safety Marcus Williams (groin) also missed Week 17 with an injury and is questionable for the Wild Card Round. In his absence, slot corner P.J. Williams shifted to safety and veteran backup Patrick Robinson started in the slot. If Marcus Williams is out this week, P.J. Williams and Robinson will likely reprise their Week 17 roles.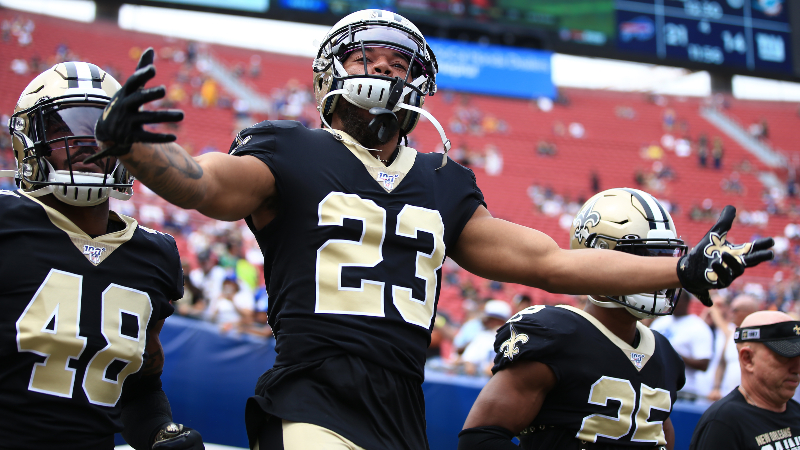 Against the Vikings last season in Week 8, the Saints used Marshon Lattimore exclusively at right corner, so they might play sides again this weekend, but for most of the year, Lattimore has been used in shadow coverage. After a horrible first three weeks to the season, Lattimore has held opposing receivers to a catch rate of just 43.5%.
UPDATE (Jan. 3): Marcus Williams is not on the injury report, so I expect him to start at safety and for P.J. Williams to shift back to slot corner.
Shadow Matchup: Diggs vs. Lattimore
Saints WRs: All-Pro Michael Thomas is coming off a disappointing 37-yard performance, but he was hardly needed in a 42-10 win over the Panthers. The league leader with 185 targets, 149 receptions and 1,725 yards, Thomas will be in peak form at home against the Vikings.
Ted Ginn Jr. has done little of note this year, but Tre'Quan Smith has started to come on recently. After flashing as a rookie with multiple 100-yard, touchdown-scoring games, the second-year slot receiver has spent much of this year dealing with soft-tissue injuries, but he has three touchdowns over the past month, and last week he hit season-high marks with five targets, five receptions and 56 yards.
Vikings CBs: Xavier Rhodes and Trae Waynes sat in Week 17 and should be rested for this weekend. Slot corner Mackensie Alexander (knee) was limited last week in practice with a minor injury, but he played fully and will man the middle this week.
Rhodes missed last year's Week 8 matchup with the Saints because of injury, but I doubt the Vikings will use him in shadow coverage on Thomas this week. Since Week 3, Rhodes has played exclusively at right corner in 12 of 13 games, probably because the Vikings explicitly don't want him matched up every snap with opposing No. 1 receivers: This year, Rhodes has massively regressed, allowing an opulent 84.3% catch rate in his coverage.
Even so, Rhodes and Thomas are likely to match up for much of the game since they tend to line up out wide on the same side of the field. Shadow coverage or otherwise, the Thomas-Rhodes matchup will be the focal point of this passing game showdown.
UPDATE (Jan. 3): Alexander has been ruled out, and backup Mike Hughes (neck, IR) has been shut down for the year. The Vikings are now dangerously thin at corner, with undrafted second-year special-teamer Holton Hill slated to start in the slot.
Seattle Seahawks at Philadelphia Eagles: Sunday, 4:40 pm ET
Seahawks WRs: Josh Gordon (suspension) is out for the rest of the year. Malik Turner (concussion) is still in the league's protocol. Jaron Brown (knee) suffered a serious-looking injury in Week 17. Until further notice, David Moore is the acting No. 3 receiver for the Seahawks.
Eagles CBs: No. 1 corner Jalen Mills (ankle) missed Week 17, and No. 2 corner Ronald Darby (hip flexor, IR) is out for the season. This secondary has seen better days. But Mills at least practiced on a limited basis every day last week and was a true game-time decision. I expect him to play this weekend with the extra rest.
In Mills' absence, slot corner Avonte Maddox played on the perimeter in Week 17, but he suffered an undisclosed injury, went into the medical tent, reentered the game for one snap and then left the game again and didn't return. If Maddox is out, the deliciously named Cre'Von LeBlanc will likely continue to play in the slot, as he did last week.
UPDATE (Jan. 2): At corner, Mills, Maddox and backup Sidney Jones all practiced on a limited basis on Wednesday. 
Eagles WRs: No. 1 wide receiver Alshon Jeffery (foot, IR) is out for the year, as is No. 2 wide receiver DeSean Jackson (abdominal, IR). No. 3 wide receiver Nelson Agholor (knee) hasn't played in a month and is yet to return to practice.
To make matters worse, the Eagles last week were without tight end Zach Ertz (ribs, back), who has functioned as the team's de facto No. 1 receiver from the slot for much of the year. His status for Sunday is uncertain.
Even without Ertz, the Eagles used a two-tight end set as their base package in Week 17 with Joshua Perkins playing behind Dallas Goedert as the No. 2 tight end and backups Greg Ward Jr. and Robert Davis playing as the primary receivers. In three-wide sets, the rookie J.J. Arcega-Whiteside is rotating in.
This is a makeshift crew. In the 2020 draft, it would be shocking if the Eagles didn't take a wide receiver with a top-100 pick.
UPDATE (Jan. 2): Agholor missed practice on Wednesday and still seems unlikely to play this weekend.
Seahawks CBs: No. 1 corner Shaquill Griffin returned to action in Week 17 after missing the previous two games with a hamstring injury. He seemed to play without a setback.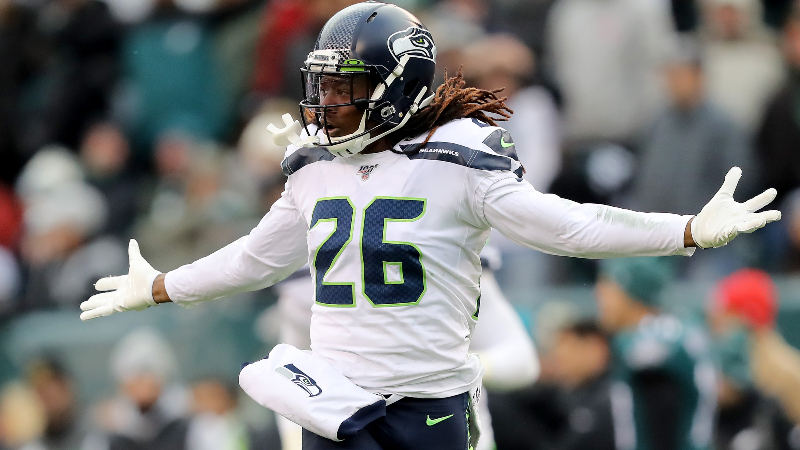 The Seahawks are unsettled at slot corner. A few weeks ago, Ugo Amadi replaced Akeem King in the slot — and he's still the guy in the middle in the nickel package — but he played just nine snaps last week as the Seahawks obstinately chose to stay in their base defense for most of the game with safety Bradley McDougald occasionally playing in the slot.
Strong safety Quandre Diggs (ankle) has missed the past two games, but if he plays this week, McDougald might find himself with a full-time slot role. But Diggs is yet to return to practice and is far from certain to suit up against the Eagles.
---
Wild Card Round WR/CB Matrix
I take a cautious approach to injured players I expect to be questionable or out. If by the weekend it seems likely that they will play, I will include them in my updates.
Pos = left, right or slot WR or CB
Projected shadow matchups are CAPITALIZED
WR Exp = Wide Receiver Expectation: I rank from 3 to -3 how much I think we should adjust expectations for wide receivers based on matchups. 3: Large upgrade. 2: Medium upgrade. 1: Small upgrade. 0: No change. -1: Small downgrade. -2: Medium downgrade. -3: Large downgrade.
Thanks to Scott Barrett for providing me with some of PFF's historical data.
How would you rate this article?