Koerner's NFL Week 1 Power Ratings: My Betting Approach for All 16 Games
Credit:
USA Today Sports. Pictured: Patrick Mahomes, Tom Brady, Dak Prescott
Sean Koerner uses his NFL Week 1 Power Ratings to find the best bets for every game.
Welcome to the first edition of my weekly NFL Power Ratings. Each week, we'll compare odds to my projected spreads and totals to identify the best bets.
My approach for Week 1 is a combination of my raw Power Ratings, my Buy/Sell Ratings and market movement. There aren't any recent games for the market to overreact to, so I'll be using the Buy/Sell Ratings as a way to gauge how the market might be overestimating or underestimating teams from a season ago.
Now let's find the best bets for Week 1!
All odds are as of Wednesday and via PointsBet.
Packers at Bears
Odds: Bears -3; 46.5
My Projections: Bears -3; 46
This line opened Bears -4 and has parked on a key number at -3.
The Packers earned an A in my Buy/Sell Ratings while the Bears earned a D-minus. By default, this leads me to believe the public (and even myself) are letting luck-driven factors from last season to underrate the Packers and overrate the Bears.
If the line were to move at all, at this point, I would think it's more likely to go back to -3.5 — I'm going to wait and see if that happens before pulling the trigger on the Packers here.
The total is just a tad higher than my projection. And while I wouldn't say there are significant key numbers for totals — like we see with 3 and 7 for spreads — the gap from 46 to 47 is worth noting. If this total were to be bet up to 47.5, that would offer enough value on the under to trigger a bet.
The Bears defense should still be elite under new coordinator Chuck Pagano, but I expect the Packers to take a leap forward after bolstering their defense with high draft capital and via free agency.
Falcons at Vikings
Odds: Vikings -4; 48
My Projections: Vikings -3.5; 47.5
The Vikings have remained at -4 despite what appears to be lopsided action on the Falcons, who are attracting 62% of bets as of writing (you can find live betting percentages here).
I have a similar line for this game, but think the slight value is on the Vikings.
The Falcons' offensive line looked a bit off in the preseason, which caused Matt Ryan to be visually frustrated. It could take a week or two for them to get in sync, but should still be an improvement over last season. Still, Julio Jones and the three key defenders who ended up on IR at various points last season (Deion Jones, Keanu Neal and Ricardo Allen) have been treated with kids gloves heading into the season.
The Vikings are much more likely to hit the ground running and should be able to take advantage of the Falcons, who will improve as the season goes on. I'd lean Vikings -4 here.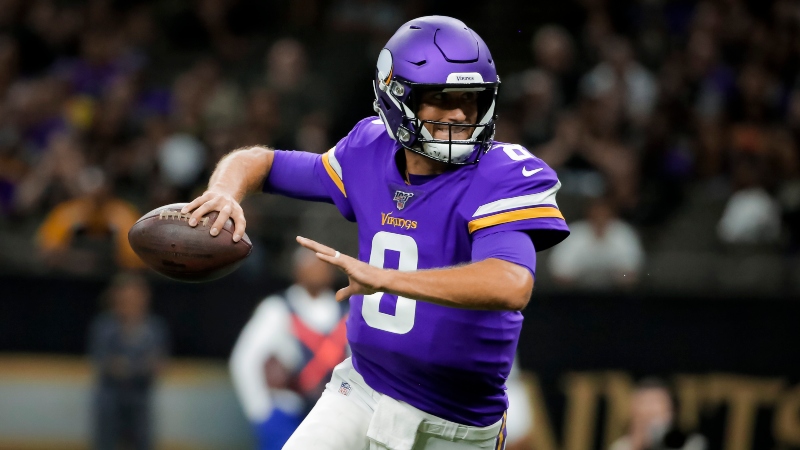 The total is right in the range I've pegged it. It's worth noting that despite about 75% of the tickets coming in on the over, the line hasn't budged yet. There could be some sharp money preventing this line from going too much higher.
I'd lean on the under in a pick 'em contest, but right now, this is a pass for me.
Redskins at Eagles
Odds: Eagles -10; 45.5
My Projections: Eagles -9; 46
The Eagles opened at -7.5 and have been bet up. You have to wonder if part of that was due to some uncertainty around Carson Wentz's Week 1 availability. They've benefited from having one of the best backup QBs in the league with Nick Foles, who frequently had to step in for Wentz. With Foles out of the picture, the Eagles' would drop four to five points in my power ratings if Wentz were to ever miss a game.
I have this game as Eagles -9, so this is a pass for me. Once we get a key number like -10.5, I might be interested in backing the Redskins here.
I have the total set at 46, which is right in line with the current market. The under looks like it's been getting hammered with 76% of the tickets, and yet, the line hasn't budged. I wouldn't look into that too much since Week 1 can be a bit tricky when it comes to reading the market. This is a pass for me.
Bills at Jets
Odds: Jets -3; 40.5
My Projections: Jets -3.5; 39.5
I have the Jets graded out as an A- in my Buy/Sell ratings, while the Bills are a C.
The Jets improved their roster a ton, bringing in free agents Le'Veon Bell and C.J. Mosley while also selecting DT Quinnen Williams third overall to bolster the line. Sam Darnold should also only improve in Year 2.
I'll be looking to back the Jets early in the season, however, the Week 1 the market isn't posing much value as -3 is pretty spot on. And despite lopsided action on the Jets so far, the line hasn't budged. I'm going to pass on them this week and look to potentially target them in Week 2 against the Browns.
The total opened at 38 and has been bet up all the way to 41 at some books. My projected total splits the difference at 39.5 and I do like the under as of now. As mentioned earlier, totals don't have as significant key numbers, but 41 is one of them.
I might wait to see if this gets bumped up to 41.5 before coming in on the under and get the hook on that key number. If it doesn't move, I'll settle on under 41.
Ravens at Dolphins
Odds: Ravens -7; 37.5
My Projections: Ravens -5; 37.5
The Ravens have been bet up from -3.5 to -7, making them the largest road favorites in Week 1. I have them being pegged as -5 for this matchup and feel like the market is getting carried away with the 2019 Dolphins fade already.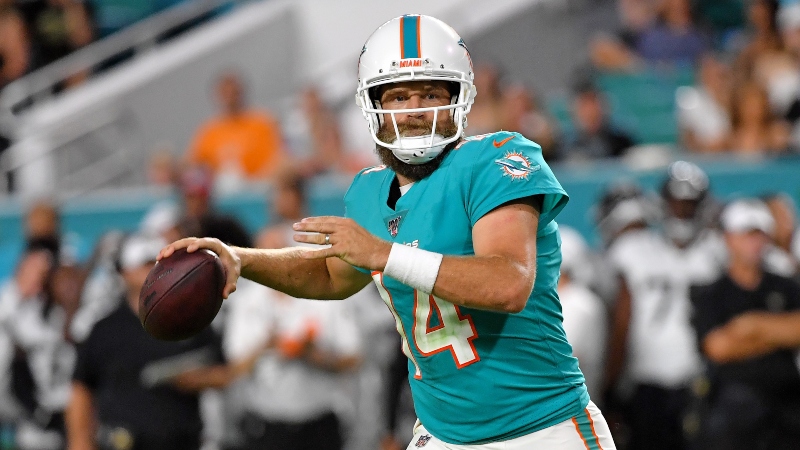 We're all aware that Miami is likely the worst team in the NFL and likely going to tank at the end of the season to get into position for what will be a loaded 2020 draft class at QB.
I'm waiting for this to bump up to +7.5, where I would bite the bullet and back the Dolphins.
49ers at Buccaneers
Odds: Buccaneers -1; 50.5
My Projections: 49ers -0.5; 50
This game has the second-highest total of the week, and for good reason. I have this pegged at 50. It has jumped from 50 to 51 over the past day at some books, and I think it's getting enough action to go up a bit more.
If it reaches 51.5, there will be some slight value on the under as that hits another key number for totals (think 27-24 final score).
Chiefs at Jaguars
Odds: Chiefs -3.5; 52
My Projections: Chiefs -2.5; 51
The Jaguars were one of five teams to receive an A grade in my Buy/Sell ratings, so I'll be looking to back them early in the season. They're up against the top team in my power ratings in the Chiefs, who I only have as -2.5 favorites in this one.
Sign me up for Jaguars +3.5 to lock in the most valuable number against the spread in 3.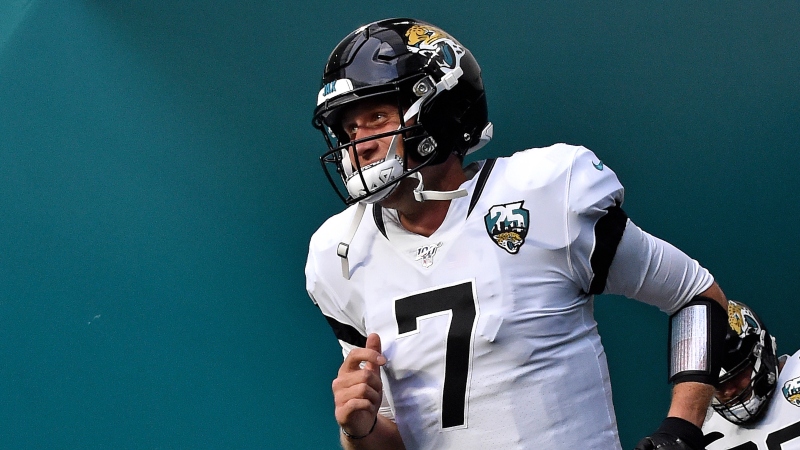 Most of the action has been on Kansas City here and the line still dropped from +4.5 to +3.5. A lot of the line movement early this summer was due to Tyreek Hill going from likely to be suspended/released to not suspended/available to play Week 1. Wide receivers typically don't impact a line, but Hill is so dynamic that he'd be worth 0.5-1 points, especially on a weak number like 4.5.
We're able to filter out the noise now and can safely conclude that the number has dropped a full point due to sharp action, and I still think there's value here.
Titans at Browns
Odds: Browns -5.5; 45.5
My Projections: Browns -4; 45
The Browns are entering this season with a lot of hype. They're built to win now and are likely going to be a team the public backs heavily.
Their Week 1 opponent is the Titans, who are a very bland team that isn't going to be drawing a ton of public backing this week. It's shown as the line has been bet up from -5 up to -6 at some books. I have this being the Browns -4 and I'm guessing we won't see enough action to get the Browns pushed up to a key number like 7.
There does seem to be a bit of sharp resistance on this line as 66% of the money is coming in on the Titans as of writing. I'm willing to see if it can get pushed up to 6.5 and then will likely come in on the Titans.
Rams at Panthers
Odds: Rams -2.5; 50
My Projections: Rams -0.5; 51
The Rams graded as an F and the Panthers received an A-plus in my Buy/Sell ratings. I'm looking to buy into the Panthers here as a result.
My plan was foiled a bit when Cam Newton suffered an ankle injury in Week 3 of the preseason. He appears to be fine for Week 1, but could be limited. While waiting for that news, the line has dropped off a key number in +3 to +2.5. I still like the Panthers at +2.5 since I think this should be a pick 'em.
The best way to buy into them here is forego the spread altogether and take them on the moneyline at +120. The betting behavior and line movement all indicate that sharps are on the Panthers this week.
The total has dropped from 51 to 49.5 at some books. I have this graded out as 51, so might nibble on the over here if the line continues to fall. The line move has not lined up with the betting behavior at all as it looks like 89% of bets have come in on the over.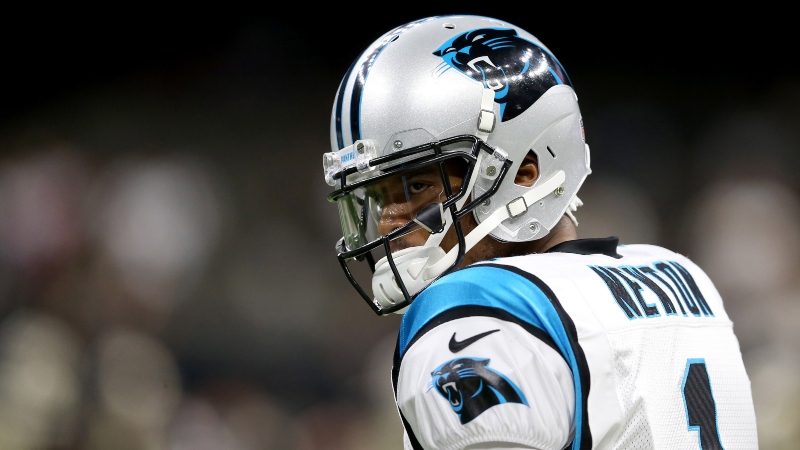 As I mentioned earlier, Week 1 is the hardest when it comes to gauging these things because all lines have been up for months now.
Lions at Cardinals
Odds: Lions -2.5; 46.5
My Projections: Lions -0.5; 48
Kliff Kingsbury is bringing the Air Raid offense to the NFL, which led to a lot of hype over the offseason. The offense looked flat in the preseason, though, and now people are souring on the Cardinals already.
As a result, the line has been creeping up to Lions -3. If it manages to hit that key number, I'll strongly consider backing the Cardinals.
While the Cards defense should be vulnerable during Patrick Peterson's six-game suspension, their offense will still surprise teams early in the season. It might take the NFL a few weeks of film to adjust to the new approach, so there could be some value in backing the Cardinals until then.
Watch for this line to hit 3 and then pounce.
Bengals at Seahawks
Odds: Seahawks -9.5; 44
My Projections: Seahawks -9; 44
I am right in line with the spread and total here, so staying away from both.
Colts at Chargers
Odds: Chargers -6.5; 45
My Projections: Chargers -6; 44
This line was Chargers -3 when Andrew Luck shocked the NFL by announcing his retirement. I figured the line would bump up to Chargers -7 or -7.5, which it did, but it's since been bet down to -6.5.
I have this graded as Chargers -6, creating some slight value on the Colts.
Melvin Gordon is set to miss the game due to his holdout. While I realize #RBsDontMatter — and that's largely true when it comes to point spreads — the Chargers will also be without safety Derwin James, who was placed on IR. Both key players being out could be worth a half-point or so to the spread.
While Jacoby Brissett is a drop-off from Luck, he's still one of the better backups in the league. He started for the Colts in 2017 but was thrown into the fire after being acquired right before Week 1, had a poor offensive line, poor coaching and not as many weapons. All of those factors have changed for the better, making him likely to succeed this time around.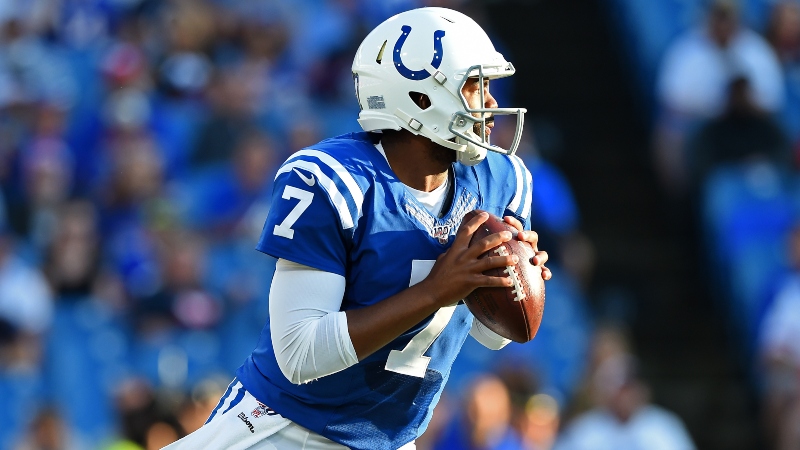 Let's not forget that while Luck had been sidelined all offseason with his ankle/calf injury, Brissett was working with the starters the entire time. I'd lean Colts +6.5 here.
Giants at Cowboys
Odds: Cowboys -7.5; 45.5
My Projections: Cowboys -7.5; 45.5
I am right in line with the spread and total here, so staying away.
Steelers at Patriots
Odds: Patriots -5.5; 49.5
My Projections: Patriots -6; 51.5
This total has been bet down from 51.5 to 49.5, but I actually agree with the opening number.
The Patriots looked like they were going to head into 2019 pretty thin at WR, but were able to get Josh Gordon reinstated in time to suit up Week 1 and it appears Demaryius Thomas is healthy enough to be a factor Week 1 as well.
Since this is a matchup between two public teams in the first Sunday Night Football game of the season, I have zero doubt this number will creep back up to 51 or higher, so the time to nibble on the over would be now.
Texans at Saints
Odds: Saints -7; 52.5
My Projections: Saints -5.5; 52.5
The Texans were a B in my Buy/Sell ratings while the Saints received an F. I have the Saints as 5.5-points favorites here, so the -7 line is a bit too high for all the reasons I discussed in my Buy/Sell Ratings piece.
I'm going to take the Texans at the key number of +7 here and hope Bill O'Brien doesn't attempt anymore trades before gameday.
Broncos at Raiders
Odds: Broncos -1; 43.5
My Projections: Raiders -0.5; 43.5
This game should be a pick 'em, but it looks like action is shifting toward the Broncos here who are now -1 favorites. Not enough to warrant a play for me yet, and this likely won't be a game that many people bet on until Monday as it's the second of a Monday Night Football doubleheader.
If this gets pushed up to Broncos -2.5 or higher, I'll consider coming in on the Raiders here.
How would you rate this article?