Koerner's Week 1 Fantasy Tiers: Ranking Every QB, RB, WR, TE, More
Credit:
USA Today Sports. Pictured: Travis Kelce, Ezekiel Elliott, Odell Beckham Jr.
Sean Koerner unveils his first set of weekly fantasy tiers. See his Week 1 rankings for QB, RB, WR, TE and more.
Tiers season doesn't end in the run-up to drafts.
You'll find my first set of my weekly fantasy tiers below, which I'll release throughout the regular season. They're a more nuanced take on my fantasy rankings and strategy at quarterback, running back, wide receiver, tight end, kicker and defense.
You can use these tiers to inform your lineup decisions, but I'll be tweaking my rankings until kickoff, so be sure to use those in conjunction with this story.
Now let's dig into Week 1!
Note: These are based on half PPR scoring.

---
Go To: QB | RB | WR | TE | K | DEF
---
Week 1 Fantasy Tiers
Quarterbacks
Tier 1
Deshaun Watson (at NO)
Patrick Mahomes (at JAX)
Watson barely beats out Mahomes for QB1 this week in my model. It's scary to see Mahomes this high despite the tough matchup against the Jaguars. He'll likely be the No. 1 QB most weeks, but Watson always has QB1 upside given his rushing ability.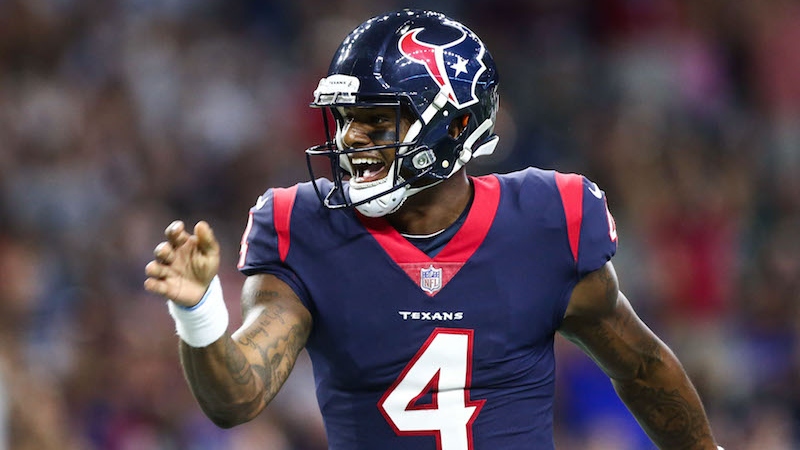 The Texans have made some moves the past few weeks that all help boost Watson's outlook. They've attempted to bolster the offensive line, got him a pass-catching back in Duke Johnson, and brought in Kenny Stills to join a loaded WR corps.
Tier 2
Jameis Winston (vs. SF)
Carson Wentz (vs. WAS)
Lamar Jackson (at MIA)
Drew Brees (vs. HOU)
Dak Prescott (vs. NYG)
This high-end QB1 Tier offers high floors along with some high ceilings.
Winston seems like the biggest gamble of the bunch, but if you drafted him late as your QB1, you're rolling him out in what could turn into a shootout with SF.
The remaining QBs are fairly big favorites who might not need to throw — or in Jackson's case, run — as much this week for their teams to win, which could lower their ceiling somewhat. Regardless, their touchdowns odds are all higher than normal and all make for safe, high-floor plays.
Tier 3
Russell Wilson (vs. CIN)
Kirk Cousins (vs. ATL)
Baker Mayfield (vs. TEN)
Kyler Murray (vs. DET)
Cam Newton (vs. LAR)
Jared Goff (at CAR)
Mitchell Trubisky (vs. GB)
Aaron Rodgers (at CHI)
We have a massive tier along the QB1/2 border, which will likely cause some sit/start battles.
Cousins vs. Murray could be a popular choice. I'll put it this way: Cousins is more likely to score more points than Murray this week. Murray is more likely to put up top-five QB numbers than Cousins this week. If you're in a season-long head-to-head league, the goal should be to raise your team's floor since you only need to outscore your one opponent, and so Cousins is your guy. But if you're in a league that awards money to the top score each week, Murray is your guy.
Wilson, Mayfield and Goff are the other high-floor plays. Newton, Trubisky and, to a certain extent, Aaron Rodgers are your high-ceiling/low-floor plays in this tier.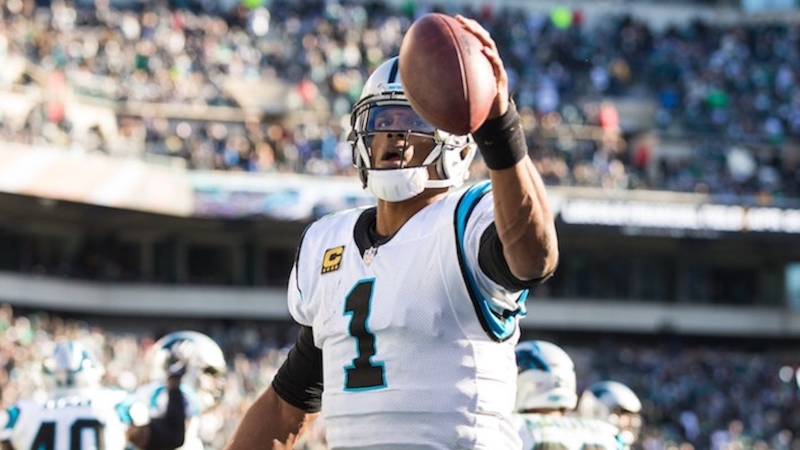 We'll have to monitor Newton's ankle injury as that will impact how effective he'll be running the ball, which is his greatest asset when it comes to fantasy football.
Tier 4
Philip Rivers (vs. IND)
Ben Roethlisberger (at NE)
Tom Brady (vs. PIT)
Jimmy Garoppolo (at TB)
Matt Ryan (at MIN)
You probably won't feel great about sitting any of these QBs.
Rivers, Big Ben and Brady are all NFL legends, but they rely only on their passing to generate fantasy points. This makes them very safe plays with somewhat limited upside. If you have to start any one of them, you'll be totally fine this week — I just don't think you needed to spend high draft capital to get them, is all.
Ryan is likely a QB you had to draft early in order to get this season. Unfortunately, you might need a backup plan this week as he has a brutal matchup at the Vikings. His offensive line looked shaky in the preseason and it could take them, along with Ryan and Julio Jones, a few games to really start clicking. The Falcons start their season off at Minnesota, vs. Philadelphia and at Indianapolis, but then their schedule opens up the rest of the season.
If Ryan struggles over the first few weeks, it wouldn't be a bad idea to float a trade offer in order to buy low.
Tier 5
Josh Allen (at NYJ)
Matthew Stafford (at ARI)
Nick Foles (vs. KC)
If you drafted Allen, prepare for some huge games and some duds. I avoided him in season-long head-to-head formats because of that week-to-week variance.
Stafford and Foles are great streaming options as both have plus matchups. I would bet that at least one of the two ends up putting top-12 QB numbers this week.
Tier 6
Derek Carr (vs. DEN)
Jacoby Brissett (at LAC)
The only reasons to go this deep at QB is in 2QB/Superflex formats or in extremely large leagues (14 or more teams).
It's hard to trust Carr in a tough matchup when he's barely had any practice time with Antonio Brown. There could be some growing pains early in the season as they build their chemistry together.
While Andrew Luck's retirement was a downgrade to all Colts' skill players, Brissett could end up surprising people and mitigate some of the damage.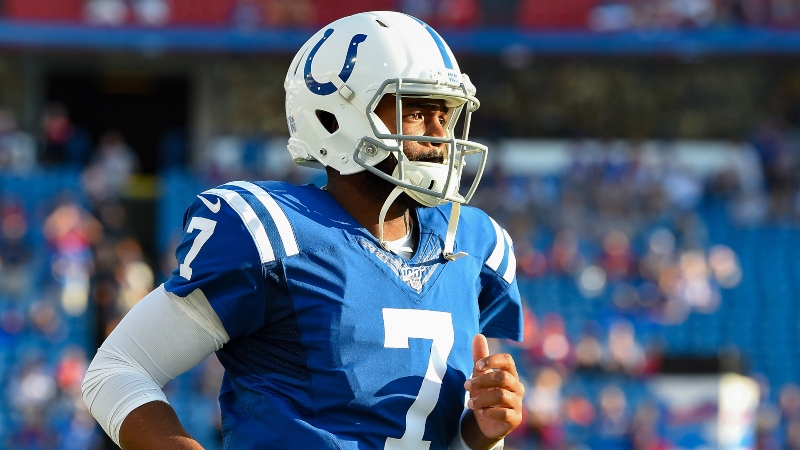 He started the entire 2017 season in Luck's absence, but had been signed just before Week 1, so didn't have all offseason to learn the playbook and build chemistry with the team. Now Brissett is surrounded by better coaching, a better offensive line and better pass catchers. And let's not forget he's been working with the starters all offseason while Luck was sidelined with his calf/ankle issue.
Brissett should be in good form out of the gate.
Tier 7
Joe Flacco (at OAK)
Marcus Mariota (at CLE)
Sam Darnold (vs. BUF)
Eli Manning (at DAL)
Case Keenum (at PHI)
Andy Dalton (at SEA)
The only QB I like in his tier is Darnold — not enough to be in the streaming discussion, but if you need in an emergency plug-in this week, he could put up decent numbers for you.
The only positive with many of these QBs is they're likely going to be trailing and will be forced to throw. One of them could go off, but all of them have very low yardage and touchdown projections this week, which is the opposite of what we want/need in fantasy.
Tier 8
Ryan Fitzpatrick (vs. BAL)
Who will we get this week: Fitzpatrick or Fitzmagic?
Fitzpatrick is debuting on a very bad team in a tough matchup against the Ravens. On paper and in any projection models, he's by far the worst QB play this week, but he's such a wildcard that a 250-plus yard, two-plus TD game wouldn't shock anyone, either.
Fitzmagic is a fascinating QB who is fun to watch as a fan, but in your fantasy lineup(s).
---
Running Backs
Tier 1
Christian McCaffrey (vs. LAR)
Saquon Barkley (at DAL)
McCaffrey gets the RB1 honors this week as the Panthers are likely to lean on him as Newton could be limited due to his ankle injury.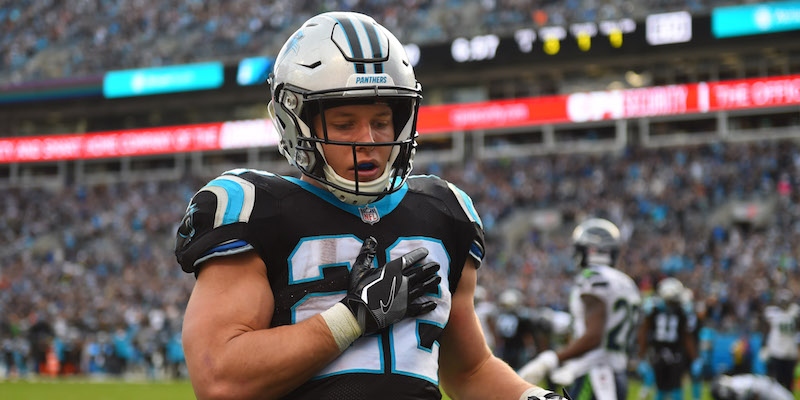 Tier 2
Alvin Kamara (vs. HOU)
Nick Chubb (vs. TEN)
David Johnson (vs. DET)
Kamara gets a slight boost with the Texans bungling the Jadeveon Clowney situation and shipping him away for what amounted to peanuts — a crushing blow to the Texans' run D, and Kamara will take advantage of it this week.
We'll get to see exactly how much the Saints plan on getting Latavius Murray involved as soon as this week, too. If they scale back the Mark Ingram role, it could help Kamara pop into Tier 1 going forward.
Tier 3
Ezekiel Elliott (vs. NYG)
Zeke gets his own tier for now.
Yes, he finally reached a deal with the Cowboys, but there's been word about easing him back in by limiting his workload, so be sure to check out my rankings as we get closer to kickoff.
Tony Pollard could still get a handful of touches against the Giants. He flashed in the preseason and the Cowboys might could look to create a change-of-pace role for him.
Tier 4
James Conner (at NE)
Le'Veon Bell (vs. BUF)
Dalvin Cook (vs. ATL)
Leonard Fournette (vs. KC)
Todd Gurley (at CAR)
The last of the RB1 tier features Cook and Fournette — two backs with an injury history that makes you nervous in season-long drafts, but as long as they are healthy, have weekly RB1 upside. Both are 100% healthy heading into the 2019 season and open with great matchups.
I think we see Fournette handle a big workload this week, including in the passing game, as he should see a handful of check downs from Nick Foles. Alfred Blue was placed on the IR over the weekend, which makes the competition behind Fournette that much weaker.
Tier 5
Kerryon Johnson (at ARI)
Chris Carson (vs. CIN)
Joe Mixon (at SEA)
We should see just how much the Lions plan on using Kerryon this week. I'm a bit worried they could limit him to 15-20 touches a week, but he's good enough to put up RB1/2 numbers in that role when he has plus matchups, like he does this week against the Cardinals.
Carson should absolutely smash this week. The Seahawks should beat Cincinnati with ease. Their pass-catching situation is a bit of a mess heading into this week, so I bet they lean on Carson early and often in this one. On the other side of the ball, Mixon is not in a great spot as the Bengals should play from behind, which could lead to a bit more Giovani Bernard snaps than we would like. Seattle's run D gets an upgrade with Clowney in the mix now.
Tier 6
Josh Jacobs (vs. DEN)
Sony Michel (vs. PIT)
Austin Ekeler (vs. IND)
Mark Ingram (at MIA)
Tevin Coleman (at TB)
Devonta Freeman (at MIN)
Derrick Henry (at CLE)
There's a lot to like about the heart of the RB2 tier this week.
Ekeler is set to be the Chargers' lead back as Melvin Gordon enters the season.
Ingram should see a ton of volume in a plus matchup against the Dolphins, and his TD odds are much higher this week than they typically will be going forward.
Henry is a bit lower in the rankings as he might need a week or two to get back into form as he missed the entire preseason due to his calf injury. The Titans are six-point underdogs at Cleveland as of writing (see live odds here), which means this isn't a game script that sets up well for him, either.
Tier 7
Phillip Lindsay (at OAK)
Damien Williams (at JAX)
Aaron Jones (at CHI)
Marlon Mack (at LAC)
James White (vs. PIT)
Duke Johnson Jr. (at NO)
David Montgomery (vs. GB)
The sit/start tier is littered with question marks and tough matchups.
Williams saw his stock plummet after the Chiefs went out and acquired LeSean McCoy. If you recall, I tried to warn you Williams was essentially the Fyre Festival Tier of RBs earlier this summer. We'll get to assess the damage this week, and if he has a great game (very possible), that would be the time to sell high if you can.
The Texans also added a veteran RB in Carlos Hyde over the weekend, but my projections for Johnson went virtually unchanged as I had already anticipated the Texans would add a back roughly equal to Hyde.
Johnson still offers some upside as he could handle 10-15 carries plus all of the passing down work. He's a great RB to have as a RB3/Flex as he's essentially game script-proof and can put up numbers whether the Texans are playing from ahead or trailing.
Tier 8
Tarik Cohen (vs. GB)
Miles Sanders (vs. WAS)
Peyton Barber (vs. SF)
Kenyan Drake (vs. BAL)
We've arrived at the wait-and-see tier. These backs all offer some potential upside, but it makes sense to wait and see how their teams plan on deploying their committees before trusting them.
Cohen and Drake have enough value in PPR formats, so if you have to, you can play either of them in your Flex slot out of the gate.
Tier 9
Royce Freeman (at OAK)
Devin Singletary (at NYJ)
Latavius Murray (vs. HOU)
Derrius Guice (at PHI)
Justin Jackson (vs. IND)
Jordan Howard (vs. WAS)
Rashaad Penny (vs. CIN)
Dion Lewis (at CLE)
Jalen Richard (vs. DEN)
Tony Pollard (vs. NYG)
Matt Breida (at TB)
Adrian Peterson (at PHI)
These backs are all on the wrong end of a two- to three-way committee and likely won't be forced to use them until a) we get more clarity on their role, b) the player pool shrinks once BYE weeks start and/or c) we start having starting RBs miss games and their backups get increased roles.
In PPR formats, players like Lewis and Richard could be fine as emergency Flex plays this week. Lewis is especially sneaky given that the Titans should trail the Browns and could ease Henry back in Week 1. Both factors increase Lewis' Week 1 stock.
Tier 10
Darrell Henderson (at CAR)
LeSean McCoy (at JAX)
Kalen Ballage (vs. BAL)
Chris Thompson (at PHI)
C.J. Anderson (at ARI)
The bench stash tier.
All of these backs could pop up on your radar going forward, but I don't think it's wise to be rolling them out Week 1.
---
Wide Receivers
Tier 1
DeAndre Hopkins (at NO)
Davante Adams (at CHI)
Odell Beckham (vs. TEN)
JuJu Smith-Schuster (at NE)
Michael Thomas (vs. HOU)
Julio Jones (at MIN)
Some of these elite WRs have tough matchups this week:
Hopkins vs. Marshon Lattimore
Adams vs. the Bears
Julio vs. Xavier Rhodes
I could go on, but the point is, every week these WRs will have to face their opponent's top corner and the opposing teams will try to scheme ways to stop them. In the end, these elite WRs will end up getting theirs, and that's all we care about in fantasy.
Fire up all of these WR1s with confidence this week.
Tier 2
Tyreek Hill (at JAX)
Mike Evans (vs. SF)
Adam Thielen (vs. ATL)
Stefon Diggs (vs. ATL)
Antonio Brown (vs. DEN)
Keenan Allen (vs. IND)
Tyreek has a tough Week 1 matchup against the Jaguars with Jalen Ramsey likely to shadow him. While I think Hill is less likely to hit his ceiling this week, Mahomes isn't likely to shy away from Hill completely, and all it will take is a big play or two for him to hit value this week.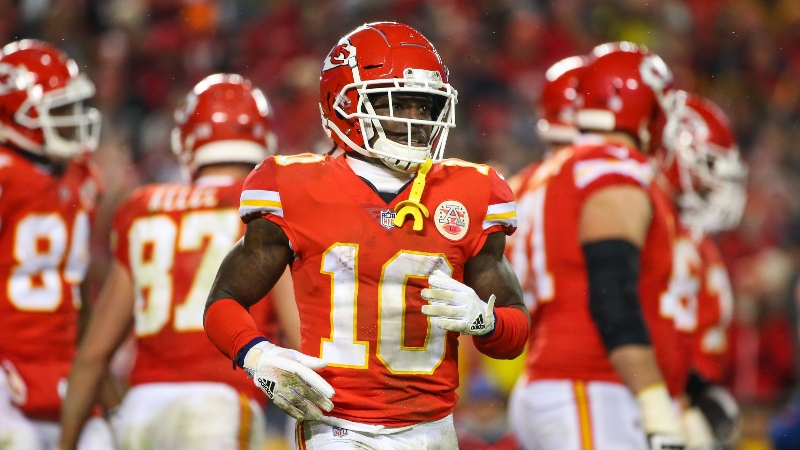 Hill is a streaky player you simply have to play each week and take the massive games along with a few duds along the way.
Brown has had quite the offseason, but appears to be fully healthy and ready to go. Still, I'm anticipating a bit of a slow start as he missed a ton of precious practice time that could have helped he and Carr build enough chemistry to hit the ground running.
Tier 3
Amari Cooper (vs. NYG)
Kenny Golladay (at ARI)
Brandin Cooks (at CAR)
Julian Edelman (vs. PIT)
Tyler Boyd (at SEA)
Robert Woods (at CAR)
T.Y. Hilton (at LAC)
Tyler Lockett (vs. CIN)
Chris Godwin (vs. SF)
There are some question marks in the WR2 Tier heading into Week 1.
How healthy is Cooper? He's having his plantar fasciitis, which has been an issue for him in the past, flare up right now. While it's not a reason to panic (yet), it could force the Cowboys to limit him some in Week 1. They should be able to beat the Giants this week even if they have to limit Cooper/Zeke some.
How will Hilton look with Brissett replacing Luck (again)? I mentioned earlier that Luck's retirement is a downgrade to all skill players on the Colts, but I think Brissett is good enough and has enough chemistry with Hilton (from the 2017 season) to peg him as a low end WR2 to start the season.
Tier 4
D.J. Moore (vs. LAR)
Allen Robinson (vs. GB)
Sterling Shepard (at DAL)
Cooper Kupp (at CAR)
Dede Westbrook (vs. KC)
Mike Williams (vs. IND)
Calvin Ridley (at MIN)
Alshon Jeffery (vs. WAS)
Jarvis Landry (vs. TEN)
Marvin Jones (at ARI)
Robby Anderson (vs. BUF)
Shepard should see a ton of volume for the first four games while Golden Tate serves his suspension. Westbrook has a great matchup this week against the Chiefs, which is going to force the Jaguars to throw a bit more.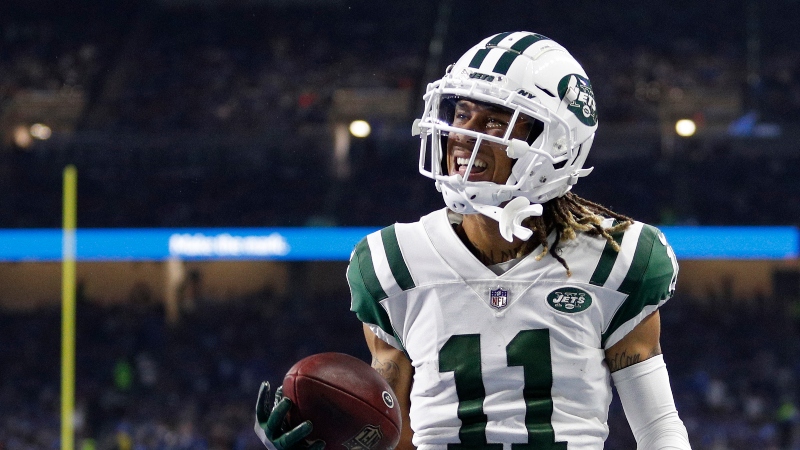 Anderson, meanwhile, is dealing with a calf injury that brings his Week 1 availability into serious question. If you own him, you need to start lining up a backup plan. Jamison Crowder could see his Week 1 stock shoot up even more if Robby is ruled out.
Tier 5
Christian Kirk (vs. DET)
Larry Fitzgerald (vs. DET)
Courtland Sutton (at OAK)
Josh Gordon (vs. PIT)
Corey Davis (at CLE)
Curtis Samuel (vs. LAR)
Ideally, you'll want your remaining WR/Flex plays for Week 1 to be no lower than this tier. Sutton and Gordon are the high-ceiling, low-floor plays from this tier while the rest offer pretty high floors given their skill sets, but are all on passing offenses that spread the ball out a ton and limits their ceilings.
Tier 6
Tyrell Williams (vs. DEN)
Sammy Watkins (at JAX)
Emmanuel Sanders (at OAK)
Will Fuller (at NO)
Marquez Valdes-Scantling (at CHI)
Dante Pettis (at TB)
Jamison Crowder (vs. BUF)
Donte Moncrief (at NE)
Michael Gallup (vs. NYG)
This is the wait-and-see tier at WR.
I think of MVS as a high-upside WR3 this season, but has a brutal matchup this week.
Pettis' stock has fallen a bit the past few weeks as Kyle Shanahan has hinted Pettis needs to step it up to be a starter. He's arguably the 49ers' best WR right now, so this could simply be a motivational tactic by his head coach. Still, let's see how this shakes out in Week 1 before rolling the dice on him.
Gallup could have a huge week if the Cowboys limit Cooper due to his foot injury.
Tier 7
Paul Richardson (at PHI)
John Brown (at NYJ)
Desean Jackson (vs. WAS)
Quincy Enunwa (vs. BUF)
Mohamed Sanu (at MIN)
Anthony Miller (vs. GB)
DeVante Parker (vs. BAL)
D.K. Metcalf (vs. CIN)
Tre'Quan Smith (vs. HOU)
Albert Wilson (vs. BAL)
James Washington (at NE)
Deebo Samuel (at TB)
Danny Amendola (at ARI)
Geronimo Allison (at CHI)
These are the high-upside dart throws for Week 1.
Brown andJackson could put up WR1 numbers or give you a zero. Start players like this if you're a big underdog in your matchup this week. That's when it's best to have a go-big-or-go-home approach.
Parker and Wilson get a bit of a boost with Stills traded away. The Dolphins' WR situation is still a bit crowded, and it's hard to trust them against the Ravens, but Parker and Wilson are worth keeping an eye on.
Metcalf looks to return from minor knee surgery, but we can't trust him in a game Seattle should easily win and run the ball a ton.
Washington likely won't play as many snaps as I had hoped to start the season. But he offers big-play upside and can do a ton of damage in limited snaps/targets.
The Packers should run a higher rate of 2-WR sets than people realize. Unfortunately, that would leave Allison on the sidelines in those formations most of the time. However, this week against the Bears, he has by far the best matchup on paper in the slot up against Buster Skrine.
---
Tight Ends
Tier 1
Travis Kelce (at JAX)
Zach Ertz (vs. WAS)
George Kittle (at TB)
The Big 3 will be a fixture in Tier 1 until further notice.
Tier 2
Evan Engram (at DAL)
O.J. Howard (vs. SF)
Hunter Henry (vs. IND)
The poor man's version of the Big 3 will likely be their own tier until further notice as well.
Unlike last season — when the second Tier heading into Week 1 was made up of aging veterans like Greg Olsen, Delanie Walker and Jimmy Graham — this trio features very good pass-catching TEs entering their prime. All three have potential to emerge into their own tier or even join Tier 1 at some point this season.
Tier 3
Jared Cook (vs. HOU)
Vance McDonald (at NE)
David Njoku (vs. TEN)
Austin Hooper (at MIN)
Kyle Rudolph (vs. ATL)
This is the sit/start tier for TE this week. Most of these TEs will be staples at the end of the TE1 tier, but this week it's Kyle Rudolph who is the surprise guest.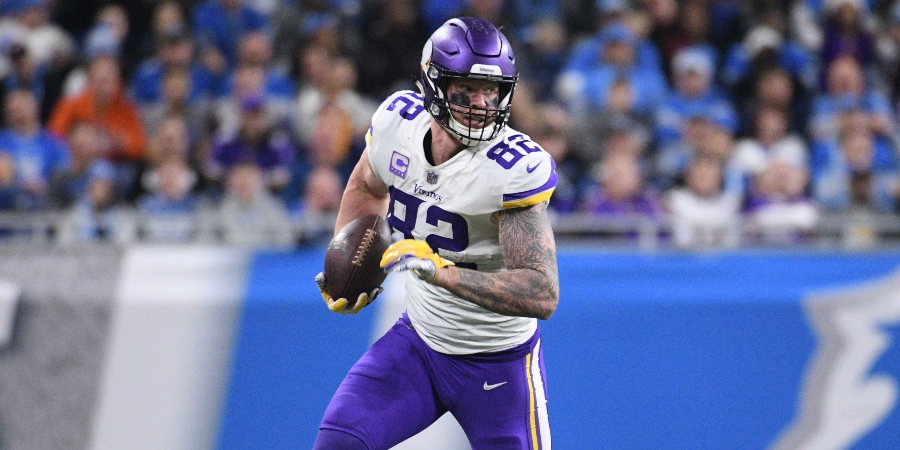 After Luck's surprise retirement, it sent Eric Ebron outside of the TE1 discussion for me and Rudolph might been overlooked. Yes, the Vikings drafted Irv Smith, who should become a very good pass-catching TE over the next few years. But they also just paid Rudolph like he's still a major part of their offense over the next couple years.
The Vikings could run a lot more 2-TE sets, which could essentially turn Rudolph into their "slot" WR. He could see a decent amount of targets starting Week 1 and always has strong TD upside to boot.
Tier 4
Delanie Walker (at CLE)
Mark Andrews (at MIA)
Eric Ebron (at LAC)
Jimmy Graham (at CHI)
Tyler Eifert (at SEA)
Greg Olsen (vs. LAR)
Jack Doyle (at LAC)
Jordan Reed (at PHI)
Vernon Davis (at PHI)*
This streaming tier feature all three of the Tier 2 TEs from a year ago I mentioned above.
You can roll the dice with Walker, Olsen or Graham to start the season. They don't offer much upside, but should provide some useful weeks when healthy.
Andrews offers a ton of upside who likely won't be on the field as much as we'd like or see as many targets as we'd like, but has the ability to make big plays on his own once he touches the ball.
Andrews is a poor man's Kittle, in a sense. There's a real chance the Redskins don't let Jordan Reed suit up Week 1 after he suffered a concussion a couple weeks ago. His concussion history has me very worried about his short/long term expectations. If he were to sit, Vernon Davis could make for a deep(er) league streamer. He's someone to keep an eye on if Reed were to be ruled out.
Kickers
Tier 1
Wil Lutz (vs. HOU)
Harrison Butker (at JAX)
Stephen Gostkowski (vs. PIT)
Greg Zuerlein (at CAR)
Jake Elliott (vs. WAS)
Tier 2
Jason Myers (vs. CIN)
Matt Prater (at ARI)
Brett Maher (vs. NYG)
Michael Badgley (vs. IND)
Dan Bailey (vs. ATL)
Robbie Gould (at TB)
Justin Tucker (at MIA)
Matt Gay (vs. SF)
Josh Lambo (vs. KC)
Ka'imi Fairbairn (at NO)
Tier 3
Joey Slye (vs. LAR)
Eddy Pineiro (vs. GB)
Austin Seibert (vs. TEN)
Matt Bryant (at MIN)
Chris Boswell (at NE)
Daniel Carlson (vs. DEN)
Mason Crosby (at CHI)
Adam Vinatieri (at LAC)
Zane Gonzalez (vs. DET)
Brandon McManus (at OAK)
Ryan Succop (at CLE)
Taylor Bertolet (vs. BUF)
Aldrick Rosas (at DAL)
Dustin Hopkins (at PHI)
Steven Hauschka (at NYJ)
Tier 4
Randy Bullock (at SEA)
Jason Sanders (vs. BAL)
---
Defenses
Tier 1
Baltimore Ravens (at MIA)
Los Angeles Chargers (vs. IND)
Seattle Seahawks (vs. CIN)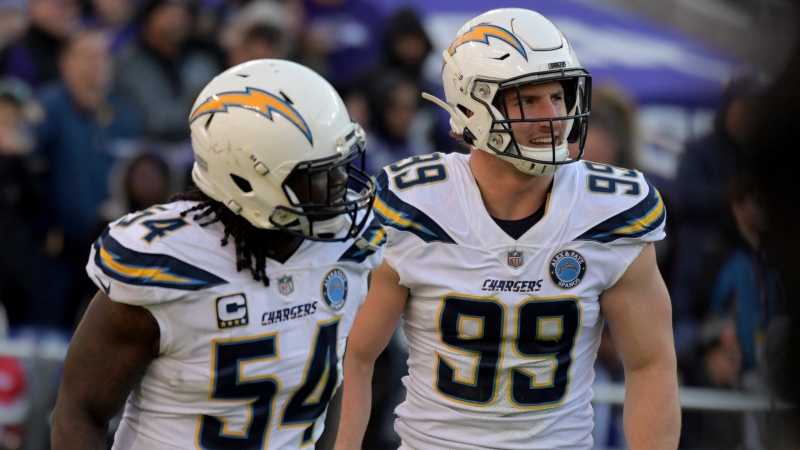 Tier 2
Dallas Cowboys (vs. NYG)
Philadelphia Eagles (vs. WAS)
New York Jets (vs. BUF)
New England Patriots (vs. PIT)
Buffalo Bills (at NYJ)
Cleveland Browns (vs. TEN)
Tier 3
Denver Broncos (at OAK)
Minnesota Vikings (vs. ATL)
San Francisco 49ers (at TB)
Los Angeles Rams (at CAR)
Detroit Lions (at ARI)
Oakland Raiders (vs. DEN)
Tier 4
Chicago Bears (vs. GB)
New Orleans Saints (vs. HOU)
Miami Dolphins (vs. BAL)
Green Bay Packers (at CHI)
Kansas City Chiefs (at JAX)
Tampa Bay Buccaneers (vs. SF)
Arizona Cardinals (vs. DET)
Tennessee Titans (at CLE)
Carolina Panthers (vs. LAR)
Tier 5
Atlanta Falcons (at MIN)
Jacksonville Jaguars (vs. KC)
Washington Redskins (at PHI)
Indianapolis Colts (at LAC)
New York Giants (at DAL)
Pittsburgh Steelers (at NE)
Tier 6
Cincinnati Bengals (at SEA)
Houston Texans (at NO)
How would you rate this article?