Koerner's Week 12 NFL Power Ratings: Best Bets According to My Projected Spreads & Over/Unders
Credit:
USA Today Sports. Pictured: Stephon Gilmore, Kyle Shanahan, Russell Wilson
Sean Koerner projects spreads and over/unders for every Week 12 NFL game using his power ratings.
He uses these power ratings -- and further analysis -- to recommend the best bets.
Did bookmakers get the Cowboys-Patriots line right? Has the market caught up to the Falcons? Is there any value on Packers-49ers or Ravens-Rams?
Like every week, I'll use my projected spreads and over/unders to identify the best bets, so we'll run through every matchup and identify my favorite picks for Week 12 below.
Note that I highlight differences in teams' actual record vs. their Pythagorean expectation (which you can learn more about here).
Now let's dig in.
---
Colts at Texans
Current odds: Texans -3.5; 45.5
My Projections: Texans -3.5; 47
Despite 67% of the tickets and 79% of the money coming in on the Texans (see live public betting data here), this line has moved from its 4-point opener to my projected line of -3.5.
There's good reason to believe sharp action has been coming in on the Colts. My guess as to what sharps would be keying in on are the offensive line issues the Texans had last week as well as Watson's ankle injury.
Watson was under pressure all game and was sacked six times by the Ravens. On one of the sacks he had his ankle roll underneath the defender and it looked like it could potentially be a significant injury. He was able to finish the game, but due to the short week, we have to wonder if Watson will be less than 100% this week. Any lack of mobility will be an issue for him as it will be tougher for him to escape pressure behind his leaky O-line.
Justin Houston has a sack in six straight games and could have a field day here. Taking the road team with +4, which is still available at some books, seems like the play here.
My Projected Team Totals: Texans 25.5; Colts 22
Seahawks at Eagles
Current odds: Eagles -1.5; 48
My Projections: Eagles -2; 48.5
I've mentioned how there's value in getting ahead of public perception. The Falcons over the past two weeks are a great example; the Eagles are poised to be that team this week.
Philly sports a +2.6 edge over Seattle in Pythagorean win differential — a clear sign that the public is likely to overrate the Seahawks and underrate the Eagles. Betting behavior has aligned with this theory given 83% of the tickets have been printed for Seattle. It's sent the line down from Eagles -3 all the way down to -1. We have to wonder if at some point the Seahawks will become slight favorites, and it's worth waiting to see if that does happen. I'm also waiting on the status of Alshon Jeffery: If he's able to return, it would make the Eagles one of my favorite plays of the week.
My Projected Team Totals: Eagles 25.5; Seahawks 23.5
Dolphins at Browns
Current odds: Browns -10.5; 44.5
My Projections: Browns -12.5; 43.5
For the second straight game, I'm showing a couple points of value on Miami's opponent while the public appears to be backing the Dolphins. I stand by my decision to avoid betting on either side of their matchups indefinitely as a Ryan Fitzpatrick-led team that's tanking is way too volatile to be confident about any perceived edge.
The under, however, seems to be worth a look here.
The total has dropped from 45 to 44.5 despite 89% of the money coming in on the over. I also have this being a full point lower, and the expected game flow should favor the under. If the Browns play with a sizable lead, it's likely they lean on their running game and slow the pace down to help eat the clock and shorten the game. We saw this in their Week 11 win against the Steelers. In fact, when leading, the Browns' pace of play drops from 18th to 29th (per Football Outsiders).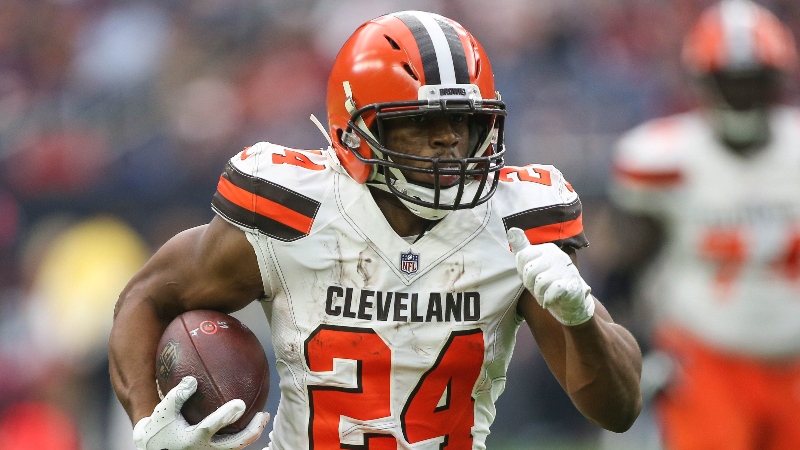 The Dolphins don't necessarily play more up-tempo when losing, either. Their pace of play ranks 10th in the NFL, but slows down to 21st when trailing (a game script they are quite used to).
Give me the under here.
My Projected Team Totals: Browns 28; Dolphins 15.5
Broncos at Bills
Current odds: Bills -4; 37.5
My Projections: Bills -4; 36.5
Brandon Allen looked on his way to becoming 2-0 in his first two career starts as the Broncos took a 20-0 lead into halftime. However, the Vikings mounted an incredible comeback to pull off the win.
It's clear that the Broncos haven't dropped much if at all by going from Flacco to Allen. I had mentioned this likely being the case heading into Allen's first start due to the Broncos being a run-heavy team with a solid defense. This is exactly why a matchup against the Bills is a great spot for Denver. The Bills are a run funnel defense that the Broncos should be able to exploit with Phillip Lindsay and Royce Freeman.
Getting four points in a game that's expected to be low-scoring gives each point that much more value. The Broncos +4 is a lean here.
My Projected Team Totals: Bills 20.5; Broncos 16.5
Steelers at Bengals
Current odds: Steelers -6.5; 39
My Projections: Steelers -6.5; 39.5
The market for this game is right in line with my projections.
Ryan Finley has been dreadful as the starter, but the Bengals are in clear tank mode and are gunning for the top pick in the 2020 draft. There's a very real chance they go 0-16 — their Week 16 matchup against the Dolphins will likely be the deciding game. I've speculated the Dolphins will be around 1.5- to 2-point favorites if Ryan Fitzpatrick is starting for the Dolphins.
The Steelers face a potential cluster injury situation to key skill positions here as WRs Juju Smith-Schuster and Diontae Johnson along with RB James Conner are questionable. If all three are ruled out I would expect this line to drop to -6 or even -5.5, so we'll need to monitor the market. Either way, I'm going to avoid betting on this game with so many other great matchups to try to cap.
My Projected Team Totals: Steelers 23; Bengals 16.5
Giants at Bears
Current odds: Bears -6; 40
My Projections: Bears -6.5; 41.5
Whenever the books are willing to post a line despite a starting QB being a game-time decision, it's usually because they view the drop-off between the starter and the backup to be negligible. That's the case with the Bears, whether Mitch Trubisky or Chase Daniel get the start.
You could argue that Daniel would be an upgrade as going with a more conservative veteran QB at home in a matchup they should win. Trubisky is much more of a high-risk, high-reward raw QB who would be better served to use in a matchup they're outmatched, assuming the added level of volatility can only help them if they're fairly big underdogs.
This is likely a spread to pass on, but I'm showing some slight value on the over. The market has hammered the under here with 77% of the action, pushing the total down from 41 to 40.5. Given the Giants are set to have all their passing weapons on the field for the first time this season and the Bears run defense slipping a bit after Akiem Hicks went down, it can only favor a game flow trending to the over.
Over 40.5 is only a lean here as it's a bit tough to take a strong stand given we don't know which QB the Bears plan on starting as of writing.
My Projected Team Totals: Bears 24; Giants 17.5
Raiders at Jets
Current odds: Raiders -3; 46.5
My Projections: Raiders -2; 46.5
Heading into the season, I planned to buy low on the Jets as their roster construction and Sam Darnold's potential Year 2 growth was being overlooked by the market.
Sure enough, they were stuck with some bad luck when Darnold came down with mono heading into Week 2. Their stock plummeted, and with Darnold getting back on track since seeing "ghosts" in the pocket against the Patriots in Week 7, this is shaping up to be the team I was expecting to see this season. The Jets will only improve if/when C.J. Mosley is able to return.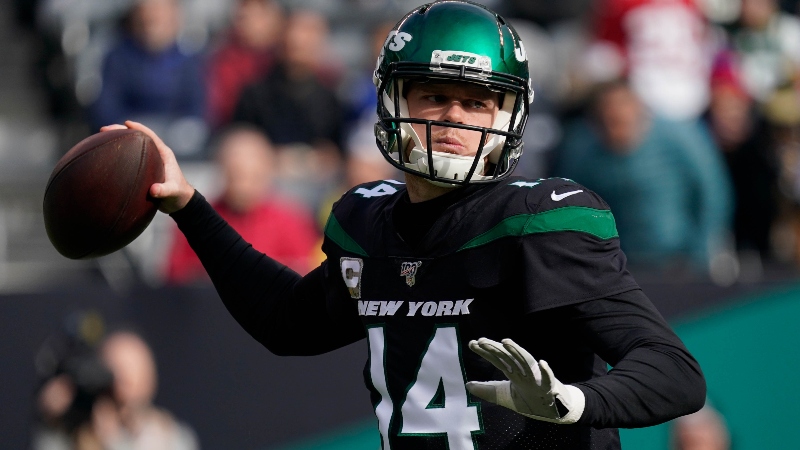 It's worth noting that the Jets have a +1.2 edge in Pythagorean win differential over the Raiders, meaning the public is likely overestimating the Raiders and underestimating the Jets.
Sharps quickly bet this game down from Raiders -4.5 through the key number of -3 to -2.5. If this line ever gets back up to +3, it would be time to come in on the Jets. I think we will find books hesitant to do this as a result, but we should watch for it.
There's a real chance the Jets extend their two-win streak to five considering their next three games are vs. Raiders, at Bengals and vs. Dolphins. The window to buy low on the Jets may close after this week.
My Projected Team Totals: Raiders 24; Jets 22
Panthers at Saints
Current odds: Saints -9.5; 47
My Projections: Saints -9.5; 46.5
Kyle Allen took over for the injured Cam Newton in Week 3 and proceeded to go 4-0 over his first four starts in relief. Since then, he's fallen apart to go 1-3 while posting a horrendous 3-to-9 touchdown-to-interception ratio.
You can either plug your nose and back the Panthers, or avoid this game altogether. Although the Panthers have a +1.3 edge in Pythagorean win differential over the Saints, the market seems fairly split on this line. I would've expected heavy action on the Saints, but that doesn't appear to be the case.
This is a pass for me.
My Projected Team Totals: Saints 28; Panthers 18.5
Buccaneers at Falcons
Current odds: Falcons  -4.5; 51.5
My Projections: Falcons -5; 53
For the past two weeks I had highlighted the massive difference between the Falcons' Pythagorean expected wins versus their actual record — it was clear that the public was likely underrating them until they started pulling off some wins. We have to remember that this very Falcons team was 16-1 to win the Super Bowl over the summer, so it can be dangerous to completely write them off after just half a season. Sure enough, their defense has done a complete 180 after their Week 9 bye and held the Saints and Panthers to 12 total points to go 2-0 over the past two games.
A lot of speculation has been made that moving WR coach Raheem Morris to become DB coach could be the cause of the turn around. This could be true, but I think a lot of it stems from the simple explanation that this team is regressing toward what we expected from them heading into 2019. It appears the market has correctly adjusted to where I have them now, so this is a no bet from me.Though it's important to at least understand why it's key to get ahead of public perception, like we had done with the Falcons the past two weeks.
My Projected Team Totals: Falcons 29; Buccaneers 24
Lions at Redskins
Current odds: Lions -3.5; 41.5
My Projections: Lions -2.5; 41
This matchup features two teams I backed against the spread last week and lost.
The Redskins were brutal, but a lot of that result had to do with Darnold and the Jets turning into the underrated team I pegged them as heading into 2019. Meanwhile, the Lions are likely without Matthew Stafford for at least one more game. I had him being worth 3-4.5 points to the spread, but I'm bumping that up to 4-5.5 points. Jeff Driskel has put up solid fantasy numbers in garbage time, but it's clear it's a bit egregious to have him be a 3.5-point road favorite in this spot.
The Redskins are a below-average team that's better equipped to pull off a win in what's perceived to be a tight matchup. A close game would allow them to take the ball out of Dwayne Haskins' hands and lean on their running game. Their defense was showing signs of improvement heading into the bye, which makes me think they bounce back against an inexperienced QB like Driskel.
Still, no matter how you slice it, these are two below-average teams and I'm willing to bite on the home squad getting a key number in +3.5 here. Books have been getting an onslaught of action on the Lions (84% of the money), so we'll see if exposing +3 will start to draw some sharp action on Washington to balance the action a bit. I'm betting it does.
My Projected Team Totals: Lions 21.5; Redskins 19
Jaguars at Titans
Current odds: Titans -3; 41
My Projections: Titans -3.5; 39.5
Bookmakers opened this total at 42, and 58% of the tickets have come in on the over along with 80% of the cash. It's created a reverse line move down to 41.5 and 41 at some books. I have this matchup being just south of 40, meaning there's still some value here.
The Titans are coming out of their Week 11 bye with a likely clock-killing game plan to feed Derrick Henry. It would make sense to attack the Jaguars on the ground as they've been a sieve to opposing backs ever since Marcell Dareus was placed on IR in Week 8. Carlos Hyde ran over them for 160 yards in Week 9, while Marlon Mack and Jonathan Williams ran for 100-plus yards each on them last week.
In terms of pace of play, the Jaguars rank 16th while the Titans are 23rd (per Football Outsiders). However, in close games (within one score), both teams slow down with the Jaguars ranking 30th and the Titans 27th. This matchup sets up to be a close run-heavy battle, which means both teams are likely to give into a game flow that strongly favors the under. Forty-one is one of the top-three key numbers for totals, so locking in under 41.5 before it falls to 41 at all books is the play.
My Projected Team Totals: Titans 21.5; Jaguars 18
Cowboys at Patriots
Current odds: Patriots -6.5; 45
My Projections: Patriots -7; 47
There's been some bizarre line movement on this total. Bookmakers opened it in the 47-47.5 range, and while action has been fairly even thus far, the total has dipped all the way down to 45. It's highly likely books recognized sharp action being fairly lopsided on the under and it required pulling the total down two whole points.
I'm not so sure I can pinpoint what sharps are seeing here that I'm not. We have one of the top passing offenses facing the top pass defense, which makes this a fascinating matchup to cap. The Patriots have admittedly faced one of the easiest schedules to date — even last week they caught a short-handed Eagles with Alshon Jeffery ruled out and DeSean Jackson placed on IR. But Bill Belichick loves to game plan in a way that shuts down the opposing team's best player. The problem he faces with the Cowboys is that Amari Cooper is the Cowboys' best receiver in the passing game, but the Patriots still have to worry Michael Gallup, Randal Cobb and Ezekiel Elliott. Dak Prescott is more than willing to spread the ball around as seen with Gallup and Cobb posting 100-plus receiving yards just a week ago.
This sets up to be more of a shootout than people realize, meaning I'm willing to nibble on over 45 right now. I'm only a bit hesitant to make it a full play due to the fishy line movement so far.
My Projected Team Totals: Patriots 27; Cowboys 20
Packers at 49ers
Current odds: 49ers -3; 47.5
My Projections: 49ers -3.5; 46.5
This total initially opened at 45.5 but has since skyrocketed to 48 as books attempt to figure out where the action will start to balance out. I'm not so sure they've found their answer yet as it looks like they are still seeing about 75% of the action come in on the over at 48.
It's worth waiting to see just how high this total can get before coming in on the under. Both teams are likely to lean on their running game. The 49ers have been vulnerable on the ground on late, which makes it likely the Packers attack them with Aaron Jones and Jamaal Williams.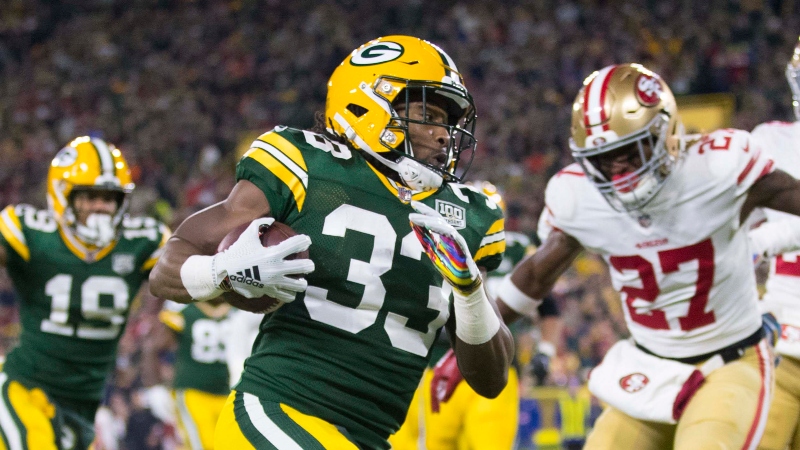 On the other side of the ball, Emmanuel Sanders is still dealing with a nagging rib injury and George Kittle could miss his third straight game due to his knee injury, which will likely force the 49ers to lean on their running game more as a result.
The 49ers are the 25th ranked team in terms of pace of play while the Packers are 31st (per Football Outsiders), so it's more likely this matchup favors the environment for the under. Let's wait and see if this total can get up to 50, but anything over 48.5 will warrant an under play from me.
My Projected Team Totals: 49ers 25; Packers 21.5
Ravens at Rams
Current odds: Ravens -3; 46.5
My Projections: Ravens -2.5; 47.5
Personally? I would love nothing more than to show value on the Ravens here and not the Rams. Even after another boost to the Ravens' power rating of 2-2.5 points combined with docking the Rams 0.5 points despite covering the spread a week ago (on a late front down cover and due to the Bears mostly beating themselves), I am still showing value on the Rams getting a key number of +3.5.
Bettors have predictively been all over the Ravens, led by current MVP front-runner Lamar Jackson: 80% of the action has come in on them, so it's worth seeing if this number can climb even higher. We'll also want to monitor the availability of WRs Brandin Cooks and Robert Woods. If both are able to suit up and the Rams are still getting +3.5 or better by Monday, I'll likely bite the bullet and be one of the few people willing to back the struggling Rams.
My Projected Team Totals: Ravens 25; Rams 22.5
How would you rate this article?