Koerner: My Favorite NFL Prop Bets & Picks for Saturday
Credit:
Orlando Ramirez-USA TODAY Sports. Pictured: Brandin Cooks
What better way to celebrate a Saturday of NFL action than adding player props into the mix?
Sean Koerner has identified his favorite prop bets, featuring picks for Buccaneers WR Justin Watson's receptions and Bills RB Devin Singletary's receiving yards.
Let's dig into his picks and analysis below.
---
Odds as of Saturday and via DraftKings, where Action Network users get a risk-free bet up to $500.
---
Buccaneers WR Justin Watson Over 2.5 Receptions (-140)
The Bucs will be without Mike Evans, Chris Godwin and Scotty Miller this week. But their lack of depth at wide receiver has created opportunity with player props, as the market is a bit off when it comes to Watson's receptions.
Watson saw his routes run shoot up to a 62% routes run per drop back over the past two games. With Evans, Godwin and Miller now out, I have Watson's routes jumping into the 70-75% range. We could see him working out of the slot quite a bit as he's worked there 38% of the time over the past two games. It could lead to more frequent and high-percentage throws coming his way.
The Bucs are so thin at WR that Breshad Perriman is the new No. 1. He'll continue to be the field-stretcher, but there's still a ton of targets to go around.
Ishmael Hyman and Spencer Schnell were recently signed just to field some bodies for depth. Hyman may end up seeing a few targets while the speedster Schnell could see a couple deep targets. We could also see the Bucs line up with more two tight end sets and line Cameron Brate out of the slot.
This is a very tough situation to project, but I still have Watson commanding 6-7 targets in this game, leading to my projection of 3.5 receptions.
Here's what the probability distribution looks like for him:
I have him going over 2.5 receptions 68% of the time, so the -140 price tag is not enough to scare us away. In fact, I would likely bet this up to -180.
Here's how the bet would break down if oddsmakers bump it to 3 receptions or your book is offering 3 for this market:
2 or fewer receptions (lose the bet): 32.1%
3 exactly (push the bet): 21.6%
4 or more (win the bet): 46.3%
Bills RB Devin Singletary Under 24.5 Receiving Yards (-125)
The Bills will likely have to lean on Singletary in this brutal matchup against the Patriots — he should see 16-22 carries as their workhorse back. Over the past five games he's averaged a healthy 69% routes run per drop back, which is what we can expect in Foxborough.
Josh Allen tends to pull the ball down and run with it verses checking down to his running back. I'm projecting Singletary to see about four targets with 2.8 receptions.
His average depth of receptions of 1.5 and talent make his 6.9 yards per reception a rate that we can project to increase. I have his expected yards per reception at 7.5 for Saturday's game. Simulating the matchup 10,000 times results in an average of 21.0 receiving yards, however his median is only 14. So the 24.5 line gives us even more value as I have him finishing below that mark 63.5% of the time.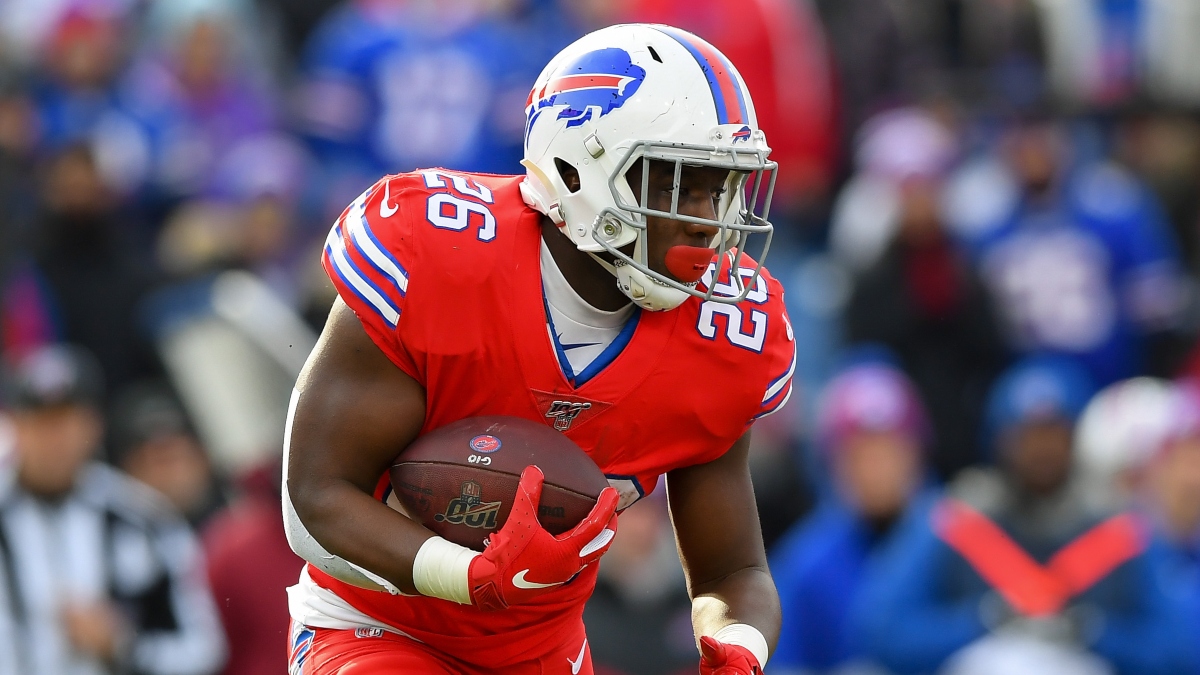 This prop looks like a pass on the surface, but after looking further into his distributions and the big difference in mean vs. median projections, this number is offering massive value.
Give me the under.
Brandin Cooks Under 3 Receptions (-135)
Cooks has struggled this season, becoming Jared Goff's No. 4-5 option in the passing game over the second half of the schedule. And I'd expect in a tough matchup at San Francisco, in which Goff should be under pressure, the chances of Cooks being targeted heavily are even lower.
My reception projection for Cook in this game is 2.8, which would result in the following expected probability distribution:
2 or fewer receptions (win the bet): 46.9%
3 exactly (push the bet): 22.2%
4 or more (lose the bet): 30.8%
Factoring out the odds of a push, that's a 60.4% expected win rate.
I would bet this down to -150.
Koerner is 158-119-2 (57%) overall betting on the NFL. You can follow him in our free app.
How would you rate this article?