NFL Revenge Games in Week 4: Danny Amendola Doesn't Need Patriots to Be No. 1 in AFC East
The 2018 NFL season has already gifted us with notable revenge games, but there are 10 more to look forward to in Week 4.
Matchups include Danny Amendola and the AFC East's current first-place team vs. the Patriots and Hue Jackson's one-win Browns vs. the Raiders.
There's nothing that gets the NFL juices flowing quite like a good old-fashioned revenge game. Most people can probably empathize with that hopeful feeling of eventually sticking it to your former employer.
There have already been more than a few marquee revenge-game performances this season:
Buccaneers WR DeSean Jackson took the first pass of the team's Week 2 win over the Eagles 75 yards to the house.
Jets RB Isaiah Crowell scored two touchdowns in last Thursday's return to Cleveland, the second of which included an excessive celebration penalty.
Lions head coach Matt Patricia earned his first NFL victory over Bill Belichick and the Patriots in prime time.
Let's take a look at Week 4's top 10 revenge games for players and coaches.
---
Buccaneers S Chris Conte vs. Bears
Bears fans (understandably) never forgave Conte for allowing Randall Cobb to sprint straight to the end zone in Week 17 of the 2013 season to clinch the NFC North.
He was also the unfortunate recipient of one of the best stiff-arms of the 21st century, courtesy of Fred Jackson.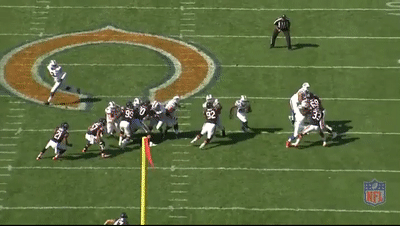 Coincidentally, he was victim to another brutal stiff-arm on Monday night against the Steelers, this time courtesy of Vance McDonald. Conte also aggravated a knee injury and is questionable for Sunday.
He's played the Bears twice since joining the Buccaneers in 2015, and the league-average safety even returned an interception for a touchdown in a convincing 36-10 win in 2016. Still, Conte has yet to return to Chicago, where Bears fans are not likely to forget his past sins.
Revenge meter: 7/10
---
Titans RB Dion Lewis vs. Eagles
Lewis gained 171 yards and two touchdowns on 36 carries with the Eagles from 2011-12 under Andy Reid. The former fifth-round pick was subsequently traded to the Browns by then-new head coach Chip Kelly before eventually finding his way to New England, then Tennessee.
We actually have a rarely-seen double-impact revenge game on our hands here: Lewis' financial and statistical success has likely healed any wounds he felt from getting traded, but the Eagles also handed him the most devastating loss of his career in last season's Super Bowl.
Get ready to watch a pissed-off 5-foot-7, 195-pound running back Sunday.
Revenge meter: 7/10
Browns Head Coach Hue Jackson vs. Raiders
Jackson was the Raiders' offensive coordinator in 2010 when he helped engineer the league's sixth-ranked scoring offense behind a career year from Darren McFadden and steady play from Jason Campbell. Jackson won seven of his first 11 games as a head coach in 2011 before ultimately losing four of the Raiders' last five games to miss the playoffs.
There's still plenty of bad blood here. Current general manager Reggie McKenzie fired Jackson the day McKenzie took over for Al Davis (RIP). This led to Jackson asserting: "[McKenzie] wants to bring in his own guys. No job is safe right now."
Team morale in Cleveland is at an all-time high after Baker Mayfield engineered the team's first win since 2016. Jackson hasn't faced the Raiders as a head coach since he was fired, so expect a celebratory lake jump if things break his way Sunday.
Revenge meter: 7/10
---
Bills S Micah Hyde vs. Packers
Apparently the Bills don't suck? Their Pro Bowl safety has certainly helped with this shocking development, as Hyde has earned Pro Football Focus' ninth-highest grade among all safeties after three weeks.
Hyde hasn't shied away from the underdog role, telling the media that "they pick against us every week" following the team's shocking Week 3 upset over the Vikings. The Packers' decision to not re-sign their former fifth-round pick surely hasn't sat well with a competitor of Hyde's caliber. He'll have his first chance to make them regret that decision Sunday.
Revenge meter: 6/10
---
Dolphins WR Danny Amendola and RB Brandon Bolden vs. Patriots
Media and fans alike largely mocked the Dolphins for signing backup receiver Amendola and special-teamer Bolden away from the nine-time defending AFC East champions this offseason. Fast-forward to Week 4, and the 3-0 Dolphins hold a two-game lead over the 1-2 Patriots.
Amendola's two-year, $12 million deal seemed particularly egregious for the Patriots to match considering he's never gained more than 700 yards or scored five touchdowns in a season. Still, the 32-year-old has caught 11 of 13 targets for 100 scoreless yards in 2018, and Amendola is certainly capable of exploiting a banged-up secondary that has struggled to corral slot receivers this season:
Texans WR Bruce Ellington in Week 1: 4 receptions, 37 yards, 1 TD (8 targets)
Jaguars WR Dede Westbrook in Week 2: 4-82-1 (5)
Lions WR Golden Tate in Week 3: 6-69-0 (8)
There's a smaller chance that Bolden, the Patriots' former special-teams ace, makes a big impact Sunday, and it's unlikely that Bolden carries much ill will toward his former boss anyway. Bill Belichick called Bolden a "really valuable guy for us in a lot of different roles" as recently as 2017.
Revenge meter for Amendola: 5.5/10
Bolden: 2/10
---
Falcons WR Mohamed Sanu vs. Bengals
Sanu hasn't played the Bengals since they allowed him to walk in free agency after the 2015 season. He threw some lighthearted fighting words toward his former teammate on Super Bowl LI media day, choosing Julio Jones over A.J. Green when pressed by Hall of Fame receiver Michael Irvin.
It would be a shame if the Falcons didn't let the best quarterback in NFL history (min. 6 attempts) take a shot or two downfield against his former employer.
Revenge meter: 5/10
Cowboys Coordinators Scott Linehan and Rod Marinelli vs. Lions
The Cowboys' coordinators helped the Lions produce just one season with at least eight wins from 2006-13. Marinelli infamously produced the Lions' 0-16 debacle in 2008 as head coach, while Linehan failed to develop an offense centered around anything other than consistent jump balls to Calvin Johnson as offensive coordinator.
The latter point might actually not have been such a terrible idea, come to think about it. But each of these longtime veterans have held coaching jobs with at least three teams over the past 10 years.
Revenge meter: 4.5/10
---
Seahawks WR Jaron Brown vs. Cardinals
Brown has played 67.7% of Seattle's snaps through three weeks, but the former undrafted receiver has posted an underwhelming 6-68-1 line on nine total targets. The Cardinals' decision to let him sign with the Seahawks doesn't seem to have produced much bad blood on either side, but a completion against ex-teammate Patrick Peterson would certainly be a nice moral victory.
Revenge meter: 3/10
Jaguars TE Austin Seferian-Jenkins vs. Jets
ASJ's real beef is likely with the Buccaneers, as the Jets at least reportedly offered him a two-year, $8 million contract in the offseason. The 6-foot-5, 260-pound tight end has gained over 50 receiving yards just once since 2015.
Revenge meter: 2.5/10
---
Giants CB B.W. Webb vs. Saints
PFF's 95th-ranked cornerback out of 104 qualified players is officially "Mr. Revenge Game." Webb has somehow played regular-season snaps for five teams since entering the league in 2013, including the Saints in 2016.
---
Revenge meter: 1/10
Revenge Game Tracker
There are plenty of other revenge games out there. Thanks to the fine folks at Pro Football Reference, as well as the creators of Microsoft Excel, we've managed to track down each and every revenge game in Week 4.
How would you rate this article?