NFL Revenge Games in Week 7: Carl Nassib Seeks Hard Knocks-Themed Vengeance
"Hard Knocks" star Carl Nassib will look to seek vengeance on the Browns in Tampa Bay.
Coaches Mike McCoy and Ken Whisenhunt each have a chance to put up points against their respective former employers.
Vikings defensive tackle Sheldon Richardson isn't expected to mince words in a potential postgame speech against the Jets.
There's nothing that gets the NFL juices flowing quite like a good old-fashioned revenge game. Most people can probably relate to that hopeful feeling of eventually sticking it to your former employer.
Week 6 produced several savage #RevengeGame moments:
Sebastian Janikowski proved to be anything but washed up during the Seahawks' blowout victory over the Raiders in London. The 40-year-old kicker nailed 44- and 26-yard field goals and was perfect on three extra points.
There was plenty of on-field trash talk between Josh Norman and Cam Newton during their matchup last Sunday, but Norman won the battle with an interception, a forced fumble and a victory. Norman quite literally got the last laugh ….
Let's take a look at the top revenge games for players and coaches in Week 7.
---
Ravens WR Willie Snead vs. Saints
Snead has carved out a starting role in the Ravens' 3-WR sets this season, converting 43 targets into a 30-313-1 line. He's one of just nine wide receivers with at least five catches in each of the last three weeks, and Joe Flacco has featured Snead as his go-to underneath option next to deep threat John Brown and de facto No. 1 receiver Michael Crabtree:
Crabtree: 55 targets, 20% target share, 24% air yard market share
Brown: 47 targets, 17% targets share, 39% air yard market share
Snead: 43 targets, 16% target share, 16% air yard market share
Still, Snead's resurgence likely hasn't cured any ill feelings he still holds toward Sean Payton and the Saints.
Yes, they helped develop the undrafted former free agent into a consistently productive receiver. Also yes, Payton gave Snead just 16 targets in 11 games last season following his return from suspension.
It'd be far from surprising to see a revenge-themed celebration from Snead if he manages to find the end zone this Sunday. The more gestures toward the Saints sideline, the better.
Revenge meter: 8/10
---
Panthers WR Torrey Smith vs. Eagles
Smith and Ted Ginn have proven that simply having elite straight-line speed can keep an otherwise average receiver employed for a long time in the NFL. Overall, Smith is one of four Panthers receivers with at least 20 targets this season, and only Devin Funchess has played more snaps among their wide receivers.
However, Smith didn't choose to leave the Eagles: They traded him to the Panthers last March. This move is looking worse and worse in hindsight, as both replacement field-stretcher Mike Wallace (ankle) and second-year Mack Hollins (ankle) have landed on injured reserve. Carson Wentz has averaged 7.6 yards per attempt in 13 games with Smith compared to 6.6 yards in 20 games without him.
Smith was also subjectively the Eagles' best post-touchdown celebrator: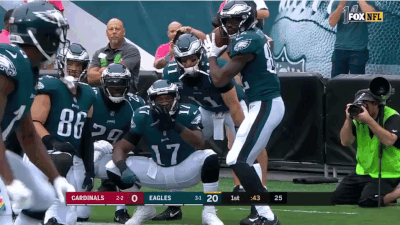 A long touchdown from Smith would fulfill any personal vendettas he still holds toward his former employer and it would point out the Eagles' own personal lack of speed on the outside.
Revenge meter: 6.5/10
---
---
Jaguars CB A.J. Bouye vs. Texans
The Texans didn't always have secondary problems: They boasted the league's fifth-best defense in pass DVOA as recently as 2016. This was thanks in large part to the play of Bouye, who finished that season as PFF's fifth-best cornerback.
Surprisingly, this performance wasn't enough to earn Bouye a long-term deal with the Texans. The Jaguars went on to give Bouye a huge five-year, $67.5 million deal, and he's formed the league's premiere cornerback duo with Jalen Ramsey ever since..
Bouye has already played the Texans twice since joining the Jaguars — but there's no way he's forgotten their decision to instead spend their money on Brock Osweiler.
Revenge meter: 6/10
---
Buccaneers DE Carl Nassib vs. Browns
Nassib was widely adored for his starring role in Hard Knocks, which consisted of math and life lessons for his fellow teammates (NSFW):
The 2016 third-round pick totaled just 5.5 sacks for the Browns from 2016-2017 and was subsequently released before the start of the 2018 season. Nassib hasn't exactly balled out with the Buccaneers, earning PFF's 58th-highest grade among 103 qualified edge defenders.
Still, there's little doubt a TFL or sack would put a smile on the face of "Crazy Carl." An ensuing gesture at Browns defensive coordinator Gregg Williams could find Nassib a spot in the revenge game hall of fame.
Revenge meter: 7/10
Vikings DT Sheldon Richardson vs. Jets
Richardson committed numerous acts that were frowned on by the Jets' organization during his four seasons with the team. This included two suspensions as well as an entertaining radio interview in which he called former teammate Brandon Marshall a drama queen.
Of course, Richardson's masterpiece was a profanity-laced pregame message that he recorded on snapchat before the Jets' 34-13 loss to the Dolphins in December of 2016:
"Snapchat takeover gang gang in this b—h. You know, pregame s–t … Where the h–s at?"
This string of victimless "crimes" likely didn't help Richardson's search for a long-term contract this past offseason, but there are certainly greater tragedies than his $8 million one-year audition with the Vikings.
The 2013 first-round pick has earned PFF's No. 22 overall grade among interior defenders this season and surely won't mince words during a potential post-game speech.
Revenge meter: 7.5/10
Cardinals OC Mike McCoy vs. Broncos
There's plenty of injustice that goes on in the world on a daily basis, but McCoy's usage of David Johnson has to rank near the top of the list. Per The Ringers' Danny Kelly, the Cardinals are 28th in total rush attempts, yet rank first in rush attempts straight up the middle.
Even more tragic than the Cardinals' predictable rushing "attack" has been their usage of DJ as a receiver:
David Johnson total snaps in the slot or out wide after six weeks: 13

Average snaps in the slot or out wide per game in 2016: 12.3

— Ian Hartitz (@Ihartitz) October 16, 2018
The Cardinals' 31st-ranked scoring offense has been better with rookie Josh Rosen under center, but that hasn't stopped a wide-spread critique of McCoy's play-calling.
Don't expect McCoy to hold anything back this week against the team that fired him after just 10 games last season.
Revenge meter: 8/10
It's tough to say whether the Saints' veteran tight end harbors any ill feelings toward any of his previous three employers. Ultimately, Baltimore's decision to take a chance on Watson last season wasn't the type of move that should produce hard feelings on either sideline.
Then again, Watson is 37 years old and still starting in the NFL. There's a decent chance he uses even the smallest slights to add more fuel to his ever-burning internal fire.
Revenge meter: 3.5/10
---
---
Chargers OC Ken Whisenhunt vs. Titans
Whisenhunt served as the Titans head coach for 23 games and emerged victorious just three times. He was ultimately fired after Week 8 of his second season.
Whisenhunt has proved the haters wrong after a rough first year in San Diego, as the Chargers have ranked among the league's top-six offenses in yards and points during each of the past two seasons.
He helped lead the Chargers to a 43-35 victory during his first rematch with his former employer back in 2016, but it's safe to say another W over the old boss wouldn't hurt.
Revenge meter: 5/10
---
Revenge Game Tracker
There are plenty of other revenge games out there. Thanks to the fine folks at Pro Football Reference (as well as the creators of Microsoft Excel), we've managed to track down each and every revenge game in Week 7.
How would you rate this article?