NFL Week 11 Survivor Picks, Strategy: Best Survivor Teams This Week
Credit:
Photo by Megan Briggs/Getty Images. Pictured; Trevor Lawrence (foreground), Nick Bosa (background).
The survivor concept is simple: Pick one team to win an NFL game every week. No spreads or totals – just winners. Once you use that team, you can't use them again – creating an element of strategy and long-term planning that makes these contests deceptively difficult.
Fortunately, this year we're partnering with our friends at Pool Genius to make things easier. They've built slate-leading tools to help conquer a variety of pool contests, including survivor.
If you had the Cowboys available in Week 10, it was smooth sailing. If you didn't, it was tough — as the week's next most popular teams, the Bengals and Bills, both suffered upset losses.
Those two upsets and a few other lesser-used teams combined to eliminate another 40% or so of the field in Week 10. Smaller-field contests are close to if not finished, while big contests are down to around 5% of entries remaining.
---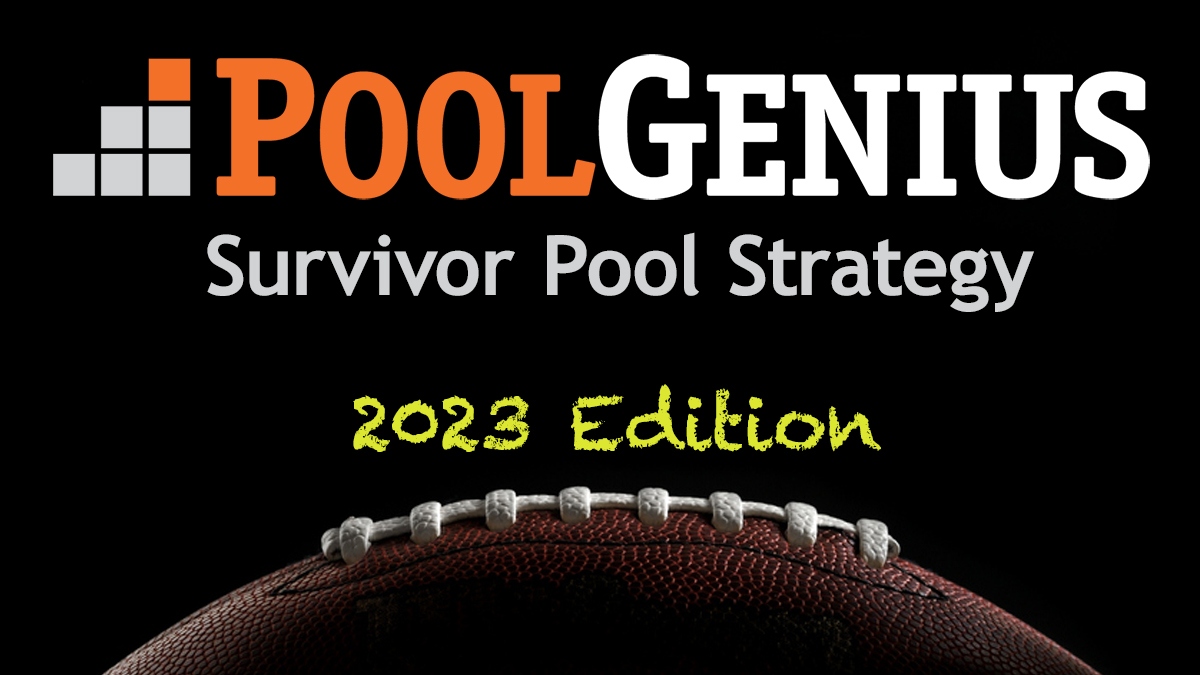 ---
My favorite feature of the site is the ability to customize for your pool type. Factors such as contest size and payout structure are a huge factor in survivor contests, as smaller fields generally don't have any entries that survive all 18 weeks.
To give a glimpse of how that works, I'll be providing Pool Genius' top option for small (fewer than 50) and large (1,000+) pools. For Week 11, we'll be pivoting from that format a bit, while still touching on some considerations based on (remaining) field size.
Besides that, Pool Genius tracks pick-selection data to help figure out contrarian options. This is helpful in larger pools since we're trying to optimize for expected value more than just the odds of winning.
Finally, Pool Genius uses projected future spreads to assign a future value to each team – which includes considering the scarcity of strong options on certain weeks. This is crucial as we don't want to burn the best teams when there are other strong options that week.
To get the full data, you'll need to sign up for the site. It's well worth it and also includes tools for taking down the increasingly popular pick'em contests that feature massive prize pools.
NFL Week 11 Survivor Picks, Strategy: Best Survivor Teams This Week
---
---
Large Field: Miami or San Francisco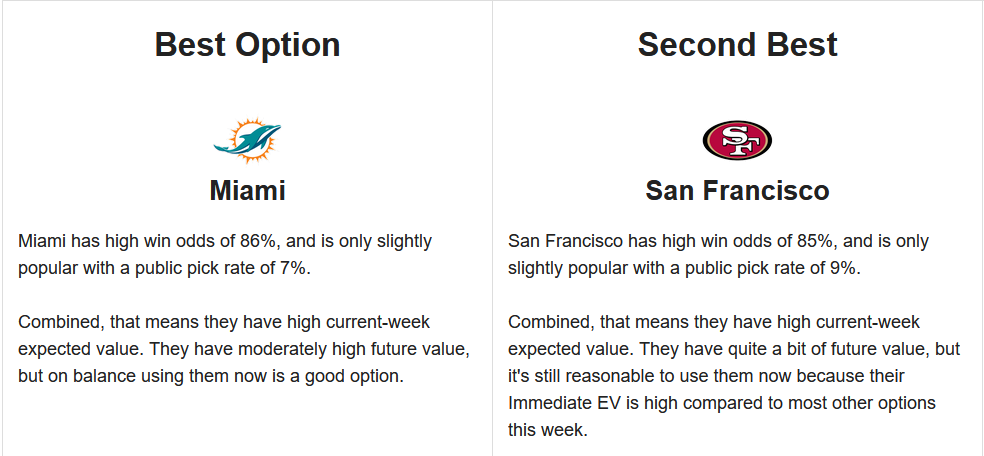 Both of these teams have had multiple weeks where they've been fairly popular. However, we're going to assume that you've made an effort to be contrarian in large-field contests like this, and thus have managed to save at least one of the two teams, which makes Week 11 a whole lot easier.
Both teams are favored by double digits, which works out to around 85% odds of winning based on the market. Additionally, most of the field will be forced into riskier options, with neither team set to eclipse 10% utilization throughout the industry.
This is another benefit of taking a contrarian approach early — by using less popular teams in the first few weeks, your pool of remaining options looks much different than the typical player's late into the year. With the most popular teams all 5-10% less likely to win than these two, there's a good chance at least one of them fails and you can move past a good chunk of the competition.
If you've used these two teams and Dallas, then Detroit or either of the teams we'll touch on for smaller field contests are also a strong option. If you somehow have both Miami and San Francisco available, take a glance at the Pool Genius Data Grid. Miami has some soft matchups over the next week or two, while San Francisco has an easy schedule in the last few weeks. Which of those is more important for your entry depends heavily on who else is available, so plan accordingly.
Small Field: Washington or Jacksonville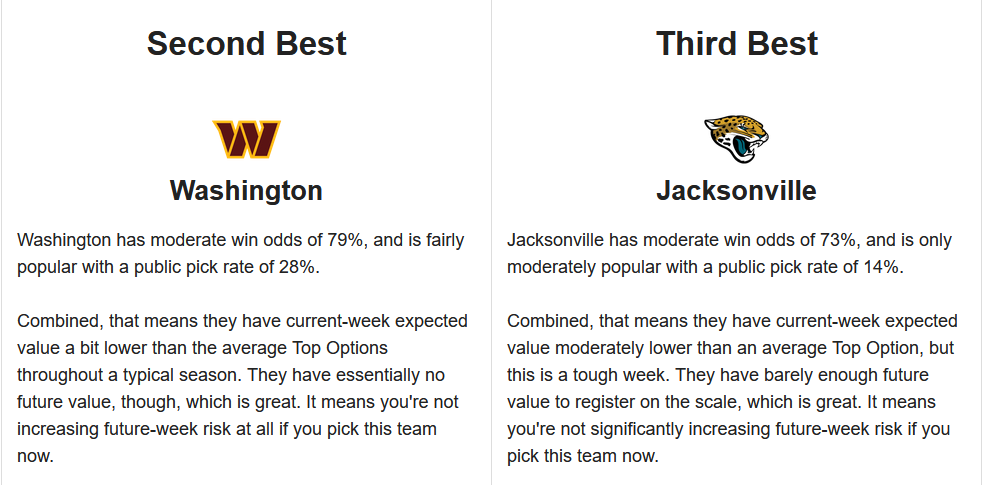 This recommendation comes with a major caveat, due to the small number of entries remaining in this size contest. For example, the contest I'm basing these picks around is down to just three remaining entries after starting with 61.
In those cases, ideally we'd be able to see which teams our opponents are using, in order to get some leverage against them. Even if we can't see their picks, we could probably get a reasonable guess based on which teams they've used. In a situation where we have multiple players using the same team, the best course of action is to use the next best team you have available.
With that out of the way, the Commanders stand out this week. Unless you used them in Week 1 against the Cardinals, it's highly likely they're still available. The only other time they were used by more than two percent of the field was a game they lost, so those entries obviously aren't relevant at this point. They're hosting the Giants at home, which is about as good a matchup as possible in the NFL. Washington is a 10-point favorite and likely won't be favored again all season — so now's the time.
If you did use Washington in Week 1, hopefully you have Jacksonville available. They're favored by roughly a touchdown and aren't projected with win odds greater than 55% anytime until Week 17 — when contests like this are likely long finished.
Of course, if you still have one of the heavy favorites — Dallas, Miami, or San Francisco — they'd be the top choice. Especially since your competition has likely burned all three. Detroit is also a strong option, but they're one of the heaviest favorites next week, so we'd prefer to wait one more week before going that route if possible.
Looking to bet on your survivor pool pick? Check out our PointsBet Promo Code and claim our new user bonus!
How would you rate this article?
This site contains commercial content. We may be compensated for the links provided on this page. The content on this page is for informational purposes only. Action Network makes no representation or warranty as to the accuracy of the information given or the outcome of any game or event.