Rovell: 'Points Betting' Costs One New Jersey Sportsbook More Than $1 Million in NFL Week 1
Credit:
Douglas DeFelice-USA TODAY Sports. Pictured: Patrick Mahomes
PointsBet, an online sportsbook operating in New Jersey, lost more than $1 million during NFL Week 1 on its Points Betting product.
The Ravens and Chiefs covering by large margins is what stung the book the most.
In its seven months in the American market, PointsBet has differentiated itself by offering big promotions and bad beat givebacks to bettors in New Jersey, where it went mobile in February.
But big wins by two bettors on Sunday will certainly drum up attention to a product that only they offer — Points Betting.
One bettor made $600,000 by betting on the Ravens -6 against the Miami Dolphins at $30,000 a point. Another bettor made $169,100 by Points Betting on the Chiefs -4.5 against the Jacksonville Jaguars at $17,800 per point.
The two bets, plus a couple smaller Points Betting wins, led to more than $1 million net loss on that product yesterday, CEO Johnny Aitken told The Action Network.
"We lost a lot of money on Points Betting this weekend," said Aitken, who estimates that Points Betting makes up 10% of its business in the U.S. and Australia, where the company was founded.
Here's how the Points Betting model works. Bettors choose how much they will wager per point and what side of the bet they want. They'll then determine how much they are willing to win or lose by saying what multiple of the stake they are willing to risk.
The Ravens bettor, for example, put a stop on his risk of up to 20 times his $30,000/point stake. So if the Ravens won by 26 points (the 6-point spread + the 20-point threshold) he would make his max of $600,000. If the Ravens won by five, he would start the loss meter at $30,000 on down to the Dolphins winning by 14, where he would've lost the full $600,000.
Since the Ravens won 59-10, the bettor got the maximum amount of winnings. (If he hadn't set a maximum win/loss amount, he would've won $1.26 million.)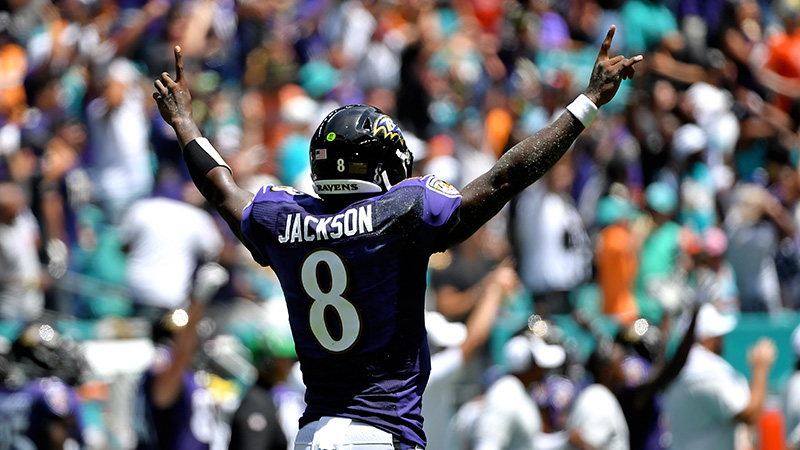 "Some bettors are OK with doubling their money if they are right about a team winning by a certain margin," Aitken said. "Our model allows you to make more money depending on how right you are."
The Chiefs bettor, meanwhile, had a no-stop loss, meaning he bet $17,800 per point on the Chiefs -4.5 and there was no limit to how much he could win or lose on the wager. When K.C. won by 14, he collected $169,100 — or $17,800 x 9.5, which was the Chiefs' cover margin.
PointsBet allows for bettors to net up to 50 times the stake, meaning that if the Chiefs won by 60 (hey, the Ravens won by 49), the bettor would have won $890,000 ($17,800 x 50).
After the bet is made, PointsBet withholds an amount, not always the max amount, so if the bettor loses, it's automatically deducted. At the end of the game, the "withheld amount" is returned to the bettor, and then the win/loss from the bet is calculated and placed into the client's account.
"And unlike the illegal sportsbooks, we pay right away," said Aitken, "Wire, ACH, check."
Aitken understands that Points Betting will take a while for Americans to get used to, but knows that this weekend's pounding could help facilitate that interest.
"We think this product will be stronger in markets where people are used to trading derivatives, like in New York on Wall Street and in Chicago (home to the Chicago Mercantile Exchange)," Aitken said.
As far as the risk the company is taking, Aitken is confident that the employees behind his operation more than know what they are doing.
"This company was founded with U.S. sports in mind," Aitken said. "I believe our risk guys are the best in the game."
If Aitken gets his wish, those guys will be put to the test in the coming weeks.
How would you rate this article?