Printable Super Bowl 54 Prop Bets Sheet, 49ers vs. Chiefs
Credit:
Action Network Super Bowl prop sheet
Super Bowl prop sheets offer a way to stay involved in the game throughout without risking much money.
Download and print our 10-question prop sheet below and compete against your friends during Chiefs vs. 49ers.
Super Bowl 54 is here, and you know what that means: Props.
Prop bets on top of prop bets.
What is a prop, you ask? It's short for proposition bet, which is a specific wager on a player, person or event. Think Patrick Mahomes over or under 299.5 yards, who will score the first touchdown, or what color the Gatorade bath on the winning coach will be.
While props have become increasingly popular for all sports, nothing comes close to the volume of offerings for the Super Bowl.
We put together a handy 10-question prop sheet that you can download and play along with.
Printable Super Bowl 54 Prop Bets Sheet
Click here or on the image below to download and print our prop sheet.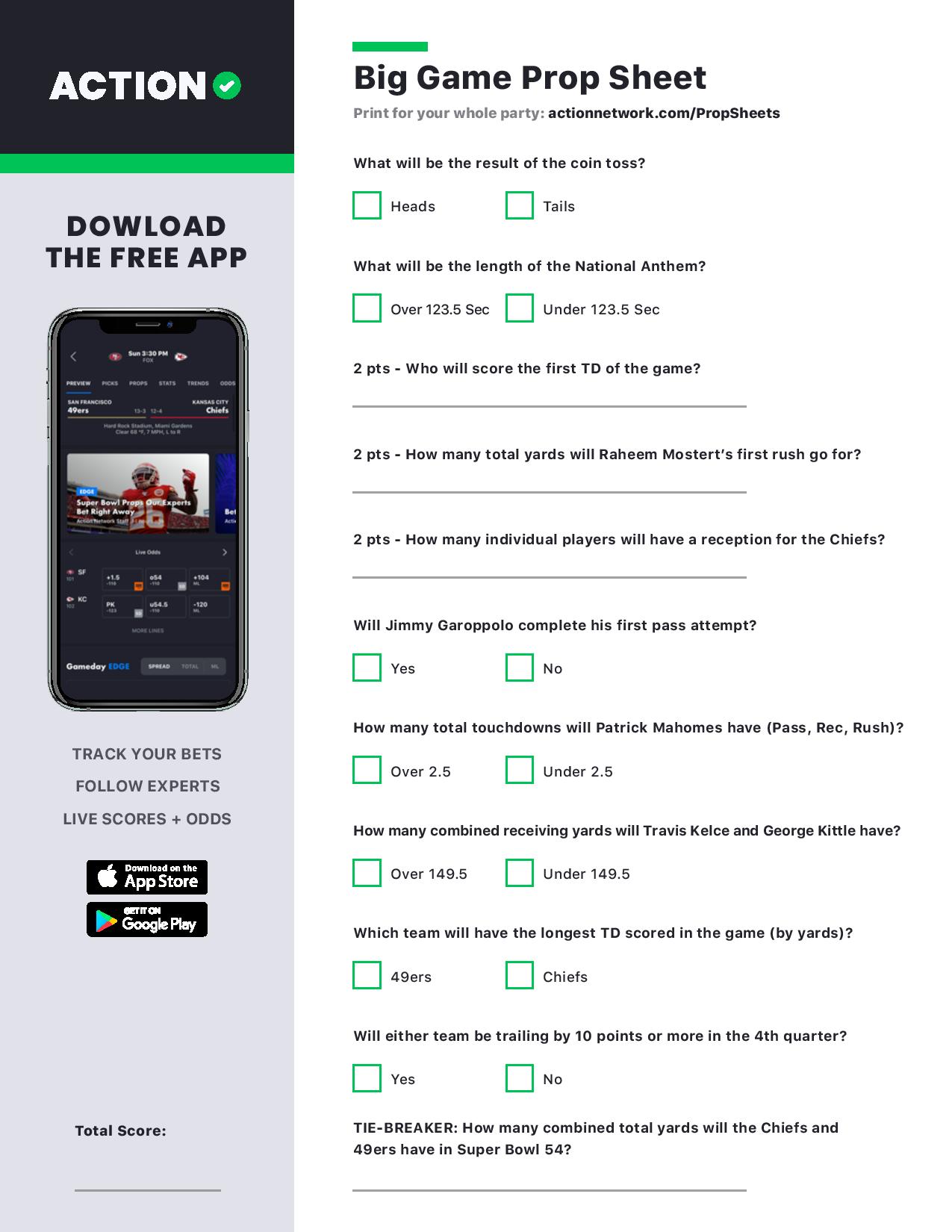 Super Bowl Prop Sheet Questions
1. What will be the result of the coin toss? Heads/Tails
Result: Tails
2. What will be the length of the National Anthem? Over/Under 123.5 seconds
Result: Under 123.5 seconds
3. Who will score the first TD of the game? FILL IN THE BLANK
Result: Patrick Mahomes
4. How many total yards will Raheem Mostert's first rush go for? FILL IN THE BLANK
Result: 1 yard
5. How many individual players will have a reception for the Chiefs? FILL IN THE BLANK
Result: 6 players
6. Will Jimmy Garoppolo complete his first pass attempt? Yes/No
Result: Yes
7. FadeRovell: How many total touchdowns will Patrick Mahomes have (Pass, Rec, Rush)? Over/Under 2.5
Result: Over 2.5
8. How many combined receiving yards will Travis Kelce and George Kittle have? Over/Under 149.5
Result: Under 149.5
9. Which team will have the longest TD scored in the game (by yards)?
Result: Chiefs
10. Will either team be trailing by 10 points or more in the 4th quarter? Yes/No
Result: Yes
Tiebreaker: How many combined total yards will the Chiefs and 49ers have in Super Bowl 54?
Result: 748
How would you rate this article?