Rams vs. Packers Betting Guide: Odds, Picks & Analysis For This Battle of Strength vs. Strength
Credit:
Joe Robbins/Getty Images. Pictured: Aaron Rodgers, Aaron Donald
Rams vs. Packers Odds
Rams Odds

+6.5

Packers Odds

-6.5

Total

44.5

Time

4:35 p.m. ET

TV

FOX

Odds as of Saturday afternoon and via PointsBet, where you can bet $20 on the spread or moneyline to win $125 if Aaron Rodgers completes a pass.
After defeating the Seahawks, the Rams' reward is a trip to Green Bay to take on the Packers in cold weather.
Lambeau Field is one of the few NFL venues with home-filed advantage — even without fans in the stadium. And while the Packers matched their 2019 win total of 13 games, a closer look reveals that the 2020 version of this team is even more formidable in the second-year with Matt LaFleur as head coach. But enough to warrant laying 6.5 points? I think so.
Los Angeles Rams
Last week's wild-card matchup against a divisional opponent set up nicely for the Rams. It was their third time playing the Seahawks this season, and the fact L.A. faces Seattle at least twice every season means the two are very familiar with one another.
Now Saturday's matchup brings a different challenge.
The Rams have faced the Packers only seven times since 2006, and while L.A. won the most recent meeting in 2018, this is a completely different Green Bay team than the one that finished 6-9-1 that season, Mike McCarthy's final one.
The strength of this Rams team is their defense. Per TeamRankings, they lead the league in opponent points per game (18.6), opponent yards per game (281.7) and opponent yards per play (4.6).
The opponent yards per play stat is probably the most impressive: They allowed roughly at least a half-yard per play fewer than any other NFL team. And despite being in the bottom half of the league in offensive yards per play (5.5), the Rams still maintain a positive 0.9 net yards per play margin.
That's even better than the Packers, who have a 0.8 net yards per play margin.
With a defense this dominant, it's more than just preventing opposing teams from scoring. I believe the Rams are also expected to create scoring opportunities themselves. This is key for them if they're going to mask some of their weaknesses on offense — particularly at the quarterback position.
It's no surprise that the Rams lead the league with 2.2 defensive points per game. Their defense scored a touchdown in the Wild Card Round, and they'll likely need a similar effort if they're to defeat the Packers.
For me, this handicap is all about assessing how much the Rams defense can contribute offensively.
As of Friday, offensive lineman David Edwards and wide receiver Cooper Kupp are listed as questionable. At this point in the season, though, injured players generally find a way to get on to the field for a playoff game.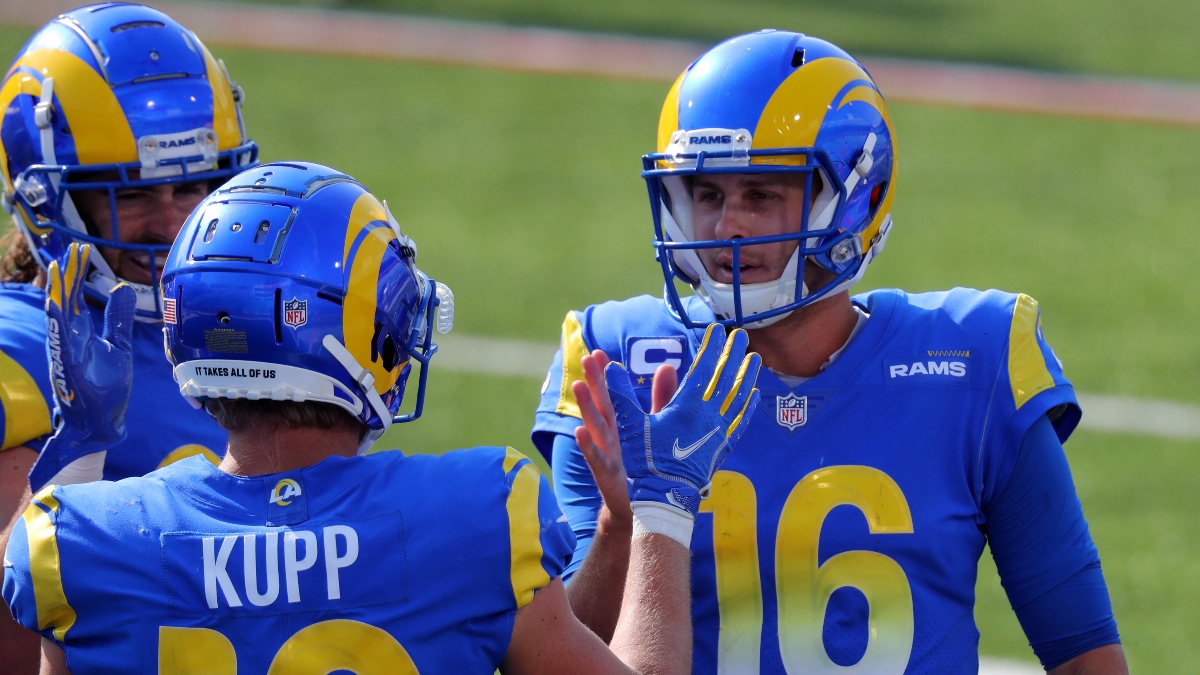 Green Bay Packers
If defense is the Rams' key to this game, then it would have to be offense for the Packers.
Green Bay went from a +63 point differential in 2019 to +140 in 2020. The Packers have arguably the best quarterback in the league in Aaron Rodgers — one of only a handful who could unlock the Rams defense. And he had the best statistical season of his career with 48 touchdowns, five interceptions, 4,299 yards and an 84.4 mark in ESPN's Total QBR.
Per Football Outsiders, the Packers finished the regular season ranked first in offensive DVOA, including first in pass DVOA and fifth in rush DVOA. It's rare for a team to be as balanced as the Packers are with top-five passing and rushing attacks. Take the Chiefs, for example, who are ranked second behind the Packers in pass DVOA but 13th in rush DVOA.
Every sports league is always looking for ways to increase its scoring, and the NFL is no different. The rules are even tailored to promote more scoring, and a quarterback as savvy as Rodgers knows how to take advantage. There are just too many parts of this Packers offense to have to defend against.
Part of Rodgers' success is that he's been getting the ball out of his hands much quicker than at any other point in his career. He was sacked only 20 times — a career-low for him when he's started at least 15 games.
Expect some quick outs to his wide receivers in an attempt to neutralize the Rams pass rush on Saturday. I would also expect some targets for Aaron Jones out of the backfield. I would be bullish to play his receptions total over if the line is set at three or lower.
Rodgers comes into this game with all his weapons intact. All his skill players and tight ends should be ready to go.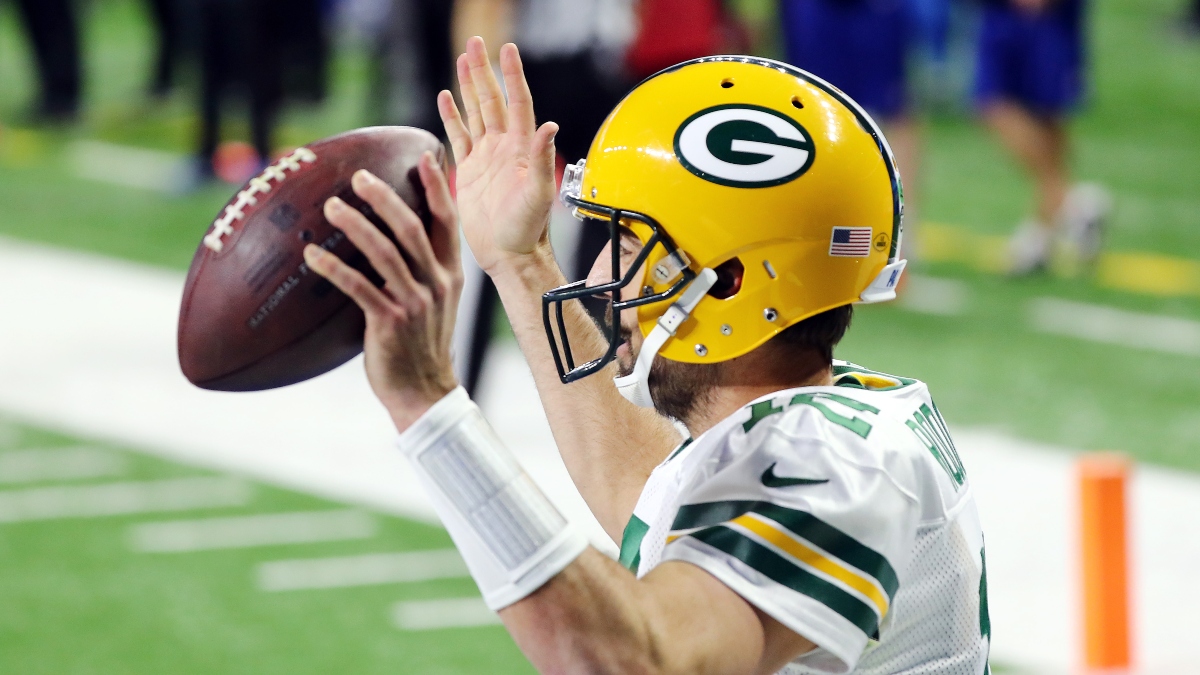 Green Bay did get some bad news when offensive tackle Jared Veldheer landed on the reserve/COVID-19 list days after signing to provide cover for the offensive line that lost All-Pro tackle David Bakhtiari.
Rams-Packers Pick
If you like football, then you don't want to miss this matchup of both teams' strengths.
If I'm looking to back the Rams, my first question is: Where are the points coming from? They're in the bottom half of the league in converting their red-zone scoring opportunities into touchdowns (57.38%). Contrast that with the Packers, who lead the league at an 80% clip.
Secondly, what should we expect out of this Rams defense offensively?
Green Bay is not a team that's been careless with the football this season. The Packers' 11 turnovers are the fewest in the league, whereas the Rams are tied for the sixth-most turnovers (25). In fact, Green Bay is +7 in turnover differential while Los Angeles is -3.
Another storyline coming into this game will, of course, be about how a warm-weather team like the Rams handles the cold climate. The 30-degree temperatures could be an issue for the California kid, Jared Goff, who will be roughly two weeks removed from thumb surgery, and I can't imagine that the cold weather will make things any smoother in being able to grip and throw the football.
Aaron Donald also likely won't be at full strength on Saturday. His rib injury was painful enough that he sat out for long stretches in the second half. As for the Packers, they'll be concerned about their protection on the offensive line, particularly with Bakhtiari out for the season.
Yet, I still come back to the question: Where will the Rams' points come from?
Per our Action Labs database, Rodgers is 4-0 straight up and against the spread as a favorite against the Rams. Los Angeles is 0-3 against the spread when the temperature is 32 degrees or colder. In comparison, Rodgers is 28-10 (73.7%) in those same cold weather conditions.
I can't bring myself to fade the likely league MVP under these circumstances. PointsBet is offering the Packers at -6.5 (-110), so I'll swallow the points, but I'm also going to tease the Packers down and pair them with the Buccaneers on a six-point teaser.
Pick: Packers -6.5 (-110)
Bonus 6-Point Teaser: Packers -0.5, Buccaneers +9
How would you rate this article?