Packers vs. Rams Odds & Picks: 6 Ways To Bet This Playoff Spread, Total & More On Saturday
Credit:
Getty Images. Pictured: Aaron Rodgers, Aaron Donald
Packers vs. Rams Odds
Packers Odds

-6.5

Rams Odds

+6.5

Total

44.5

Time

4:35 p.m. ET

Day

Saturday

Odds as of Saturday afternoon and via BetMGM, where you can bet $1 on the Packers-Rams moneyline to win $100 if there's a touchdown.
Expectations weren't notably high for the Packers heading into 2020. Sure, they went 13-3 in 2019, but their 6-1 record in one-score games suggested they were lucky. Then they spent first-round draft capital on a quarterback, seemingly signaling that Aaron Rodgers' Super Bowl window was closing … until he broke it wide open with his MVP-caliber season.
Now the Packers return from the NFC's only bye to kickoff their postseason run with a Divisional Round matchup against the 6-seeded Los Angeles Rams, who upset the NFC West champion Seahawks on Wild Card Weekend.
Our staff details how they're betting Saturday's game, featuring a case for both sides of the spread as well as a consensus on the under.
Packers vs. Rams Picks
Click on a pick below to skip ahead to that analysis.
Rams Spread
Raybon: Let me start by saying there is a tendency to overlook underdogs in the Divisional Round, but according to our Action Labs data:
Underdogs are 39-27-1 (59%) against the spread (ATS)
Underdogs that failed to make the prior postseason are 24-11 (69%) ATS
Underdogs facing a No. 1 seed are 22-11 (67%) ATS
Underdogs coming off a win of seven or more points are 24-15 (62%) ATS, winning outright nearly half the time (19-20 straight up)
Jared Goff and Aaron Donald — the Rams' two most valuable players to the spread — have been removed from the injury report altogether.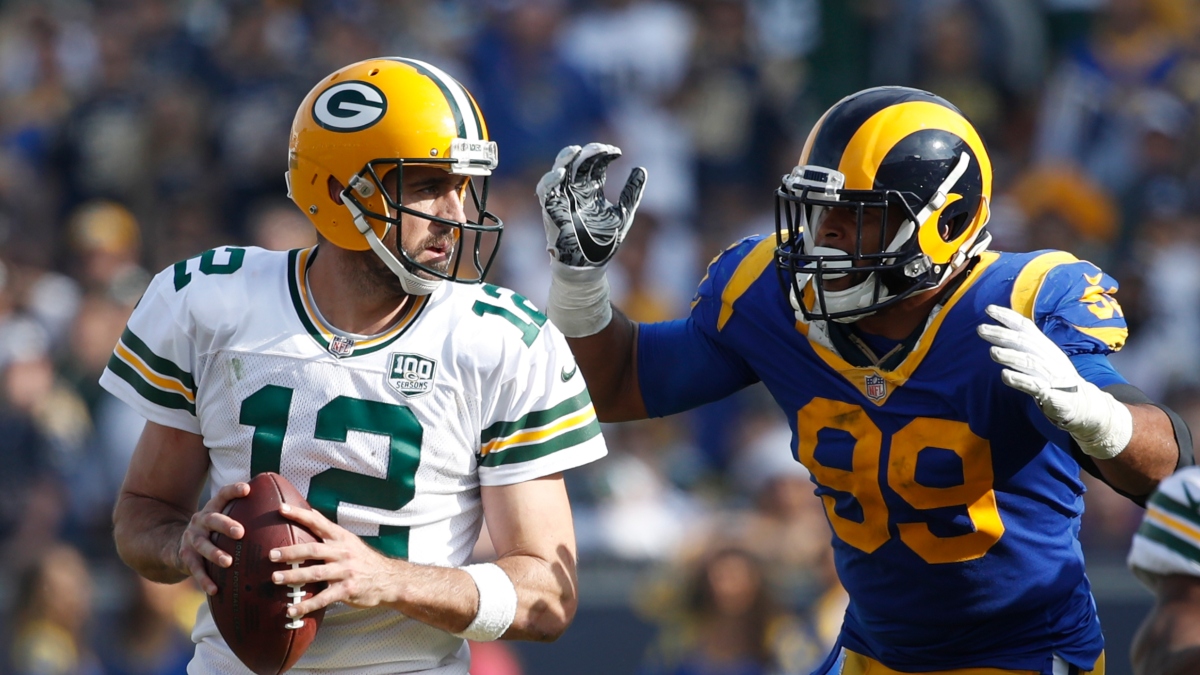 The case for the Rams obviously starts with the fact that they can match the Packers' top-ranked offense in Football Outsiders' with the top-ranked defense in the metric. And thanks to Jalen Ramsey, the Rams are better equipped than any other NFL team to slow down Davante Adams.
The Rams represent the first truly elite defense the Packers have faced since Week 6, when the Buccaneers rolled the Packers, 38-10. Keyed by a blitz-heavy game plan that saw them send extra rushers on 21 of Aaron Rodgers' 41 dropbacks (51.2%) and pressure him 18 times (43.9%), the Bucs came up with two pick-sixes, limited Adams to six catches for 61 yards on 10 targets, and held the Packers scoreless over the final three quarters.
We were also reminded of the remote possibility that Rodgers could, in fact, be at least part-human as recently as Week 15. The Panthers held him to 143 yards and one touchdown on 29 pass attempts while forcing him to take five sacks, most of which were of the coverage sack variety, as Adams managed only seven catches for 42 yards on 10 targets. The Rams won't blitz as much as the Bucs did — the Rams' 27.9% blitz rate during the regular season ranked 19th, according to Pro Football Reference — but the combination of Donald disrupting a David Bakhtiari-less offensive line and an elite, Ramsey-led secondary should allow L.A. to execute a hybrid of what Tampa Bay and Carolina did to stymie Green Bay's offense.
The Rams have not allowed an opponent to gain 300 yards of total offense since late November.
Before landing his current gig, Packers head coach Matt LaFleur worked under Sean McVay, and McVay admitted that he's been regularly keeping tabs on LaFleur and Packers offense this season, which should minimize any schematic advantage that LaFleur would otherwise enjoy and help offset the extra prep time afforded to Green Bay.
Last year's dismantling at the hands of San Francisco notwithstanding, the biggest blemish on what has otherwise been a brilliant start to the LaFleur-Rodgers era is their failure to rev back up against a top-notch defense following a bye. This year, it came in the form of posting just 10 points against Tampa Bay after averaging 38.0 over their first four games. And last year, they got thumped 37-8 by San Francisco coming out of its Week 11 bye.
The emergence of rookie running back Cam Akers gives the Rams a much-needed weapon to take the pressure off Goff and lean on their defense. Akers reeled off 176 yards on 30 touches in last week's 30-20 win over the Seahawks, the second time in four games that he registered at least 170 yards from scrimmage.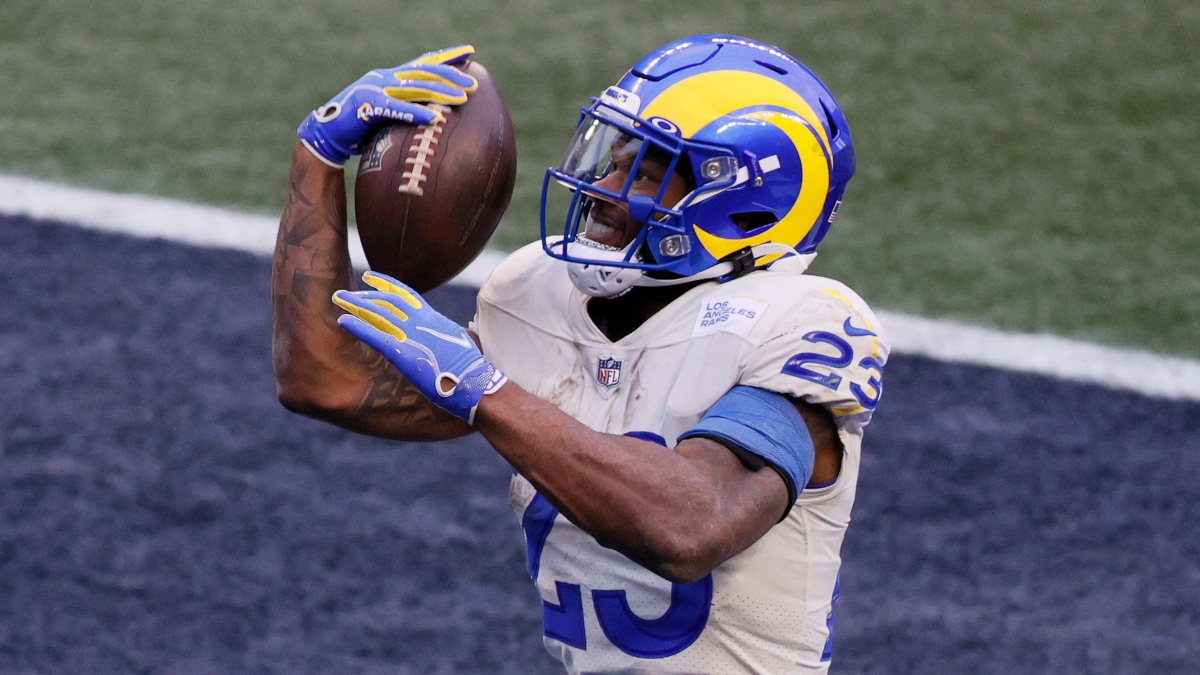 Because of defensive coordinator Mike Pettine's dime-heavy scheme, the Packers are vulnerable against the run, ranking 18th in run defense DVOA and 23rd in Adjusted Line Yards allowed (4.61). Akers has also come on of late in the passing game, catching 10 passes for 141 yards over his past five games, which matches up well with what has been the Packers' biggest weakness: They ranked 15th in passing DVOA but 28th on targets to running backs.
Home-field advantage has been next to non-existent — and for what it's worth, Rodgers is 1-2 ATS with a -8.5 cover margin in three Divisional Round home starts at Lambeau Field — but this is still Jared Goff in cold weather, so having Akers as a pre-broken Todd Gurley-esque weapon coupled with the return of left tackle Andre Whitworth last week gives L.A. more wiggle room to cover.

The Rams have lost by more than seven points only three times all season and boast a victory against the very Bucs team that gave the Packers problems. I have the line projected at Packers -5, so I show value at the current consensus line of +6.5 (check real-time odds here), but I bought onto the key number of +7 and would recommend doing so if you can get it at -120 or better.
Packers Spread
Arinze: If you like football, then you don't want to miss this matchup of both teams' strengths.
If I'm looking to back the Rams, my first question is: Where are the points coming from? They're in the bottom half of the league in converting their red-zone scoring opportunities into touchdowns (57.38%). Contrast that with the Packers, who lead the league at an 80% clip.
Secondly, what should we expect out of this Rams defense offensively?
Green Bay is not a team that's been careless with the football this season. The Packers' 11 turnovers are the fewest in the league, whereas the Rams are tied for the sixth-most turnovers (25). In fact, Green Bay is +7 in turnover differential while Los Angeles is -3.
Another storyline coming into this game will, of course, be about how a warm-weather team like the Rams handles the cold climate. The 30-degree temperatures could be an issue for the California kid, Jared Goff, who will be roughly two weeks removed from thumb surgery, and I can't imagine that the cold weather will make things any smoother in being able to grip and throw the football.
Aaron Donald also likely won't be at full strength on Saturday. His rib injury was painful enough that he sat out for long stretches in the second half. As for the Packers, they'll be concerned about their protection on the offensive line, particularly with Bakhtiari out for the season.
Yet, I still come back to the question: Where will the Rams' points come from?
Per our Action Labs database, Rodgers is 4-0 straight up and against the spread as a favorite against the Rams. Los Angeles is 0-3 against the spread when the temperature is 32 degrees or colder. In comparison, Rodgers is 28-10 (73.7%) in those same cold weather conditions.
I can't bring myself to fade the likely league MVP under these circumstances. PointsBet is offering the Packers at -6.5 (-110), so I'll swallow the points, but I'm also going to tease the Packers down and pair them with the Buccaneers on a six-point teaser.
Under
Stuckey: There's no question that Green Bay's passing offense has been elite all season.
Aaron Rodgers is simply playing on another level and Davante Adams has been the top receiver in the NFL. Rodgers threw deep at the second-highest clip in the league (trailing only Tom Brady). On those throws, Rodgers posted a gaudy 128.7 quarterback rating with 12 touchdowns and zero interceptions.
However, the same can be said for the Rams' pass defense, which is first in most metrics, including explosive passes on which they allowed only a 24.6% completion percentage, 37.9 passer rating and two touchdowns to five interceptions.
One of the most eye-popping stats you'll see is their deep right passing DVOA. Just take a look at the top-three rates in the NFL (negative is better):
Rams: -97.9%
Seahawks: -2.9%
Buccaneers: +3.0%
And don't forget that the Packers have faced the easiest schedule of opposing defenses when it comes to explosiveness. They also won't have star tackle David Bakhtiari.
Rams defensive coordinator Brandon Staley has done a tremendous job with mixing up coverages on the back-end and disguising looks pre-snap. It also helps to have Aaron Donald to lead a defensive front that can not only get pressure (second in Adjusted Sack Rate), but also stop the run without loading the box.
The Rams also have three corners who rank inside the top 20 of Pro Football Focus' coverage grades for the season. I'm sure we could see Jalen Ramsey shadow Adams at times, but remember that the Rams also run a ton of zones on the back end.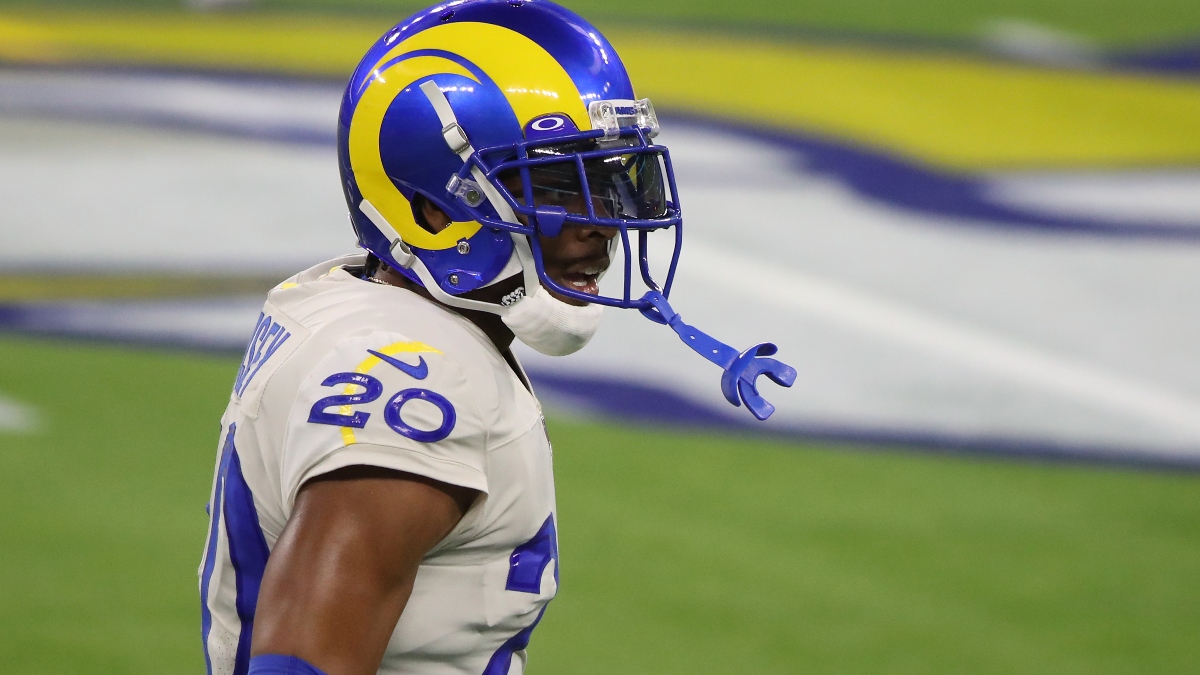 If any team has a shot of containing this Packers aerial attack and duplicating what the Bucs did earlier this season, it's this Rams team — though they are a bit vulnerable over the middle of the field (especially against play-action), so you may want to target Robert Tonyan props.
When the Rams have the ball, I'm assuming that Sean McVay will go with a very conservative game plan that relies on his rushing attack and ultimately the defense. I'm not sure how much he'll trust an injured Jared Goff (or maybe Blake Bortles) against an aggressive Packers defense, especially in the cold after recently getting pins inserted into his thumb.
Additionally, Cooper Kupp won't be 100% if he plays, and the Rams' offensive numbers without him have been downright disgusting in recent years. Plus, the Packers have been solid defending the slot and have a lockdown cornerback in Jaire Alexander, who they can use to take someone away.
The Rams do run tempo at times, but I don't see them utilizing it that much in this spot, which would certainly help the under. For what it's worth. Green Bay ranks 32nd in pace in neutral situations, per Football Outsiders.
Ultimately, I'm assuming Rodgers will get a few scores, but the Rams can keep him under 24 without flukes. And I just don't see the Rams offense doing much other than controlling the clock.
I like the under down to 45 as well as the first-half under down to 21.5 points.
Cam Akers Props
Over 16.5 Carries
Over 70.5 Rushing Yards
Over 15.5 Receiving Yards
Raybon: Channeling my inner Matthew Freedman here by going all-in on Akers, but over his last five games, Akers is averaging 22.8 carries with a median of 21. He received 114-of-136 backfield carries over that span, an 83.8% market share. That should be more than enough to get him over his rushing yardage prop against a Packers defense that ranks 23rd with 4.61 Adjusted Line Yards allowed per rush.
Akers has also run a route on 52% of dropbacks over his past five games, and had a 62-21% edge on Malcolm Brown last game. Akers is averaging 28.2 receiving yards per game over that span, which should continue against a Packers defense that ranks 28th in DVOA on passes to running backs.
The Packers were last seen allowing David Montgomery to catch 9-of-9 targets for 63 yards in Week 17 and have allowed 14 different backs to reach 20-plus receiving yards in a game against them on the year.
I like the over on Akers' carries to 18.5, his rushing yards to 78.5 and his receiving yards to 19.5.
How would you rate this article?