Why Robby Anderson's Fantasy Football Ceiling Is Lower In Carolina & How Breshad Perriman Will Fit In With Jets
Credit:
Mike Stobe/Getty Images. Pictured: Robby Anderson
Robby Anderson is moving onto Carolina, agreeing to a two-year deal with the Panthers on Tuesday, while the Jets signed his replacement — Breshad Perriman — to a one-year contract just hours later.
Our experts Chris Raybon and Matthew Freedman analyze what these moves mean for the fantasy football outlooks of both receivers as well as their new (and former) teammates.
Raybon
One of the cardinal rules of fantasy football is: "Thou shalt not draft Robby Anderson, thou shalt add Robby Anderson on waivers midseason after he's been rage-dropped by the team that originally drafted him."
That rule remains intact after Anderson emerged from a radio-silent free agent market to sign on as a square-peg-in-a-round-hole deep threat for a Carolina offense set to open the year quarterbacked by underneath-throwing Teddy Bridgewater.
On average, Anderson was targeted 14.6 yards beyond the line of scrimmage last season, and his career average in yards per reception is 14.8. Both of those figures are more than double Bridgewater's 6.1-yard average depth of target over the past three seasons.
And for as much success as Bridgewater had with the Saints last year, it didn't spill over to the team's primary deep threat, Ted Ginn Jr., who suffered a major drop-off with Bridgewater compared to Drew Brees:
Ginn with Brees: 19-of-33 (57.6%), 268 yards (8.1 YPT)
Ginn with Bridgewater: 11-of-23 (47.8%), 153 yards (6.7 YPT)
This signing wreaks of Paul Richardson to the Alex Smith-quarterbacked Redskins in 2018. Anderson is now nothing but a fringe top-50 fantasy WR who should be treated as a WR5.
This signing also takes Curtis Samuel off the fantasy map, but it may improve his real-life usefulness to the team, as it opens him up to run more higher-percentage routes rather than remain in the deep-threat role he struggled for efficiency in last season.
D.J. Moore should remain a fantasy WR1.
In New York, this puts Jamison Crowder in position to dominate targets. In Sam Darnold's 13 starts, Crowder posted WR3 value in PPR and WR4 value in standard, averaging 8.3 targets, 5.4 catches, 58.3 yards and 0.46 touchdowns compared to 4.7 targets, 2.7 catches, 25.0 yards and zero TDs in three games without Darnold.
Crowder is a steal at his average draft position as the WR54 at MyFantasyLeague.com at the time of the Anderson deal.
Freedman
I've long loved Robby Anderson more than any fantasy player should, and the cockles of my heart are theoretically warmed by the idea of his reuniting with his college coach and quarterback in Matt Rhule and P.J. Walker.
But this is not a great spot for Anderson.
After entering the league in 2016 as an undrafted free agent and surprising with 629 yards in limited action as a rookie, Anderson had three fairly dependable campaigns as the No. 1 receiver for the 2017-19 New York Jets.
2017 (16 games): 63-941-7 receiving on 114 targets
2018 (14 games): 50-752-6 receiving on 94 targets
2019 (16 targets): 52-779-5 receiving on 96 targets
Over the past three years, Anderson has been firmly in the wheelhouse of 50-60 receptions, 750-950 yards and 5-7 touchdowns.
But even with his year-to-year dependability, Anderson has woeful week-to-week consistency. He is an extremely underrated deep-ball receiver, but because he is targeted primarily downfield, Anderson is an extremely boom/bust producer. And over the past three years, he has busted far more often than he's boomed.
Anderson's Weekly Fantasy Finishes Since 2017
WR1: 8 times (17.4%)
WR2: 7 times (15.2%)
WR3 or worse: 31 times (67.4%)
And in Carolina, Anderson might boom with even less frequency. Since 2017, Anderson has averaged 101.3 targets per year. Playing alongside Christian McCaffrey (142 targets in 2019), Moore (135) and Samuel (105) — as well as tight end Ian Thomas (30), who could inherit many of the targets vacated by Greg Olsen (82) — Anderson might struggle to get even 80 targets in 2020.
And it doesn't help Anderson that projected starting quarterback Teddy Bridgewater in 2019 was last (37th) in the league with a 6.1-yard average depth of target (per Pro Football Focus).
So it's hard to view Anderson as anything more than an upside supplemental receiver at this point.
But he is likely to take targets away from McCaffrey, Moore, Samuel and Thomas, so all of them are a little less intriguing with Anderson than they were without him.
As for Bridgewater, although he's not a great downfield passer, the addition of another good receiver elevates his fantasy potential. I still don't see him as anything more than a streaming option, but Bridgewater now has one of the league's best pass-catching quintets.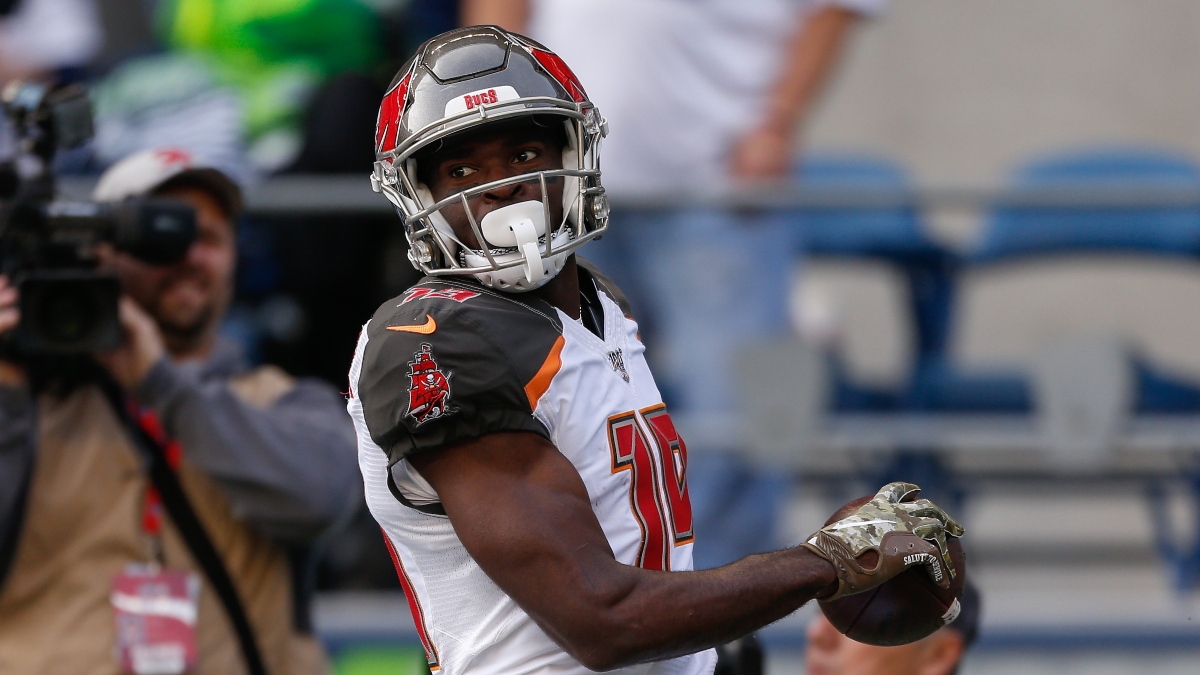 In New Jersey, I expect Perriman to serve as a one-for-one Anderson replacement. Both guys are perimeter field stretchers, and they have identical career marks of 8.0 yards per target. Perriman is a volatile WR4.
Despite the addition of Perriman, Crowder still seems likely to lead the Jets in targets. Last year, he averaged 8.3 targets in his 13 games with Darnold, and given the dearth of other options in New Jersey, Crowder should see 120-140 targets if he plays a full season.
Crowder is the type of high-volume, limited-talented receiver I almost never want to draft, but even I must admit Crowder offers WR3 value at his WR4/5 draft position.
How would you rate this article?