Saints vs. Jets Betting Guide: Take the Favored Road Team?
Credit:
Chuck Cook-USA TODAY Sports. Pictured: Sean Payton, Drew Brees, Taysom Hill
New Orleans Saints at New York Jets Betting Odds
Spread: Saints -3
Over/Under: 42.5
Kickoff: 7:30 p.m. ET
The Jets host the Saints in one of six Preseason Week 3 games on Saturday night. Let's take a look at key storylines and actionable betting takeaways for both teams.
New Orleans Saints
Taysom Hill has been a thorn in the side of fantasy owners for most of his career, regularly serving as a vulture for essentially the entire Saints offense in the red zone.
Head coach Sean Payton's obsession with featuring Hill as a passer, rusher and receiver alike might not be ideal during the regular season, but there's little doubt that the Saints' jack-of-all-trades talent has emerged as a lethal weapon in the preseason.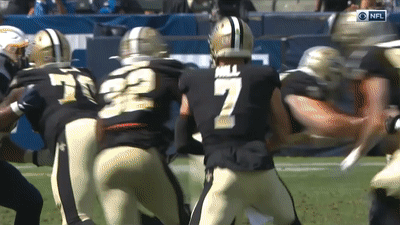 The Saints are expected to roll with Drew Brees for at least a drive or two on Saturday night. It will be interesting to see how he looks after a less-than-stellar finish to last season.
Peyton Manning in 2014 (38)
Weeks 1-12 (11 games): 68% cmp, 8.1 Y/A, 34 TD-9 INT
Weeks 13-playoffs (6 games): 60% cmp, 6.9 Y/A, 6 TD-6 INT

Drew Brees in 2018 (39)
Weeks 1-12 (11 games): 76% cmp, 8.8 Y/A, 29 TD-2 INT
Weeks 13-playoffs (6 games): 69% cmp, 6.7 Y/A, 7 TD-5 INT

— Ian Hartitz (@Ihartitz) May 22, 2019
Jared Cook's and Ted Ginn's respective ability to stretch the field should help Brees continue to thrive on underneath patterns to Michael Thomas and Alvin Kamara alike, but Father Time remains undefeated and Brees will be 41-years-old come January 15.
New York Jets
We're yet to see Le'Veon Bell touch the ball in a game wearing a Jets uniform, but the early returns from the Sam Darnold-Adam Gase partnership appear to be going swell.
Because I'm a 🏈 nerd & wonder about such things — 😂😂 — I asked Adam Gase about Sam Darnold's 15-yard pass to Quincy Enunwa vs ATL. Here's what he said: "I don't know if I've seen many that were better in my career. It was a very tight throw and very accurate." Wow. #Jets

— Kimberly Jones (@KimJonesSports) August 20, 2019
It was a nice throw.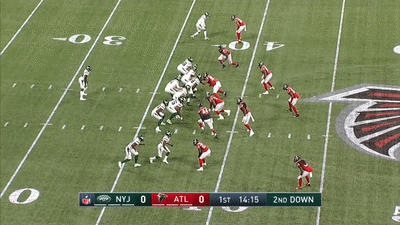 The Jets have done a great job surrounding Darnold with talented pass-catchers, as each of Robby Anderson, Quincy Enunwa, Jamison Crowder, Chris Herndon and Bell should at the very least be considered above-average receivers.
The bad news for the Jets is that their secondary largely remains a walking graveyard. I like the visitors in this one.
PICK: Saints -3
How would you rate this article?