The 7 Best Super Bowl Party Games: Prop Sheet, Squares, More Ways to Bet With Your Friends
Credit:
Scott Winters/Icon Sportswire
Finalizing your Super Bowl party games ahead of kickoff? We have you covered with the seven best ways to bet with your friends.
Download and print our Super Bowl prop sheet and squares sheet below, as well as more suggestions from Stuckey.
Super Bowl Sunday is arguably the best betting holiday of the year. And after talking about the side, over/under and the never-ending props for what seems like a month now, the action hardly stops after the opening kick.
If you are watching the Big Game with friends and/or family, there are plenty of betting-games that can raise the stakes and get everyone's juices flowing. It's also a way to get others who don't really bet on the game involved and engaged.
If you're struggling to come up with betting game ideas or are looking for new ones, you've come to the right place.
But before we get to the list of our favorite games, remember that pre-party communication is the key. Make sure to inform your guests in advance about what betting games you will offer (and the stakes). That way, everyone will come properly prepared if they want to participate.
And if you prefer to watch the game by yourself — hey, I get it … I do when my team makes the Super Bowl — you can always track your bets with the free Action Network App.
---
Super Bowl Squares 
Audience: General
The most well known Super Bowl betting game — and one you've most likely played before. But if you haven't, check out the article below for a printable sheet and more details.
With the new extra point rules, some of the non-key numbers are not as bad as they used to be, but you obviously still want 0's, 3's, 4's, 6's and 7's. If you do participate in a square pool, I hope you avoid the dreaded 9's.
Click here or on the image below to download and print your Super Bowl Squares sheet.
Printable Prop Sheet
Audience: Varies
It's not a true Super Bowl party without a prop sheet to fill out. It's a fun and easy exercise before the game as everyone argues for their answers (or strategically stays quiet).
The concept is simple: The person who gets the most questions right wins the pot. I personally like to assign the highest buy-in to this game, but know your audience.
You can create your own questions in a variety of formats — multiple choice, fill in the blank, etc. — on topics like…
Coin toss? Heads or Tails
Company with first commercial?
Player to score first touchdown?
Leading rusher?
How many times will Trump tweet?
Gatorade shower color?
MVP?
Pro tips: Mix it up with entertainment and sports if you have a bigger crowd. For what it's worth, I've found that using around 20 questions with varying point values works best for a more advanced crowd. Go with 10 for a more casual audience. Also, picking the MVP deserves a higher reward than guessing heads or tails, but it's up to you.
If you don't want to go through the trouble of creating your own prop pool, you can just print our prop sheet below if you want a simple 10-question contest. Feel free to adjust point values or have them all equally weighted.
Click here or on the image below to download and print our prop sheet.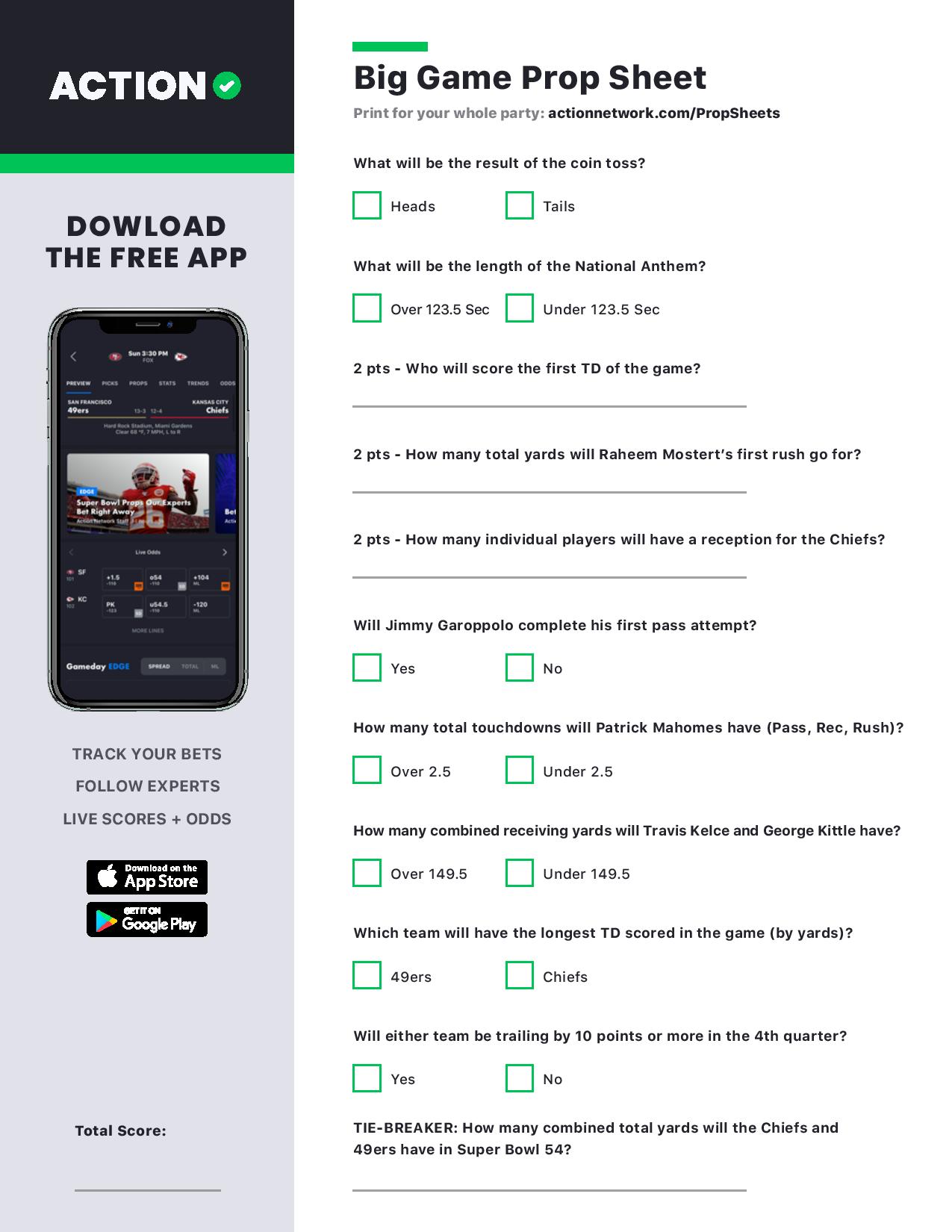 Prop Bankroll Contest
Audience: Bettors
This Super Bowl prop game of strategy is one you want to do with a group of seasoned sports bettors. You can even do this one with just you and one other person if you prefer to watch the game in a less distracted environment.
The rules are simple:
Participants pick any 10 props they like from a specific sportsbook.
The person who finishes with the highest bankroll wins the pot.
Not only does this reward knowledge, but it's also a game of strategy. Do you go for all long shots — MVP, first touchdown, etc. — or take a more conservative route? Or do a mix of both?
You can also make this a team game with teams of two (or three or however many you want).
Pass the Cup
Audience: General
This is the easiest of all of the betting games you can play.
Here are the rules:
Everyone puts in a certain dollar amount in a cup.
Create an order to determine how the cup will be passed.
Draw a name to determine who starts with the cup.
The cup passes to the next person on the list after every possession change.
The last one holding the cup takes the pot.
We like to divide this up into quarters to increase the excitement. The person holding the cup at the end of the first and third quarters takes a small amount out. The person at the end of each half gets a bigger payout.
Divide it up however you see fit, but be prepared for the late, meaningless Hail Mary interception cup switch.
Pro tips: You can use a football instead of a cup, but watch out for your token drunk friend who is losing every bet. You can also make the game even more interesting by adding a rule that if someone gets caught putting the cup (or ball) down, the cup changes hands. And if you don't want to worry about passing something around, just make a list and have one person responsible for keeping track of who has the "cup" after changes of possession. You can also do every touchdown instead of every change of possession if you have a smaller group.
And for what it's worth, if someone passes out (or "falls asleep") while holding the cup, make them watch the rest of that quarter outside through a window.
MVP Hat Draw
Audience: General
For those who still need more party action, add an MVP draw before kickoff.
Simply put little pieces of paper with players' names in a hat and take turns picking. The person who draws the eventual MVP wins the pot, which keeps the game interesting even in the event of a blowout.
Just like you want the 3's and 7's in the squares pool, you obviously want to draw either Jimmy G or Patrick Mahomes for this contest. Quarterbacks have won the MVP in 29 (53.7%) of 53 Super Bowls.
Pro tips: Have everyone draw two or three names (or more with a small group). You never know when a Dexter Jackson or Malcolm Smith might win MVP. You could also put in an intriguing "field" option.
And if things play out like they did in 1978 — when two Cowboy defensive linemen won MVP in the only Super Bowl to ever have co-MVPs — then I guess everyone gets their money back. Although, I'd think of a more creative way to decide a winner.
MVP Auction
Audience: Bettors
If you have a more advanced audience of bettors, remove the randomness of drawing names out of a hat and have an auction for MVPs. Start out with the player with the best odds (Mahomes) and see how much anyone is willing to put up to purchase Mahomes. (You can do this either silently or live.)
The winner of Mahomes than has the Chiefs QB and puts his purchase price in the pot. You then go down the list of potential MVP winners for as long as you want and finish with an auction for the field, which includes all players who didn't get auctioned off.
The person who purchased the winning MVP takes the pot.
Pro Tip: You can also do this with first to score a touchdown.
Super Bowl Betting Bingo
Audience: General
If you really want to go all out and have some time to get creative, you can create bingo cards with different events occurring. Just like in the game of Bingo, participants would either check off or punch out the space when one of those events happens. And the first with bingo wins the pot. And if someone gets it in the first half, you can always run it back and play again. Some potential football options to use:
Damien Williams receiving touchdown
Patrick Mahomes runs for 20+ yards
Joey Bosa sack
Interception
And if you want, you can even include other entertainment based options for a more casual audience, such as specific types of commercials or certain words the announcers might say.
Bonus: Post-Game Action
Audience: General
If you really don't want the night to end, the action shouldn't stop after you figure out which Gatorade color was poured on the winning coach. Bring a deck of cards, a set of LCR dice (and plenty of ones) or prepare a bracket for a beer pong tournament.
Enjoy the night and I promise that one day as future US betting czar I will mandate that the Monday after the Super Bowl is a national holiday…with an afternoon bowl game.
Good luck and happy betting!
How would you rate this article?