Rovell: Meet the 26-Year-Old Sweating a $76,000 Titans AFC Ticket
Credit:
Wesley Hitt/Getty Images. Pictured: Tajae Sharpe and Titans fans
Ben Patterson has been a lifelong Cowboys fan, so, as he put it, he needed a second team to "split my misery."
That decision to find the right second team could turn out to be very profitable for the 26-year-old Massachusetts man who works at private equity firm.
On Monday, Dec. 23, the Titans had just lost to the New Orleans Saints, and Patterson, who lives in a state that doesn't have legal gambling, was looking on prop ticket exchange site PropSwap.
There, he found an interesting proposition. For $1,500, he could buy a ticket for the Titans to win the AFC Championship. The bet was originally placed at the South Point in Las Vegas for $1,000 to payout $76,000 total ($75,000 net).
Factoring in his $1,500 investment, Patterson was essentially getting the Titans at 50-1 odds to win the AFC, much better than the 38-1 he was seeing in the market. So he bought it.
"I'm on a group text with some guys and a lot of them are Titans fans," Patterson said. "I've always liked Vince Young, so it kind of just happened."
In Week 17, Tennessee beat the Texans, earning a playoff berth.
"I thought they would be facing the Chiefs first," Patterson said. "If that were the case, I would have tried to get out right away."
Instead, it was the New England Patriots, due to the Patriots' stunning Week 17 loss at Miami.
"I live here and I kind of hate the Patriots, so I was definitely keeping the ticket."
The Titans won 20-13. Then came the Baltimore Ravens.
"I figured they were a little bit overhyped and Lamar Jackson has been sitting for weeks," Patterson said.
The Titans, a 10-point underdog, pummeled the Ravens, 28-12.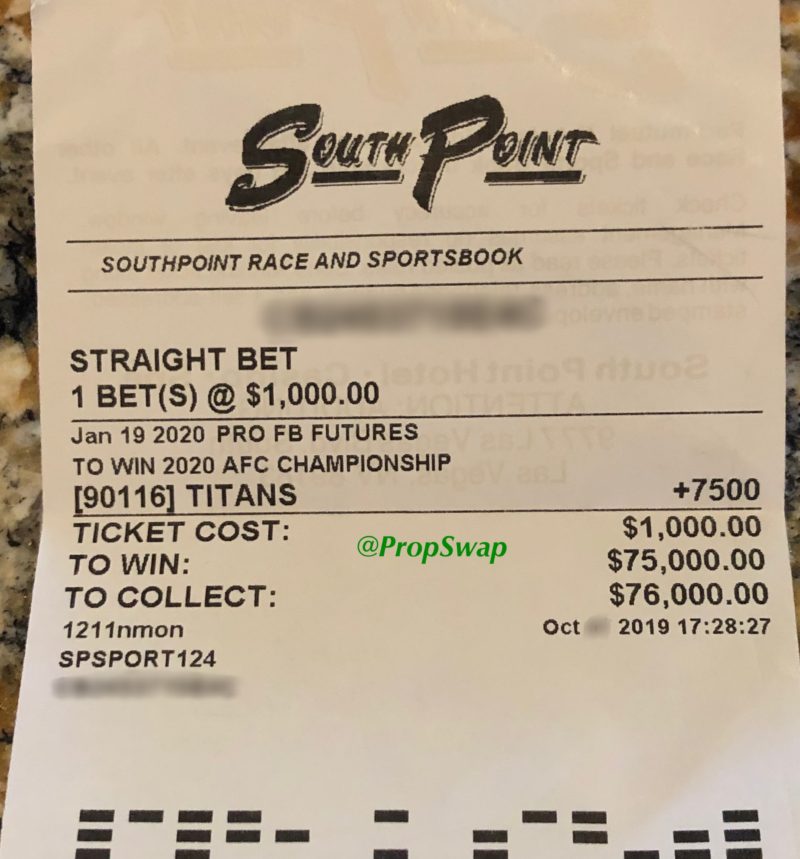 Which brings Patterson to this week.
He posted his ticket back up on PropSwap to see if there was enough interest for him to sell it before they play the Chiefs, who are -350 moneyline favorites at FanDuel.
The highest bid was for $19,000, which would have been $17,100 to Patterson after fees.
"The difference between (grossing) $17,000 and $76,000 is just too big," Patterson said. "I have to let it ride."
But just in case he wants to hedge, Patterson will be at a lake house in Pennsylvania, a legal betting state where he'll be able to make a move with the touch of his phone.
How would you rate this article?