Who Will Lead the NFL in Rushing Touchdowns In 2021? Odds, Picks & Longshots We're Betting
Credit:
Hannah Foslien/Getty Images. Pictured: Aaron Jones
Derrick Henry has been a runaway locomotive train over the past couple years. He led the NFL in carries and rushing yards and rushing touchdowns in 2019 then 2020, with 17 scores last season and 16 the season before.
So, will Henry do it again, or can another back take the rushing TD crown in 2021?
Let's run through the league and look for value on this season leader prop. First, we need to figure out how many TDs we need and make a decision on the favorite. After that, we'll rule out some of the less-likely contenders, weigh in on a few longshots and pick our best bets.
Be sure to check out the other season leader bets if you haven't already:
Note: I've included the best odds available for each player at either DraftKings, FanDuel, or BetMGM at the time of publishing on September 3.
How Many TDs Will Our Leader Need?

Well, literally every rushing TD leader since 1957 has had at least 11 TDs, so that's the absolute minimum. Henry's 17 and 16 led the league over each of the past two seasons, slightly higher than the average winner over the last decade with 14.9 touchdowns.
Add in the extra game, and we're looking for someone who can get to 12 TDs for sure — and they might need to get to 15 or more. No one has hit 20 since LaDainian Tomlinson in 2006, though, when he had a record 28 rushing TDs.
One other factor to note as a better: In four of the past eight seasons, we've had multiple winners in this category, including a four-way split in 2015. That means more outs for you to win, but it also means you might walk away with less than you're hoping for, even if you hit. Then again, if you build a position, you could get multiple hits too.
Choose wisely — but aim for a runner who can get you into that 12-15 range.
Sizing Up the Favorite
Derrick Henry (+500 at FanDuel)
What else is there to say about Henry's dominance? His production is from another era — he had 378 carries for 2,027 yards and 17 TDs on the ground last season.
If you think Henry will just keep doing what he does, stay health and do his thing, you can stop reading this column right now. Seriously, just go put your money on Henry, skip everyone else, and laugh at the books for their stupidity. And remember to bet on the rushing yards, too.
Oh, you're still here? Me too.
That's because history says that Henry just can't keep up this level of dominance year after year. He's 27 years old now with an absolute ton of mileage after the past few seasons, and pretty much every sign points to running backs with his type of workload breaking down and hitting the wall hard.
You do not want to be holding Henry stock when that happens.
The last runner to lead the league in rushing TDs over three consecutive seasons was some dude named Leroy Kelly back in 1966-68. Since then, only two players have even won the rushing TDs crown more than twice over their entire careers — and they were Hall of Famers Emmitt Smith and Tomlinson, and both topped out at three. That means not Walter Payton, not Marcus Allen, not Franco Harris or Earl Campbell, nor Barry Sanders, Terrell Davis, Marshall Faulk, or Adrian Peterson.
That's what you're asking from Henry here.
History suggests that Henry's workload could drop, he could miss some games, and the yards-per-carry and efficiency will fall as the cumulative workload takes its toll. Add in the loss of former Titans offensive coordinator Arthur Smith and the addition of Julio Jones as another passing target and red-zone threat, and this is a spot to fade.
Verdict:If you still think Henry is superhuman, go all-in on him — just know that history is not on your side.
RBs Who Probably Can't Win the Rush TD Title
Jonathan Taylor (+800 at DraftKings)
Which version of Taylor are you putting your stock in for 2021?
If you're only looking the final five games of his rookie season, you think the sky is the limit. In those games, Taylor racked up 560 yards and seven scores on the ground, a 17-game pace of 2,380 yards and a record 30 TDs.
But over the first 11 games of his career, he had only 518 yards and four TDs on the ground, which would've been a forgettable rookie season.
So which stretch is most accurate? Probably somewhere in the middle.
Those final five games came against the Texans (twice), Jaguars, Raiders and Steelers — four really bad defenses — so don't get too excited. And now Taylor starts the new season with a less-than-ideal situation: Carson Wentz is already hurt and stuck in COVID-19 protocol, as is center Ryan Kelly, and left tackle Eric Fisher and left guard Quenton Nelson are out indefinitely.
Taylor is a good runner, but this does not feel like the spot to back a good runner in an ugly situation, especially at +800.
Antonio Gibson (+1800 at DraftKings)
Gibson had never even played RB before last season. All the more impressive that he scored a rushing TD in eight of his first 11 career games as a pro, racking up 11 TDs for the season — and even more impressive that he did that on an offense that ranked dead-last in the NFL in many metrics.
He also had 795 rushing yards, which is a little less encouraging. Washington's offense should be better this season — it can hardly be worse — but that could end up hurting, not helping Gibson since the presence of Ryan Fitzpatrick should mean more passing and a more balanced attack.
Gibson is too much of an unknown for now. Bet at your own risk.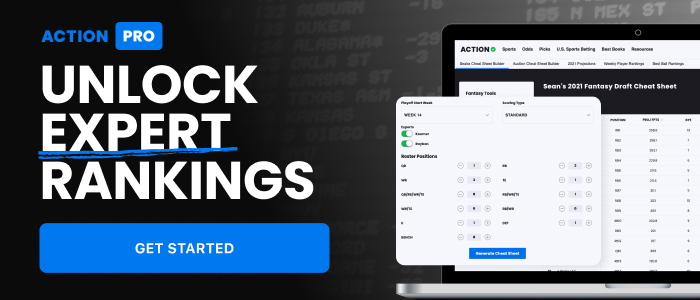 Ezekiel Elliott (+2000 at FanDuel)
It's a bit surprising that Elliott has never led the league in rushing TDs, though he had 15 his rookie season. The TDs have dried up quite a bit since then. In four years since, Zeke had 12 rushing TDs once, but finished with seven or fewer the other three times, averaging just 7.3 per year.
The Cowboys play fast and could score a lot if everything clicks, but that will likely include a lot of TDs for Dak Prescott, both on the ground and through the air. Zeke has also lost a bit of his fastball, and Dallas has health question marks with him, Prescott and all along the offensive line.
League-leading TD upside may not be there. If you do want to bet on Elliott, yardage is the smarter play with his workload.
Clyde Edwards-Helaire (+3500 at BetMGM)
You might be tempted to take a flier on CEH to get a piece of this Chiefs offense, but you should probably stay away. In three seasons with Mahomes in the lineup, Kansas City has yet to have a runner score more than seven rushing TDs in a season. They topped out at five each of the last two years.
Yeah, the Chiefs will score, but they'll let Mahomes take most of the TDs in the air. And even when they do run it in, they spread it out amongst many options. Stay away.
They Could Win, But the Odds Are Not in Our Favor
Dalvin Cook (+550 at BetMGM)
Cook is in a similar spot as Henry. Cook is clearly awesome, but would have to stay healthy and play perfect to win this title. And at +550, that's a whole lot to ask — especially since Cook has missed two, two, five and 10 games in his four seasons as a pro, and he came into the league with injury history, too.
To be fair, he had 16 and 13 rushing TDs over the past two seasons despite playing only 14 games anyway. But a bet on Cook is a bet against his injury history and on elite performance, and that's a tough ask at +550.
The Vikings' offensive line is also a problem, especially with rookie LT Christian Darrisaw yet to take a single snap. We need a winner, and there are too many outs in the wrong direction for Cook.
Saquon Barkley (+1800 at DraftKings)
As a rookie, Barkley was awesome. He scored 15 TDs and had more than 2,000 combined yards and an awesome 91 receptions. Barkley was an all-around weapon, but he hasn't stayed healthy since then. He missed three games and disappointed his sophomore season, and Year 3 was lost altogether.
There's no question that Barkley is talented, but there are too many red flags. He already isn't healthy entering the new season with all that baggage, and the Giants have the worst offensive line in the league. New York's offense could be pretty bad under Jason Garrett and Daniel Jones, and that could limit the rushing TDs.
Barkley is too risky of a play, no matter his talent and upside.
Longshots Worth A Sprinkle
Josh Jacobs (+2800 at DraftKings)
Could Jacobs be a surprise winner? It's possible.
Jacobs did have 12 rushing TDs last season after seven as a rookie, and we know that the Raiders are committed to their run game. Still, their offense won't be particularly special, and their offensive line will be the worst in Jacobs' three years in the league.
It's certainly in play that Jacobs could clear 300 carries and at least 12 TDs, but it's not likely.
Javonte Williams (+5000 at BetMGM)
Williams was a recommended sleeper play for rushing yards, but this may not be as strong a play.
Even if he receives a high volume of carries and racks up yardage in what could be a conservative, run-centric offense, there's no guarantee that the Broncos will score many TDs — or that Williams will get the bulk of the goal-line work. Melvin Gordon has been a big TD guy in the past and could end up in a goal-line role even if Williams is featured.
Playable If You Believe
Nick Chubb (+800 at DraftKings)
Chubb might be the best pure runner in the NFL right now, and he's running behind the best line in the league.
The Browns look set to rack up a heap of points this season, and Chubb ran for 12 TDs in 12 games last season. He's now rushed for 28 TDs in 37 starts, so he could be a good bet to lead the league. It certainly feels like he will be in the mix.
Be careful, though — you have to really like someone in this category to bet them at short odds. And while Chubb's upside is clear, there will be frustrations, too.
Kareem Hunt sees quite a few touches in this backfield and vultured six rushing TDs last season, and Baker Mayfield has a high TD rate in the air and will get plenty of opportunities, too. Chubb is a solid play at a fair number — you just might be better off playing a handful of longshots instead.
Christian McCaffrey (+850 at FanDuel)
McCaffrey is a similar story to Chubb.
CMC had a monster season in 2019, running 287 times for 1,387 yards and 15 TDs, and that's not even accounting for the damage he did as a receiver. Unfortunately, he played only three games in 2020, so we still don't really know how he'll look under Matt Rhule and Joe Brady.
The early signs are promising, though. McCaffrey had five TDs in his only three games last year, he's had pretty good health in the past, and he's used to a huge scoring load. The one reason for concern might be Sam Darnold. If Darnold isn't good enough, the Panthers could struggle to get McCaffrey in range to score enough. Given the relatively short odds, that's just enough of a danger to stay away.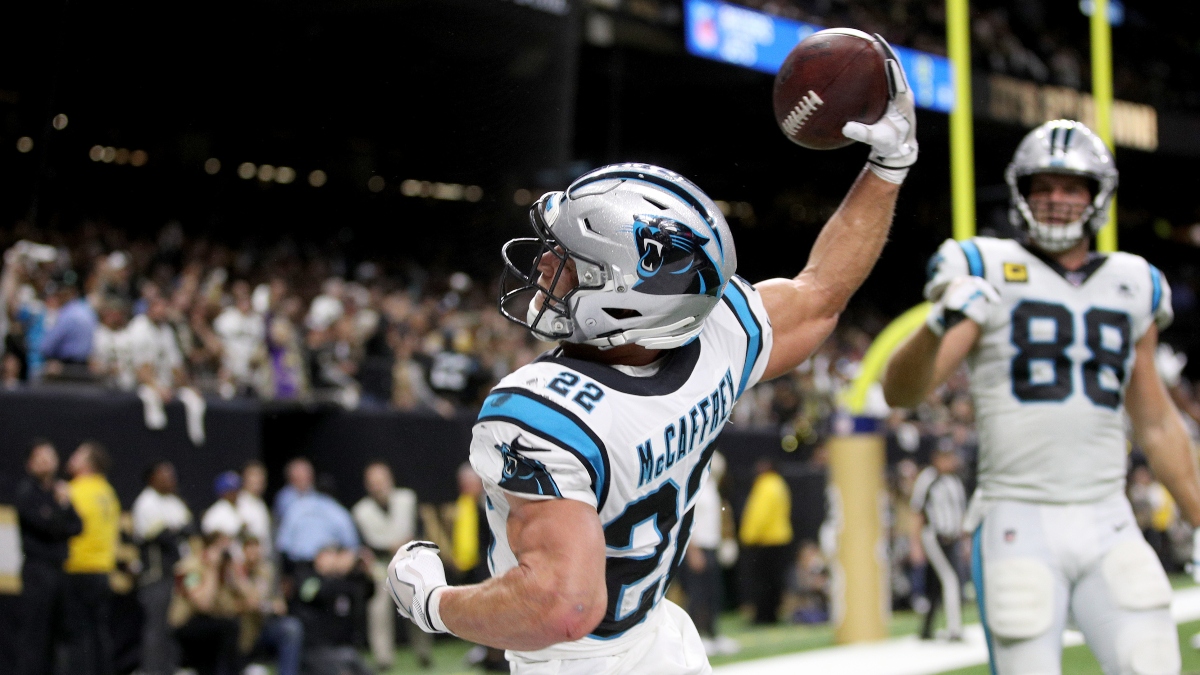 Alvin Kamara (+1400 at DraftKings)
You know, 14-1 are pretty good odds for a guy who has had two 14-TD seasons over the past three years. Kamara had 16 scores in 2020, only falling short of the lead because Henry is a god. And Kamara has done that despite never even cracking 200 carries or playing all 16 games in any of those seasons.
On the other hand, the Saints offense is bound to be worse with Drew Brees retired and Michael Thomas out indefinitely. A bet on Kamara is a bet on Jameis Winston, too, because you can't rack up TDs if your team never makes it to the red zone. But it's also a bet on Sean Payton and on one of the NFL's finest offensive lines. And unlike other star backs, Kamara doesn't have much mileage, and he has the ability to bust a long TD at any time.
Kamara feels like a very high variance player in 2021. The Saints could fall off and fail to score much, and Kamara could completely bust like he did in 2019 with only five rushing TDs. Or the Saints could lean even harder on Kamara and he could hit 14 or more TDs again — and in a category where it's all or nothing, those high-end-outcome possibilities are super valuable.
If he doesn't win, it doesn't really matter if he came up one or 10 TDs short. If you believe in Winston and the Saints, this is not a bad way to invest.
Best Bets
Aaron Jones (+1800 at DraftKings)
It's not often you get a guy who just led the league in a category two years ago at 18-1, but Jones is badly mis-priced on this one.
This is actually a bet on two Aarons.
Aaron Rodgers won MVP last season with 48 passing touchdowns, but he had an outlier 9.1% TD rate to get there, more than 50% above his already awesome career average of 6.0%. Historical TD rate is sticky over a career, but not from one season to the next. That means Rodgers could have the exact same season as a year ago, and regression would put him closer to 32 TDs instead of 48. And where would those extra 16 scores go? To the run game.
Aaron Jones is a terrific short yardage back with a proven high floor in the TD department. He's run for 33 TDs in the last three seasons, with at least eight in each season and 16 in 2019. That's 33 TDs in 42 games too, since he missed some time. And while A.J. Dillon could be ready to take more of a role in Green Bay, Jamaal Williams and his 119 carries are gone, and Jones is still the guy until proven otherwise.
We know that the Packers offense will be very good and score a lot of points, and Jones is a great bet to rack up a lot of those TDs. If healthy, he should easily hit double-digits and push for 15 or more.
Jones looks like one of the best bets among any of these season leader props.
Gus Edwards (+4000 at BetMGM)
Edwards was an even bet earlier in the week when he was 80-1, but there's still real value.
Edwards, J.K. Dobbins and Mark Ingram combined for 350 carries, 1,822 rushing yards and 17 scores on the ground last season, and that was even with Lamar Jackson running for seven TDS and more than 1,000 yards himself.
Now Dobbins is out for the season and Ingram is in Houston.
Baltimore likes to spread the workload out, but may not have the option to do so this season, and that means the bulk of those 17 TDs could end up going toward Edwards.
Edwards is a big powerful back and had six of the 17 rushing scores a year ago, and as the presumed lead back in one of the NFL's best and run-heaviest offenses, you have to add him to your position at 40-1.
Damien Harris (+4500 at BetMGM)
Harris has become a popular sleeper pick in the rushing categories, and it makes sense with Cam Newton gone. Newton would have sucked up a lot of carries and quite a few of the goal-line looks, so his departure vacates a lot of volume for the running backs since Mac Jones is not a runner. It helps that Sony Michel is gone, too.
The Patriots almost always rack up rushing touchdowns. They've ranked top 10 in the NFL in each of the last five seasons with 19, 16, 18, 17 and 20 per year. That's an average of 18 rushing TDs per season, and that 20 was from last year and included 12 from Newton.
New England has one of the league's top offensive lines, and Harris may not have much competition in the backfield. You never know how things will shape up with Bill Belichick, but Harris looks like a great long shot to take a gamble on.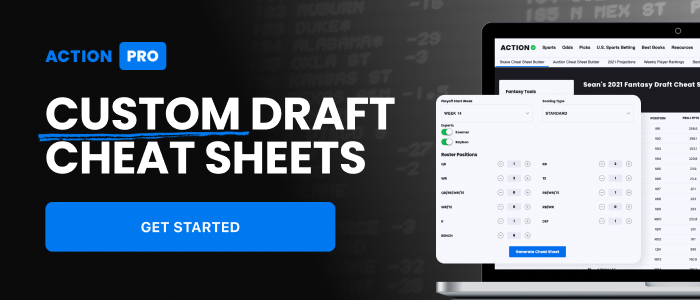 Final Verdict
Aaron Jones to lead the NFL in rushing TDs at +1800 (DraftKings) looks like one of the best bets among all the season leader props, but Damien Harris' +4500 odds (BetMGM) and Gus Edwards' +4000 odds (BetMGM) are too tasty not to nibble on, too.
How would you rate this article?
This site contains commercial content. We may be compensated for the links provided on this page. The content on this page is for informational purposes only. Action Network makes no representation or warranty as to the accuracy of the information given or the outcome of any game or event.