McAfee: NFL Wild Card Prop Picks for Our $1,000 Contest
Credit:
Kirby Lee-USA TODAY Sports. Pictured: Justin Tucker
We're giving away $1,000 cash to the winner of our NFL Wild Card prop contest with Pat McAfee.
Pat McAfee (@PatMcAfeeShow) came up with the questions on the prop sheet and runs through his picks for each.
Hey, Pat McAfee here … Don't know if you heard — we're giving away $1,000 for NFL Wild Card weekend. For free. All you have to do is complete our gauntlet of prop bets below and beat the field.
The NFL Playoffs are majestic. Everything means more. The practices, the meetings, the walkthroughs, the lifting, the meals, EVERYTHING means more.
There are only 12 groups of men who have the privilege to still compete and earn at least another paycheck.
Punters, Kickers and Snappers are no exception. This is a huge week. A shank could mess up your team and ruin its chances to win it all.
Good luck players. I hope you all get rich.  The year 2019 is about to be the greatest year in the history of Earth … and it all starts with an incredible NFL weekend.
Let's. Go. #ForTheBrand.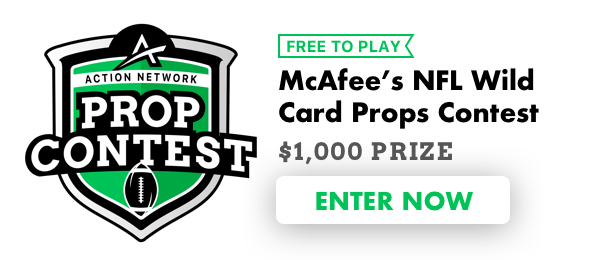 1. What will be the longest "gross" punt in all four games of Wild Card weekend: over/under 54.5 yards
McAfee's pick (Over): In every playoff game I've ever been a part of, there was always a huge emphasis on not giving up any big returns. Don't let the returner "break" the game. So home run balls won't be in abundance. Returners will be told to attempt to catch every ball so no big bounces, because every yard counts.
2. What will be the longest made field goal in all four games of Wild Card weekend: over/under 51.5 yards
McAfee's pick (Over): Playoff games — all games really, but playoff games in particular — are a chess match. Every decision the head coach makes could be the one that gets his team beat and possibly him in a hot seat.
Long field goal decisions are about a lot more than whether or not the guy's leg can get the ball there. If a miss happens, handing the ball to the other team at their own 40 or 45 is a huge worry.
A lot of big-legged kickers left in the playoffs right now, I'd like to see them get some swings from deep. Will they get the opportunity?
3. What will be the cumulative Extra Point pct in all four games of Wild Card weekend: over/under 99%
McAfee's pick (Over): Although it's late in the year and kicking legs are tired. There's probably some strains in some of their muscles. BUT THIS IS THE TIME. EVERY POINT MATTERS. I'm looking for the kickers to be dialed in this weekend.
4. What will be the pct of punts fair caught in all four games of Wild Card weekend: over/under 80%
McAfee's pick (Over): I alluded to this earlier. The punter's job in the playoffs is to eliminate the returner from the game. Don't let an explosive player bust open the whole thing.
I think you'll see a lot of well-placed balls and a lot of fair catches. A fair catch is a "no harm, no foul" move for the returner, as well. No fumble, no penalties, "Let's just get the ball back to our QB." Look for a lot of fair catches this weekend… I think.
5. How many TDs will the players featured on the Pat McAfee Show's Cheat Code T-Shirts score in all four games: over/under 20.5
McAfee's pick (Over): Our Cheat Code t-shirts have been a real crowd-pleaser this year. I love everything about them. All eight teams playing this weekend have one, and they are beautiful… 32 players are representing the 8 teams from this weekend on these shirts.
"Primetime players.. make primetime plays.. in primetime games" is a quote for a reason. The Cheat Code shirts are FILLED with primetime "8-bit" players who are going to have themselves a big weekend.
Feel free to get yours now, our small business would be grateful.