Fútbol vs. Football: What World Cup Betting Data Tells Us About Interest in Soccer vs. American Football
Credit:
Fútbol vs. Football featured image
Argentina and France delivered an instant classic in Sunday's final of the 2022 World Cup, putting a bow on the 28-day marathon of soccer. But how did the popularity of fútbol compare to American football? Here's what the data has to say about the battle between fútbol vs. football in America.
American Football Remains King
With more than 90% of Action Network app users based in the United States, it's no surprise the NFL remained king of the footballs for bettors, who tracked 2.9 million NFL picks between Nov. 20 and Dec. 18 compared to 648,000 World Cup picks from beginning to end of the tournament.
That means total World Cup picks tracked would make up only 22% of total NFL picks tracked over that span.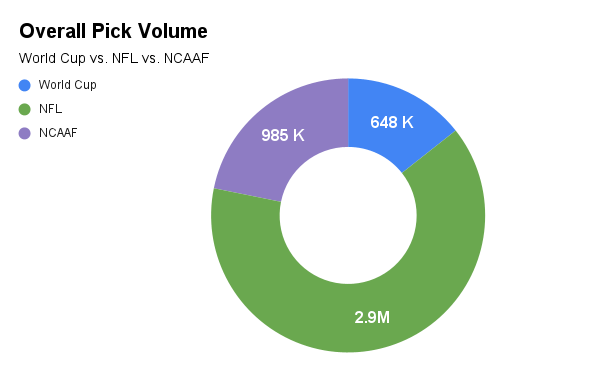 And what about college football?
The gap in pick volume was much smaller: World Cup picks would have made up 65.8% of the 985,000 college football picks tracked over those 28 days.
Fútbol Gaining Momentum in the United States
Now none if that is to suggest the World Cup was unpopular among bettors — in fact, the Action Network app saw nearly 700% more picks tracked on the 2022 World Cup than the 2018 World Cup.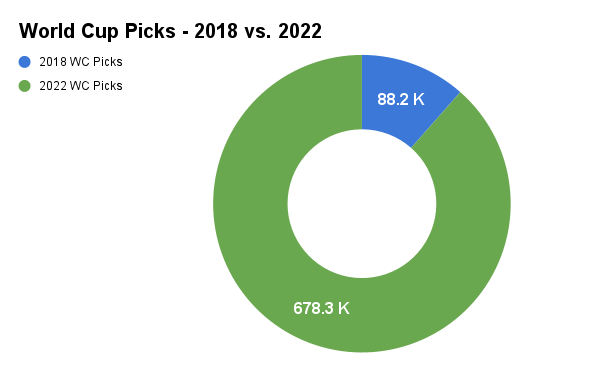 That not only reflects the uptick in popularity around World Cup betting, but the uptick in popularity around sports betting within the United States since PASPA was overturned in 2018, paving the way for states to begin legalization and operations.
One key difference between betting on fútbol vs. American football is the number of markets available to bet and the associated popularity of them.
For example: Player props are much more popular among NFL bettors, who tracked 22.8% of those 2.9 million picks on player props, whereas World Cup bettors tracked only 7.8% of those 648,000 picks on player props.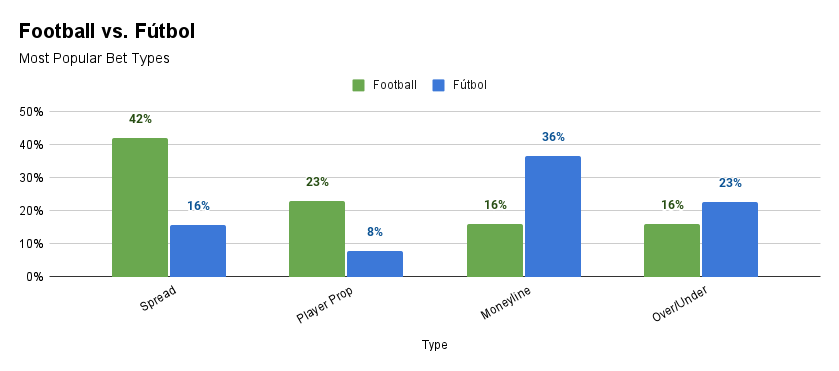 The availability and volume of player prop options in the NFL explains some of the discrepancy between fútbol and football — basically, there are more ways to bet on an NFL game than on a soccer game.
Spreads are also less popular in soccer than in football, with a much larger emphasis on moneylines in fútbol (aka bets on teams to win outright).
Finally, the United States' participation in the World Cup certainly had some impact on the volume of pick tracking, with the Black Friday match between USA vs. England drawing notable pre-game pick-tracking activity compared to the tournament's final.
Even with the U.S. on the pitch, though,  American football remained king for Action app users that holiday week with significantly more bets tracked around the Thanksgiving matchup between the Cowboys and Giants than USA-England the next day.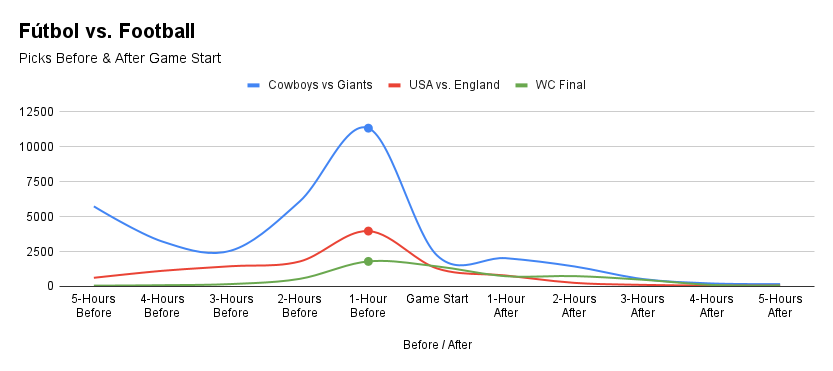 Bet Fútbol or Football With Your Favorite Sportsbooks
Whether you prefer to bet on fútbol or football, the Action Network can help you find the perfect sportsbook to meet your needs. Check out sportsbook hub for reviews on the major books like:
How would you rate this article?
This site contains commercial content. We may be compensated for the links provided on this page. The content on this page is for informational purposes only. Action Network makes no representation or warranty as to the accuracy of the information given or the outcome of any game or event.