2022-23 NHL Season Preview & Betting Power Rankings: Stanley Cup Odds, Best Bets and Analysis for All 32 Teams
Credit:
Alex Ovechkin, Cale Makar, Auston Matthews
Preseason power rankings are an annual tradition in every sport. Most media outlets will publish their own rankings heading into the season, and there's usually very little difference between each station.
One of the nice things about sports betting is it can refresh the way you look at a player, a team, a season or even an entire sport. To most of the hockey world, teams such as the Arizona Coyotes, San Jose Sharks and Montreal Canadiens won't matter all that much. They're expected to be bad, and to casual fans and the mainstream media, that makes them relatively uninteresting. But if you're betting hockey every night, those teams matter to you just as much as the Florida Panthers, Toronto Maple Leafs and Colorado Avalanche.
That's why instead of ranking teams from best to worst in the traditional sense, I publish my own NHL Betting Power Rankings ahead of every season and pick out a bet that interests me for all 32 teams.
The list below goes from bottom to top based on how I think each team is being priced in the futures markets heading into the season. In other words, it's a ranking of most overrated to best value using the pre-season betting market as a guide.
For example, last season I had the Pittsburgh Penguins listed last because I thought they were primed for a significant step back (whoops) and thought the market was way too high on the Pens because of their reputation. On the other end of the spectrum, I had the Calgary Flames listed as my No. 2 team in the rankings, as I thought the market was severely underrating the Flames under Darryl Sutter. That one looks better than my Pittsburgh prognostication.
In addition to ranking each team from 32 to 1, I've also listed my favorite bet (or betting strategy) for each club heading into the new season.
And while I always warn readers that I don't think all 32 of these bets are +EV and that I just wanted to make sure I left an actionable takeaway for each team, last season's bets turned out bizarrely well with hits on Igor Shesterkin (+2000 to win the Vezina), Moritz Seider (+1200 to win the Calder Trophy) and Darryl Sutter (+5000 to win the Jack Adams Trophy), among some smaller successes fading the Blackhawks, Flyers and Coyotes.
With the back-patting out of the way, let's get to this year's rankings, starting with a perennial odds">Stanley Cup Favorite at No. 32:
2022-23 NHL Season Preview & Betting Power Rankings
Click on a team to skip ahead to that analysis.
Toronto Maple Leafs | Pittsburgh Penguins | Philadelphia Flyers | Chicago Blackhawks | Florida Panthers | Colorado Avalanche | Minnesota Wild | Carolina Hurricanes | Nashville Predators | San Jose Sharks | Columbus Blue Jackets | New Jersey Devils | Edmonton Oilers | Buffalo Sabres | Ottawa Senators | Anaheim Ducks| Dallas Stars | Los Angeles Kings | New York Rangers | Vegas Golden Knights | Seattle Kraken | Vancouver Canucks | Tampa Bay Lightning | Detroit Red Wings | Winnipeg Jets | Montreal Canadiens | Arizona Coyotes | New York Islanders | Calgary Flames | St. Louis Blues | Boston Bruins | Washington Capitals |
A special thanks to Evolving Hockey, Natural Stat Trick and MoneyPuck for the data and stats provided in this article. All odds listed in the tables courtesy of DraftKings and current as of Sept. 25.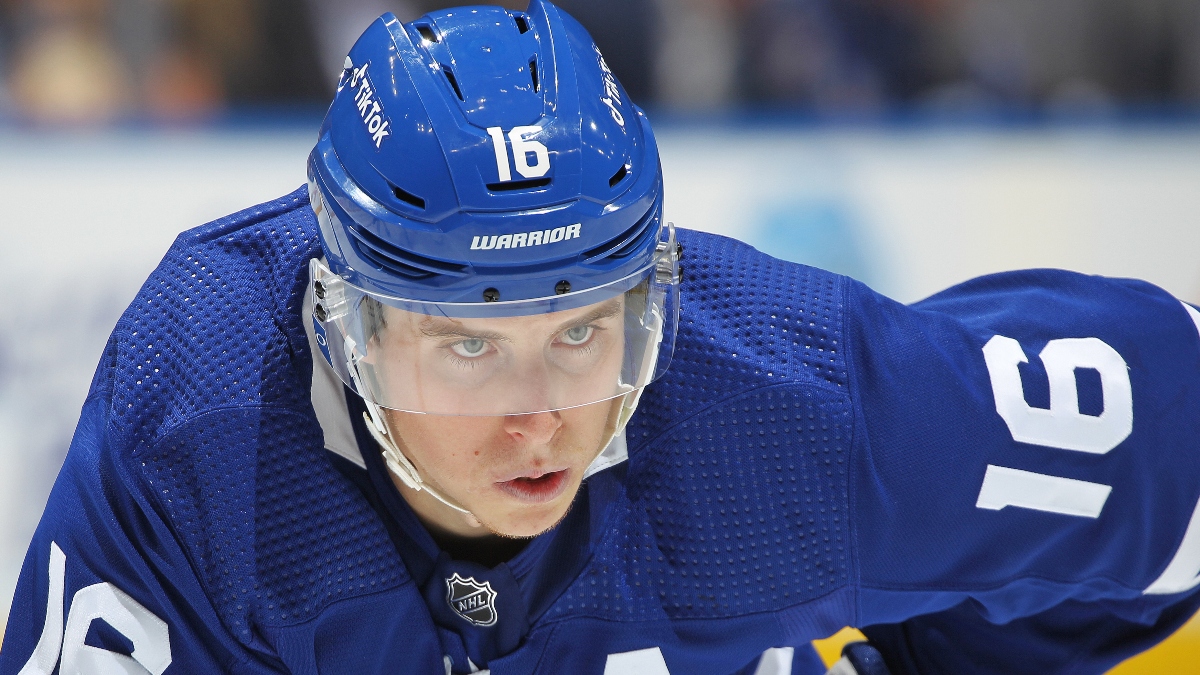 32. Toronto Maple Leafs
| | |
| --- | --- |
| Stanley Cup Odds | +700 |
| Division Odds | +170 |
| Make/Miss Playoffs | -1000/+650 |
| Over/Under | 108.5 |
Over the summer I went on Boomer Gordon's show on SiriusXM NHL Radio to give a couple of quick thoughts on the betting market before the hockey world went into radio silence for August. His first question to me was, "How are the Toronto Maple Leafs the second-favorite in the entire NHL?"
It was a valid question, but one that needs context.
The Maple Leafs are hockey's version of the Dallas Cowboys or Los Angeles Lakers. As the most popular team in the league, bettors will always pay a bit of a "Leafs Tax," and bookmakers know money will come flying in on Toronto, no matter the price. So it's normal to see an inflated price on the Leafs ahead of the season.
That said, this price is even more out of whack than what we normally see for the Leafs ahead of a new season.
That isn't to say Toronto is a bad team – the Leafs are good and very likely to cruise to a playoff spot in the Atlantic Division – but is this the second-best team in the NHL and the favorite to win the Eastern Conference?
After losing to Tampa Bay in Round 1 of last year's Stanley Cup Playoffs, the consensus around the Maple Leafs was that they should just "run it back." Only one problem: The NHL has a hard salary cap, and the Leafs spend almost half of their space on four forwards. That meant Kyle Dubas had to make a slew of changes to significant parts of the roster, including a complete overhaul of the goaltending.
And while Dubas' big gamble on the goaltending (more on that in a minute) is what everyone will be talking about with Toronto all season, it shouldn't be overlooked that the team lost a significant part of its middle-six (Ilya Mikheyev) and a slew of depth players (Colin Blackwell, Ilya Lyubushkin, Jason Spezza and Ondrej Kase).
With those players exiting, the Leafs are now looking at a bottom-six that will include players such as Nicolas Aube-Kubel, Wayne Simmonds, Adam Gaudette and Calle Jarnkrok, as well as an aging defense that includes 38-year-old Mark Giordano, 32-year-old TJ Brodie and oft-injured 33-year-old Jake Muzzin. As of right now, the defense corps also features 30-year-old Justin Holl, whom the Leafs have been working hard to trade for a year.
Brodie, Giordano, Muzzin and Morgan Rielly give the Leafs a decent core to work with on the back end, but it's not a world-beating unit, and it's highly unlikely that they don't run into injury issues considering the age and histories of key players.
The top of the roster still remains a juggernaut with league MVP Auston Matthews, all-world playmaker Mitch Marner and dynamic winger William Nylander leading the charge, but the Leafs will be leaning on those three players more than ever this season thanks to issues with their depth and questionable goaltending.
Goaltending issues are not new for the Leafs, but this time around, it does feel like a very different problem from the recent past, when Toronto had a pretty good idea of what to expect from players such as Freddie Andersen and Jack Campbell. It just was a matter of if they'd be healthy/in-form for the postseason.
But with Andersen and Campbell out of town, the Leafs have seemingly just decided to embrace the volatility of goaltending and are going into the season with Matt Murray as the 1A and Ilya Samsonov as the 1B.
After winning back-to-back Stanley Cups with the Pittsburgh Penguins, Murray ran into injury problems and never really recovered. Since 2017-18, Murray has posted a .907 save percentage (SV%) and a -33.1 Goals Saved Above Expected (GSAx) in 184 games. And even though he posted decent numbers (.908 SV%, +3.9 GSAx) for Ottawa last season, he played only 20 games, and his numbers were buoyed by one red-hot stretch.
There is a world where Murray plays like a .910 goaltender, and that's really all the Leafs need with their offense. But even if he does accomplish that, he's also a severe injury risk and has been limited to just 85 games over the last three seasons.
As for Samsonov, there are questions on and off the ice as the Capitals were willing to let him walk for free despite his age (25), pedigree (he was picked 22nd overall in 2015) and the fact that he was still under team control. The mercurial Russian was suspended twice during the shortened 2020-21 season and lost the faith of his coaching staff and teammates last season, ultimately leading to his team pulling the plug on the relationship earlier than expected.
In addition to his off-ice issues, Samsonov's form over the last two seasons has been quite poor as the 25-year-old played just 63 games and posted a -17.32 GSAx and .898 SV%.
There is a world where Murray and Samsonov both come good and put up strong numbers for the Leafs, but that's basically asking for the best-case scenario for a team that really didn't have much go against it last season. The Leafs avoided any significant Covid-19 issues, they got generational performances from Auston Matthews and Mitch Marner, and supporting players like Ilya Mikheyev, Ondrej Kase, David Kampf, Pierre Engvall and Michael Bunting all had terrific seasons.
Another thing the Leafs had going for them the past two regular seasons is that they had plenty of canon fodder within their division. But that should change this year as Ottawa and Detroit improved significantly, while Buffalo and Montreal should be better than what they showed in 2021-22. Florida, Boston and Tampa Bay could take a step back, sure, but the floor in the Atlantic has been raised and that could make for a more competitive regular season for a team that hasn't had one in quite a while.
Last season the Leafs were around +900 to win the Stanley Cup on Opening Night. They're a little shorter, despite the fact that the consensus is that they got worse over the offseason and the teams below them in the division got better.
No matter how you look at it, a team with serious issues at the most important position should not be second-favorite to win the Stanley Cup. The Maple Leafs area solid team, but these prices are too high.
The Bet: Under 108.5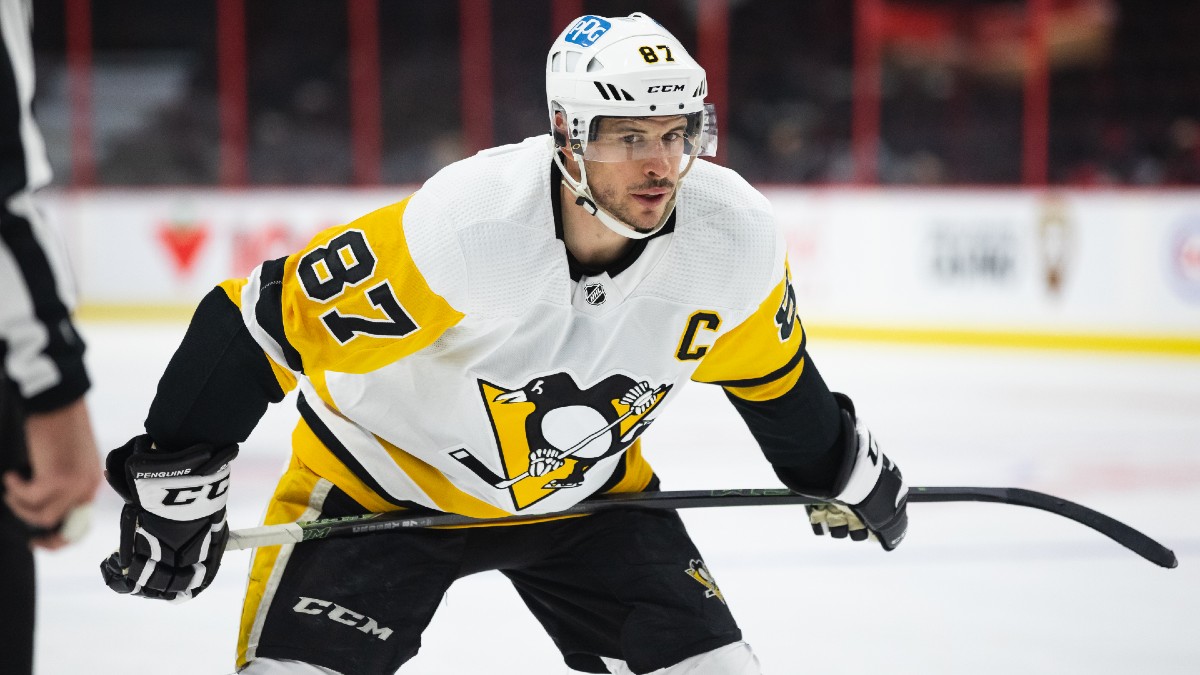 31. Pittsburgh Penguins
| | |
| --- | --- |
| Stanley Cup Odds | +1800 |
| Division Odds | +280 |
| Make/Miss Playoffs | -500/+380 |
| Over/Under | 101.5 |
Here we go again.
For the past four years, the hockey world asks the same question about the Pittsburgh Penguins: Are the wheels finally going to come off for a team that relies so heavily on three players over the age of 35? And each season, those who answer that question with a "Yes" (like I did last year) are made to look stupid when the Penguins are hanging around first place in the division at Christmastime.
This offseason the Penguins faced a crossroads. Two of those aforementioned elder statesmen, Kris Letang and Evgeni Malkin, were up for new contracts. And while rumors flew around that the Pens were ready to move on from at least one of them, both Letang and Malkin signed new deals to keep the band together with Sidney Crosby.
Crosby, Letang and Malkin are all generational talents, and their powers should not be doubted, but keeping all three of them healthy for a full season is going to be quite a task, and it seems pretty imperative they do so considering the depth behind them is lacking.
Sure, Jake Guentzel is a star scorer whom you can feel safe penciling in for 35 goals riding shotgun with Crosby, but behind him, the Penguins will be counting on Bryan Rust, Jason Zucker, Kasperi Kapanen, Danton Heinen, Rickard Rakell and 37-year-old Jeff Carter to provide the offense.
It's not a bad group, but it doesn't exactly inspire confidence when you consider Rust is probably the fourth-best forward of the bunch and he's on the wrong side of 30 and coming off a season in which he missed 22 games.
Despite injury problems with Malkin (who was limited to 41 games last season), Crosby, Zucker and Rust, Mike Sullivan was still able to squeeze everything out of this team.
Sullivan is one of the NHL's best coaches and somehow had the injury-depleted Penguins playing to a 54.2% expected goals rate (sixth-best in the NHL) and a +27 goal differential at 5-on-5 last season (ninth overall).
If the Penguins can find a way to repeat those numbers, they should be fine but a lot of their 5-on-5 success was built on a stingy defense that ranked fifth in the NHL in expected goals allowed (xGA). The Penguins re-vamped their blueline in the offseason, trading the steady but limited John Marino to New Jersey for Ty Smith, who is a high-risk, high-reward offensive defenseman. Smith will join fellow newcomers Jeff Petry (acquired for smooth-skating rearguard Mike Matheson) and former Lightning Jan Rutta on a defense corps that features five players over the age of 30.
Pittsburgh's new-look defense will play in front of Tristan Jarry and Casey DeSmith, who both return for another season in Steel City.
On the whole, Jarry was terrific in 2021-22. The 27-year-old posted a .918 SV% and +6.58 GSAx in 58 games and played a huge role in stabilizing the Penguins while they dealt with all their injuries. But it was really a tale of two halves with Jarry, as he posted a .909 SV% and -4.01 GSAx in his last 34 appearances before getting hurt at the end of the regular season.
Jarry's deputy, Casey DeSmith, has had his moments over his tenure in Pittsburgh, but he didn't set the world on fire last season with a .914 SV% and -0.98 GSAx in 26 games.
It's anybody's guess if Jarry will play more like the standout goaltender we saw from October until January or the below-average one who we saw after New Year's Day, but if it is the latter, the Penguins could find themselves in hot water.
Similar to the Leafs, bookmakers will handle the Penguins with caution so long as Sidney Crosby is in town. But this team was 25/1 on Opening Night last season and did not get significantly better. If Pittsburgh did improve, which is debatable, it was by a pretty thin margin.
The Penguins still have plenty going for them in 2022-23, but I'd argue that  hanging them as the seventh-favorite to win the Stanley Cup is pricing them at their ceiling.
While I do think the market is way too high on Pittsburgh to start the season, there is a positive bet I like for the Pens ahead of Opening Night. Jake Guentzel has hit the 40-goal plateau twice already in his career, including last year, and will likely be stapled to Sidney Crosby's hip once again this season.
Betting anybody outside of Auston Matthews, Connor McDavid and/or Leon Draisaitl in this market is probably a fool's errand, but it wouldn't be a stunner to see Guentzel threaten the 50- to 55-goal mark, which means he's got plenty of longshot value.
The Bet: Jake Guentzel to win Rocket Richard Trophy (+6000, bet365)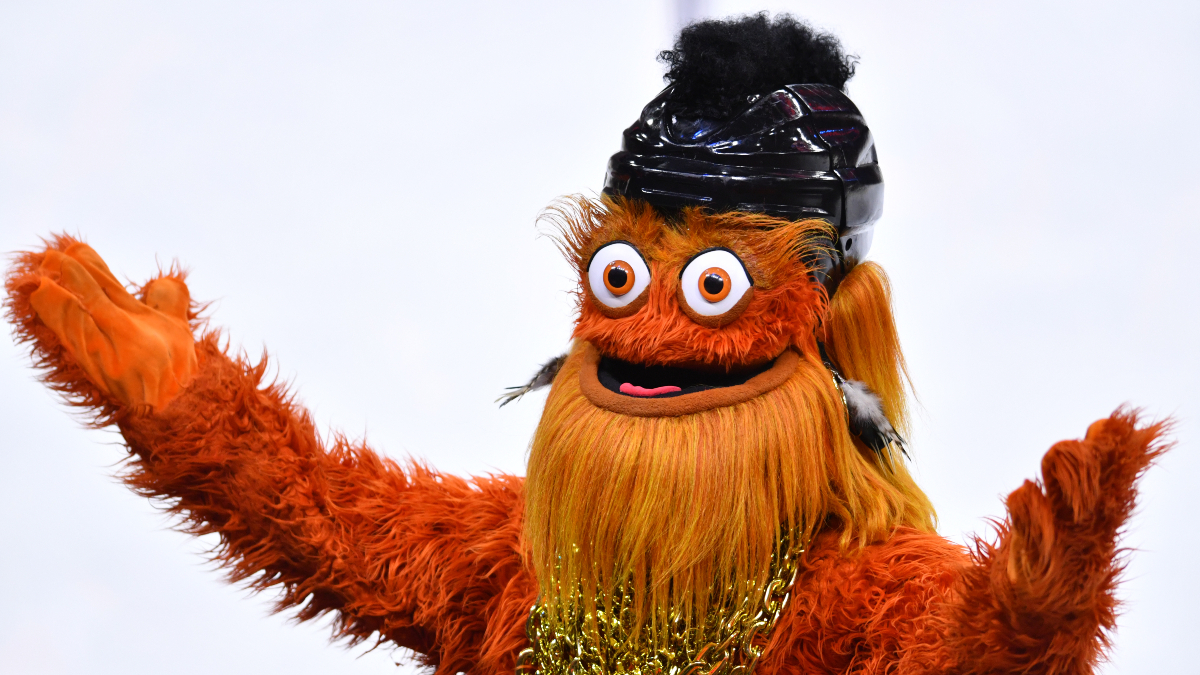 30. Philadelphia Flyers
| | |
| --- | --- |
| Stanley Cup Odds | +20000 |
| Division Odds | +7500 |
| Make/Miss Playoffs | +900/-1600 |
| Over/Under | 73.5 |
The Philadelphia Flyers were caught in purgatory over the past couple of seasons and didn't do anything this summer to clarify the direction of the team. Rather than trade away assets and begin rebuilding, the Flyers made big commitments to veterans Rasmus Ristolainen and Tony DeAngelo while not making any notable changes to improve a forward group that finished 31st in goals per game in 2021-22.
Right away the thing that sticks out for Philadelphia is the top-six. During his salad days, Sean Couturier was a legitimate No. 1 center and a two-way force. But the 29-year-old was limited to just 29 games in 2021-22 and will miss at least the first 6-8 weeks of 2022-23 with a back injury. Even if Couturier was healthy, he didn't have much help around him, especially now that Claude Giroux has moved on.
With Couturier out, Kevin Hayes, who is also coming off an injury-shortened season, becomes the de factor No. 1 center and will be flanked by some combination of Joel Farabee, Cam Atkinson, Travis Konecny or James van Riemsdyk to become one of the weaker top units in the NHL.
The Flyers could get step-forward seasons from young forwards Owen Tippett, Morgan Frost and Farabee, but none of them seems like safe bets to be consistent top-six producers at this point.
Philadelphia's defense is the strongest part of its roster, but that isn't saying much since this unit projects to be pedestrian at best. Ivan Provorov, Travis Sanheim and Tony DeAngelo are all capable rearguards, but none of them is a surefire top-pairing player, especially without the presence of a steady partner.
Cam York seems like he's trending well enough as a young defenseman that perhaps he breaks out, but with the players around him, that seems like a pie-in-the-sky gamble more than anything.
Philadelphia's goaltending situation is also a bit messy as young goaltender Carter Hart has endured a couple of tough seasons after what looked like a potential star-turn in The Bubble. After finishing the 2020-21 season with an .877 SV% and a -24.3 GSAx, Hart did seem like he was on his way to a bounce-back performance early in 2021-22. He posted a .917 SV% and +8.64 GSAx between Opening Night and New Year's Day, but he finished the season by posting an .897 SV% and -15.6 GSAx over his last 26 games.
It's hard to judge goaltenders, especially young ones playing behind bad teams, but it's anybody's guess where Hart's career goes from here.
New head coach John Tortorella does have a reputation for getting the most out of his teams, but if he can get this roster to compete for a playoff spot in the Metropolitan Division, it would be a minor miracle.
The Flyers opened with the fifth-lowest Over/Under this season – ahead of Arizona, Chicago, Montreal and San Jose – but I wouldn't be surprised if we see Philadelphia challenge Arizona for the second-worst record behind the Blackhawks. Because of that, I'll take a shot on the Flyers to win the Wooden Spoon at +1500.
The Bet: Philadelphia Flyers to have the worst record in the NHL (+1500, FanDuel)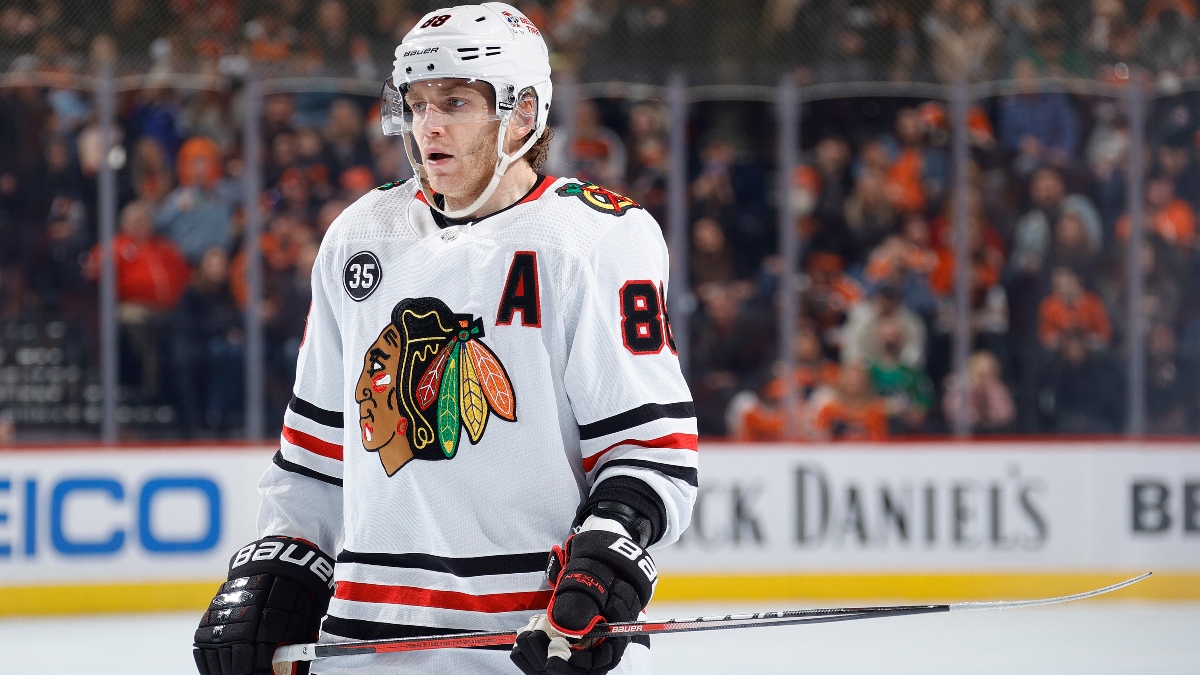 29. Chicago Blackhawks
| | |
| --- | --- |
| Stanley Cup Odds | +100000 |
| Division Odds | +50000 |
| Make/Miss Playoffs | +2500/-6000 |
| Over/Under | 66.5 |
There's no secret about what the Chicago Blackhawks are doing this season. With a generational draft class headlined by franchise-changing prospect Connor Bedard on the horizon, general manager Kyle Davidson and the Blackhawks have thrown in the towel on 2022-23 before it ever got going.
Kirby Dach, Alex DeBrincat, Dylan Strome and Dominik Kubalik all left this summer. Brandon Hagel departed at the trade deadline. Patrick Kane and Jonathan Toews are expected to be traded sooner rather than later. Chicago is tearing this thing down to the studs in the hope that a new era can help the team put its reputation back in order.
A drastic rebuild is likely the best choice for the Blackhawks. Last summer, they gave it the ol' college try by bringing in Seth Jones and Marc-Andre Fleury, but that proved to be a gigantic miscalculation. Chicago was terrible last season, which forced the Hawks into making some not-so-inspiring deals to trade away up-and-comers DeBrincat, Dach and Hagel, while letting Strome walk.
What's left is a roster that looks like it was constructed in an expansion draft. And not the one that Vegas put together. I'm talking Columbus Blue Jackets or Atlanta Thrashers-style drafts.
While we know that Kane can still produce like a star, he's got nothing around him. Last season, Kane had 41-goal scorer DeBrincat and 48-point man Strome to play with. There are no players of that caliber around anymore, and there's a chance we see Chicago roll with a first line of Kane, Max Domi and Andreas Athanasiou.
As ugly as things look on offense, the defense also has plenty of disaster potential with Jones standing out as the only true top-four defenseman now that Jake McCabe is hurt for a while. Connor Murphy, Jack Johnson, Caleb Jones, Riley Stillman and Alex Vlasic will round out the blueline and one of those players will need to be a top-pair rearguard. Not pretty.
To make matters worse, the Blackhawks also have more questions than answers in goal with a tandem of Petr Mrazek and Alex Stalock. Mrazek is fresh off being run out of Toronto thanks to a season that saw him post an .890 SV% and -12.9 GSAx in 20 games, while Stalock hasn't played since 2019-20 due to a heart condition.
Bookmakers are pricing the Blackhawks and Coyotes like peers, but I am much more bullish on Arizona's chances to be not-the-worst-team in the NHL compared to Chicago.
Which brings me to the betting strategies.
First of all, I think this Over/Under is too low. Sure, it's a scary proposition to back a team to not reach the 67-point plateau, but let's look at the trend when it comes to the bottom-dwellers.
In the last six full seasons (not including 2019-20, 2020-21) the worst team in the NHL finished with an average of 57.7 points and only one of them tallied more than 67 points.
2021-22: Montreal Canadiens, 55 points
2018-19: Ottawa Senators, 64 points
2017-18: Buffalo Sabres, 62 points
2016-17: Colorado Avalanche, 48 points
2015-16: Toronto Maple Leafs, 69 points
2014-15: Buffalo Sabres, 54 points
2013-14: Buffalo Sabres, 52 points
Chicago is probably going to be worse than almost every team on that list. Not only is this a historically bad roster, but it will only get worse as the season goes on and the Hawks trade away players to continue building toward the future.
The Under 66.5 is a fine bet, but if you have access to Bet365, they have a market for "Worst Record" (known as the Wooden Spoon in Australian Rules Football) and they've got Chicago at +400. I'd make them the clear favorite.
The Bet: Chicago Blackhawks to have the league's worst record (+400, bet365)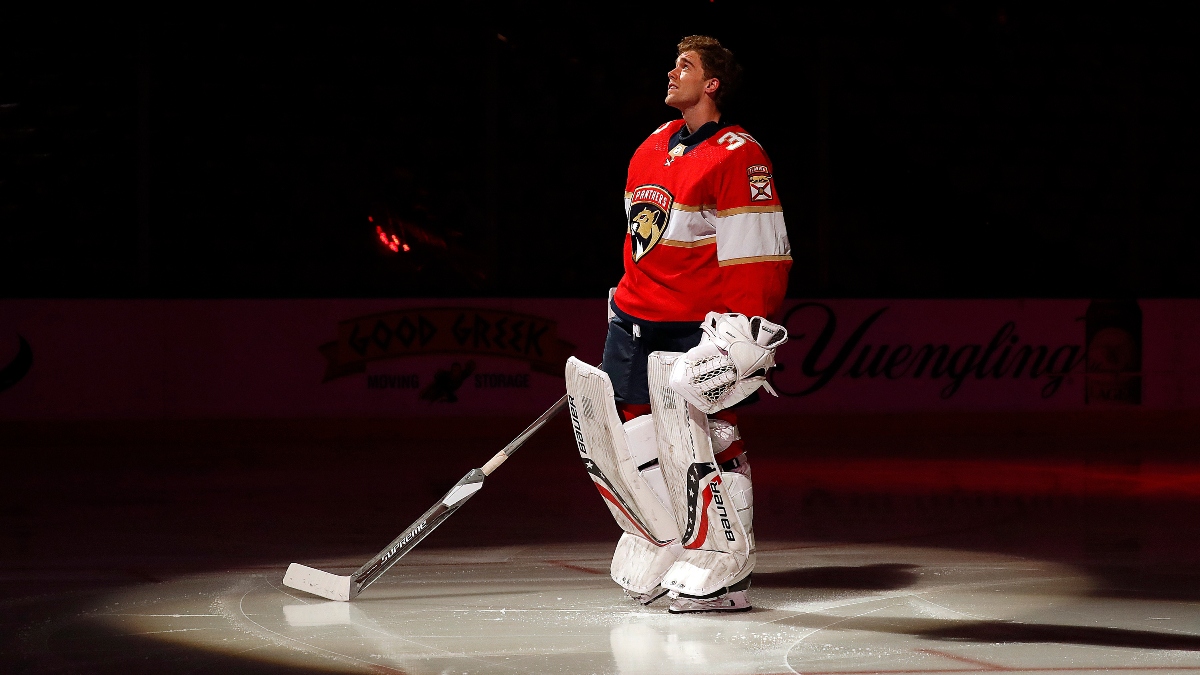 28. Florida Panthers
| | |
| --- | --- |
| Stanley Cup Odds | +900 |
| Division Odds | +200 |
| Make/Miss Playoffs | -900/+600 |
| Over/Under | 105.5 |
The Florida Panthers set the hockey world on fire last season. Not only did the Cats win the Presidents' Trophy, but they did it in style by scoring a Salary Cap Era record 337 goals (4.11 per game) and pacing the league in shot attempts, shots on goal, expected goals created and high-danger scoring chances. That kind of offense obviously skewed Florida's betting splits as the Cats were the third-most profitable "over team" in 2021-22 at 46-30-6.
Of course, none of that mattered come playoff time as the Cats struggled to dispatch the No. 8 seed Washington Capitals in Round 1 and then were unceremoniously swept by the Lightning in Round 2. It was the second straight year that the Panthers' intrastate rival dumped them out of the playoffs, and it became clear pretty quickly afterward that changes were coming to Sunrise.
And then all hell broke loose.
Not only did Florida swap out interim head coach Andrew Brunette for Paul Maurice, but the Panthers also shocked the hockey world by trading Jonathan Huberdeau and Mackenzie Weegar to Calgary for Matthew Tkachuk.
However Tkachuk-for-Huberdeau plays out from a pure production standpoint next season remains to be seen, but what it certainly does is change the make-up of a forward group that had its way with the league during the regular season but lost its way once the tournament started. Tkachuk should give Florida a new dimension as a straight-forward, sandpaper-type forward who excels at getting under the skin of his opposition.
It may take some time for superstar center Aleksander Barkov to get used to his new running mate after so many years with Huberdeau, but it does seem like a pretty safe bet that this attack, which also features Sam Reinhart, Sam Bennett, Carter Vehaeghe and Anthony Duclair (who is out for the first half of the season), will score at will throughout the season.
Offense will be Florida's calling card again in 2022-23, but it will likely be the defense and goaltending that decide the fate of the season because it could go a number of different ways.
By trading away Weegar, who spent the last two seasons forming a terrific partnership with Aaron Ekblad on the team's first pair, the Panthers have weakened an already thin blueline that severely drops off behind Ekblad. Gustav Forsling has shown some significant promise in his young career and is a good bet to get the first crack at playing with Ekblad, but it's no sure thing that he can handle a much bigger role.
Ekblad thrived with Weegar. The two were a match made in heaven, and with Weegar next to him, Ekblad began to realize his potential as a former No. 1 overall pick. With one of the best pairings in the league at the top of the lineup, the Panthers were able to shelter the rest of the defense when it needed to do so. They may not have that luxury anymore, which means there will be more pressure on the offense and the goaltending to produce.
As for the goaltending, the Panthers have themselves an interesting dilemma. Spencer Knight is widely considered to be one of the best young netminders in hockey, but he's partnered with the most expensive goalie in the NHL, Sergei Bobrovsky. After a couple of down seasons, Bobrovsky rebounded nicely last year with a .911 SV% and +12.14 GSAx in 54 games, but the 33-year-old did stumble a bit down the stretch before putting in some solid work in the postseason. Knight's season patterned out differently, as he struggled out of the gates but rounded into form in the second half of the season by posting a .917 SV% and +5.62 GSAx over his last 15 appearances.
It's anybody's guess who will end up being the No. 1 goalie in Florida, but it's no sure thing that either player is good enough playing behind a defense that looks leaky on paper.
It may sound obvious to say that Florida is going to take a step back after winning the Presidents' Trophy, but it's hard to make an argument that the Panthers aren't on shakier ground entering this season than they were last October. The ceiling may still be quite high, but the floor is low enough that I would be a tad worried about how Florida puts everything together under a new head coach.
There are still more answers than questions with the Panthers, but the landscape of the Atlantic Division and Eastern Conference has shifted from being very top-heavy to being quite deep. The Lightning, Leafs and Bruins will all still be solid, while the Senators and Red Wings each made significant strides forward this offseason. If Florida struggles out of the gates, the Cats could find themselves in a fistfight to just get into the playoffs.
These odds flatter the Panthers, who are being priced like the team we saw last season rather than the one we should expect in 2022-23.
While I am fading the Panthers as a team this season, I do think one player who could be worth a longshot bet is goaltender Spencer Knight. While it remains to be seen whether or not Knight will get the majority of the starts in Florida next season, he has a top-level pedigree and finished last season in great form, posting a .917 SV% and +5.62 GSAx over his last 15 appearances. If Knight is able to grab the starting gig, he could have a break-out season on a good team, so there's a path to some individual success here.
The Bet: Spencer Knight to win the Vezina Trophy +15000 (bet365)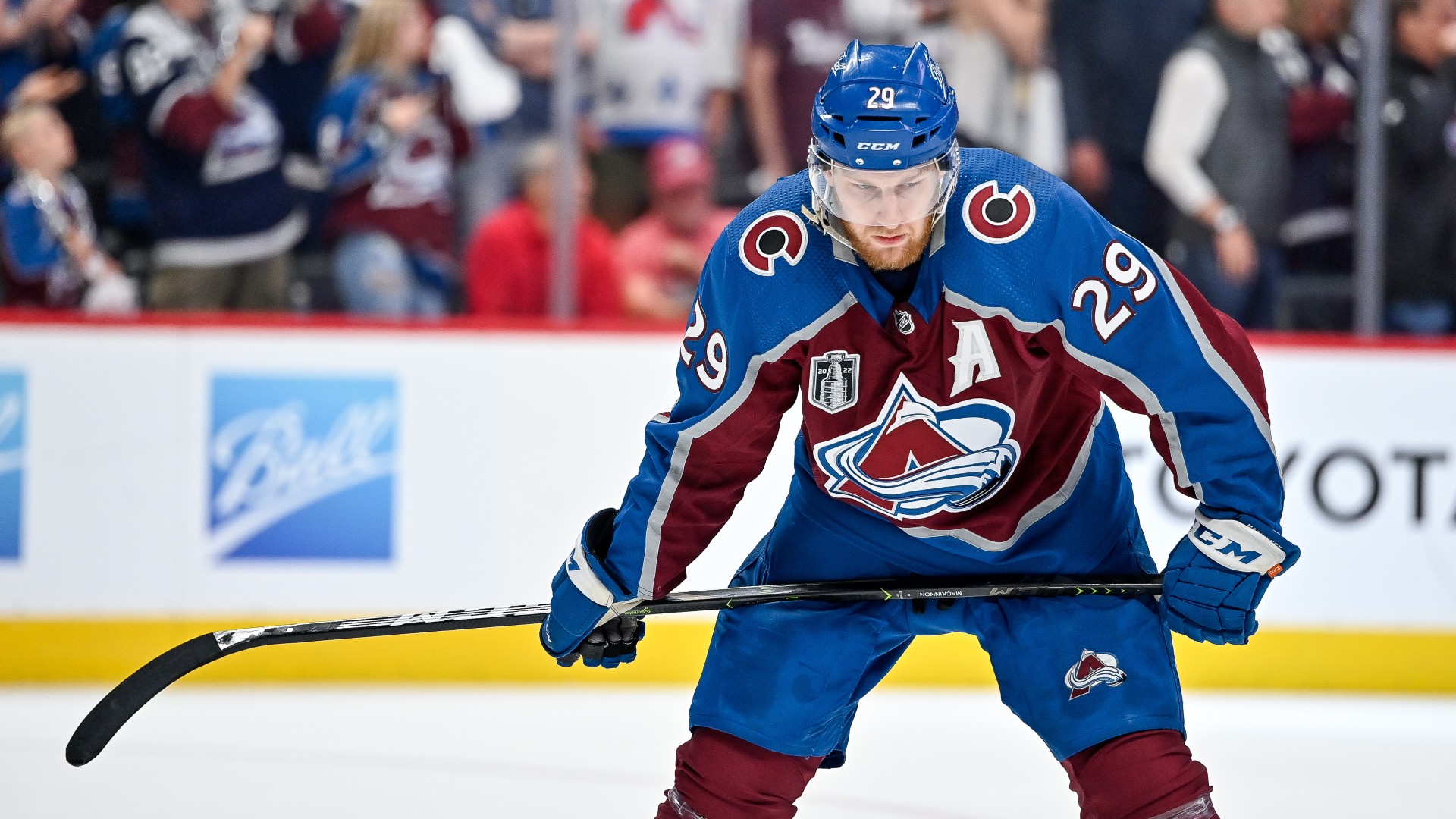 27. Colorado Avalanche
| | |
| --- | --- |
| Stanley Cup Odds | +380 |
| Division Odds | -150 |
| Make/Miss Playoffs | -4000/+1500 |
| Over/Under | 110.5 |
One look at the oddsboard for the 2022-23 NHL season and you can plainly see how the market views the upcoming campaign: There's the Colorado Avalanche and then there's everybody else.
And while I agree with that sentiment and think the Avalanche are deserving of their status as the consensus favorites, it's also fair to say that the Avs got worse over the summer. Such is the price for winning the Stanley Cup.
Not only did Colorado lose goaltender Darcy Kuemper, but their middle-six was also gutted as Nazem Kadri (87 points) and Andre Burakovsky (61 points) also walked during free agency.
With very little cap space to play with and Nathan MacKinnon due a big raise, the Avs had to make some tough calls and basically could not replace Kadri or Burakovsky. Promising youngster Alex Newhook will likely slot in for Kadri as the new 2C while Artturi Lehkonen and Valeri Nichushkin will round out the top-six.
That trio playing behind Nathan MacKinnon, Gabriel Landeskog and Mikko Rantanen still provides the Avs with an incredible foundation, and Colorado's defense still sets up splendidly with Cale Makar, Devon Toews, Samuel Girard and Bowen Byram leading the charge, but the goaltending has the potential to turn into a major issue.
The Avs front office definitely deserves the benefit of the doubt for the work they did building a generational team, but swapping out Kuemper for Georgiev is quite the risk.
A lot of noise was thrown at Kuemper for the way he performed in the playoffs (.901 SV%, -7.3 GSAx in 16 games), but that glosses over the fact that he was terrific during the regular season with a .920 SV% and +15.9 GSAx. The Avalanche can outscore pedestrian netminding, but they actually got terrific goaltending for the regular season. Plus, the task of consistently winning despite mediocre goaltending will be tougher without the likes of Kadri and Burakovsky.
It's really anybody's guess how Colorado's new goaltending tandem works out. Both Alexandar Georgiev and Pavel Francouz are complete wild cards at this point in their respective careers. The Avs clearly like Francouz, and he's been quietly solid with a .921 SV% in his first two seasons in the league, but he's got only 57 games of NHL experience and has always played a deputy role.
Georgiev has more NHL experience compared to Francouz, but he's spent a lot of time on the bench as the No. 2 for the New York Rangers over the past five seasons. Georgiev made no secret that he wanted out of Manhattan so he could get out of Henrik Lundqvist and Igor Shesterkin's shadow, but his play and off-ice attitude issues made it hard for the Rangers to find a suitor.
Through his first 77 games as a Ranger, Georgiev posted a .914 save percentage and looked like a solid bet to become a decent NHL goaltender. But the emergence of Shesterkin meant Georgiev played a bit-part role over the past two seasons and his numbers tanked to a .901 SV% and -8.4 GSAx in 55 games.
If Georgiev plays closer to the level he was at early in his career and Francouz remains a steady-handed backup, the Avalanche will not miss much of a beat, and these short odds will make a lot of sense. But with a lot of production needing to be replaced and a questionable goaltending tandem, it's hard to play these kinds of numbers on a team that could have more flaws than people realize after hoisting the Stanley Cup in June.
In closing, I'd be very surprised if this number on Colorado gets any shorter throughout the season. If you are looking to buy the Avs, you'll likely get a chance to do so at a better price at some point.
The Bet: Under 110.5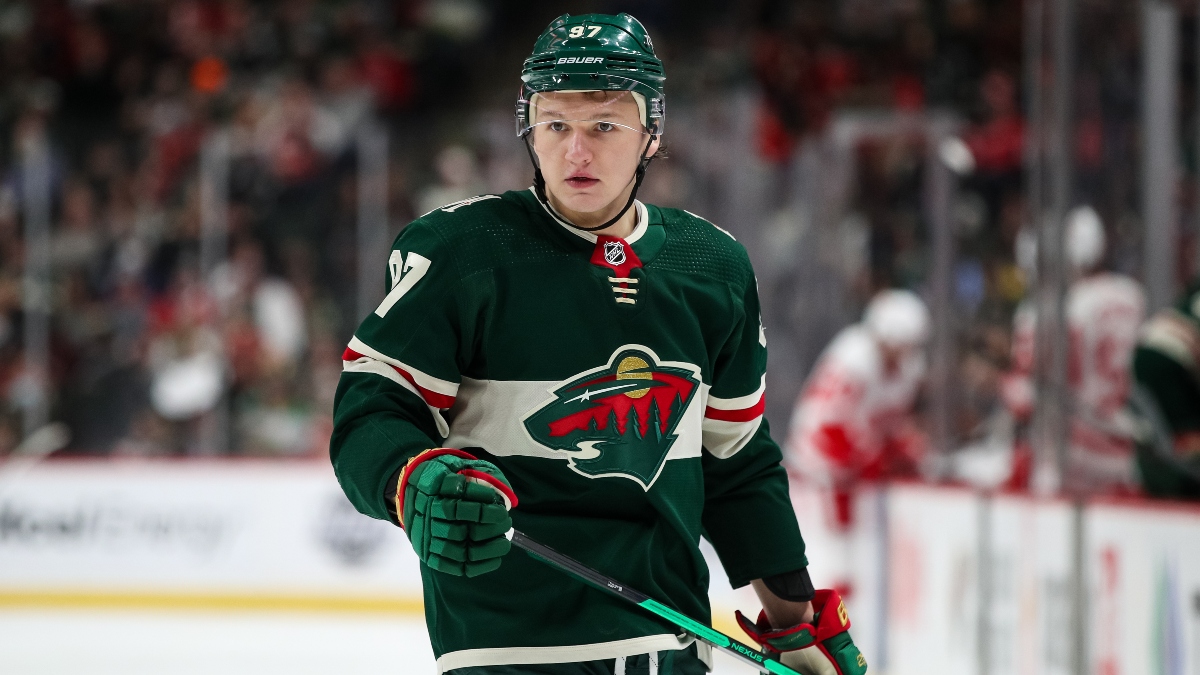 26. Minnesota Wild
| | |
| --- | --- |
| Stanley Cup Odds | +1700 |
| Division Odds | +330 |
| Make/Miss Playoffs | -500/+360 |
| Over/Under | 101.5 |
With the team playing the season with $12.7 million in dead cap thanks to the buyouts of Ryan Suter and Zach Parise, the fact the Minnesota Wild's roster is good enough to be a top-10 favorite is impressive, though I do think these odds flatter Minnesota a bit. But that's nothing new for me; I'm generally lower on the Wild than the market.
Minnesota was never going to truly threaten Colorado's status in the Central Division last season, but the Wild did give a strong account of themselves with the fifth-best record in the NHL. Minnesota's underlying metrics were also solid as the team finished sixth in expected goals rate, second in expected goals against, and second in high-danger scoring chances conceded.
The Wild also boasted the second-best 5-on-5 goal differential, but this is where my skepticism begins. Only Florida scored more goals at 5-on-5 than the Wild did last season, but Minnesota's 2.45 xG per 60 minutes lagged behind its 3.23 G/60 by quite a bit. The Wild's offense could regress, especially since they had to trade away 33-goal and 85-point man Kevin Fiala to the Kings. Twenty-eight of Fiala's 33 tallies came at 5-on-5, which is a lot of production to replace.
Minnesota does have a couple of high-ceiling youngsters, Matt Boldy and Marco Rossi, who can help pick up the slack left by Fiala. But it's not a sure thing that both, or either, can take a leap forward, even if Boldy was terrific in his 47-game stint in the NHL last season.
The team's depth down the middle also gives me a bit of pause, especially if Rossi doesn't take to a bigger role right away. Joel Eriksson Ek is a dynamic two-way pivot, but after him, Minnesota will be counting on Frederick Gaudreau, Ryan Hartman and Rossi along its spine. Gaudreau and Hartman are both capable NHL centers, but they're not going to jump off the page at you.
Minnesota has been able to overcome some suspect center depth thanks to the presence of Kirill Kaprizov, who is one of the game's best players at 25 years old.
After posting 27 goals and 24 assists in 55 games as a rookie in 2020-21, Kaprizov went into a different stratosphere in his sophomore campaign, notching 108 points (47 goals, 61 assists) in 81 games.
As long as Kaprizov stays healthy, the Wild should still be able to produce enough offense to separate themselves from the chasing pack in the Western Conference.
And even if Minnesota's offensive production does take a step back without Fiala, the defense is good enough that the Wild should still win plenty of tight contests, so long as the goaltending holds up.
Like with every team in this godforsaken sport, the Wild will need strong goaltending to have a chance of contending. That responsibility will fall squarely on the shoulders of Marc-Andre Fleury, who returns to Minnesota after getting traded to the Wild at the deadline last spring. Fleury is just one season removed from a Vezina Trophy and is a lock for the Hall of Fame, but it is fair to be skeptical that the 37-year-old will be able to shoulder the workload that Minnesota expects out of him this coming season, especially since he didn't perform all that well in 2021-22.
Of course, Fleury spent a lot of last season playing for a terrible Blackhawks team, but that doesn't change that he's been inconsistent over the past few seasons. After posting a .912 SV% and +6.75 GSAx in 61 games for Vegas in 2018-19, Fleury dipped to a .904 SV% and -14 GSAx in 49 games in 2019-20. The next season he won the Vezina with a .927 SV% and +19.9 GSAx. But he wasn't able to follow up that performance, either, as he posted a .908 SV% and -12.6 in 56 appearances with Chicago and Minnesota.
It's been a real roller coaster for Fleury since leaving Pittsburgh, but his play will dictate just how good Minnesota is this coming season. Filip Gustavsson is projected to be the deputy for the Wild, and it's anybody's guess how he pans out after being traded from Ottawa. Gustavsson has played 27 NHL games and has skated to a .905 SV% and -4.35 GSAx.
Minnesota is likely to be a strong team in 2022-23, but the goaltending situation is a little dicey, and the departure of Fiala could cause this team to step back a little offensively. The margin for error for the Wild is thinner this season than it was in 2021-22.
In the end, I think the market is too high on Minnesota heading into the new season. The Wild are likely the second-best team in the Central Division, but the gap between them and the Blues is a lot tighter than the outright odds suggest.
If you are looking for a pro-Wild bet, there is some value on Kaprizov to win the Hart Trophy at +1400. Beating out Connor McDavid, Auston Matthews, Leon Draisaitl and Nathan MacKinnon is a tall order, but Kaprizov just notched 108 points in his second NHL season and will be relied upon to replicate – or even improve – that production with Fiala out of town.
The Bet: Kirill Kaprizov to win the Hart Trophy (+1400, bet365)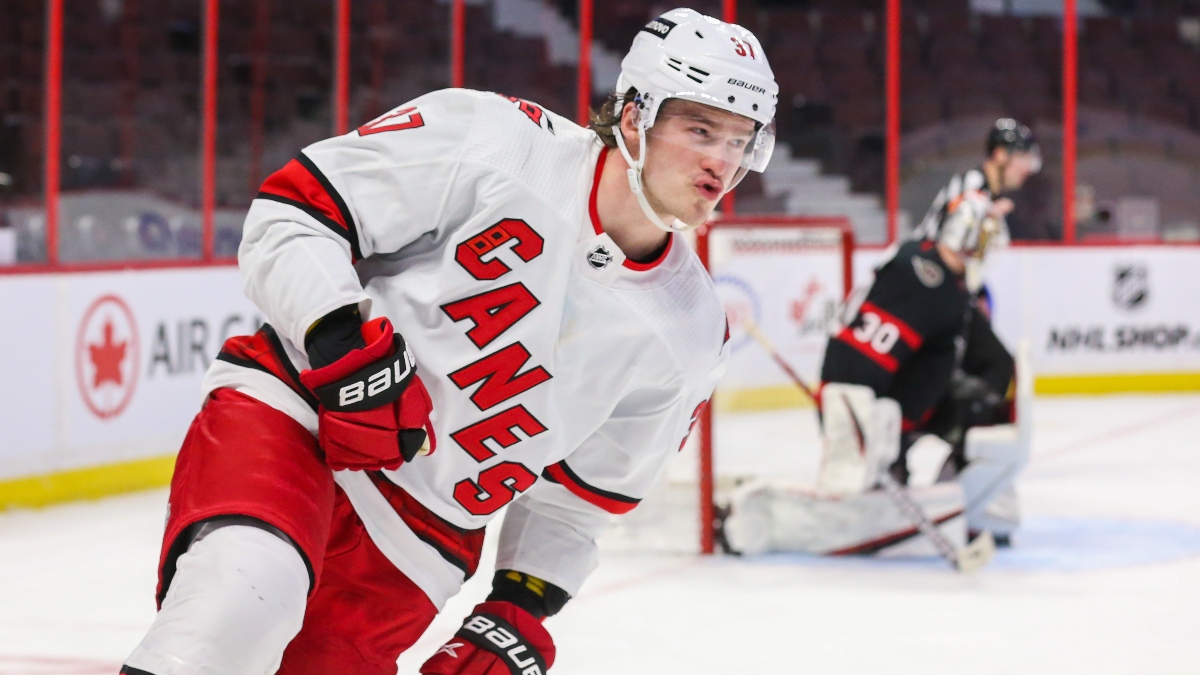 25. Carolina Hurricanes
| | |
| --- | --- |
| Stanley Cup Odds | +1100 |
| Division Odds | +200 |
| Make/Miss Playoffs | -500/+380 |
| Over/Under | 102.5 |
The Carolina Hurricanes do things differently compared to the rest of the NHL. Unafraid of roster turnover, the Canes watched Vincent Trocheck, Tony DeAngelo, Nino Niederreiter and Ian Cole depart via free agency. Trocheck, DeAngelo and Niederreiter finished fourth, fifth and sixth respectively in points for Carolina last season, while Cole averaged 17 minutes of ice time in 79 games.
For most teams, that amount of turnover could be an issue, but Carolina is used to it by now and replaced that supporting cast with Paul Stastny, Ondrej Kase, Brent Burns and Max Pacioretty (who will be out for most of the season with an ACL injury). The Pacioretty loss hurts, especially since the Canes could use another finisher in their top-six, but Carolina's foundation still remains intact and should keep the Canes humming until Pacioretty joins the fray for the stretch run.
Carolina was one of the best 5-on-5 teams in the NHL last season. The Canes finished with the third-best 5-on-5 goal differential, fourth-best xG differential, second-best shot share and third-best high-danger scoring chance rate.
The top of Carolina's roster remains dynamic, but it also has plenty of room to grow. Sebastian Aho is a point-per-game player and is only 25. Andrei Svechnikov has already hit the 30-goal plateau as a 21-year-old. If Seth Jarvis, who scored 17 goals and notched 23 assists in 67 games as a 19-year-old rookie, takes another step forward and Martin Necas bounces back after an ugly second half of last season, the Hurricanes should be able to cope with losing Niederreiter and Trocheck just fine.
Like with any team, a lot hinges on the goaltending for the Hurricanes. Frederik Andersen was superb in his first season in Raleigh, posting a .922 SV% and +28.5 GSAx in 52 games, but he got injured late in the season and missed Carolina's entire postseason run. The injury was not only ill-timed but also concerning for projecting Andersen this season as it only added to his reputation for spending too much time on the injured list.
Also concerning is that last season was a bit of an outlier for Andersen in terms of recent performance. The 32-year-old Dane was one of the league's most reliable goaltenders from 2013 to 2019, but his play began to fall off in his last couple of seasons in Toronto before bouncing back with Carolina. Over his final three seasons with the Leafs, Andersen posted a .911 SV% and a -13 GSAx, so it's not like he's a sure thing to maintain his form from 2021-22.
Carolina will need Andersen and his deputy, Antti Raanta, to at the very least be above-average because the Canes are a bit leaky defensively. Because its offense creates plenty of scoring chances (Carolina finished second in xGF and HDCF last season), the Hurricanes can live with some defensive deficiencies, but that does put pressure on the netminders. Carolina allowed 2.51 xGA/60 last season (15th) but conceded only 2.17 goals per 60 minutes (third), which tells you just how important Andersen was to this team during the regular season.
Bookmakers have installed Carolina as the favorite to win the Metropolitan Division, and that seems fair, but there is a chance this team takes a step back if the goaltending isn't as strong as it was last season or the addition of Brent Burns doesn't work out on defense.
The Metropolitan Division and Eastern Conference are too deep for there to betting value on the Canes at a team level at these prices, so instead we'll take a poke into the awards market and land on a longshot MVP bet.
Sebastian Aho has established himself as a reliable point-per-game player in his career (287 points in his last 285 games) and is right in the prime of his career, so a big leap is not out of the question for an elite player.
The Bet: Sebastian Aho to win the Hart Trophy (+6000)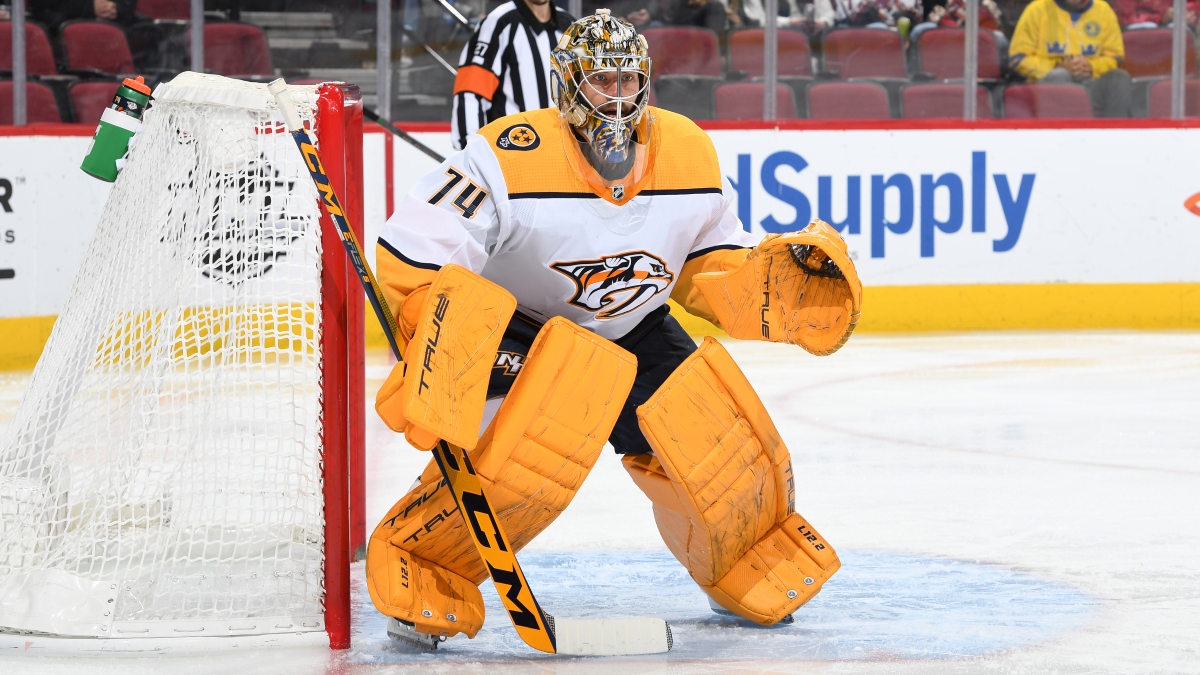 24. Nashville Predators
| | |
| --- | --- |
| Stanley Cup Odds | +3500 |
| Division Odds | +1000 |
| Make/Miss Playoffs | -175/+145 |
| Over/Under | 96.5 |
The Nashville Predators were a quietly pleasant surprise in 2021-22. The Preds came into the season with an Over/Under set at 85.5 points and were +250 to make the playoffs, but they cleared both of those hurdles to push talk of a rebuild off for at least another season.
The Preds come into the new season with an Over/Under set 11 points higher and are odds-on to make the playoffs at -175. Is this an overreaction? Or are the Predators a safe bet to make it seven consecutive (non-bubble) appearances in the spring fling?
Everything with Nashville begins and ends in goal with Juuse Saros. One of my favorite bets going into last season was a 40/1 punt on Saros to win the Vezina Trophy, and though he was nominated, it was never close because of Igor Shesterkin's blood-and-thunder show. Saros enters 2022-23 as the fourth-favorite for the award at +1000.
That is probably a fair number for Saros, who posted a .917 save percentage and +12.6 GSAx in a league-high 67 starts. Unfortunately, Saros got injured at the end of the regular season and missed the playoffs, sinking any hope Nashville had of giving the Avalanche a run for their money in Round 1.
Saros will be ready to go for training camp and will likely challenge for the league lead in starts once again because his deputy goaltender, Kevin Lankinen, really struggled in 2021-22 with Chicago.
There is a chance that Lankinen gets surpassed by blue-chip prospect Yaroslav Askarov, but the Preds will likely want him to get game time and not sit on the bench. He is worth noting, though.
While Saros was one of the stars for Nashville last season, he was hardly the only one. In fact, one of the most surprising storylines on this surprising team was that the Preds got sensational performances from Matt Duchene (43 goals, 43 assists) and Ryan Johansen (63 points) upfront. Duchene and Johansen are good players, but they're both on $8 million contracts and never really came close to living up to those tickets, so the league kind of moved on from them. Not so fast.
Duchene and Johansen will need to put up similar numbers for Nashville to maintain, or improve on, their standing in the Central Division, but they're the supporting cast behind Roman Josi and Filip Forsberg.
Josi was one of the best players in the league last season, and he can feel a little hard done by the fact he didn't win the Norris Trophy after posting an absurd 96 points as a defenseman. Not only was that the 11th-best mark in the NHL, but it was 10 points better than any other defenseman in the league last season.
While not on the same level as what Josi did, Filip Forsberg etched his name into Nashville lore with a 42-goal season and celebrated by signing a massive extension.
Saros, Josi, Forsberg, Duchene and Johansen form a pretty strong nucleus, and you could also throw Mattias Ekholm, Ryan McDonagh, Nino Niederreiter and rookie standout Tanner Jeannot into that mix, as well. But it does start to get worryingly average after that group.
Johansen proved he could still carry the mail as a No. 1 center last season, but whether he can repeat that performance (or stay healthy) is a different question. And if he falters, the center depth is a concern with Mikael Granlund, Colton Sissons, Philip Tomasino and Cody Glass slated in behind him.
The defense looks a more reliable unit, especially with McDonagh in town after winning two Stanley Cups with Tampa Bay, but they'll be shouldering a ton of pressure (along with Saros) because Nashville's offense could struggle to be anything more than average. I just have a hard time believing that Duchene and Johansen will repeat what they did last season.
In the end, I think this is a classic case of the market overreacting to the previous season. The Predators are a team I'd project on the playoff bubble, so the margins are just way too thin for this team to be -175 to make the playoffs.
That said, if you are looking for a positive Predators bet, Josi is +7500 to win the Hart Trophy. It would take a monstrous effort for Josi to become the first blueliner to win MVP since Chris Pronger in 1999-2000, but he's finished inside the top-seven in voting in two of the last three seasons (he was sixth last year), and if he can eclipse the 100-point mark and the Preds do get into the playoffs, he will get some love.
The Bet: Roman Josi to win the Hart Trophy +7500
23. San Jose Sharks
| | |
| --- | --- |
| Stanley Cup Odds | +18000 |
| Division Odds | +15000 |
| Make/Miss Playoffs | +900/-1600 |
| Over/Under | 76.5 |
The San Jose Sharks have put themselves in a tough spot. After spending the better part of the 2010s as one of the best teams in the NHL, the Sharks' window has slammed shut and left the team in a place that's a little worse than hockey purgatory.
The Sharks have several veteran players signed to unmovable contracts, meaning they can't just tear it down and bottom out like the Sabres, Blackhawks and Coyotes have done over the past couple of seasons. That would be the best course of action for San Jose, but instead, the former regime at the Shark Tank decided to sort of stay the course by signing Tomas Hertl to an eight-year deal last season. Hertl would have fetched San Jose quite the haul at the deadline, but the team instead elected to re-up the 28-year-old and keep its top-six intact from last season.
The top of San Jose's roster does not look like it belongs on a bottom-dweller. It isn't great, but you could do worse than a combination of Hertl, Timo Meier, Logan Couture, Alexander Barabanov, Kevin Labanc and Oskar Lindblom. The ceiling isn't that high, but it does go up a little bit if rookies William Eklund and Thomas Bordeleau are able to bring the goods (Eklund is +1400 to win the Calder Trophy, Bordeleau is +2200).
But even if the two youngsters kick it into gear and Meier continues his star-ward trajectory playing alongside Hertl and/or Couture, the rest of the roster will have a lot of work to do to keep the Sharks relevant.
On the blueline, the Sharks will lean too heavily on 32-year-old Erik Karlsson, who is the de facto No. 1 defenseman just because nobody else really comes close to being able to fulfill that role for this team. Marc-Edouard Vlasic's salad days are way behind him, Mario Ferraro would be fine in the right role but he's likely going to be asked to play top-pair minutes, while Radim Simek, Markus Nutivaara and Matt Benning are all replacement-level players at this point. Perhaps Artemi Kniazev or Ryan Merkley takes a step forward and is able to round out the top-four a little better, but it's really not a stretch to call this one of the weakest bluelines in the NHL.
And it's not like they're going to be playing in front of a dynamite goaltending tandem, either. James Reimer was quite solid for San Jose in 48 games last season, but the veteran goaltender has basically alternated between strong and poor campaigns over his career. And we're not talking crazy floors or ceilings with Reimer, either. He'll be hovering just below, at, or just above average.
With Adin Hill out of town, Kaapo Kahkonen will be the 1B netminder in the Bay Area, and even though he's coming off his best season in the NHL, his .912 save percentage and +2.8 GSAx in 36 games aren't going to leap off the page, especially since he was coming off a .901 SV% and -15.4 GSAx performance in 2020-21.
A tandem of Reimer and Kahkonen is actually quite appropriate for the Sharks since it's unlikely to be bad enough that it sinks them, but it also won't be strong enough to cover up the holes in front of them.
On paper, you'd have expected the Sharks to be a leaky defense in 2021-22, but that wasn't actually the case. Per Action Labs, the Sharks finished the season tied with the Rangers for most Under Games (47) in 2021-22. I found that very surprising given the team's defensive personnel and the fact that scoring was up quite a bit in the league last season. You'd figure the Sharks would be ripe for the picking in that kind of environment.
I'd be shocked to see San Jose continue to trend as an under team in 2022-23, though. The Sharks hired Dave Quinn as their new head coach, and the last time we saw him, he was coaching a Rangers team that was near the bottom of the NHL in preventing scoring chances.
The Bet: Sharks Overs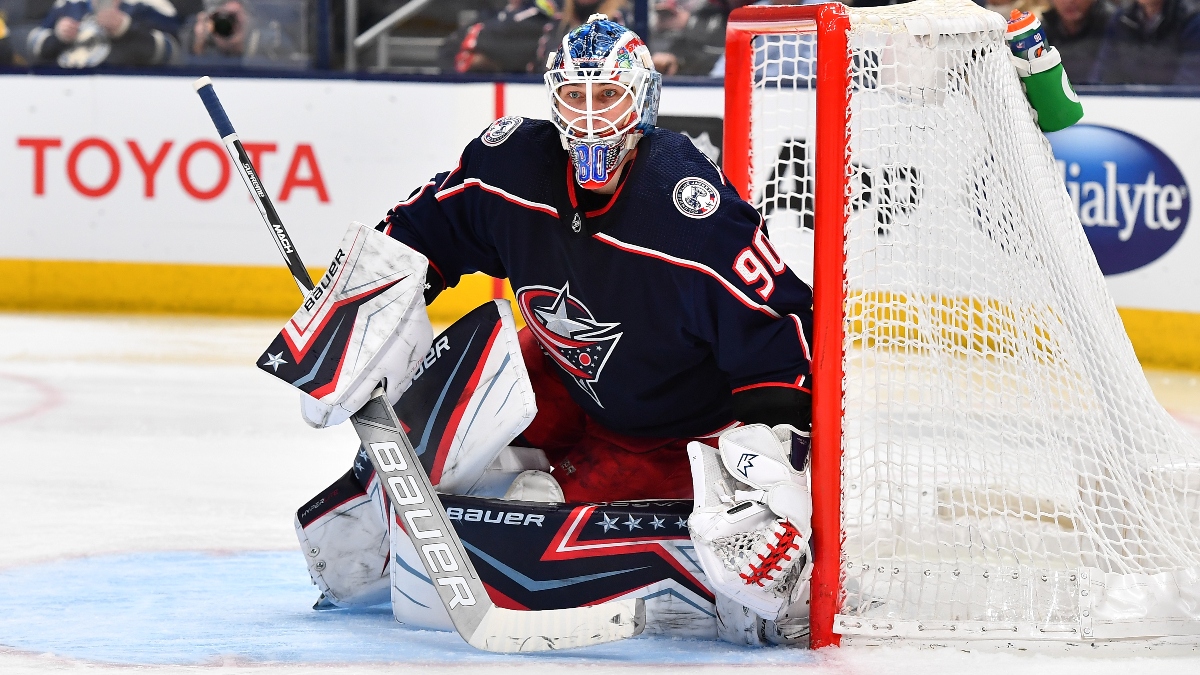 22. Columbus Blue Jackets
| | |
| --- | --- |
| Stanley Cup Odds | +10000 |
| Division Odds | +5000 |
| Make/Miss Playoffs | +600/-900 |
| Over/Under | 79.5 |
In a stunning move, the Columbus Blue Jackets came out of nowhere to land Johnny Gaudreau, the biggest free agent on the market. The signing was a gigantic coup for the Jackets, who have long rued the fact that they couldn't compete with bigger markets when it came to keeping/signing free agents.
It can't be understated how important the Gaudreau move is for Columbus in the long term, but will it be enough for this team to close the gap between them and the Metropolitan heavyweights for 2022-23? That's a different question entirely.
Gaudreau is an offensive whiz, and he'll join a top-six that also features Patrik Laine. But Columbus' problem was not the offense last season. That's not to say the Jackets scored the lights out – they didn't – but the real issue with this team was the defense.
Last season Columbus finished 28th in goals allowed, 28th in goals against at 5-on-5, 32nd in expected goals against, 28th in high-danger scoring chances allowed, and 29th in shot attempts allowed at 5-on-5. A defense that leaky puts a ton of pressure on the rest of the team, the goaltenders will be busy and the offense needs to score to cover up the defensive misgivings, and the Jackets just don't have the personnel to accomplish that feat.
Gaudreau and Laine should create some serious magic on the first line, and throwing them together on a power play with Jakub Voracek will be fun, but the team's center depth calls into question just how much of an impact these star wingers will have this season.
Going into the season, the Blue Jackets are projected to roll with Boone Jenner, Cole Sillinger, Jack Roslovic and Sean Kuraly down the middle, which would put Columbus near the bottom of the league if you ranked each club's center depth. There is a chance that Sillinger, who netted 16 goals and 15 assists in 79 games as an 18-year-old last season, is able to take on a bigger role and develops into a first-line center, but that's a gamble. And even if he does, Jenner and Roslovic aren't the strongest options as No. 2 pivots.
And it's also worth mentioning that signing Gaudreau and extending Laine cost the team Oliver Bjorkstrand, who was traded to the Kraken for nothing. An unheralded scorer, Bjorkstrand potted a career-high 28 goals (19 at even-strength) and 57 points in 80 games last season. Gaudreau should be able to make up for that production, but it's not like the Johnny Hockey signing didn't come at a cost.
Even if the Jackets do get above-league-average production out of their forward group, that still may not be enough to provide cover for a defense that floundered last season and didn't really improve on paper this offseason. Erik Gudbranson comes in from Calgary and has shown in his career that he can succeed in an appropriate role (he was great as a physical, third-pair rearguard for the Flames last season), but there is a chance that he's asked to do more than that on a young blueline.
Zach Werenski is the team's No. 1 defenseman and has shown in his career he can handle a top-pair role in the right circumstances, but his supporting cast lacks experience, which means he'll likely be leaned on too heavily. That will likely be the case for promising young offensive-defenseman Adam Boqvist, as well.
For Columbus to beat the odds, it will need a massive season from the goaltending tandem of Elvis Merzlikins and Joonas Korpisalo. Merzlikins had his moments, both good and bad, in 2021-22. But it's hard to blame him for being inconsistent behind one of the most ineffective defenses in the NHL. Statistical models disagree on what kind of season Merzlikins ultimately had (Evolving Hockey had him at -6.5 GSAx while MoneyPuck had him at +4), but it's likely a classic "somewhere in between" scenario.
That isn't the case for Korpisalo, who finished the season with an .880 SV% and -14 GSAx. Korpisalo has had some short stretches of brilliance in his career, but he's posted a -41.9 GSAx over the last three campaigns (92 games).
With suspect goaltending and a defense that needs to vastly improve from last season, the Blue Jackets will likely struggle in a division that features six teams with Over/Unders set at least 10 points higher than theirs.
The Blue Jackets were the NHL's most profitable over team (48-30-4) in 2021-22, and it feels like that profile will stick for this season. But bookmakers do adjust to those trends, so we could see some inflated totals in Blue Jacket games this season.
Although I'm not too fond of the Jackets' chances this season, I do think there is a positive bet that CBJ fans can make this season that has some legs.
There is a chance that Laine and Gaudreau take to one another like ducks to water, and that would make the Finn an interesting play to challenge for the Rocket Richard Trophy. Laine looked like he was on his way to becoming a regular contender for the award after his first two seasons in the NHL, but he stumbled a bit over the past few seasons before bouncing back in his first full campaign with the Jackets. Gaudreau's arrival significantly raises the ceiling for Laine this year, so while likely not a +EV wager, a punt on Laine to pace the circuit in goals is a fun one to make if you're looking to back the Jackets in some way.
The Bet: Patrik Laine to win Rocket Richard Trophy (+7000, DraftKings)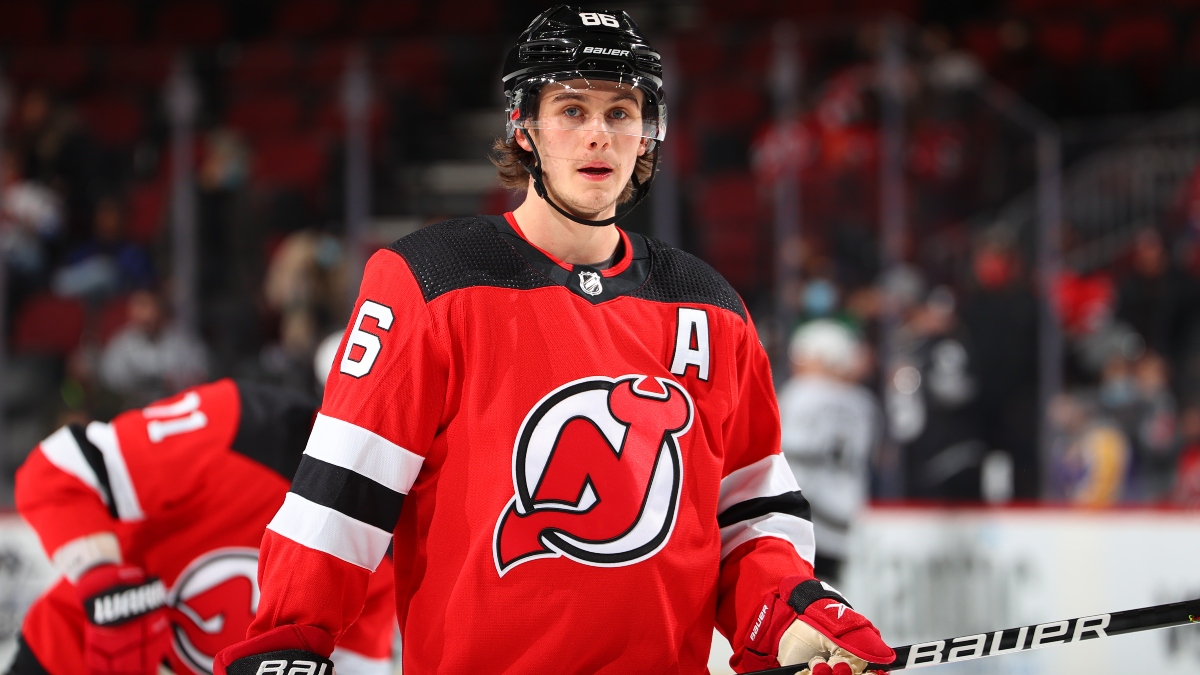 21. New Jersey Devils
| | |
| --- | --- |
| Stanley Cup Odds | +5500 |
| Division Odds | +1600 |
| Make/Miss Playoffs | +140/-160 |
| Over/Under | 91.5 |
Around the midpoint of last season, I started to think I was going to be high on the New Jersey Devils in 2022-23. For a team that ended up finishing 28th overall and second-to-last in its division, the Devils had promising expected indicators and there was enough talent on this roster that a few offseason improvements – especially in goal – could jumpstart New Jersey.
But when the odds started to trickle out for the new season, my feelings on the Devils changed. New Jersey was installed in the +5000 range, which told me that I wasn't alone in my thinking that the Devils could turn into a gatecrasher if they made the right moves in the summer.
It was a good lesson that you need to be able to change your tune in betting. In one fell swoop, I went from thinking the Devils were going to be underrated to thinking they were overrated. Seeing the Devs get slapped with a 91.5-point Over/Under re-affirmed my change in tune. To cash that over the Devils would need to improve by 29 points from last season. They'll be better, but come on.
This isn't to say there aren't reasons for genuine optimism in New Jersey. Jack Hughes looks every bit a star in the making, he's got a great runningmate behind him in Nico Hischier, and the Devils' pipeline is among the NHL's best across the industry thanks to up-and-comers such as Luke Hughes, Simon Nemec, Dawson Mercer and Alexander Holtz.
It seems a reasonable take to suggest the Devils are on their way up the ladder and they'd be one of the favorites to win a Stanley Cup sometime between 2025 and 2030, but that isn't what we're talking about here. Sometimes the hype when a team becomes "one to watch for the future" spills into the near-term, and that seems to be what's happened in Newark.
With that said, there still is plenty to like about New Jersey for the upcoming season. The top-nine should have a pretty high ceiling with a core of Hughes, Hischier, Jesper Bratt, Ondrej Palat, Tomas Tatar, Yegor Sharangovich, Andreas Johnsson, Erik Haula and Dawson Mercer. Bratt and Hughes are both dynamic offensive forces while Hischier has settled into a terrific two-way pivot. The rest of the top-six leaves a little bit to be desired, but on their night you can get a lot out of players like Palat, Tatar and co.
Palat and Haula are the only notable arrivals for this forward group, but that shouldn't be a big issue as New Jersey finished 12th in the NHL in 5-on-5 scoring, 11th in expected goals created and eighth in high-danger scoring chances per 60 minutes. Keep in mind, Hughes played only 49 games last season, too.
It sounds weird to say because they finished 29th in goals allowed, but the Devils defense wasn't that bad last season, either. New Jersey finished 14th in expected goals against and fifth in high-danger scoring chances allowed, and while those aren't perfect stats, they do paint a picture of a trend over the long-term in a season. The Devils were let down by their goaltending, which finished dead-last in 5-on-5 save percentage in 2021-22.
The Devils addressed their goaltending situation by trading for Vitek Vanecek to tandem with Mackenzie Blackwood, who is coming off a very poor, injury-shortened season.
While Vanecek has shown to be an adequate No. 2 option over the past two seasons in Washington, he's not a goaltender who you can pencil in for 40 starts and feel good about his chances to give you above-average netminding. He posted a .907 SV% in each of the past two seasons (79 games), and his combined GSAx sits at -10.3.
If Vanecek plays around those numbers again, it means Blackwood will have to make good on the promise he's shown in flashes in his young NHL career. But that is also a risky bet, as the 25-year-old owns a .907 SV% and -28.1 GSAx in 130 games.
Last season was a nightmare for Blackwood that started with his vaccination status and ended with injury issues, so perhaps you can draw a line through it. But there's still a lot of uncertainty in the blue paint for a team that was left begging for saves in 2021-22.
The Devils have the potential to be a pesky bunch in 2022-23, and there's clearly upside with this group. But their standing in the futures market seems like a stretch. At 91.5 points, the Devils' Over/Under is basically in the same range as the Islanders and Capitals. That's a little bit too much love for a team that still has a lot of questions to answer.
The Bet: Under 91.5 points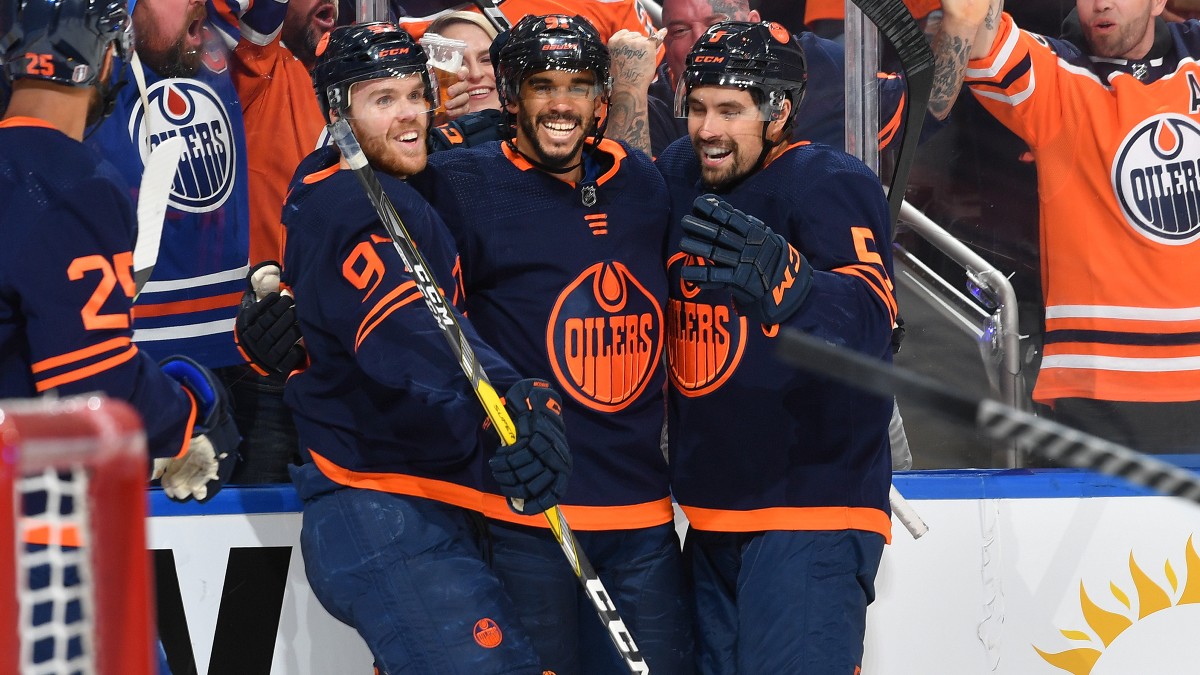 20. Edmonton Oilers
| | |
| --- | --- |
| Stanley Cup Odds | +1600 |
| Division Odds | +210 |
| Make/Miss Playoffs | -750/+500 |
| Over/Under | 103.5 |
This is my fourth time doing this project and the first time I don't have the Edmonton Oilers near the bottom of the list as one of the most overrated teams in the NHL. I still think the market may be a tad too high on Edmonton, but it's not as bad as what we've seen the past two seasons.
The Oilers have the world's best player, Connor McDavid, on their team but until last season it always seemed like pundits, bookmakers and bettors were blinded by the top of the Oilers' roster that everyone overlooked some fatal flaws down the lineup. That phenomenon looked like it was taking place again last season when the Oilers started the campaign 18-16-2. Three weeks later, the team fired head coach Dave Tippett and promoted Jay Woodcroft. Everything changed soon thereafter.
The Oilers went 26-9-3 (.724 points percentage) under Woodcroft, which is a 119-point pace over an 82-game season, and coasted into the playoffs, where they'd run to the Western Conference Finals before getting swept by the Avalanche.
Despite a sluggish start, 2021-22 was the most successful season the Oilers had in the McDavid Era and sent expectations soaring for 2022-23. Edmonton is the favorite to win the Pacific Division, they have an Over/Under in the triple-digits, and they have the second-shortest odds in the Western Conference behind Colorado.
Are they worthy of those odds? I think it's close, though I think there's a different team in the Pacific that's better than the Oil.
Everything with the Oilers begins and ends with McDavid, but Edmonton is now at a point where No. 97 has an appropriate supporting cast. It isn't just "hang around and hope McDavid or Leon Draisaitl do something special" to win games anymore. Evander Kane, Zach Hyman, Ryan Nugent-Hopkins, Jesse Puljujarvi and Kailer Yamamoto should provide enough secondary scoring behind McDavid and Draisaitl, while the likes of Ryan McLeod, Derek Ryan, Mattias Janmark and Warren Foegele give Edmonton some versatility in the bottom-six. Youngster Dylan Holloway is also one to watch and could be an impact player as a rookie.
We know the Oilers will score a ton of goals, and it's a safe bet that they'll have one of the best power plays in the NHL. What will likely decide just how good this team is its defense.
With the offensive firepower they possess, the Oilers defense doesn't need to lift up trees for the team to achieve success, but that doesn't mean it can leak like a sieve. In the 44 games under Tippett, the Oilers were allowing 2.77 goals per 60 minutes at 5-on-5. Under Woodcroft, that number dipped to 2.41. The Oilers improved all over the ice after the coaching change, but the team's defensive form was what finally got them climbing the table.
In terms of personnel, Edmonton's blueline won't really leap off the page at you. Evan Bouchard seems like he's on his way to becoming a top-pair defenseman, and you can argue that Darnell Nurse is a No. 1 rearguard, but this group isn't going to be mistaken for one of the best units in the NHL. Brett Kulak is certainly effective, Cody Ceci is fine in the right role, and Tyson Barrie can move the puck, but the lack of depth is one of the few red flags on this roster.
Another potential red flag is in goal, but that's nothing new for the Oilers. It seems like it's been years since there was stability in the blue paint at Rogers Place, but the Oilers hope they've fixed that by signing Jack Campbell to a five-year deal. Campbell was one of the best goaltenders in the NHL for the first three months of last season, but his game completely fell off and he was one of the worst goalies in the league during the dog days of winter. He did rebound nicely down the stretch and played well in Toronto's Round 1 loss to Tampa Bay. That left Campbell with a .914 SV% and -8 GSAx over the course of the entire season, which was a far cry from his .921 and +5 GSAx in 2020-21.
Needless to say, the Oilers will need Campbell to play like the goaltender from two seasons ago, rather than the one we saw in the winter months in 2021-22, if they want to make good on the hype. Whether he can deliver the necessary consistency over the course of an 82-game season remains to be seen. No team can be quite sure of its goaltending situation, but Edmonton's tandem – which also features promising rookie Stuart Skinner – has more uncertainty than a lot of contenders.
Despite the uncertainty in goal, I think the Oilers are a legitimate Stanley Cup contender. The team's offensive weapons should provide more than enough cover if their goaltending is just pedestrian, but if Campbell and Skinner work out well, this could be one of the best teams in the entire league.
When it comes to betting them before the season, I'll offer a piece of advice before getting to a bet I think is worth a flutter.
If you're thinking about betting the Oilers to go over their total or win the division, you may as well just take them to win the Stanley Cup. If Edmonton is good enough to go over 103.5 points, they're good enough to win it all, so why not take the +1600?
As for my favorite Oilers bet, I'm going with Dylan Holloway to win the Calder Trophy at +7500. While he's not a shoo-in to crack the Opening Night roster, it won't be too long before Holloway is an everyday player on a roster that features Connor McDavid and Leon Draisaitl. Will he play with one, either, or both of them? Who knows, but at 75/1 it's worth throwing a few bucks on Holloway in the event that he does get time riding shotgun with No. 97.
The Bet: Dylan Holloway to win the Calder Trophy (+7500, Caesars)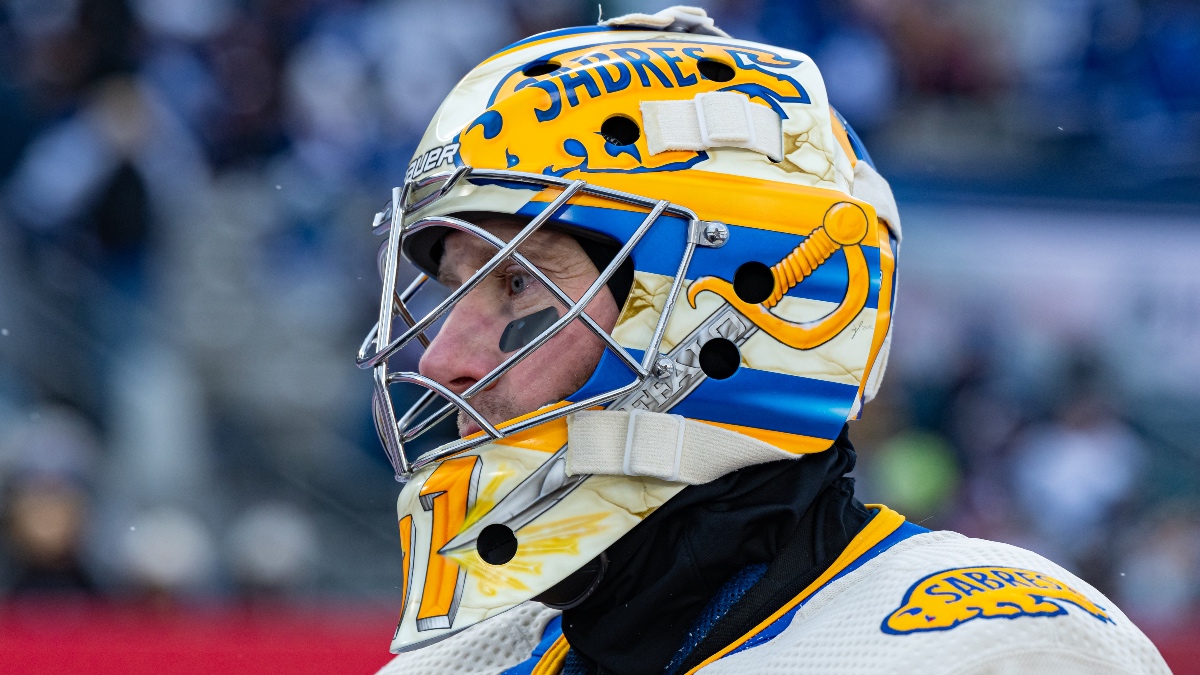 19. Buffalo Sabres
| | |
| --- | --- |
| Stanley Cup Odds | +15000 |
| Division Odds | +7000 |
| Make/Miss Playoffs | +600/-900 |
| Over/Under | 77.5 |
There was a funny betting phenomenon in the seasons before the pandemic. Even though the Sabres were priced as longshots, they were consistently overvalued in the futures market. That will happen when a team hasn't made the postseason since 2009. Folks get impatient and assume "this is the year."
After getting burned by believing in the Sabres only to watch them flounder, the market completely tanked on Buffalo as the team underwent yet another rebuild.
But this time around, things seem to be much more reasonable in Western New York. Things should get better for Buffalo, but it doesn't seem like anybody is expecting the Sabres to do anything crazy in 2022-23. That's probably the right call.
Buffalo has a season point total of 77.5 and is +600 to just make the postseason, so a slight improvement on last year's 75-point campaign is what bookmakers are expecting out of Don Granato's side.
And just going by the roster, I think that's a fair assumption.
The Sabres have some upside, especially in the form of young blueliners and fellow No. 1 overall picks Rasmus Dahlin and Owen Power, but they also have more questions than answers.
We'll start in goal, where the Sabres will likely trot out a tandem featuring 41-year-old Craig Anderson and 27-year-old Eric Comrie, who has played 28 NHL games for three different teams in his career. The Sabres also have promising 23-year-old Ukko-Pekka Luukkonen waiting in the wings.
While we have a pretty good idea of what to expect out of Anderson – he's a beloved teammate who will provide average-ish goaltending for 15-25 games – how Comrie and UPL perform is a crapshoot. That said, it's pretty easy to see the logic in having both players in the organization.
Comrie's track record is not deep at all, but Buffalo was able to sign him to a cheap two-year deal to see if his impressive 19-game stint last season (.921 SV%, +9.9 GSAx) is the start of something. And if it turns out to just be an outlier, there's no real risk here.
As for UPL, he seems destined to start the season in the AHL, but he should have plenty of opportunities throughout the year to show he belongs in the NHL. Pekka-Luukkonnen played nine games and posted a .917 SV% and -1.96 GSAx for Buffalo last season.
The Sabres goaltending could go in a number of different directions, but it does seem like the most likely scenario is that Buffalo gets below-average production from the position. Comrie has never played more than 19 games in an NHL season, Anderson is 41, and UPL has all of 13 games of NHL experience.
And that doesn't even mention that the Sabres defense will likely be below-average, too, which will make life that much tougher on the netminders. Last season, Buffalo finished 27th in 5-on-5 goals allowed, 21st in expected goals allowed and 23rd in high-danger scoring chances against, so even if the Sabres do improve with Power and Ilya Lyubushkin joining Dahlin on the blueline, there's a long way to go here.
As for Power, he'll likely be one of the most popular bets to win the Calder Trophy as Rookie of the Year. He currently sits as the second-favorite behind Mason McTavish at +450, and he'll likely get every chance to contend for the award, but that number is way too short.
While the Sabres added some new faces to the back-end, they barely touched the forward group, instead relying on their young forwards to carry the mail by making big steps forward in 2022-23. Dylan Cozens, Peyton Krebs, J.J. Peterka and Jack Quinn will all likely get plenty of chances to seize big roles up front, and there are reasons to believe that, as a group, they can have relative success.
It also helps that this young group will be playing alongside some talented, established NHL forwards. Alex Tuch fit in like a glove with his hometown team after coming over in the Jack Eichel trade, Tage Thompson broke out with a 68-point season, Victor Olofsson and Kyle Okposo each tallied 60+ points, and Jeff Skinner enjoyed a resurgent 33-goal campaign.
Should Cozens, Krebs, Peterka and Quinn continue their ascent, the Sabres could have a decent top-nine, which is sorely needed since the team finished 26th in 5-on-5 scoring, 29th in expected goals created and 28th in high-danger chances generated. I think a modest improvement on offense should be expected.
Which brings me to a bet that I really like with Buffalo. While Power will get most of the Calder Buzz on this roster, that means that Peterka will fly a bit under the radar. That provides a good betting opportunity on a player who posted 80 points in 80 games (including playoffs) in the AHL last season as a 20-year-old.
One source indicated to me that the Sabres' brass is quite keen on Peterka's chances this season and that he should get every opportunity to earn a big role on the team.
In a rookie class that features plenty of big names such as Power, McTavish, Wright, Beniers and Slafkovsky, watch out for Peterka to come from the chasing pack and find his way on plenty of ballots.
The Bet: J.J. Peterka to win the Calder Trophy (+5000)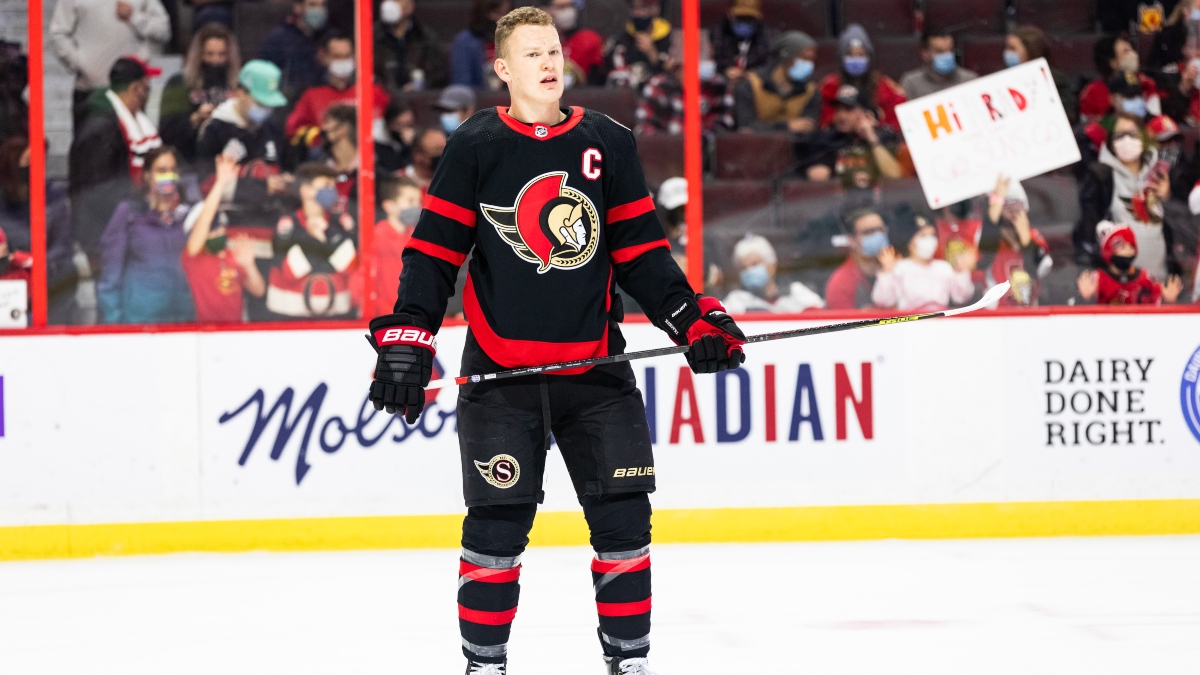 18. Ottawa Senators
| | |
| --- | --- |
| Stanley Cup Odds | +5500 |
| Division Odds | +2800 |
| Make/Miss Playoffs | +200/-250 |
| Over/Under | 86.5 |
The Ottawa Senators had themselves an offseason.
After years of being the butt of plenty of jokes around the HockeySphere, the Senators flipped the script this summer and are now on their way to becoming one of the darlings of the league. That's often the cycle for small-market teams. Everyone laughs, then everyone loves.
Of course, when a team does what Ottawa did in the offseason there is a chance that they get overhyped (we saw it happen last season with the New Jersey Devils) in the betting market. While there's probably a little bit too much love on Ottawa at the current prices, that doesn't mean there aren't ways to back them.
First of all, it would be negligent of me if I didn't mention how good this team has been under D.J. Smith as a big underdog. No team has closed +150 or longer more often than Ottawa over the past three seasons, but no team has been quite as pesky, either. The Senators have a 49-81 record when they've closed as +150 or higher, which is good enough for a return of $1,451 if you bet $100 on Ottawa in each spot, which equates to an 11.2% ROI.
Will that trend continue? Who knows. It likely won't be as common, though, as the Sens have their best roster in at least six seasons.
Mired in a rebuild for the past five years, the Senators spent a lot of effort loading up with young talent, especially at forward. Brady Tkachuk, Josh Norris, Tim Stutzle, Drake Batherson and Alex Formenton are all 24 or younger and will be joined by fellow in-his-prime player Alex DeBrincat, who has two 40-goal campaigns before his 24th birthday.
The elder statesman for this group of forwards is slated to be Claude Giroux, who posted 65 points in 75 games as a 34-year-old with Philadelphia and Florida in 2021-22.
The Senators struggled to score last season, but they should vastly improve on an offense that finished 26th in goals per game, 29th in 5-on-5 goals per game, and 24th in expected goals created at 5-on-5.
Whether the Sens can score enough to cover up for their defensive flaws is going to be what decides just how far they can go. Ottawa finished 22nd in goals against, 20th in 5-on-5 goals allowed, 25th in expected goals against and 20th in high-danger scoring chances conceded last season, and there's not much that suggests this unit got better over the offseason.
Thomas Chabot is the de facto No. 1 defenseman in Ottawa, and he could certainly play in a top-pair role, but he needs a better supporting cast around him. Perhaps highly regarded rookie Jake Sanderson brings the goods and helps put other members of this blueline in the right spot, but that's a gamble more than anything.
The absence of another top-pair player means that either Artem Zub – who was impressive last season – Travis Hamonic or Nikita Zaitsev will likely pair with Chabot on the top unit. Zub seems like the best choice, but even after two promising seasons in Ottawa, it's pretty clear that asking the 27-year-old Russian to be a first-pair player is a bit too much.
The defense is a bit messy, but Ottawa did improve its goaltending situation over the summer by shipping out Matt Murray and bringing in Cam Talbot to partner with Anton Forsberg. That may sound funky since both Talbot and Forsberg are journeymen, but Forsberg is coming off a career year, and he was getting better each season before that. And Talbot has shown that he can be a reliable tandem goalkeeper over his career, even if he has struggled of late.
It is an exciting time to be an Ottawa Senators fan, but there are still more questions than answers with this team right now. That said, there is a relatively feasible path to success for the Sens this season. The Atlantic Division remains tough, but the four heavyweights (Florida, Toronto, Tampa Bay and Boston) all seemed to get worse over the summer, opening up room for an upstart to crash the party.
And that brings me to one of my favorite bets of the season: D.J. Smith to win the Jack Adams Trophy, given to the NHL's Coach of the Year.
The simple logic for this bet is this: The Senators are +210 to make the postseason, and if they get in, it will be one of the best stories in the NHL, which means Smith will end up as a finalist – and likely the favorite – to be named Coach of the Year. So if you want to bet Ottawa to make the playoffs, do yourself a favor and just bet Smith to win the Jack Adams instead.
The Bet: DJ Smith to win Jack Adams (+6000)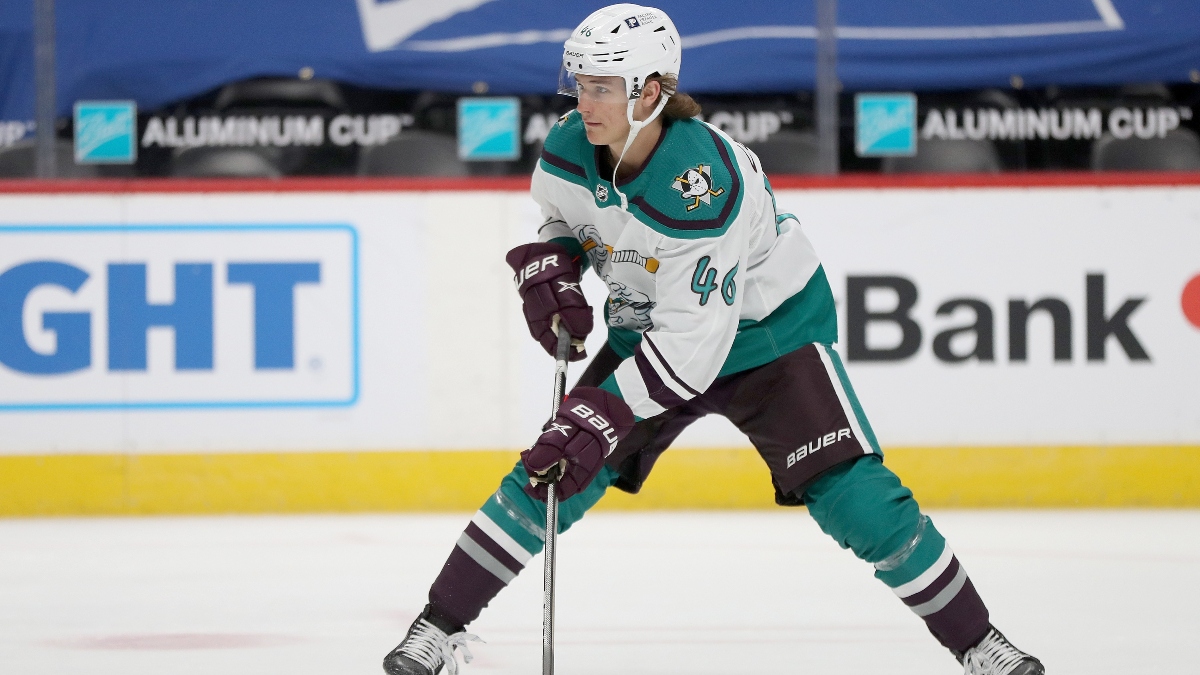 17. Anaheim Ducks
| | |
| --- | --- |
| Stanley Cup Odds | +15000 |
| Division Odds | +10000 |
| Make/Miss Playoffs | +500/-800 |
| Over/Under | 80.5 |
The Anaheim Ducks got off to a quick start but faded just as quickly in 2021-22, and the front office responded by dealing Josh Manson, Hampus Lindholm and Rickard Rakell at the Trade Deadline. The moves were a long time coming for the Ducks, who needed to get younger and start building around the emerging core of Mason McTavish, Trevor Zegras, Jamie Drysdale and Troy Terry. Those four players, plus supporting-role youngsters such as Isac Lundestrom and Drew Helleson, will be given every opportunity to lead the way for Anaheim, but they'll also have help from successful veterans, giving the Ducks a pretty unique look for the upcoming season.
Prior to the offseason, it was assumed that Anaheim's new general manager, Pat Verbeek, was going to continue down the rebuilding path and wouldn't really be in the mix for most veteran free agents. It didn't exactly go that way, though, as Verbeek inked No. 2 center Ryan Strome and shoot-first-ask-questions-later winger Frank Vatrano to multi-year deals. He then made one of the surprise signings of the summer by bringing John Klingberg, the consensus top defenseman on the market, to the Pond on a one-year deal.
While Strome and Vatrano's respective deals mean they're likely going to be around for quite a bit, the allure of Klingberg's deal is that the team can flip him for quite the haul at the deadline if they're out of it.
Klingberg's merits as a true No. 1 defenseman are certainly up for debate, but there is no questioning that any team in the NHL could use a player with his puck-moving upside. With Klingberg, Cam Fowler, Dmitry Kulikov, Kevin Shattenkirk and Drysdale, the Ducks blueline has a sensible make-up with four veterans who all occupy spots in the good-but-not-great class of rearguards and then one youngster with sky-high upside. It's a great environment for Drysdale to develop, and it wouldn't be all that shocking if Anaheim improves a bit after finishing 23rd in 5-on-5 goals allowed, 24th in expected goals against and 21st in high-danger chances conceded.
The offense also features a blend of exciting young players with veterans who will push everyone into the appropriate spot in the lineup. With players such as Vatrano, Strome, Adam Henrique, Jakob Silfverberg and Derek Grant, Dallas Eakins can deploy Zegras, McTavish, Terry and Lundestrom in roles where they'll be able to play to their strengths.
Assuming that Zegras and McTavish continue their upward trajectory – Zegras from a terrific rookie campaign and McTavish from a splendid season in the OHL – there is a path to success for this offense. With established veterans such as Henrique, Strome, Vatrano, Silfverberg, Shattenkirk, Fowler and Klingberg providing the secondary offense, Terry, McTavish and Zegras won't have to carry an over-the-top burden this season. Anaheim finished 27th in 5-on-5 scoring but was closer to league-average when it came to creating chances.
Honestly, the more and more I look at Anaheim's roster, the more and more I think "this can work." And by "this can work," I mean they can beat their expectations and maybe hang around the playoff mix for longer than expected. But for that to come to fruition, they'll need John Gibson to re-establish himself as one of the game's best goaltenders.
Gibson was exactly that from 2016-2019, when he posted a .922 SV% and +84.2 GSAx across 170 games. But those days are now firmly in the rear-view mirror for Gibson.
Over his last three seasons, Gibson has posted a .904 SV% and -18.2 GSAx across 104 games. You can certainly make some excuses for the Pittsburgh native (the Ducks were bad during a pandemic so maybe he wasn't motivated?), but it's a similar situation to Matt Murray (though Gibson's individual numbers were much better than Murray's ever were) in that we should probably trust the most recent results rather than numbers from six years ago.
The good news about Gibson's prolonged dip in form is that it's severely depressed his odds in the Vezina Market. That's the wager I would target if I wanted to throw a dart with the Ducks, but I also think this is a bet-on team out of the gates.
The Bet: John Gibson to win the Vezina Trophy (+10000, Caesars)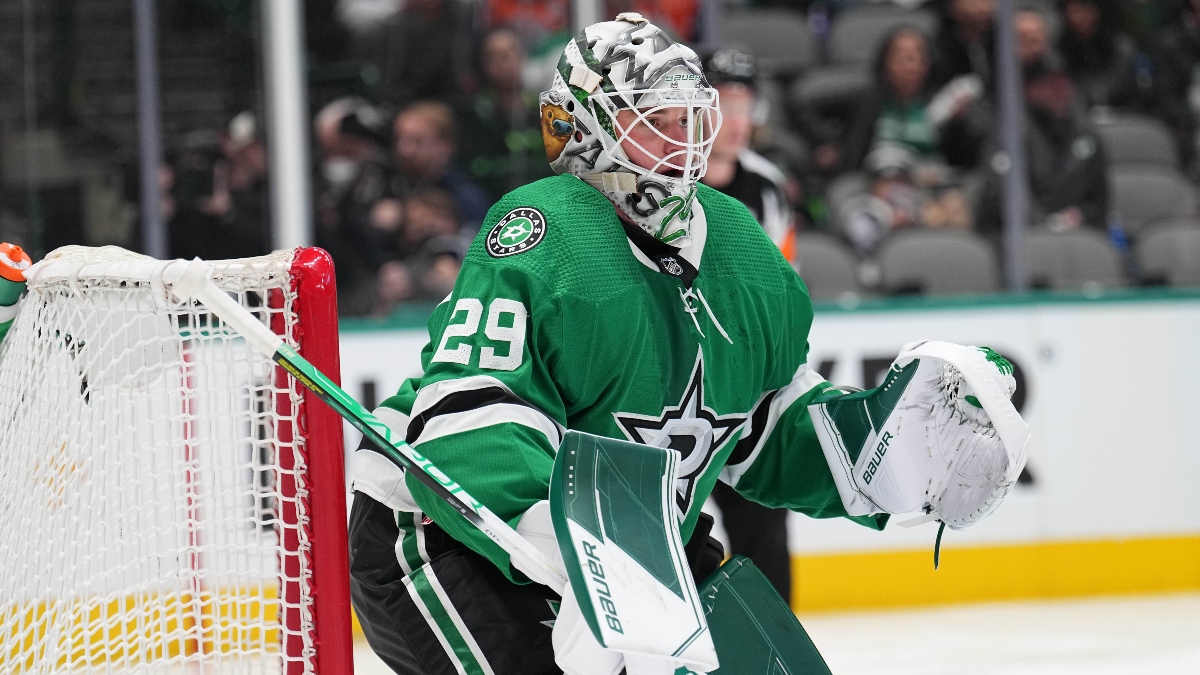 16. Dallas Stars
| | |
| --- | --- |
| Stanley Cup Odds | +4000 |
| Division Odds | +1200 |
| Make/Miss Playoffs | -175/+145 |
| Over/Under | 94.5 |
The Dallas Stars caught a ton of bad breaks in 2020-21. They caught a lot of good ones in 2021-22.
That's kind of how things go. Sports and betting are cyclical and what goes around will eventually come around, and if you're a team on the fringe of the playoff picture like Dallas, it can define your season.
The Stars were up and down in 2021-22, but they scratched their way to a playoff spot with 98 points, putting them four points clear of Vegas and slotting them into the first wild-card spot in the Western Conference. But to even achieve that modest success, the Stars needed plenty of breaks. They went to overtime 21 times and won 15 of those games.
It may be oversimplifying things to say that NHL overtime and the shootout is a coin flip, but it's pretty damn close, so getting 15 extra points rather than nine or 10 is what put Dallas into the spring fling.
The Stars were the only team in the 16-team playoff field with a negative goal differential.
That kind of tells Dallas' story last season. The Stars were closer to average than good, but they were the type of team that knew how to navigate through close contests and hang around. They used that savvy to take Calgary, the second-best team in the Western Conference, to overtime in Game 7 of Round 1.
That series was not as close as that, of course, as it took a blood-and-thunder performance from Jake Oettinger to keep them in it.
Oettinger's performance in the best-of-seven series was spectacular – he posted an absurd .955 save percentage and +13.3 GSAx in seven games – but it doesn't guarantee that the 23-year-old is going to pick up right where he left off. Expectations are certainly raised, but his season-long numbers were modest at .913 and +0.51 GSAx in 48 contests.
I'm not saying Oettinger can't be one of the stronger goaltenders in the NHL, but it's a bit outlandish to expect him to be elite just because of what we saw from him in his last seven games of the spring.
At the other end of the ice, the Stars had their bread buttered by their top line. Jason Robertson, Roope Hintz and Joe Pavelski were one of the most effective 5-on-5 trios in the league last season with each player registering at least 72 points and 27 goals. No other player on the Stars cracked the 50-point mark.
Having an elite top line is obviously a great thing, but the Stars will need better performances from the middle of the lineup if they don't want to deal in the razor-thin margins that they did last time around.
Dallas tried to address that in the offseason by bringing in Mason Marchment to round out a middle-six that should provide some oomph with Tyler Seguin and Jamie Benn. If Dallas gets impactful first seasons from youngsters Wyatt Johnston, Mavrik Bourque and/or Logan Stankoven, that would go a long way to help alleviate some of the burden on the top line.
On defense, the Stars took a bit of a hit in the offseason when John Klingberg walked in free agency. Although he may not be a surefire top-pair defenseman at this point in his career, Klingberg was a vital cog of this blueline for a number of years, and his absence will put more of an onus on Miro Heiskanen to be the engine of the unit.
Heiskanen has shown no reason to doubt that he can be the key man of this blueline, and he'll benefit from having a steady partner in Ryan Suter to help guide him through it. Another young defenseman, Thomas Harley, will also be counted on to step into a bigger role, perhaps in the top-four, for the Stars in 2022-23.
The Stars defense was their calling card during the Jim Montgomery/Rick Bowness era, but they were closer to average than great last season as they finished 13th in 5-on-5 goals allowed, 11th in expected goals against and 11th in high-danger chances conceded.
I'd expect that Dallas will be less rigid defensively under new head coach Peter DeBoer, but that could end up being a good thing as the Stars need to improve on an offense that finished third-to-last in 5-on-5 scoring last season. Under DeBoer, the Vegas Golden Knights averaged 2.82 expected goals per 60 minutes at 5-on-5.
In all likelihood, the Stars are looking at a pretty similar season to the ones we saw out of them in 2020-21 and 2021-22. This roster isn't good enough that it it will run away with a playoff spot, but the Stars are certainly strong enough that they're very likely to stay in the mix all season long.
On a team level, the team looks pretty fairly priced. It's 50/50 in my mind if they get into the postseason, and even if they do, you're likely to be able to get a decent number on them to win it all if you so choose.
The bet that does at least pique my interest with the Stars is Jason Robertson to win the Rocket Richard at +3500 (so long as he signs a new contract). Robertson finished 10th in the NHL with 41 goals last season, but that was on a pretty poor offensive team. DeBoer's system could allow Robertson more freedom, and the 50-goal plateau could be in reach for the 23-year-old.
The Bet: Jason Robertson to win the Rocket Richard Trophy (+3500, DraftKings)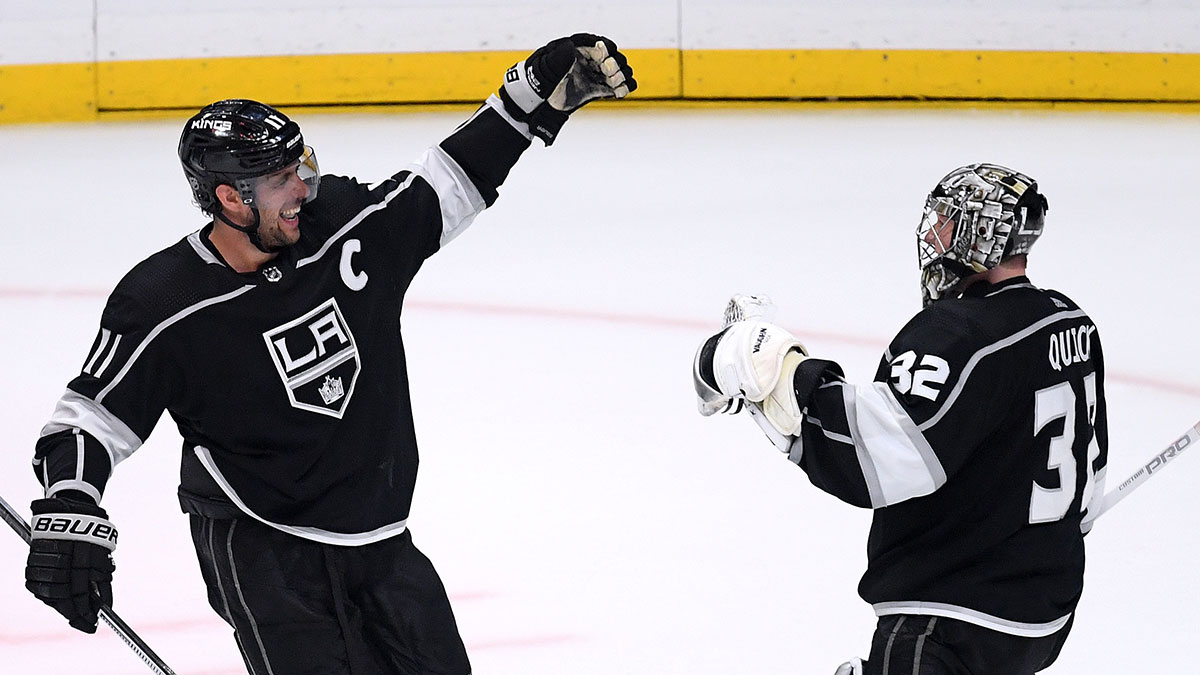 15. Los Angeles Kings
| | |
| --- | --- |
| Stanley Cup Odds | +3500 |
| Division Odds | +500 |
| Make/Miss Playoffs | -190/+160 |
| Over/Under | 95.5 |
The Los Angeles Kings were the surprise package in the NHL last season. Despite entering 2021-22 as a 100/1 outsider with an Over/Under of 83.5 points, the Kings made the playoffs in the Pacific Division ahead of the Vegas Golden Knights.
It was an impressive season from the Kings, and the stats backed it up. Los Angeles finished fifth in shot attempt rate, seventh in the NHL in expected goals rate and 11th in high-danger chance rate, but were just 17th in 5-on-5 goal differential. Poor finishing (the Kings finished dead-last in shooting percentage at 5-on-5) held Los Angeles back from an even more impressive campaign.
To address that weakness, the Kings acquired slick scoring winger Kevin Fiala from the Minnesota Wild. The 26-year-old Switzerland native scored 33 goals for the Wild last season, and 28 of those came at 5-on-5. He's just what the doctor ordered for a top-six that also features Anze Kopitar, Adrian Kempe, Viktor Arvidsson, Phillip Danault and Trevor Moore. That gives Todd McLellan two 30-goal scorers and four 20-goal players from last season on his projected top two lines.
Danault was an absolute revelation in his first season in Hollywood, scoring a career-high 27 goals and continuing his trajectory as one of the best two-way centers in the NHL. With Danault and Kopitar down the middle, McLellan has a pair of the best two-way centers in the NHL. He can match them up with anyone and be confident they can handle the assignment. That's not something most coaches can say about their roster.
And while it may seem like Los Angeles doesn't have much established forward depth behind those six players, that may be a little unfair because of the emerging players who are currently slated for bottom-six roles. Arthur Kaliyev scored 17 goals in his rookie campaign while 2020 No. 2 overall pick Quinton Byfield put up 10 points in his first 40 NHL contests. Both players, along with 2019 fifth-overall pick Alex Turcotte and 2018 first-rounder Rasmus Kupari, will have chances to show themselves as impact forwards in 2022-23.
How McLellan builds his lineup to blend his youth with established NHLers remains to be seen, but he's got plenty of talent to work with, so the concern over injuries throughout the season is not a huge deal.
There are more concerning questions on the back-end for Los Angeles, but as a unit, the Kings blueline grades out pretty well. Mikey Anderson and Sean Durzi both solidified themselves as NHL-caliber rearguards, while Drew Doughty turned back the clock with 31 points in 39 games before he was injured. The fact that the blueline coped despite the fact that Doughty and fellow elder statesman Alexander Edler were limited to just 80 games combined tells you that this group was better than expected in 2021-22.
Anderson, Durzi, Edler, Doughty and Matt Roy will all be back this season while youngsters Tobias Bjornfot and Jordan Spence will battle it out with Sean Walker for playing time.
There are plenty of legitimate questions to ask about this unit. Can Doughty and Edler stay healthy? Will Anderson and Durzi take a step forward after strong seasons? Will Bjornfot and/or Spence establish themselves in an NHL role?
As a unit, the Kings defense grades out like the rest of the team: It's above-average, but won't pop off the page. It's a similar story in goal.
Last season was supposed to be a changing-of-the-guard in the Hollywood Blue Paint, with Cal Petersen freshly signed to a five-year extension to take over the starting gig from Jonathan Quick. As you've read already in this preview, goaltending rarely goes as planned, and it ended up being Quick who posted the far better numbers in 2021-22. The 36-year-old posted a .909 SV% and +12 GSAx in 46 games, while Petersen struggled to an .896 SV% and -7.5 GSAx in 37 contests.
In the previous season, it was Petersen who ended up with the better portfolio while Quick struggled, which just goes to show we really have no idea how goaltending will pattern out over an 82-game season.
Either way, it does seem a pretty safe bet that the Kings will end up in the middle of the pack when it comes to netminding in 2022-23.
When a team surprises and far exceeds expectations in a season, there's often an overreaction in the market for the next one. That does seem to be happening a little bit with Los Angeles, which is sitting at 35/1 to win the Stanley Cup, ahead of St. Louis, Washington, Dallas and the Islanders. That's a little bit rich for me, especially since the Pacific looks a lot deeper than it did at this time last season (part of that is because of the Kings, of course).
One bet that does have some legs if you're bullish on the Kings is to back head coach McLellan to win the Jack Adams. I was surprised that McLellan didn't end up as a nominee last season, but if he's able to guide Los Angeles back to the postseason in a tough division, he should have a shot at a pretty good number.
The Bet: Todd McLellan to win the Jack Adams Trophy (+3500, Caesars)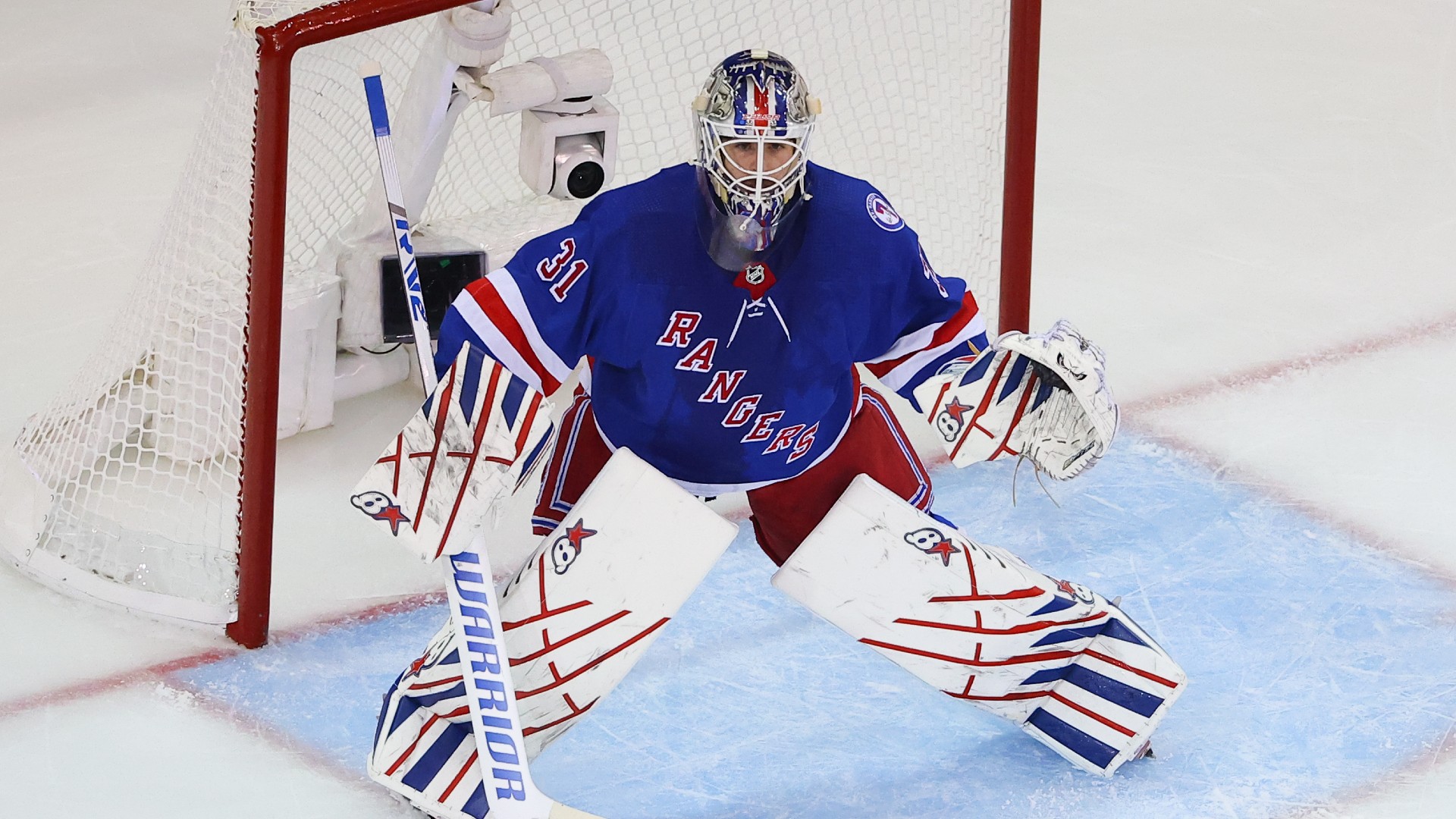 14. New York Rangers
| | |
| --- | --- |
| Stanley Cup Odds | +2000 |
| Division Odds | +350 |
| Make/Miss Playoffs | -260/+210 |
| Over/Under | 99.5 |
The New York Rangers are an interesting case study for handicappers.
One on hand, almost everything went right for this team throughout the season and playoffs.
When the team struggled at 5-on-5 for the first 50 games of the season, Igor Shesterkin was there to bail them out. They didn't have any injury clusters, nor did COVID-19 wreak any real havoc on them. They got career seasons from a handful of core players like Chris Kreider, Mika Zibanejad, Jacob Trouba, Ryan Strome and Shesterkin. The team's trade deadline acquisitions of Andrew Copp, Tyler Motte and Justin Braun all worked out well. In the playoffs, the Rangers faced a No. 3 goaltender for almost all of their best-of-seven series with the Penguins and then Carolina's back-up goaltender. The Rangers were badly outplayed for almost the entire Pittsburgh series and were down 3-1 in the series and 2-0 in Game 5 when Sidney Crosby got hurt. The rest is history.
Overall, the Rangers finished 22nd in 5-on-5 scoring, 28th in expected goals for, 20th in high-danger chances created, 20th in expected goals against, 24th in high-danger chances allowed but fourth in goals allowed at 5-on-5. Predictive metrics often help us determine where a team is trending and if they're punching above/below their weight, but there are some squads where the numbers just don't really mean all that much.
The Rangers had a goaltender playing in a class of his own last season, the power play was terrific, and the team had enough scoring talent that it didn't need to drive play or outchance opponents to win. The Rangers went 31-15-3 in games in which they were outshot in 2021-22, and they were dynamite in tight contests. The Blueshirts posted a 14-8 record in one-goal games and 17-4-1 when they were tied after two periods
But it wasn't all smoke and mirrors with this team.
The Rangers started to play a much stronger 5-on-5 game in the second half of the season and after the deadline, and they were the better team in the business end of their series against Carolina in Round 2 and for the first couple of games against Tampa Bay. You don't put up 110 points and get within two wins of the Stanley Cup Final on luck alone.
All of this puts the Rangers into a funny spot for forecasters ahead of 2022-23. We know this is a talented team and we saw what they're capable of four months ago, and that will lead to them being a trendy pick to represent the Eastern Conference in this season's Stanley Cup. But what would the narrative be if if things didn't break exactly right. For instance, if the Penguins had just closed them out in Round 1, would there be a lot of hype on Broadway?
I actually think the answer to that question is yes.
Going into last season, the expectations around the Rangers were that they'd be on the playoff bubble, but clawing their way into the playoffs was their ceiling. It was clear early on that the Blueshirts were going to clear that hurdle easily and that they were "ahead of schedule." Once that became evident, the narrative around the team shifted to "not if, but when."
And you can't blame people for getting caught up with this team. Shesterkin, Kreider, Zibanejad, Artemi Panarin and Adam Fox is an ultra-talented core, and the supporting cast features emerging talents like Alexis Lafreniere, K'Andre Miller, Kaapo Kakko, Filip Chytil, Vitali Kravtsov and Braden Schneider. On paper everything is pointing in one direction for this team. That means even if players like Kreider, Zibanejad and Trouba take a step back, there's every chance that Lafreniere and Miller continue their ascent and just pick up the slack.
On paper, you can see why pundits and media are going to be all in on the Rangers. But things are rarely linear in the NHL, and there are some questions you can ask of this team.
For example, what happens if the Rangers don't get 78-plus games from each member of their top-four (Fox, Ryan Lindgren, Miller and Trouba) and depth players like Schneider, Libor Hajek, Zac Jones, Jarred Tinordi or Matt Bartkowski are forced into bigger roles?
Or what if Shesterkin steps back? It's expected that he will at least fall back to earth some after a historic season, but what if he plays closer to good than elite? Similarly, what happens if the Zibanejad, Kreider and Panarin don't match their output from 2022-23 and we don't see breakout seasons from Kakko, Lafreniere or Chytil?
We really didn't see the Rangers faced with much adversity in 2021-22. They came out of the gates flying, and because of the way the Eastern Conference played out, were basically locked into a playoff spot around Thanksgiving. It would be stunning if that's how things play out again with both divisions in the East looking like they could be six teams deep.
If that holds true, the margin for error for every team will be a lot slimmer and for a team that succeeded by winning on the edges (best goalie in the league, terrific power play and a great record in tight games), some bad bounces could mean some significant trouble.
In the end, I agree with the market that the Rangers should be priced as one of the favorites in the Metropolitan Division, but not the clear chalk. The pack of the Rangers, Carolina, Pittsburgh and Washington is neck-and-neck while the Islanders are not that far behind and the Devils have high upside.
And on a game-to-game basis, the Rangers will likely be a bit overrated. The Blueshirts were so good in tight contests last season that some regression should be expected and the prices will be worth it to go against the Blueshirts.
Last season, I had Shesterkin to win the Vezina at 20/1 as my favorite Rangers bet, and it cashed. Well, Igor is now a runaway favorite at +250, and there's no way you should be betting that number in a market as volatile as the Vezina.
Instead, you could do worse than betting Artemi Panarin to win the Hart Trophy at +6000. Panarin posted 96 points in 75 games last season and is averaging 1.33 points per game since joining the Rangers before the 2018-19 season. If he plays to that level again, putting him on pace for around 110 points, he'll every a chance to be in the Hart conversation.
The Bet: Artemi Panarin to win the Hart Trophy (+6000, bet365)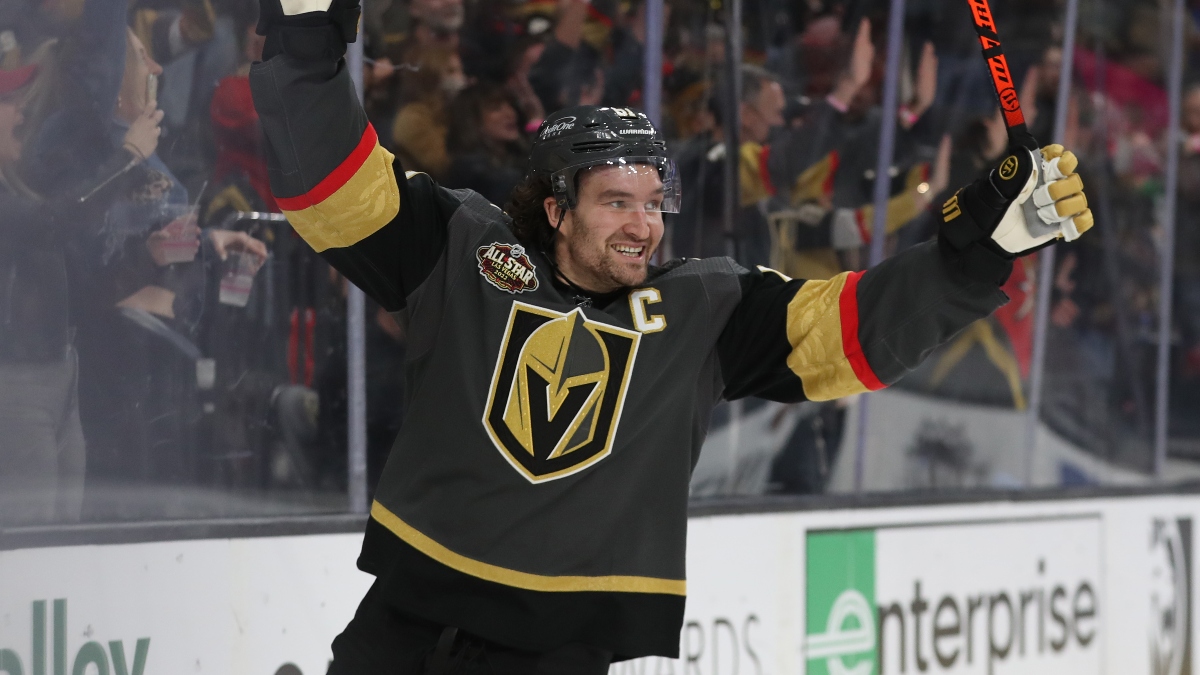 13. Vegas Golden Knights
| | |
| --- | --- |
| Stanley Cup Odds | +2500 |
| Division Odds | +475 |
| Make/Miss Playoffs | -240/+180 |
| Over/Under | 97.5 |
As soon as the Vegas Golden Knights were officially eliminated from playoff contention last season, a lot of punters had the same thought: The Knights will be a good buy-low team for 2022-23. Like the New York Islanders, the Knights were a huge disappointment last season, but they were also incredibly unfortunate with injuries.
Mark Stone, Robin Lehner, Max Pacioretty, Nolan Patrick, Zach Whitecloud, Reilly Smith, Nicolas Hague and Alec Martinez all missed more than 20 games, and that doesn't include Jack Eichel, who made 34 appearances for Vegas after the mega-trade with Buffalo. The fact that the Knights were able to hang around the playoff picture despite missing their best skater, starting goaltender and top goal-scoring threat for more than half of the season is an impressive feat.
Admittedly, I thought I was going to be interested in buying back on the Knights, but when odds started to populate for the new campaign and Vegas was sitting around +1700, I started to cool off a bit on the team. And that was before the hockey gods started to wreak havoc on the Golden Knights once again.
Perhaps it's karma for the miraculous run Vegas made in its expansion year or the fact that the Knights have handled their roster like the wait staff in a diner handles its tables, but it does seem a tad cruel the way this offseason has panned out for Vegas.
Some of it has been self-inflicted, like needing to trade away Pacioretty to Carolina for nothing in return, but losing starting goaltender Robin Lehner for the season was an unfortunate blow for a team that had very little wiggle room because of its cap situation.
Acting quickly, the Knights traded for goaltender Adin Hill from the Sharks and will likely tandem him with Laurent Brossoit (who also missed a lot of time last season through injury) while impressive youngster Logan Thompson waits in the wings.
Both HIll and Brossoit have had promising results as back-ups in their respective careers, but they've both come up short in bigger gigs thus far. Hill posted a .906 SV% and -6.9 GSAx behind a poor Sharks team in 2021-22, while Brossoit carried an .894 SV% and -2.05 GSAx for the turbulent Knights.
There's enough talent on this roster that a standout goaltender is not a requirement, but they'll need one of the three netminders in house to give them better-than-average numbers because the goal here isn't to just tread water, it's to contend for a Stanley Cup.
And this roster does have the requisite pieces to contend. Jack Eichel is a star first-line center, Mark Stone is one of the best 200-foot forwards in the league, and there's depth up front with Jonathan Marchessault, Reilly Smith, Phil Kessel, Chandler Stephenson and William Karlsson. The defense also is strong, top-to-bottom, with Alex Pietrangelo, Alec Martinez, Nicolas Hague, Shea Theodore, Brayden McNabb and Zach Whitecloud.
Health is a concern for every team, but especially for this team with Eichel, Stone, Martinez and Smith all coming off injury-riddled campaigns. With Vegas up against the cap, there's very little organizational depth, so they could be easily exposed by injuries.
The Knights were a strong play-driving team under Peter deBoer, but last season their defensive numbers flatlined and they finished in the middle of the pack in goals allowed, xG conceded and high-danger scoring chances surrendered. With all the injuries in goal, Vegas couldn't afford to just be average defensively, and it helped lead to the team missing the postseason for the first time in its five-year history.
Those numbers should trend better this season under new head coach Bruce Cassidy, who spent the last half-decade turning the Bruins into the best defensive team in the NHL. Every season the B's would be at, or near, the top of the table in terms of goals against, xGA and high-danger chances allowed.
Perhaps the biggest problem for the Knights has nothing to do with the roster, but rather their competition. Last year, the Pacific was easily the softest division in the NHL, and Vegas was supposed to run away with it. But huge leaps forward from Calgary, Edmonton and Los Angeles turned the Pacific on its head, and Vancouver has a chance to make some noise with Bruce Boudreau at the helm for a full season.
The depth of the Pacific Division and the fact that not much has gone right for the Knights has caused their odds to drift all the way to +2500, which is starting to get into tempting territory. Though, it's still too short for me.
One bet I think is worth heavy consideration is Eichel to win the Hart Trophy as league MVP. There was no way that the former No. 2 overall pick was at his best for the Knights last season after missing so much time and getting neck surgery, but he still posted 25 points (14 G, 11 A) in 34 games. It was an encouraging output for Eichel and one that should only improve if he's healthy. In the two seasons before he got injured, Eichel posted 160 points in 145 games on some really bad Buffalo teams, so we know he can put up the requisite point totals needed to get on ballots. Add in his comeback story, and you've got yourself the type of narrative awards voters just eat up.
The Bet: Jack Eichel to win the Hart Trophy (+7500, Caesars)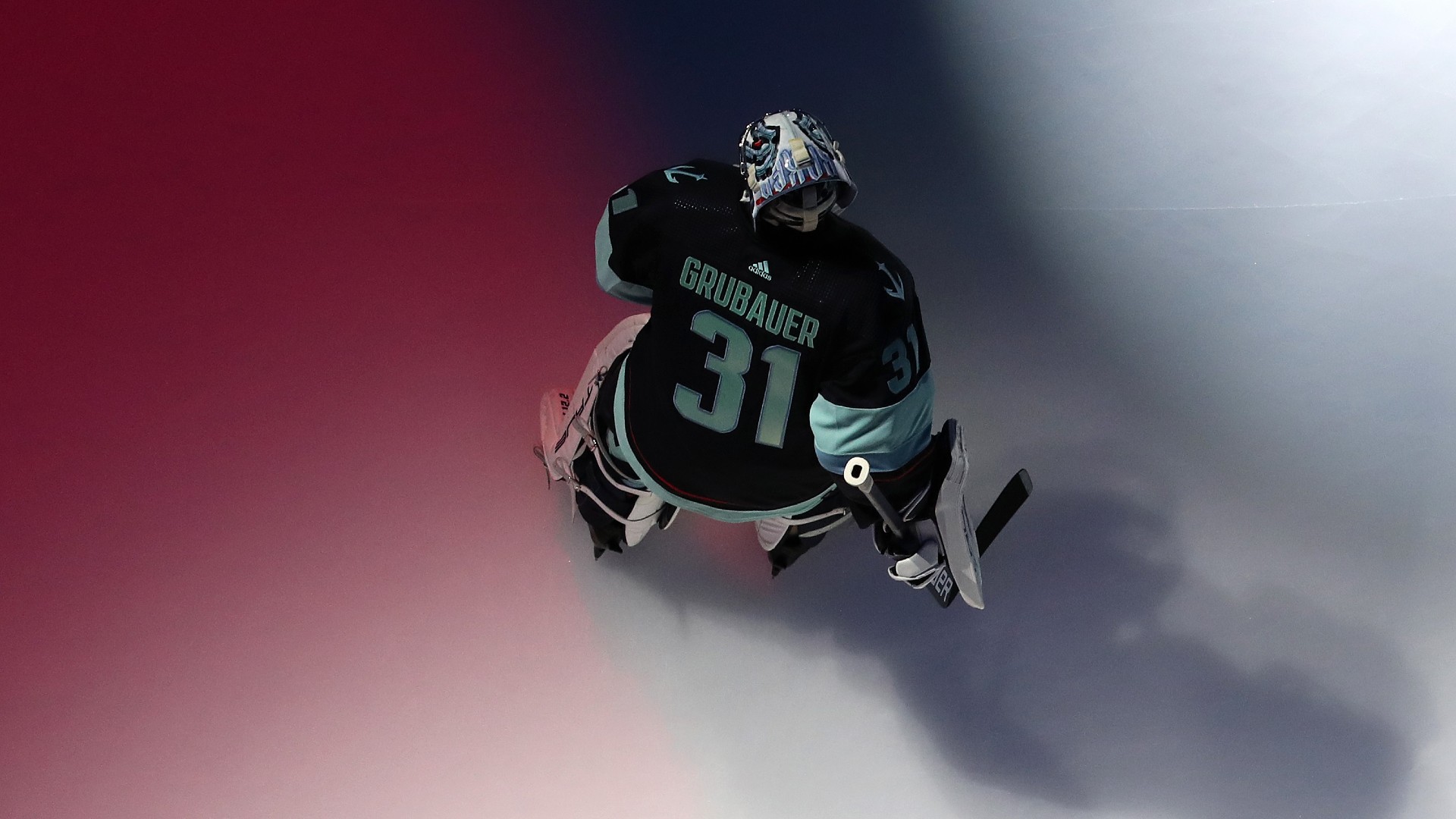 12. Seattle Kraken
| | |
| --- | --- |
| Stanley Cup Odds | +10000 |
| Division Odds | +6500 |
| Make/Miss Playoffs | +300/-400 |
| Over/Under | 83.5 |
In a weird turn of events, the Seattle Kraken actually caught a lot of hype last season from some very smart people. Some modelers projected Seattle as a top-10 team in the NHL (others had them even higher). Perhaps it was the Vegas Effect or the fact that Pacific Division looked ripe for the taking last season, but for some reason, a lot of people (myself included) drank some Kool-Aid with the Kraken. Hell, Seattle was under +200 to win the Pacific before Opening Night. What were we all thinking? What were we all drinking?
Of course, it was hard to predict that Seattle's goaltending – which looked like a strength before the season – would absolutely capitulate, but everybody had an idea that this offense would struggle to produce. Turns out we were right, as Seattle finished inside the bottom-five in goals scored, expected goals created and high-danger scoring chances. Only one player (Jared McCann) hit the 50-point plateau.
One 60-point season later and everyone is out on Seattle, instead choosing to believe that the Kraken are committing to a more patient process and building through the draft. They're off to a good start in that regard, landing Matty Beniers in 2021 and Shane Wright, who was the consensus No. 1 overall pick for over a year before falling to No. 4 on draft day, in 2022.
Beniers and Wright should provide Seattle with a platform down the middle for years to come, but it's hard to know how much of an impact either (or both) will have in 2022-23. The Kraken aren't dripping with talent down the middle, so there's a chance we could see the kids get a kick at the gig right out of the gates.
And even though the Kraken don't look like they'll be an offensive force next season, they did improve their forward ranks by nabbing Oliver Bjorkstrand and Andre Burakovsky.
Neither Bjorkstrand nor Burakovsky is known a as game-breaker, but the former is a pretty safe bet for 25 goals while the latter will likely come in around 20 tallies in a healthy season. They'll join a group of players with similar ceilings, including Jaden Schwartz, Jordan Eberle and Ryan Donato.
Defensively, the Kraken actually graded out pretty well in 2021-22. They couldn't get saves, but the team finished fourth in expected goals against, sixth in shot attempts allowed and high-danger chances against (5-on-5). Those are encouraging numbers, but there are reasons to be skeptical that the Kraken can keep them up with this current blueline. Similar to their forward group, Seattle lacks a talisman to build around on the back-end. Adam Larsson, Carson Soucy, Jamie Oleksiak, Vince Dunn and Justin Schultz are all solid NHLers and can play a specific role, but they're all complementary pieces more than anything else.
Which brings us to the elephant in the room: the Goalies.
After selecting Chris Driedger and Vitek Vanecek in the expansion draft, Seattle made a surprising splash by signing Philipp Grubauer to a six-year deal. Grubauer had just finished third in the Vezina voting and backstopped the Colorado Avalanche to a Presidents' Trophy.
With a tandem of Grubauer and Driedger playing behind what looked like a solid defensive team, the Kraken did seem to have a vision in place. Unfortunately, that plan got tanked as Grubauer was the worst goaltender in the NHL with a -31.5 GSAx in 55 games. Kevin Lankinen of the Blackhawks had the second-worst mark in the league, and he was seven goals better than Grubauer. Driedger also struggled and was hurt for a good chunk of the season.
It's hard to imagine that the goaltending will be worse than it was last season, but that's not saying much. For Seattle to have a chance at competing in an all-of-a-sudden deep Pacific Division, Grubauer, Driedger and Martin Jones (not sure why they signed him, but OK) need to be really good. That is probably not going to happen.
Seattle was one of the toughest teams to find a preseason bet to highlight because they should improve, but it's hard to see a path toward an Over 81.5 or a playoff berth for this team.
As for the individual award markets, the prices on Beniers (+750) and Wright (+850) are too short to win the Calder Trophy, and it's hard to imagine any other players on this roster even coming close to winning hardware. Grubauer at +10000 to win the Vezina just one (awful) season removed from a third-place finish? It's not that crazy at those odds.
So instead of focusing on the futures market, my favorite angle with the Kraken is to buy them early in the season.
Bettors will be quite down on Seattle out of the gates, but we know that it will automatically improve if the goaltending gets better. If that happens, the long prices on the Kraken will disappear quickly.
The Bet: Buy Seattle early in the season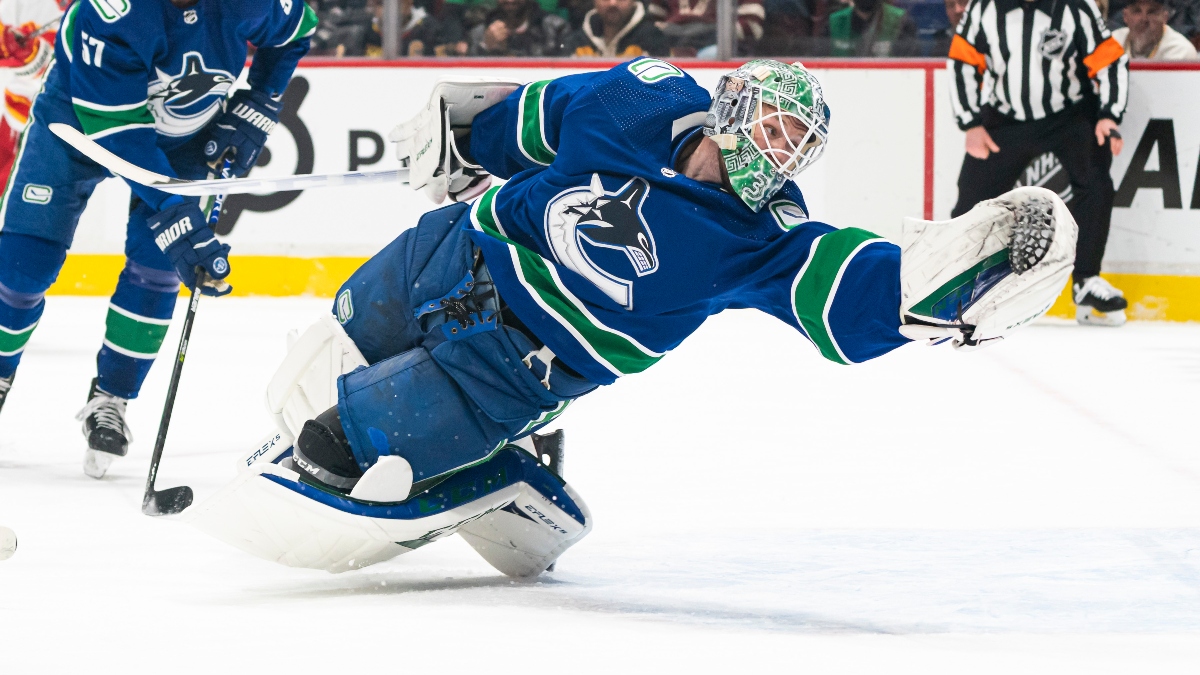 11. Vancouver Canucks
| | |
| --- | --- |
| Stanley Cup Odds | +5000 |
| Division Odds | +1000 |
| Make/Miss Playoffs | -130/+100 |
| Over/Under | 92.5 |
It was a tale of two very different seasons for the Vancouver Canucks in 2021-22.
The Canucks went 8-15-2 (.360 points percentage) in their first 25 games, fired head coach Travis Green and then rattled off a 32-15-10 (.649) record under Bruce Boudreau. Vancouver actually clawed its way back into the playoff race in the spring but ultimately fell short. Nonetheless, the way the Canucks played under Boudreau got tongues waggin' that the Canucks could be right back in the mix in 2022-23.
The only problem is the timing.
Whereas last season the Pacific was the NHL's softest division by far, the gap has significantly shrunk since last fall. Edmonton and Calgary are legitimate Stanley Cup contenders, the Golden Knights are licking their wounds but still dangerous, and the Kings were the surprise package last season and added Kevin Fiala to their forward ranks. The Kraken, Sharks and Ducks are likely to be out of the mix, but that still leaves Vancouver with a significant fight on its hands to get into the playoffs. Especially since the Central Division has four teams at -175 or shorter to make the playoffs.
But that doesn't mean that the Canucks, who are basically a coin flip to make the spring fling according to the oddsmakers, won't sneak a playoff spot from under another team's nose. And Vancouver checks a lot of boxes for a team that is looking to do just that.
We'll start in goal, where the Canucks have one of the game's best netminders in Thatcher Demko. Over the past two seasons, Demko has posted a .915 save percentage and saved a combined 16 goals above expected in 99 games. He was the main reason why the Canucks finished second overall in goals allowed per 60 minutes at 5-on-5.
Goaltending performances are not always linear, but if Demko continues to build upon his past two seasons, the Canucks are going to be in the mix.
Although they're known as an offensive team because of their personnel, the Canucks did not produce relative to their expectations in 2021-22. Vancouver finished 18th in goals per game but were just 25th in 5-on-5 scoring at 1.9 goals per 60 minutes. Vancouver's underlying metrics – 18th in expected goals created and 25th in high-danger chances generated – also painted a pedestrian picture for the offense.
I think it's a pretty safe bet to assume that Vancouver's offense takes a step forward this season. A team with Elias Pettersson, J.T. Miller, Brock Boeser, Bo Horvat, Conor Garland and Quinn Hughes should be at the very least above-average, and the additions of Ilya Mikheyev and Andrei Kuzmenko should provide more scoring depth in the middle part of the lineup. A bounce-back season from Nils Hoglander would also be a huge help in putting everyone in the right role.
The Canucks took a big leap forward defensively last season, going from 2.91 goals allowed and 2.84 expected goals against per 60 minutes at 5-on-5 in 2020-21 to 2.13 goals against and 2.48 xGA/60 in 2021-22.
The defense remains largely unchanged from last season, and the unit's ceiling is largely dependent on Quinn Hughes. After a terrible 2020-21 season, Hughes reignited his career last year and finished with 68 points in 76 games. What's more is that Hughes' all-around game improved, too. If he continues to develop along this path, Hughes will be a no-doubt No. 1 defenseman on the left side. The problem is that the rest of the unit does leave a lot to be desired. Luke Schenn is a fine bottom-pair defenseman, but asking him to flank Hughes at this point in his career is a bit rich. Ditto for Tyler Myers.
Behind Hughes, Oliver Ekman-Larsson showed some signs of a bounce-back after some tough seasons in Arizona, but he's not a top-pair rearguard either. Perhaps Vancouver is able to make a trade for a stronger option to add to the top-four before the season starts, but as is this unit lacks depth behind Hughes, and you could see things going pear-shaped because the defense struggles and Demko takes a step back.
All in all, I think the odds for Vancouver look about right. The Canucks have a pretty high ceiling, but the odds are too short to get involved on a team with this many flaws in a division that is going to be quite competitive.
While I'm not too enthused about the Canucks on a team-level, there are a couple of player-level futures that could provide some excitement and value if you're looking to get down on Vancouver.
Thatcher Demko has played himself into the conversation as one of the NHL's best goaltenders, and at age 26, there's a chance we could see the California native continue to get better this season. The price on Demko to win the Vezina (+1800) is a little short, but I do think we're going to see more and more goalies play their way into the Hart Trophy conversation this season, and Demko is certainly one of the netminders who has the potential to be a serious contender.
The Bet: Thatcher Demko to win the Hart Trophy (+10000, Caesars)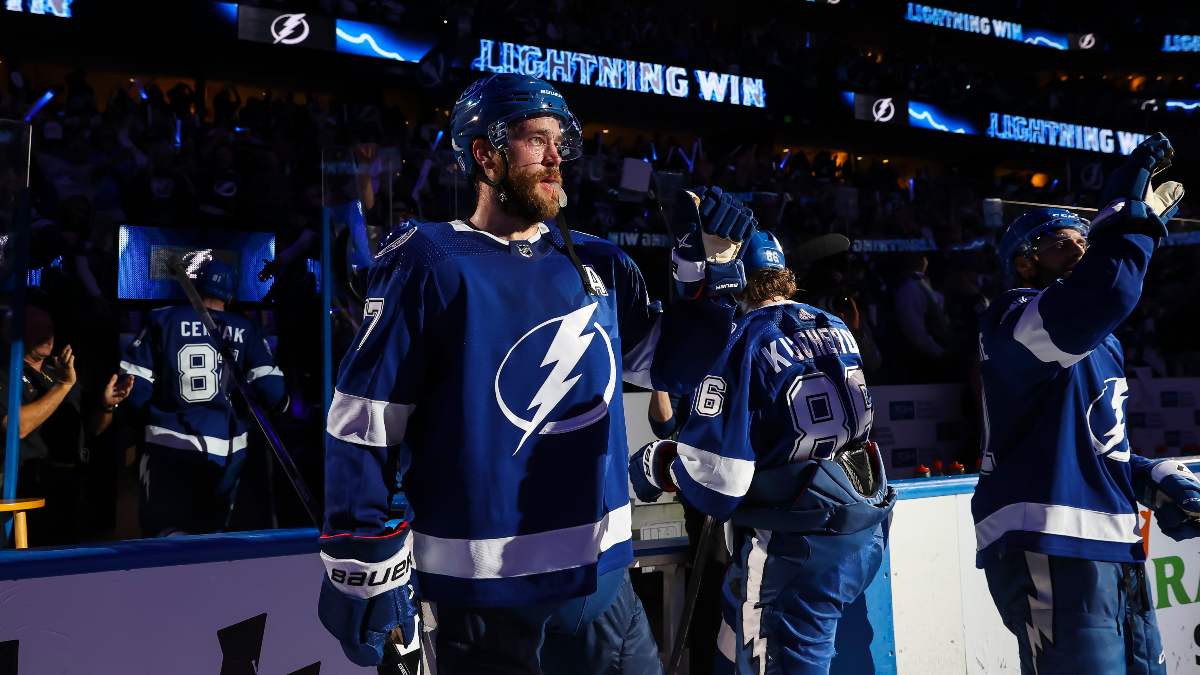 10. Tampa Bay Lightning
| | |
| --- | --- |
| Stanley Cup Odds | +1200 |
| Division Odds | +300 |
| Make/Miss Playoffs | -700/+475 |
| Over/Under | 103.5 |
I don't know how this happened, but I think the Tampa Bay Lightning are a tad underrated this season. That may sound insane since the Bolts have won two Stanley Cups and three Prince of Wales Trophies in the past three seasons, but if you take a look at the odds and then around the rest of the Eastern Conference, it does seem like the Lightning are the best value of any team in the top-five on the betting board.
Although Tampa Bay didn't necessarily get better over the summer, the two additions the team made at the Trade Deadline (Brandon Hagel and Nick Paul) are both returning and give the Lightning productive depth in the middle-six. In other words, Ondrej Palat's replacement was already in-house before he left for New Jersey in free agency.
Palat was an absolute beast in the postseason during Tampa Bay's deep runs, but he wasn't a prolific scorer in the regular season. He averaged 0.68 points per game over the last three seasons, which is perfectly adequate, but also replaceable, for a player in his role.
Tampa's top-nine projects to be a beast with Brayden Point, Steven Stamkos, Nikita Kucherov, Alex Killorn, Anthony Cirelli, Ross Colton Hagel and Paul serving as the core. Tampa also has high-end bottom-six players such as Corey Perry and Vladislav Namestnikov who can take on a number of roles.
The forwards will be fine. The defense could be a different story, however.
Tampa still has Victor Hedman, Erik Cernak and Mikhail Sergachev to work around, but Ryan McDonagh is now in Nashville and Jan Rutta is in Pittsburgh. Rutta is a fine low-responsibility defenseman, but the McDonagh absence could be felt a bit more with Sergachev slated to step into his role. Ian Cole, Zach Bogosian and Cal Foote round out the blueline, with reclamation project Philippe Myers also kicking around. Things tend to work out for the Bolts, but the defense does have some blow-up potential.
Luckily, the Lightning have a cheat code in the blue paint as a cover.
Andrei Vasilevskiy is the best goaltender in the world and is coming off another spellbinding season that saw him post a .916 SV% and a +17.9 GSAx in 63 contests. He followed that up with a .922 SV% and +15.5 GSAx in 23 playoff games. Vasilevskiy is the second-favorite to win the Vezina at +500 and is +3500 to win the Hart Trophy. If you think he's worth a bet to win the Vezina, you may as well take the bigger number on MVP, too.
Vasilevskiy to win the Hart is not the only individual award I think has some value here. Nikita Kucherov at +6000 to win the same trophy is also worth considering, and so is Jon Cooper to win the Jack Adams.
I almost never bet favorites – even +1000 favorites – to win awards, but Cooper may be an exception. There was a big-time narrative thrown around last season about how it was a travesty that the two-time Stanley Cup champion and the league's longest-tenured head coach has never won the award. That narrative only grew louder as Cooper led the Lightning to their third-consecutive Stanley Cup Final.
It feels like a near-certainty that if the Lightning have another 100-point season, Cooper will be nominated for the award, especially since the Bolts are not getting all that much preseason hype (everyone is tired of them?) this season.
The landscape in the Atlantic Division does feel like it's shifting a bit, but of the four teams that finished at the top last season, Tampa Bay feels like the safest bet to stick there again in 2022-23. A lot of it has to do with Vasilevskiy, Cooper and the stars up top, but it also has to do with what we've seen out of their rivals in the division. The Maple Leafs and Panthers added more questions than answers this summer, while the Bruins never really found their next level last season and are dealing with an injury crisis. Somehow, Tampa Bay looks like the most stable team in this set.
As noted above, I think there are a number of ways to play correlated markets with the Lightning this season, but Cooper to win the Jack Adams seems like the safest of the bunch.
The Bet: Jon Cooper to win Jack Adams Trophy (+1000, Caesars)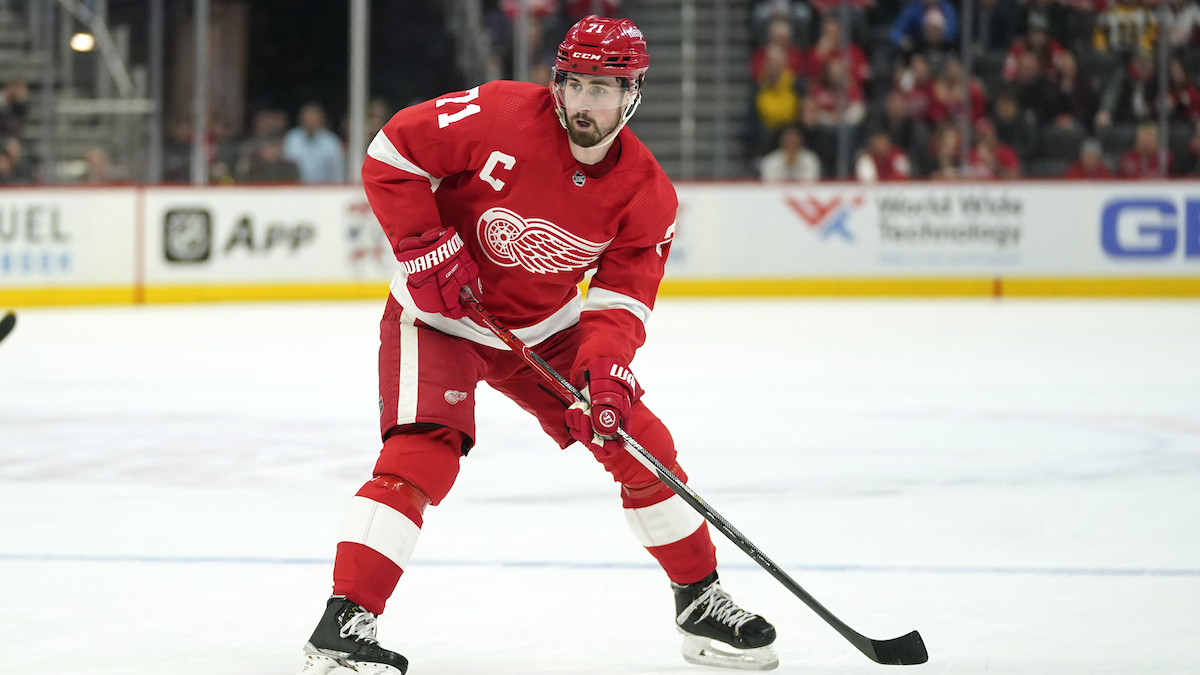 9. Detroit Red Wings
| | |
| --- | --- |
| Stanley Cup Odds | +6000 |
| Division Odds | +3000 |
| Make/Miss Playoffs | +290/-380 |
| Over/Under | 84.5 |
After spending the last six seasons as an also-ran, the Detroit Red Wings have their sights on crashing the party in the Atlantic Division. The Wings already have a couple of budding young stars (Moritz Seider, Lucas Raymond), a legitimate first-line center (Dylan Larkin) and some supporting players with high ceilings (Tyler Bertuzzi, Jakub Vrana). All the Wings needed to do was find a way to fill in the gaps via free agency or through trades and they could be looking at a potential corner-turning season.
Steve Yzerman did just that, solidifying all three parts of the Wings lineup. He filled out his top-nine with Andrew Copp, David Perron and Dominik Kubalik, he stabilized the defense with Ben Chiarot and Olli Maatta, and he signed goaltender Ville Husso to tandem with Alex Nedeljkovic.
The new faces in town are more secondary pieces, but Detroit is banking that players like Larkin, Seider and Raymond will be the game-breakers every playoff team needs.
After spending the last four seasons in Tampa Bay as an assistant coach, Derek LaLonde will take over as the new bench boss for the Wings. This is LaLonde's first go-round as the main man, but he's coming into a pretty ideal situation. The Wings aren't expected to be true contenders, but there's enough to work with from a roster standpoint that LaLonde has a chance to succeed right out of the gates.
A new coach and half-a-dozen new players mean it's hard to apply what we saw last season from the Wings and use it to help project what will happen this time around, but it has to be noted that Detroit did struggle across the board in 2021-22. The Red Wings allowed the fourth-most goals at 5-on-5 and they finished the season ranked 30th in 5-on-5 goal differential and 29th in expected goals rate.
Teams can make big leaps from one season to the next, especially with the improvements the Wings have made, but there's a limit.
The Red Wings traded for Nedeljkovic after his superb rookie season with Carolina, but as is want to happen with goaltenders, the Ohio native's form dipped precipitously in his first year in MoTown. By season's end, Nedeljkovic owned a .902 SV% and -11.5 GSAx in 59 games. That's a long way off from his +13.3 GSAx in 23 games with the Canes.
Part of Nedeljkovic's struggles can certainly be chalked up to playing behind a porous defense that allowed the most high-danger scoring chances per game, but it is a little concerning that his game dropped so hard after the Wings made a sizable bet on him after just a 23-game sample size.
Instead of just bringing in another true backup to play with Nedeljkovic, Yzerman made another bet in the goaltending market on Ville Husso. Similar to Nedeljkovic's situation, Husso signed a big contract off a one-season heater with another team. The 27-year-old Finn posted a .919 SV% and +14.1 GSAx in 40 games with the Blues in 2021-22, but he skated to an .894 SV% and -6.41 GSAx in 17 contests the year before that.
There are plenty of folks who are high on Husso and think the move was a banger, but it's really anybody's guess how this tandem will work out. The ceiling is certainly high, but the floor is also pretty low. Husso is +10000 to win the Vezina Trophy, for what it's worth.
Like with the Senators, I think there is a chance that Detroit can find its way into a tussle for a playoff spot after spending a long time on the sidelines. The Wings are still a relative longshot to get in at +310, but if they do, LaLonde will end up on plenty of ballots to win the Jack Adams.
The Bet: Derek LaLonde to win the Jack Adams Trophy (+5000, Caesars)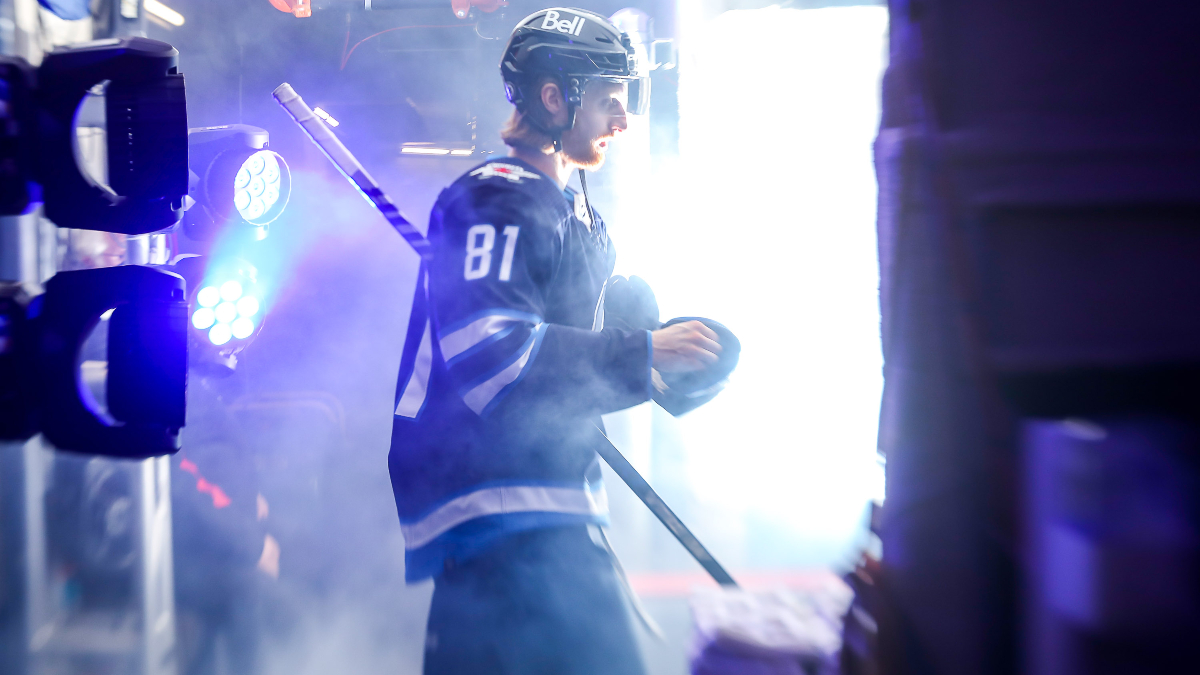 8. Winnipeg Jets
| | |
| --- | --- |
| Stanley Cup Odds | +6000 |
| Division Odds | +3500 |
| Make/Miss Playoffs | +180/-220 |
| Over/Under | 87.5 |
I can actually see reasons for optimism when it comes to the Winnipeg Jets.
Of course I thought that last year, too, and was dead wrong, but there's still a decent core of players in Manitoba, and the Jets have one of the best starting goaltenders in the NHL.
But the most important thing here is that the market has soured on Winnipeg. And that presents a decent buying opportunity.
After entering last season with some dark-horse hype and priced ahead of Nashville, St. Louis, Chicago and Arizona in the Central Division, the Jets are now projected to be the third-worst team in the set, ahead of only Chicago and Arizona. That makes sense based off what we saw from Winnipeg and the other teams last season, but there is a path for the Jets to surprise some people.
Colorado is the runaway favorite in the entire conference and is -160 to win the division, but every team in the chasing pack has its flaws. It wouldn't be a shock to see one or two of Minnesota, St. Louis, Dallas and/or Nashville take a step back and open the door for the Jets to get in the mix.
To do that, the Jets will need to see some steady improvements on the backend. Last season Winnipeg allowed the fourth-most high-danger scoring chances at 5-on-5 and conceded the seventh-most expected goals. If it wasn't for Connor Hellebuyck (.911 SV% and +13.6 GSAx in 66 games), the Jets would have been out of the playoff mix months before the end of the season. Instead, Winnipeg hung out slim hope until the final few weeks.
Hellebuyck is the most important player for the Jets, and even with the wonkiness that comes with projecting goaltenders, he is one of the safer bets in the NHL today. The Michigan native has saved 48.3 goals above expected over the last three seasons (169 games), which puts him in the elite class with the likes of Andrei Vasilevskiy, Igor Shesterkin, Ilya Sorokin and Juuse Saros.
Hellebuyck's presence gives the Jets' defense a little breathing room, but the unit needs to be sorted out. Some combination of Brenden Dillon, Josh Morrissey, Neal Pionk, Nate Schmidt, Dylan DeMelo, Logan Stanley and Ville Heinola will be the group charged with improving on Winnipeg's woes in their own zone, but the person who could have the biggest impact is new head coach Rick Bowness.
Bowness is certainly not the sexiest choice for a head coach in the modern NHL and wouldn't be a fit for most teams, but the Jets and Bowness could end up being a decent fit. He is a pragmatic coach and has been around the league forever (he actually coached the Jets for 28 games in 1988-89), so if anyone can sort out whatever the off-ice drama that's been plaguing the Jets, maybe it's Bowness.
Bowness coached another team with plenty of veterans, the Dallas Stars, over the past three seasons and took them to the Bubble Stanley Cup, missed the playoffs in a Murphy's Law season and then took the Calgary Flames to overtime in Game 7 of Round 1 in 2022. The constant along the way was that the Stars were a rigid defensive group that excelled at preventing quality scoring chances.
An improvement in that department will go a long way for the Jets, as they have the offensive firepower to outscore some defensive failures. Kyle Connor, Nikolaj Ehlers, Pierre-Luc Dubois, Mark Scheifele, Blake Wheeler and Cole Perfetti have the potential to be a decent top-six, but there's also a chance things go sideways before they ever get off the ground.
Wheeler and Scheifele were available for trades in the summer, while Dubois has already told the team he'll test the market in two years when he's a free agent. Those storylines have made folks question how this team gets along, but it's a new season with a new head coach, so perhaps things get sorted.
And if they do get their act together, the Jets have upside. Connor scored 47 goals last season, Scheifele was a point-per-game player, Wheeler wasn't far behind in "down years," and Ehlers put up 55 points in 62 games. If Perfetti takes the leap forward as expected, the Jets could be a rambunctious bunch.
There are a couple of bets I don't mind making on the Jets. You could make an argument to back the Over 88.5 points or for Winnipeg to make the postseason at +165, but there are also a couple of players who have some enticing odds in the awards markets.
Hellebuyck at +2000 to win the Vezina or as a triple-digit Hart Trophy play is interesting. So is Connor to win the Hart at +6000. But, I'll go even deeper and throw a small bet on Nikolaj to win MVP at 200/1.
To me, Ehlers has potential for a Jonathan Huberdeau-type season in which he completely busts through his previous career-highs and vaults himself into the conversation for MVP. Ehlers is a phenomenal player and has the supporting cast needed to post crooked numbers, so a 200/1 dart is worth it in my eyes.
The Bet: Nikolaj Ehlers to win the Hart Trophy (+30000, Caesars)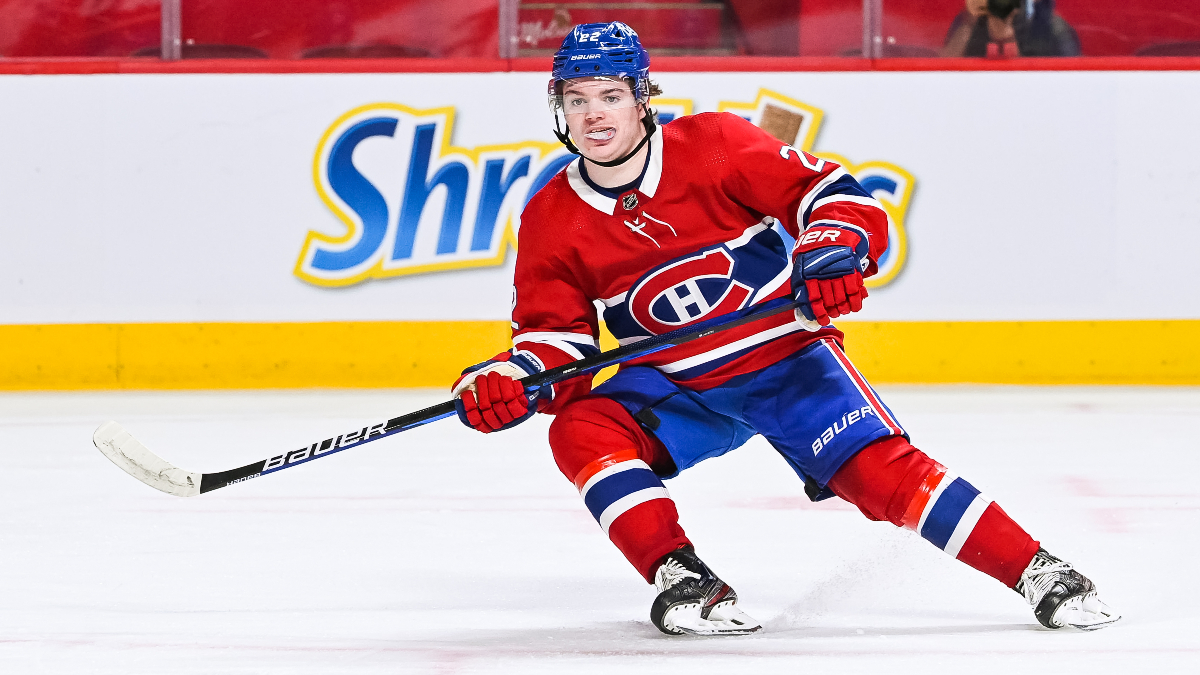 7. Montreal Canadiens
| | |
| --- | --- |
| Stanley Cup Odds | +1700 |
| Division Odds | +20000 |
| Make/Miss Playoffs | +1500/-4000 |
| Over/Under | 73.5 |
It's been an odd couple of seasons for the Montreal Canadiens. After making a Cinderella Run to the Stanley Cup Finals in the shortened 2021 campaign, the Habs finished dead last in 2021-22. I thought Montreal was a good sleeper pick before 2020-21 and was right, but then I doubled down on the Habs last offseason and was very wrong. This season, I think Montreal is pretty fairly priced, but there may be more upside here than people realize.
Up front, the Habs will be betting on a pretty exciting combination of young stars like Nick Suzuki, Cole Caufield, Juraj Slafkovsky and Kirby Dach, blended with experienced forwards like Brendan Gallagher, Jonathan Drouin, Evgenii Dadonov, Josh Anderson and Mike Hoffman. It's actually not a bad group on paper and the upside is palpable.
Of course, that upside will only be realized if the youngsters trend in the right direction, but there are some really positive signs for this core. Caufield scored 22 goals in his last 37 games last season, Suzuki posted 61 points (21 goals, 40 assists) as a 22-year-old No. 1 center, Slafkovsky was the No. 1 overall pick in 2022, and Dach – the No. 3 overall pick in 2019 – is fully healthy and could benefit from a change of scenery after stalling in Chicago.
Importantly, these youngsters have a reliable supporting cast of veteran forwards around them. Suzuki, Caufileld, Dach and Slafkovsky will need to contribute, but they won't be asked to do too much, which can often happen when a roster is built like this.
Dadonov, Hoffman, Anderson and Gallagher aren't star players, but they are high-end role players who all have enjoyed plenty of success over their careers. Dadonov has scored 20-plus goals in four of his last five seasons, Hoffman has averaged 0.33 goals per game over a 612-game NHL career, Anderson has scored at a 24-goal pace over the last two seasons, and Gallagher is an effective below-the-dots pest when he's healthy. Throw in bounce-back candidates like Christian Dvorak, Sean Monahan and Jonathan Drouin, and you can see how this group can have some modest success.
That isn't to say this will be a league-leading offense, but it should provide some breathing room for a defense and goaltending tandem that will need as much help as it can get.
Montreal finished dead last in the NHL in goals allowed, 30th in expected goals against and 31st in high-danger scoring chances allowed last season, and those numbers are probably not going to get much better judging by the personnel. David Savard, Mike Matheson, Joel Edmundson and Chris Wideman will provide the "veteran presence" on the blueline, but all of them really aren't more than No. 4 or 5 defensemen at this point in their respective careers. They'll be joined by entry-level players Justin Barron, Kaiden Guhle and Jordan Harris to create one of the league's most pedestrian defensive units. Barron, Guhle and Harris all have upside, but they're not on the same level as the young forwards. This team will likely struggle to prevent scoring chances.
That's an issue on any team, but the Habs don't have the goaltending personnel to bail them out of back-and-forth contests. Jake Allen was quietly effective last season (.906 SV%, +2.98 GSAx in 32 games), but he'll likely be traded at some point during the season, and there's not much to write home about behind him with Cayden Primeau (-12.6 GSAx in 12 games last season) and Sam Montembeault (-14.5 GSAx in 38 games last season).
In some ways, these Canadiens kind of remind me of the Ottawa Senators from the past two seasons. Those Senators had a couple of brilliant young forwards, but the defense and goaltending were not up to par and doomed the Sens to lousy seasons. That said, no team punched up better than those Senators as big underdogs.
We started to see that out of the Habs last season after they fired Dominique Ducharme and hired Martin St. Louis. After starting the season 8-30-7 under Ducharme, the Habs went 14-19-4 under St. Louis and improved their goal differential per 60 minutes (5-on-5) from -1.17 to +0.03. They also bumped their expected goals rate from 44.6% to 47.1%.
I'll be backing that improvement to start 2022-23 and will look to play Montreal at big prices out of the gate.
The Bet: Play Montreal as big underdogs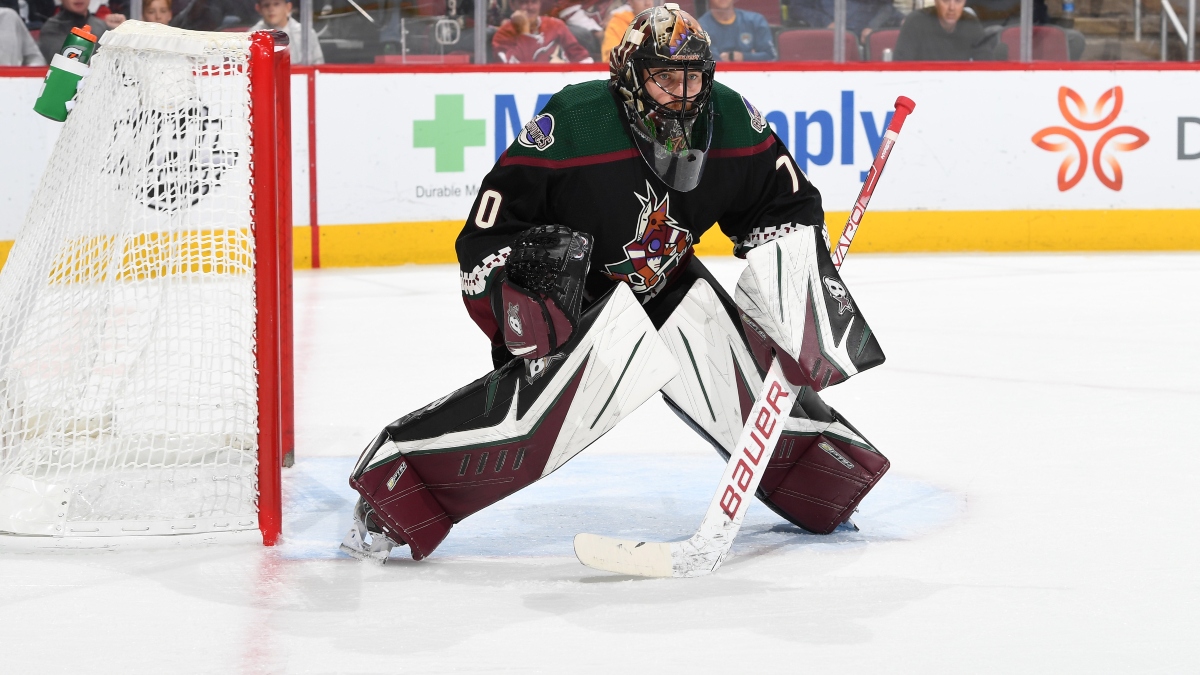 6. Arizona Coyotes
| | |
| --- | --- |
| Stanley Cup Odds | +100000 |
| Division Odds | +50000 |
| Make/Miss Playoffs | +2500/-6000 |
| Over/Under | 65.5 |
The Arizona Coyotes are going to be the subject of plenty of jokes this season. Not only are the Desert Dogs projected to be one of the weakest teams in the NHL, but they're also going to be playing their home games at Arizona State's 3,500-seat hockey arena because they were essentially kicked out of their former home arena by the City of Glendale.
Given that having an NHL team in Arizona was already a dicey proposition for the league, the news that a professional team would be playing home games in a barn with just 3,500 seats was met with plenty of rolled eyes from the hockey world, especially with a couple of hockey-mad cities desperate for a team.
While off-ice sagas don't normally come into play when handicapping a team, a situation like this is worth talking about because I think it is tanking the market perception of the Coyotes even more than it should be had the arena stuff not been such a circus.
That isn't to say that Arizona won't be bad this season. The Coyotes almost certainly will be one of the worst two or three teams in the NHL, but I think there's a possibility we see the Coyotes clear the extremely low bar that's being set for them ahead of the new season.
At 500/1 to win the Stanley Cup and sitting with an Over/Under of 65.5 points, the Coyotes are being priced as the worst team in the NHL, just a smidge ahead of Chicago. Last season, I bet the Under 67.5 points on the Coyotes, but this year I'm singing a different tune.
Things look unremarkable all over this roster, but the Coyotes did get some encouraging seasons from a handful of players last season. Clayton Keller is the team's talisman and acted as such with 63 points in 67 games, while Shayne Gostisbehere enjoyed a resurgent campaign with 51 points from the blueline. On contending teams, players like Keller and Gostisbehere would be in more supporting roles, but they're going to need to continue their upward trend if Arizona is going to get to 70 points.
The same thing is true of Nick Schmaltz (59 points in 63 games), Lawson Crouse (20 goals in 65 games) and former fifth-overall pick Barrett Hayton (24 points in 60 games), while a bounce-back season would be welcome from Jakob Chychrun, whose name has been in the rumor mill for the better part of 18 months now.
But even if those players do find a way to replicate or raise their level from 2021-22, it still would leave the Coyotes with a very weak top of the roster. The bottom-six actually isn't in terrible shape, though.
You don't succeed in the NHL when your biggest strength is having a bottom-six that grades out as OK. But one thing you can probably feel good about is a  Nick Ritchie, Zack Kassian, Nick Bjugstad, Christian Fischer and Andrew Ladd will not be fun to play against because of their physicality, which should also open up some space on the ice for young players like Jack McBain, Nathan Smith, Logan Cooley and Dylan Guenther.
It remains to be seen how many of their prospects Arizona will have on the NHL roster, but it would not be a surprise to see at least two of those four players play an impactful role for this team.
The defense is also an uninspiring unit and unlike up top, the Coyotes don't really have prospects waiting in the wings. Victor Soderstrom and Janis Moser were solid in their first spins in the NHL, but they're not the type of players you build a defense around, so vaulting them into the top-four is probably a step too far for either player right now.
That said, there may not be any choice but to do that as the Coyotes are lacking on NHL-caliber rearguards. So we may see a top-four featuring  Chychrun (if he's not traded), Gostisbehere, Conor Timmins and one of Soderstrom or Moser. Not exactly inspiring stuff, but that's to be expected for a team this deep in the odds.
Karel Vejmelka will be the starting goaltender for Arizona, and the 26-year-old native of the Czech Republic is coming off a pretty fascinating season. Vejmelka came into the season as a complete unknown, but he won a roster spot in training camp and never let it go. By season's end, Vejmelka made 52 starts for the sinking Coyotes. And while his overall numbers weren't pretty – he posted an .898 SV% and a -20 GSAx – Vejmelka put up some unbelievable performances throughout the season. The highs were high, but the lows were more common.
Whether Vejmelka is able to find consistency is anybody's guess, but since the Coyotes are not too fussed about contending this season, they can be patient with the former fifth-round pick.
Arizona isn't in the "tear-it-down-to-the-studs" part of the rebuild anymore, and that should make the Coyotes more competitive than they were last season. But that isn't a high bar, and a bet on the over in a season in which the Yotes will be part of the Connor Bedard Tank-a-Thon doesn't seem wise, but I do have a stand I want to take on this team.
While the rest of the hockey world laughs at the Coyotes playing their home games in front of 3,500 fans inside a college rink, I wonder if there will actually be a more tangible home-ice advantage for Arizona in the friendly confines of ASU. Hockey players are creatures of habit and are accustomed to playing in big arenas with every amenity you can dream of, so playing in a college rink where the crowd is right on top of you could be a bit of an adjustment for the visitors. Perhaps I'm over-thinking it, but it's something I'll be playing during the beginning of the season and perhaps beyond.
The Bet: Bet the Coyotes at home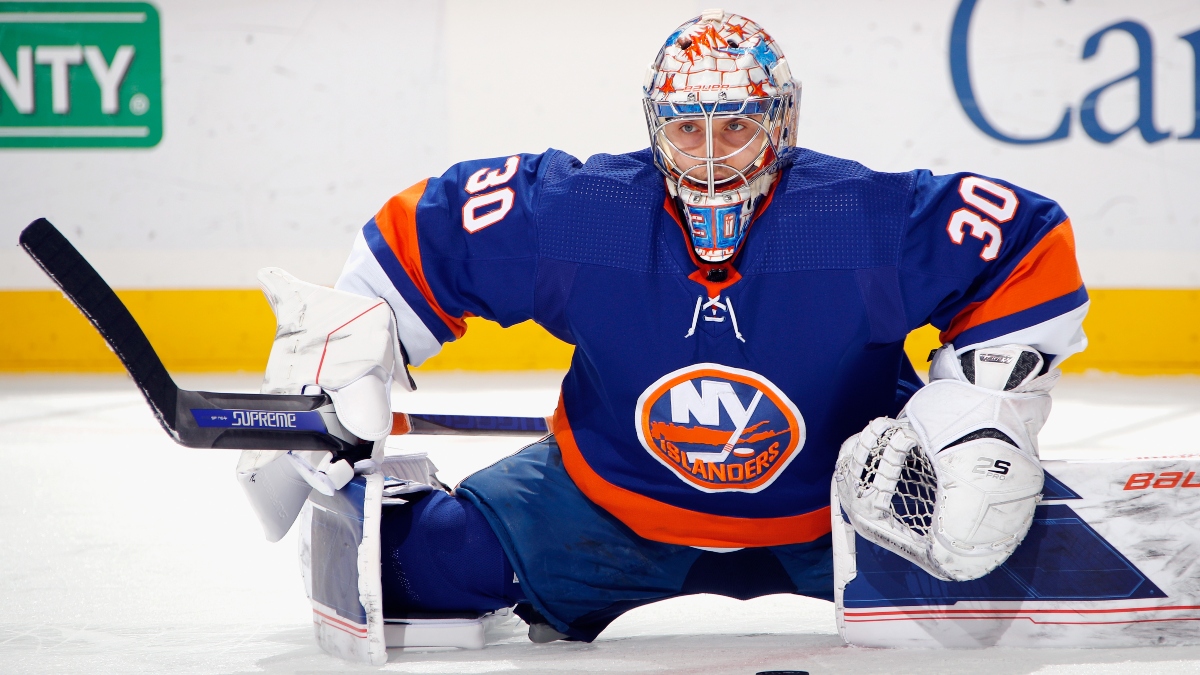 5. New York Islanders
| | |
| --- | --- |
| Stanley Cup Odds | +5500 |
| Division Odds | +1200 |
| Make/Miss Playoffs | +100/-130 |
| Over/Under | 91.5 |
The New York Islanders could be the most polarizing team in the betting market before the new season, with bettors, pundits and fans split into two groups.
The first camp believes that the team's 84-point performance last season was a sign that the Isles' window has shut and they are an aging, mediocre team that will only get worse without head coach Barry Trotz.
On the other side of the aisle are the folks who believe that all of the Islanders went through a Murphy's Law season in 2021-22 and should bounce back closer to the team that made back-to-back trips to the Conference Finals and was a trendy Stanley Cup pick at +1500 a year ago.
Sitting at +5500 with an Over/Under of 91.5 points and +100 to make the playoffs, oddsmakers have provided a perfect fork in the road by installing the Islanders right in the middle of the two camps.
If you're bearish on the Islanders and think they're going to struggle, you can take the under and back them to miss the playoffs at reasonable prices.
If you're more positive about the team's chances under rookie head coach and Trotz's right-hand man, Lane Lambert, you can pick your level of optimism.
Before we get into the numbers from last season, we must discuss the circumstances. Much was made of the Isles' five-week, 13-game road trip to start the season, but it wasn't really the length of the trip that was the biggest issue, but the fact that the team would play a couple of games in one part of the continent and then get a five-day break and then do it again.
The Islanders actually came out of the gates decently, going 5-2-2 through their first nine games, but they dropped their last four games on the trip and came back to Long Island in the middle of a COVID-19 situation. By the time the Islanders played their first-ever home game at UBS Arena, they were without almost half of their regulars. By home game No. 3, the Islanders had one defenseman from their Opening Night roster available. The NHL chose not to postpone any games for the Isles, which looked pretty rough in hindsight since the league would pause the season less than a month later.
When the NHL did start postponing games, the Isles had very little wiggle room. Because of the delayed opening of their home rink, the Islanders already had a back-loaded schedule, and the re-arranged games only made it tighter. Everyone will focus on the road trip, the key injuries and the two COVID-19 outbreaks the Isles dealt with last season, but the ripple effects were just as important to their demise.
By the time the 11-game losing streak was over — exactly one month after it started — the Islanders were buried. They were not helped by the fact that the Metropolitan Division featured three teams that had points percentages of at least .729 at that point of the season and a fourth team that was in the middle of a 17-2 stretch.
But there were some silver linings hiding in this haystack of misery. The Islanders were playing at a 97-point pace after the holiday break up until they were officially eliminated. They skated to a 98-point pace from March 1 to the elimination game, and in that span, they played the most condensed schedule in the league (26 games). Going back a little further, the Isles went 30-21-4 after the 11-game losing streak until they were eliminated. That's a 95-point pace during a really packed schedule.
None of these extenuating circumstances change the fact that the Islanders played poorly in 2021-22. The team was poor at 5-on-5 (49.8% goal share and 47.2% expected goal rate) and featured several players who underperformed relative to their expectations. Mathew Barzal is at the top of that list, but he's hardly alone. Josh Bailey and Kyle Palmieri barely scored in the first half of the season, Anthony Beauvillier never really got going, and Ryan Pulock missed 36 games and took a while to get going after his injury.
The list could continue. Oliver Wahlstrom came out of the gates hot but he really never found a consistent level. Fellow first-round pick Kieffer Bellows had a couple of brief moments but was consistently a healthy scratch.
The team did also have standout performers. Brock Nelson set a career-high in goals. Noah Dobson was a revelation despite playing with 45-year-old Zdeno Chara for most of his minutes. And goaltender Ilya Sorokin finished second in the NHL in save percentage and posted the third-best GSAx.
On a team level, I think the Isles are a good bounce-back, buy-low candidate. The roster is basically unchanged from last October, when they were +1500 to win the Stanley Cup and considered a legitimate threat in the Eastern Conference, but that's not necessarily a terrible thing, as we should expect some reasonable bounce-back seasons from the likes of Barzal, Palmieri (who was really strong in the second half), Beauvillier and Pulock.
The only move that the team made in the summer was to bring in 22-year-old Alexander Romanov to fill in next to Dobson. Romanov sputtered a bit in the first half of last season – his second in the NHL – but he came alive as the Canadiens improved under Martin St. Louis.
The fact that Dobson has developed into one of the league's most promising young defensemen despite playing nearly his entire career with Andy Greene and Chara makes you wonder what he'll do now that he's got a partner under the age of 39.
A top-four of Adam Pelech, Pulock, Dobson and Romanov with Scott Mayfield at the ready as the No. 5 rearguard is quite strong. Most teams would sign up for this blueline, especially with the goaltending tandem of Sorokin and Semyon Varlamov backing them up.
If we can safely assume that the Islanders will be strong defensively and in goal, the question becomes whether or not they can score enough to make their defensive work count.
And while the team could certainly use a shot in the arm in the top-six, this is a deep group. Palmieri, Lee, Nelson, Beauvillier, Parise and Wahlstrom are all capable of hitting the 20-goal mark, while Parise, Pageau and Bailey should be just below that if they're on song. That's a decent crew around Barzal, who will need to be the star player the Isles desperately need to make the supporting cast, well a true supporting cast.
Whether Barzal can truly grab the reins as a game-breaker is a big part of the equation, but the Islanders' season will likely come down to just how good Ilya Sorokin is in net.
After spending his early 20s dominating the KHL, Sorokin is now in his third NHL season with the Isles, but this is the first time he'll enter the year as the undisputed starter ahead of fellow Russian Varlamov. As noted 50 times in this preview, goaltending is rarely, if ever, a linear trajectory, but if you're going off of what we saw from Sorokin last season, you have every reason to be confident that the Islanders have one of the best goaltenders in the NHL.
Sorokin comes into the season as the third-favorite to win the Vezina Trophy at +800, which is too short to have any value, but it shows how the market views the 27-year-old netminder. He's next up after Shesterkin and Vasilevskiy.
The ceiling for Sorokin is sky high, and there's a realistic chance he provides the Isles with best-in-class goaltending in 2022-23. If your goalie does that, it completely shatters expectations around a team. Just look at what happened when Sorokin's buddy went all-world for the Rangers.
I am an Islander fan, so perhaps I'm letting my blue-and-orange tinted goggles skew my view here, but I think the Isles are a good buy before this season. Any veteran bettor will tell you that buying low is never a bad idea when it comes to gambling, and it's hard to find a better buy-low spot on the board than the Isles, who boasted Stanley Cup odds in the teens last October. This number has drifted far enough to have a flutter.
But my favorite Islanders bet is to back Sorokin to win the Hart Trophy.
The last goaltender to win MVP was Carey Price back in 2015, and it's happened only four times since 1997 (Dominik Hasek twice, Jose Theodore and Price), but Shesterkin came close last season, finishing third behind Auston Matthews and Connor McDavid.
While that may seem discouraging since Shesterkin put up absolutely eye-popping numbers and still came up short, it did start to get tongues wagging about whether voters overlook goaltending when it comes to picking the league's Most Valuable Player. Playing into that narrative — that a goalie is "due" to win the award — could provide quite the payday.
To put it simply: If you were interested in playing Sorokin to win the Vezina Trophy at +800, that means you were betting that he'll have a better season than Shesterkin, Vasilevskiy and Juuse Saros. If he does that, he'll almost certainly be in the conversation to be the league's Most Valuable Player, especially if the Isles have a strong season when everyone has counted them out.
The Bet: Ilya Sorokin to win the Hart Trophy +12500 (PointsBet)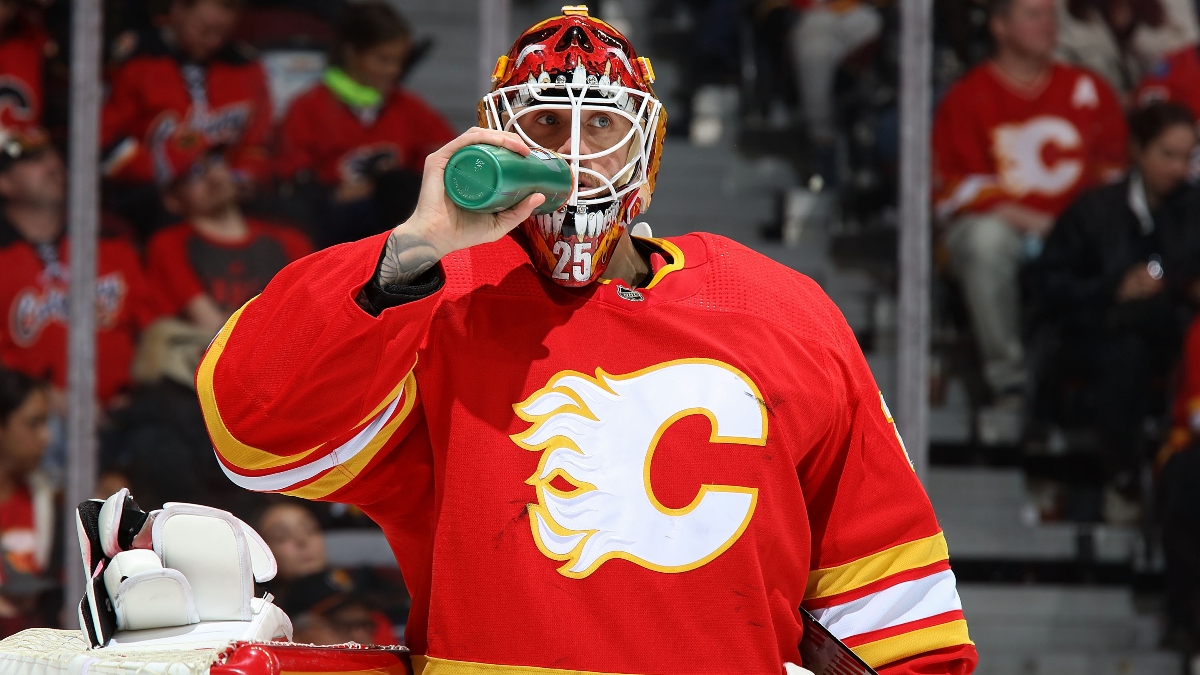 4. Calgary Flames
| | |
| --- | --- |
| Stanley Cup Odds | +1700 |
| Division Odds | +220 |
| Make/Miss Playoffs | -600/+425 |
| Over/Under | 102.5 |
The Calgary Flames have had a stunning year.
Calgary entered last season as a +4500 outsider but quickly caught fire and never looked back en route to a 50-win, 111-point season. The Flames won the Pacific Division but ended up on the losing side of the first Battle of Alberta in the postseason in more than 30 years.
And that's not even the half of it.
All season long the Flames had to answer questions about the future of two superstars, Johnny Gaudreau and Matthew Tkachuk. Both players would end up leaving, but somehow Calgary may actually be a better team than it was when Gaudreau and Tkachuk were in the lineup.
While Gaudreau left for nothing in free agency, Brad Treliving was able to turn Tkachuk – who let the Flames know he was going to walk as a free agent next summer – into Jonathan Huberdeau and MacKenzie Weegar. Huberdeau was tied with Gaudreau for second-most points (115) in the league last season while Weegar has spent the past two seasons as a top-pair defenseman with the Panthers.
Treliving wasn't finished. A few weeks after the blockbuster trade, the Flames signed prized free agent Nazem Kadri to round out a top-nine that now includes Huberdeau, Kadri, Elias Lindholm, Andrew Mangiapane, Tyler Toffoli, Dillon Dube, Blake Coleman and Mikael Backlund. And Sonny Milano is in camp on a tryout basis. It's possibly the deepest forward group in the Western Conference.
Perhaps even more impressive is that the forwards may not even be Calgary's biggest strength because the blueline is just as impressive. How Sutter hands out the minutes on the back-end remains to be seen, but he's got plenty of options with Rasmus Andersson, Noah Hanifin, Chris Tanev and Weegar all capable of playing top-pair roles, while Nikita Zadorov and Oliver Kylington are both well-suited to play as a third-pairing.
Calgary led the NHL in 5-on-5 goals allowed last season and was third overall in preventing expected goals and high-danger scoring chances. Darryl Sutter had this team playing his system to a near-flawless level.
Of course, none of that defensive work would matter if the Flames didn't have the goaltending to match, but they did. Jacob Markstrom was superb in the regular season, posting a .921 save percentage and +15.6 GSAx in 63 games. The Flames defense made life easy on Markstrom by limiting quality scoring chances, but he returned the favor with a season that landed him second in Vezina voting.
I'm shocked to be saying this after they lost Gaudreau and Tkachuk, but the Flames are one of the best teams in the NHL, and I'm a little bit surprised that teams such as Toronto and Florida are considerably higher on the oddsboard than Calgary. It may take some time for this new nucleus to gel, but Calgary ticks every box you want out of a bona fide Stanley Cup contender.
Like I noted with Edmonton, if you're going to invest in Calgary before the season starts with a play on the Over or by backing the Flames to win the division at +220, you may as well just skip that and go for the bigger number on them to win the Stanley Cup.
The Bet: Calgary Flames to win the Stanley Cup (+1700)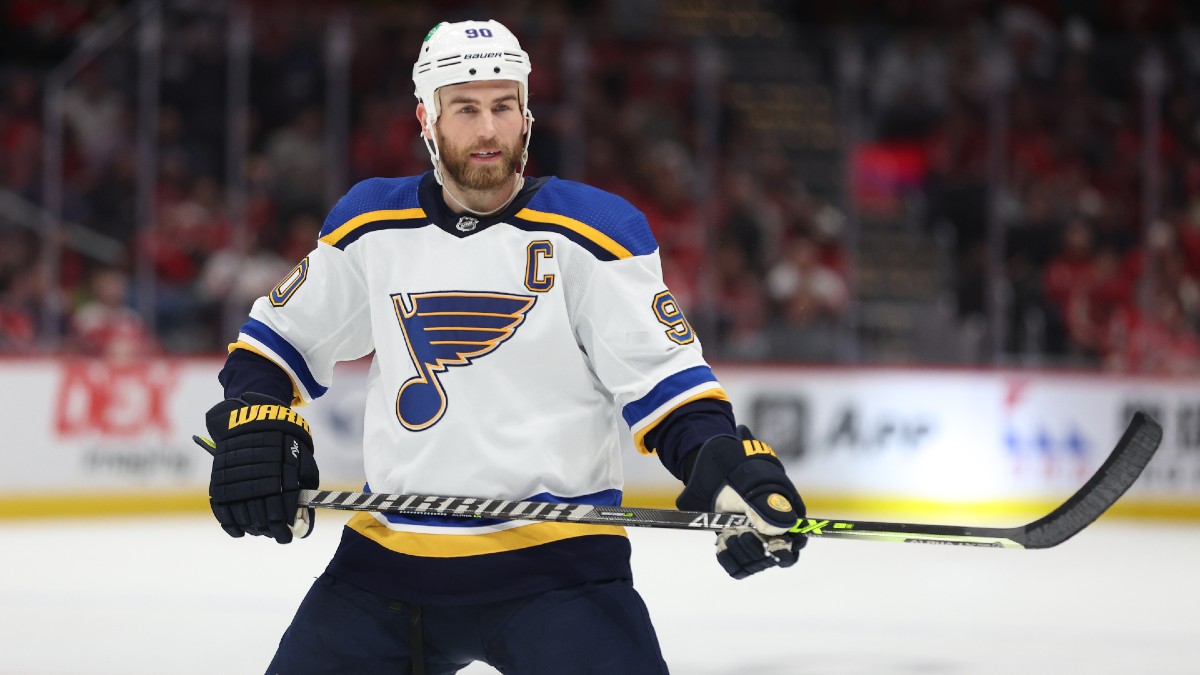 3. St. Louis Blues
| | |
| --- | --- |
| Stanley Cup Odds | +4000 |
| Division Odds | +1200 |
| Make/Miss Playoffs | -170/+140 |
| Over/Under | 94.5 |
I'll admit that I was pretty surprised when I saw where the St. Louis Blues landed on the oddsboard this summer. I was pretty bullish on St. Louis all of last season, and that faith paid off as they racked up 109 points and made it to a Game 6 in Round 2 against the Colorado Avalanche.
Because of that performance, I thought the Blues would be priced a little bit closer to the Minnesota Wild in the Central Division this summer. But for one reason or another, the market continues to be hyped on the Wild and bearish on the Blues.
Not only is St. Louis (+4000) being offered at double the odds of Minnesota (+1900) in the Stanley Cup market, but the Blues (94.5) have a lower Over/Under than the Predators (96.5) do right now at DraftKings. I find that quite puzzling, but I'm not going to complain about it. I like the Blues.
When St. Louis won the Stanley Cup, it developed a reputation as one of the league's prominent defensive powers. And when you win a ring, the identity that got you there often sticks. But for the Blues, things have changed. The Notes are now an offense-first, try-to-outscore-the-opposition type of team.
And if you look at their roster, it makes sense that the Blues have adopted that identity. Despite losing David Perron, St. Louis still has one of the deepest forward groups in the NHL, and there's a chance it could actually get better this season. That may sound like a tall ask for a team that finished third in goals per game, but Robert Thomas (77 points) and Jordan Kyrou (75 points) are just entering their prime while Pavel Buchnevich (76 points) is squarely in the middle of his.
With a top-nine that will consist of those three playing alongside Ryan O'Reilly, Vladimir Tarasenko, Brandon Saad, Ivan Barbashev and, perhaps, Jake Neighbours, it's easy to see a path for St. Louis to be a top-five offensive team again in 2022-23.
St. Louis' forward depth is its calling card, but the defense should be above-average, too. Colton Parayko is the engine of the unit, but he's got a solid supporting cast with Justin Faulk, Torey Krug, Robert Bortuzzo, Nick Leddy, Niko Mikkola and the highly-touted Scott Perunovich.
There are certainly better bluelines out there, but it's not like this is a weak unit. Plus, with the forwards they have, it's not like the Blues need to grind out 3-2 wins every night. There's some margin for error here.
And that's what gives me some confidence about the goaltending situation. After losing his starting gig to Ville Husso last season, Jordan Binnington caught fire in the playoffs after Husso struggled. Binnington was stellar in a Round 1 victory over the Wild and then stood on his head until he got hurt in the series against the Avalanche. In the regular season, Binnington posted a .901 save percentage and -10.4 GSAx in 37 games. In six postseason games, the former Stanley Cup hero skated to a .950 SV% and +5.4 GSAx in six appearances.
Of course, you're going to put more weight in the 37-game sample than the six-gamer, but it's also worth noting that 2021-22 was the first season in Binnington's career that he finished with a negative GSAx. In his first three campaigns, the Ontario native posted a .915 save percentage and +16.8 GSAx in 124 contests.
It seems like the hockey world is counting out Binnington, but I'll buy low on the polarizing netminder, especially since he won't be asked to stand on his head. Should Binnington stumble, though, it will be a big problem since the team won't have the Husso safety net behind him. Thomas Greiss, 36, has been around the NHL a long time, but it's been a few years since he's been a reliable goaltender.
Maybe it's because their underlying numbers weren't that good or because there are more buzzy teams in the Central Division and they'll likely need to get through Colorado to make it out of the Western Conference, but I don't quite understand why the Blues are sitting this low on the board. I believe their ceiling is as high as plenty of teams in the +1500 to +2500 range, and that's where I'd put them.
Once again, I'm all in on the Blues.
The Bet: St. Louis Blues to win the Stanley Cup (+4000)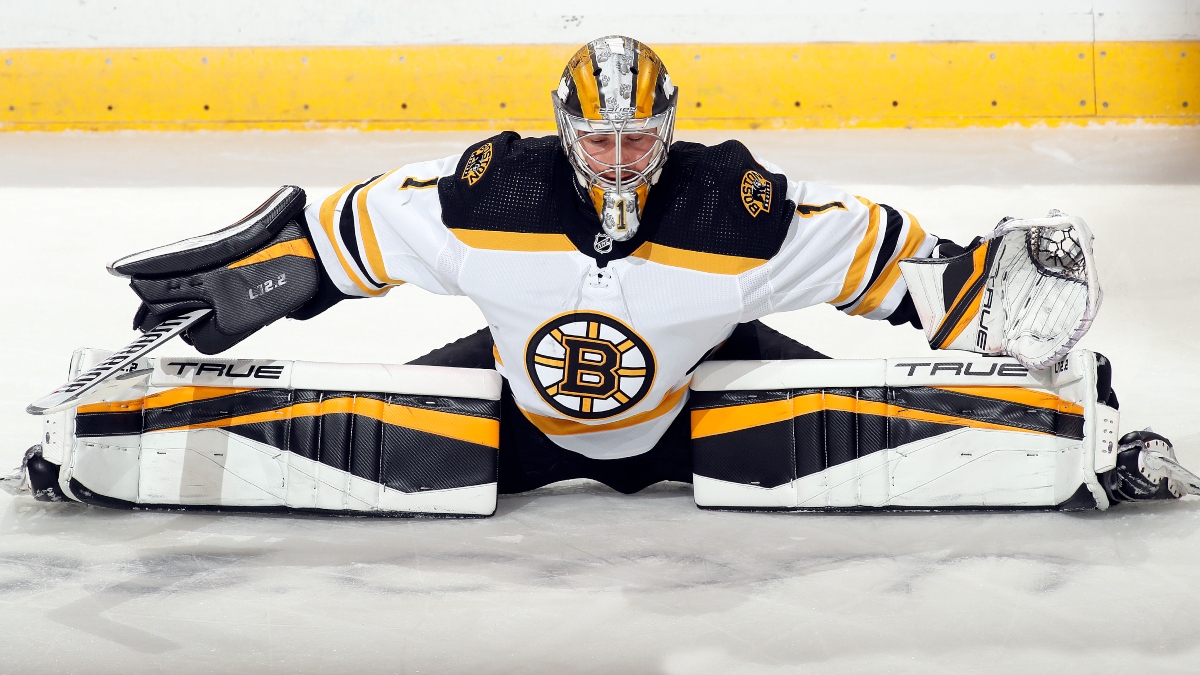 2. Boston Bruins
| | |
| --- | --- |
| Stanley Cup Odds | +2500 |
| Division Odds | +1100 |
| Make/Miss Playoffs | -180/+155 |
| Over/Under | 96.5 |
Expectations for the Boston Bruins are lower than they have been ahead of any season in quite some time. The Bruins have an old roster, they were eliminated in Round 1 last spring, they're missing vital players for the beginning of the season, and they're playing in the Atlantic Division, which features three teams at +1200 or shorter to win the Stanley Cup and two more behind Boston (Ottawa and Detroit) that significantly improved and have their sights set on crashing the playoff party.
Oh, and Boston has a new head coach, Jim Montgomery, who replaces Bruce Cassidy after a terrific six-season stint in which the Bruins made it to the Stanley Cup Final (2019) and never missed the playoffs.
The concerns about how the Bruins will start the campaign are absolutely valid, especially since a slow start could ruin their entire season. The Atlantic Division is now six teams deep, and even the expected bottom-dwellers (Buffalo and Montreal) should be improved from '21-22. Last year, the playoff teams in the Eastern Conference were basically set in December. This time around it projects to be a fistfight, so ceding any ground in October and November could be a disaster.
And Boston will need to navigate that early part of the schedule without its two best skaters, Brad Marchand and Charlie McAvoy. Both players are expected to be out until early December, and they'll be joined in the press box by top-four rearguard Matt Grzelcyk. That's an elite first-line winger, an elite top-pair defenseman and an above-average top-four rearguard all out for between one and three months to start the campaign.
All of that carnage, blended with the fact that the Bruins bowed out of the first round of playoffs and then fired their head coach, has plenty of people picking the Bruins to be the team in the "Big 4" of the Atlantic to crash out of the spring fling. That sentiment has created some buy-back value on what is still a great team.
Under Cassidy, the Bruins were the flagship defensive team in the NHL. Boston regularly finished at, or near, the top of the league in goals allowed, expected goals against and high-danger scoring chances conceded. That defensive structure did come at a cost offensively, as the Bruins finished 15th in each of the past two seasons in 5-on-5 scoring.
Cassidy has now moved on to Vegas and the Bruins have brought in Montgomery as his replacement. There's plenty to unpack with Montgomery. His coaching career got off to a strong start with Dallas, but midway through his second season, he was surprisingly fired due to unprofessional conduct. Montgomery checked into rehab soon thereafter and was hired by St. Louis as an assistant 10 months later.
It's anybody's guess how this Bruins core, which has been together for quite some time, responds to a new head coach, but Montgomery's Stars went 60-43-10 and they took the Blues to seven games in Round 2 of the 2019 Stanley Cup Playoffs in his first season. St. Louis would win the Stanley Cup a few weeks later. He looked like a promising head coach.
The injuries won't be easy to handle, but other than that, Montgomery walks into a decent gig for a coach looking to make the most of a second chance. He's got a veteran team that plays terrific defense and, when healthy, features four elite players (Marchand, Patrice Bergeron, David Pastrnak and McAvoy). I'm also bullish on the goaltending situation in Boston, but more on that later.
A lot of ink will be spilled on Boston's lineup issues out of the gates, but I think this is one of a few teams that can survive these kinds of lengthy absences. Hampus Lindholm, Derek Forbort, Mike Reilly, Brandon Carlo and Connor Clifton will have to step up their roles on defense, but the Bruins' team-wide defensive acumen should allow them to carry on until McAvoy and Grzelcyk check back into the locker room.
The Bruins finished last season ranked fifth in 5-on-5 goals allowed, first in expected goals against and first in high-danger scoring chances allowed. They posted similar ratings in 2020-21, 2019-20 and beyond.
It's likely that Boston's defensive numbers take a step back without McAvoy and Grzelcyk, but I have faith that their structure means that the impact won't sink them. It does put more pressure on the offense to improve, however, and that could be a conundrum since Marchand and McAvoy are both excellent play-drivers.
For a team that typically ends up near the top of the league in terms of expected goals rate and high-danger chance share, the Bruins have struggled to score consistently over the past three seasons. Boston finished 14th in 5-on-5 scoring last season, 15th in 2020-21 and 15th in 2019-20. Because of their defensive prowess, the Bruins can get away with being a below-average scoring team, but the margins will likely be a bit thinner this season, so an improvement up front is going to be needed.
But even without Marchand, the B's still have a pretty robust forward group. Patrice Bergeron showed no signs of stepping off the podium as one of the three best two-way forwards in the NHL last season, David Pastrnak scored 40 goals in 72 games, Jake DeBrusk enjoyed a break-out 25-goal season after he requested a trade, and Taylor Hall quietly contributed 20 goals and 41 points in 61 games. Bergeron, Pastrnak, DeBrusk, Hall, Pavel Zacha, David Krejci, Craig Smith and Charlie Coyle may not be the glitziest forward group, but they should be solid enough to keep Boston afloat until the cavalry returns.
Of course, none of this will matter if the Bruins don't get good goaltending. After a decade of sleeping well at night thanks to the presence of the ultra-steady Tuukka Rask, Bruins fans had to adjust to life without Rask in 2021-22. The 35-year-old Finn tried to make a comeback last winter, but injuries forced him into retirement and opened the door for young Jeremy Swayman to take the reins.
As a rookie, Swayman posted a .914 save percentage and a +4.4 GSAx, per MoneyPuck, in 41 games. Those aren't world-beating numbers, but they're quite encouraging for a rookie goaltender on a strong team. Goaltending is rarely linear from season to season, but Swayman does seem like he has the make-up and skillset to become a legitimate No. 1 goaltender as soon as next season. What helps is the fact that Swayman plays behind a terrific defense that has spent the last half-decade mastering the art of making life easy on its goaltender.
Swayman's partner, Linus Ullmark, didn't get off to the best of starts last season, but he came into his own down the stretch, posting a .934 SV% and +5.8 GSAx in his last 14 games of the regular season.
Swayman and Ullmark may not be the league's best goaltending tandem, but the ceiling on the former is high and the latter showed some promise as an above-average 1B option last season. I am pretty bullish on the goaltending situation in Boston.
In the big picture, I am buying the Bruins. They were +1300 to win the Stanley Cup last season, but this summer those odds have doubled to +2800 – despite the fact that the Bruins' roster is mostly the same. The injuries and coaching change certainly warrant some adjustment, but considering the other genuine contenders in the Atlantic are priced between +1000 and +1200, I think this is already a good buy-low opportunity on Boston.
That said, I think there are a couple of ways to play the B's. I think Montgomery is a decent bet for the Jack Adams at +2000, I like Swayman as a longshot bet for the Vezina at +500, and Pastrnak is an interesting Hart Trophy punt at 50/1, too.
I also don't think betting the Bruins to win the Stanley Cup is a bad play right now. But for me, I'm going to wait to see if Boston gets off to a slow start and try to buy back in on the B's before McAvoy, Marchand and Grzelcyk return. It could take a few weeks for the team to adapt to a new coach and figure out how to make things work without two of their stars, so there's a chance we could see a pretty big number come in on Boston by the time mid-November swings around.
The Bet:  Buy low on Boston if they start slow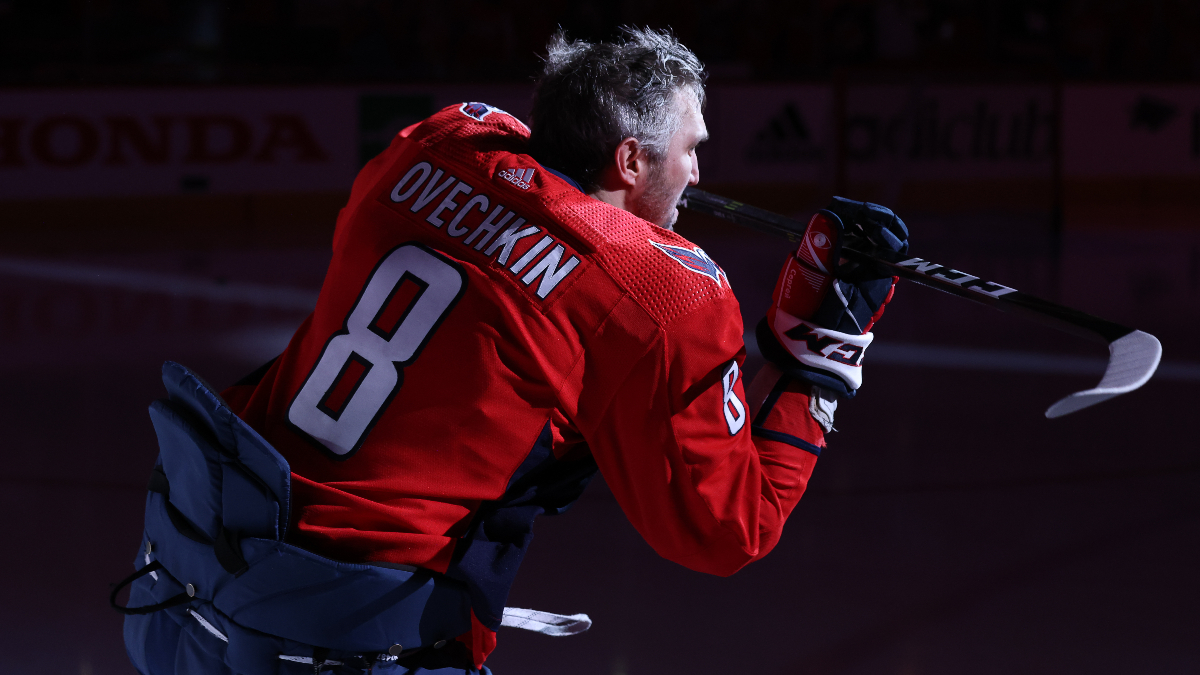 1. Washington Capitals
| | |
| --- | --- |
| Stanley Cup Odds | +4000 |
| Division Odds | +700 |
| Make/Miss Playoffs | -160/+130 |
| Over/Under | 95.5 |
It's a little weird to see the Washington Capitals enter October flying under the radar. For most of the Alex Ovechkin Era, the Caps have been one of the league's best teams, finishing first or second in their respective division in 14 of their last 16 seasons.
But the narrative around the Caps is that the window for the core of Ovechkin, T.J. Oshie, Nicklas Backstrom, John Carlson, Evgeny Kuznetsov and Tom Wilson is closed. I would disagree with that notion.
Even with Backstrom likely out for (at least) most of the season and Wilson on the shelf until after the holidays, the Caps are a dangerous team. Washington made a couple of high-upside additions to its top-six by acquiring Connor Brown and Dylan Strome while youngsters Connor McMichael and Hendrix Lapierre could end up being key contributors for what should still be a pretty deep top-nine.
The forward group is led by Ovechkin, who is coming off a 50-goal season at age 36 and is now at 780 for his career (Wayne Gretzky is the record-holder at 894), but really came to life last season thanks to a resurgent season from Kuznetsov.
With Kuznetsov playing like a No. 1 center again and Ovechkin continuing to defy logic, the Caps should have no issue scoring, especially if Anthony Mantha can stay healthy after he was limited to just 39 games last season.
There's also plenty of balance to this unit as the Caps have one of the league's most effective fourth lines with Nic Dowd, Garnet Hathaway and one of Conor Sheary or Marcus Johansson.
The offense will drive the bus for the Caps, but the defense should be just fine. John Carlson and Dmitry Orlov are the key men on the blueline, but Nick Jensen, Trevor van Riemsdyk and Martin Fehervary all play their roles quite effectively, as well. The Caps finished 11th in 5-on-5 goals against, 10th in expected goals allowed and 12th in high-danger chances conceded last season, and they put on a great defensive effort in their unlucky Round 1 loss to the Presidents' Trophy Panthers. A couple of saves would have changed that series.
To address that issue, the Caps completely revamped their goaltending by signing Darcy Kuemper and Charlie Lindgren to replace Ilya Samsonov and Vitek Vanecek.
A lot was made of Kuemper's struggles in the playoffs, but he was one of the league's most reliable goaltenders during the regular season, posting a .920 save percentage and ranking fifth overall with a +15.9 GSAx in 57 games. If Kuemper can even play to half of that level, the Caps will take it after the inconsistent performances they got from Samsonov and Vanecek over the past two seasons.
The Metropolitan Division and the Eastern Conference are both gauntlets, so there's a chance that any team falls off the pace, but the Caps should be a consistent enough group to get through the 82-game marathon and qualify for the postseason. Should they do that, they profile as a really tough out thanks to a balanced roster that can grind out games. We saw this last season as the Caps were still able to cruise to a playoff spot despite a litany of injury issues and so-so goaltending.
With a strong goaltender, a defensively responsible group and an offense that has ranked near the top of the league for most of the last 15 seasons, the Caps are absolutely worth a shot at this number.
The Bet: Washington Capitals to win the Stanley Cup (+4000)
Bets for 2022-23
Washington Capitals to win the Stanley Cup +4000
St. Louis Blues to win the Stanley Cup +4000
New York Islanders to win the Stanley Cup +5500
JJ Peterka to win the Calder Trophy +5000
Dylan Holloway to win the Calder Trophy +5000
Jeremy Swayman to win the Vezina Trophy +5000
Spencer Knight to win the Vezina Trophy +17500
Derek LaLonde to win the Jack Adams Trophy +5000
DJ Smith to win the Jack Adams Trophy +5000
Nikolaj Ehlers to win the Hart Trophy +30000
Ilya Sorokin to win the Hart Trophy +12500
Philadelphia Flyers to finish with worst record +1500
How would you rate this article?
This site contains commercial content. We may be compensated for the links provided on this page. The content on this page is for informational purposes only. Action Network makes no representation or warranty as to the accuracy of the information given or the outcome of any game or event.