Betting Boston-Winnipeg: Will Defense Be King in Key Clash?
Back in October, you could have been forgiven for thinking that a late-March Winnipeg-Boston matchup would be, well, something approaching irrelevant. Neither the Jets, who opened the season at +6600 to win the Stanley Cup, nor the Bruins, who were around +2500, were on the short list to hoist Lord Stanley.
They are now.
Winnipeg and Boston have already clinched playoff berths, and both are in good shape to host a first-round series. There is still more to play for, however, as the B's (104 points) sit just two points behind Tampa for first place in the Atlantic Division, and the Jets (102 points) have an outside chance of stealing the Central from Nashville (107 points).
Believe it or not, this could be a Stanley Cup preview.
All info is current as of Monday evening. Check back during the day and keep an eye on our Twitter handle for any updates.
For live spreads and bet percentages, check out this page. To get access to our premium betting tools, subscribe here.
---
Boston Bruins (+115) at Winnipeg Jets (-135) | O/U 5.5
8 p.m. ET
Banged-Up B's: The Bruins are dealing with a litany of injuries. Top-pair defensemen Zdeno Chara and Charlie McAvoy remain out, and top-six wingers David Backes, Jake DeBrusk and Rick Nash are also sidelined. — Michael Leboff
Winnipeg Wounded: Winnipeg is also dealing with some knocks to important players. Top-four defenseman Jacob Trouba is out with a concussion, and third-pair rearguard Tobias Enstrom is out for the season.
Defensive Clinic Part 1: Boston and Winnipeg are defensive stalwarts. In fact, tonight's matchup features the two best teams — the Bruins are No. 1 — in the NHL at preventing scoring chances. The Bruins allow 24.61 scoring chances against per 60 minutes (5-on-5, score and venue adjusted), while the Jets allow 24.76 in that same situation. — Michael Leboff
Defensive Clinic Part 2: In addition to preventing scoring chances, the B's and Jets do a terrific job of suppressing shot attempts (also known as Corsi). Boston leads the league at 51.5 Corsi Against per 60 minutes (5-on-5, score and venue adjusted), while Winnipeg ranks third at 54.88 in that same situation. — Michael Leboff
Offensively Speaking: You can slap the "complete team" label on Boston and Winnipeg. Both rank in the top 10 in Corsi For per 60 minutes (5-on-5, score and venue adjusted), and both are above average in creating scoring chances. — Michael Leboff
Big Buff: Priced at $5,300 on DraftKings, Winnipeg's Dustin Byfuglien stands out in our models despite a horrific matchup against Boston. Byfuglien, who's in the 98th percentile in both shots and shots+blocks, could still hit value based on peripheral stats, but he has his work cut out to reach his ceiling against the Bruins, who have allowed fewer Corsi than any team on the slate over the past month. He could see lower ownership than usual, but that may be warranted. According to our trends tool, players with comparable peripheral stats and Vegas implied totals, and facing similarly stout defenses (judging by shot attempts against) have historically performed only slightly above their salary-based expectations (by 0.34 points). They've hit value only 43.2% of the time. — Joe Holka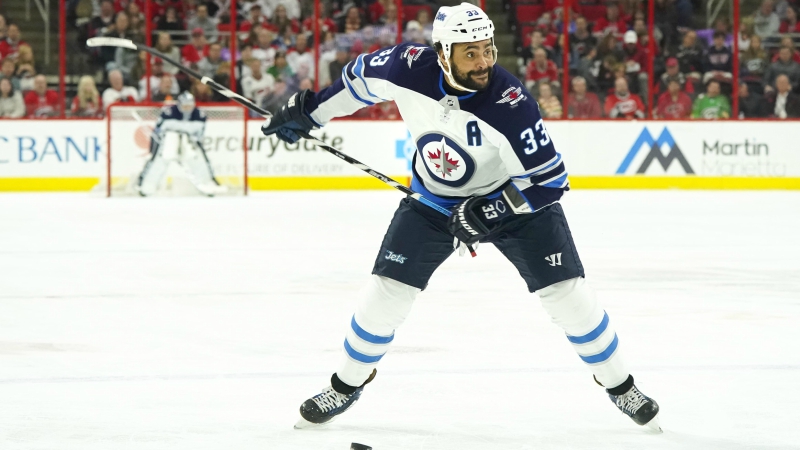 Torey Party: Winnipeg has the fifth-best penalty kill in the league, but if one player is likely to break through on the man advantage for Boston, it's probably Torey Krug. He is the only player in this tilt who ranks in the 99th percentile in power-play shots over the past month, and he's also in the 97th percentile in shots and shots+blocks over that same time period. He offers reasonable safety at $5,500. — Joe Holka
Jets Keep Rolling: With 46 wins, the Jets have already set the record for most victories in franchise history. Winnipeg is on a five-game winning streak, their second such streak of the season and just their fifth such streak since 2005. This is good news for the Jets in their matchup with Boston: Since 2005, the Bruins are 11-26 on the moneyline when facing a team on a winning streak of five or more games, the least profitable team in the NHL in that situation over that span. — Evan Abrams
Big Bad Boston: The Bruins have defeated the Jets in four straight games by a combined score of 15-5, including covering the puck line in three of the four. — Evan Abrams
---
Photo: Winnipeg's Patrik Laine in action against Nashville.
Credit: Terrence Lee-USA Today Sports