NHL Odds, Picks & Preview for Minnesota Wild vs. Vegas Golden Knights Game 7: How to Bet Friday's Series Finale (May 28)
Credit:
Nick Wosika/Icon Sportswire via Getty Images. Pictured: Matt Dumba, Alec Martinez
Vegas hosts Minnesota one more time in the first round for all the marbles in a decisive Game 7.
The Golden Knights held a commanding 3-1 lead before the Wild one two in a row, including Wednesday's Game 6 victory.
Nicholas Martin explains below why he is picking the Wild to make it three-straight wins and to clinch the series.
Wild vs. Golden Knights Odds
Wild Odds
+143
Golden Knights Odds
-165
Over/Under
5.5 (+112/-137)
Time
Friday, 9 p.m. ET
TV
NBCSN
Odds as of Thursday and via DraftKings
A series that has very effectively encapsulated the randomness of playoff hockey will come to a dramatic end Friday night in Vegas after Minnesota claimed a massive 3-0 home victory in Game 6 on Wednesday night.
This series has been quite peculiar in that the Wild managed to tie the series by winning two straight games in which they were generally outplayed. In fact, you could say Minnesota was less deserving to win in Games 4 and 5 than it was during the three-game losing streak that landed them in a 1-3 series hole. In other words, a Game 7 decider seems like a very fair way to settle this Round 1 contest.
Game 6 was a very tightly-contested affair that offered up few high-quality scoring chances. Vegas won the expected goals battle, 1.56 to 1.26, however it only finished with five high-danger scoring chances compared to Minnesota's six. The Golden Knights had more of the offensive zone time, but that is in line with the way we have seen the Wild play much of the back-half of this season. The Wild are perfectly fine with allowing a little more zone time, but instead look to avoid any true defensive breakdowns such as odd-man rushes or passes through their box for easy goals. Minnesota tries to turn its sturdy defense into quick-strike offense by counter-attacking with the hopes of creating high-quality chances going the other way.
---
Expected goals (also known as xG) is a predictive statistic that gives an indication of whether results are based on sustainable factors like a steady creation of scoring chances, or whether it is down to aspects such as shooting luck or outstanding goaltending.
Simply put, an expected goals rate (xGF%) above 50% is considered good because it means a team is creating the majority of the scoring chances. Anything below 50% is usually a sign that a team is struggling to control play.
xG numbers and advanced stats cited from Evolving Hockey, MoneyPuck and Natural Stat Trick.
---
This was well epitomized on Ryan Hartman's goal to break the 0-0 deadlock midway into the third, with Kevin Fiala coming the other way after a crisp defensive zone breakout and finding Hartman on the 2-on-1 to finally beat Marc-Andre Fleury.
The 3-0 scoreline was certainly not indicative of the contest, however, and Vegas was unlucky to have had a goal taken off the board after Chandler Stephenson beat Cam Talbot with a wrist shot. The tally would be disallowed, though, as it was deemed that Alex Tuch interfered with Talbot.
Vegas coach Pete Deboer made a very reasonable decision to challenge the call, but ultimately lost the review which meant that the Knights were given a two-minute delay of game penalty.
The Wild would take advantage of the power play, with Kevin Fiala finally being rewarded with a goal for all of his great work this series. Getting Fiala and the power play going could prove pivotal in what projects to be a very close Game 7 on Friday night.
Vegas hasn't dominated play as much as we might have expected, but I still feel that this has been a pretty decent showing from one of the NHL's powerhouse teams. There are some who feel the Knights have been underwhelming and that it's a disappointment that they're even in a Game 7, but I find that to be a little harsh.
When a team plays with such a sound defensive structure like Minnesota does, playoff hockey can quickly become more a coin flip than anything. We see it every season with a number of favorites being taken down in the early rounds.
Perhaps the Knights relied too heavily on Marc-Andre Fleury in the early part of the series, but they seemed to have cleaned up a number of the tougher chances against of late and are putting Fleury in a better chance to succeed lately.
The loss of Max Pacioretty has also been a big issue for the Knights as they have not shown a lot of teeth offensively beyond stellar performances from Mark Stone and Alex Tuch up front. There certainly are still a number of pieces who could feasibly chip in more however, including what should be an excellent second unit of Jonathan Marchessault, William Karlsson and Reilly Smith.
However with all of that said, Vegas still sits with a home game in what should be a very raucous environment, with a goaltender known to come up big in these spots. They are deserving favorites, but is the price too big?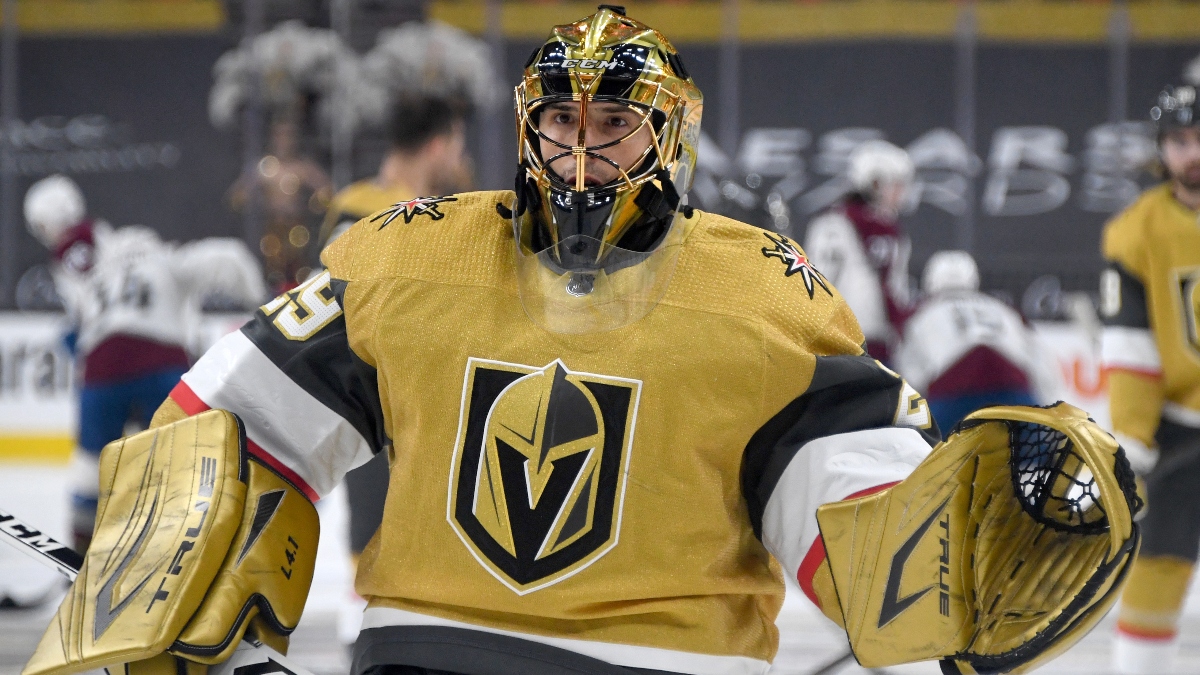 Wild vs. Golden Knights Game 7 Best Bets
This series has been very closely contested. A look at the expected goals tally, which sits at 11.12 to 10.21 in favor of Vegas, illustrates that point. Minnesota's 50-45 edge in high-danger scoring chances is similarly tight.
Minnesota seems to be employing a similar strategy to what we saw from the underdog Dallas Stars when they eliminated the Knights in five games during the 2020 Western Conference Final in The Bubble.
Vegas is generally going to control more of the play with their aggressive style, but Minnesota has done a great job of having enough bodies back and allowing mostly benign scoring chances while constantly being on the lookout to spring a rush to create a high-quality chance going the other way.
The pressure is on Vegas in a season where it was designated as one of the NHL's top-3 favorites. It's a Cup-or-Bust season for the Knights and now they need to come out with a win on home ice to keep that dream alive.
Road teams have gone 4-2 so far in this series and that is not out of the ordinary of late as the visiting team is 87-85 over the last three non-bubble playoffs and are above .500 in elimination games over that span.
It would not be surprising to see Vegas come out highly energized here and break through early en route to a comfortable win, but I believe the more likely scenario is that we see a very tight game inline with the rest of this series. That could cause a little nervousness inside The Fortress.
Minnesota has an excellent defensive group, with two elite pairings and a number of great two-way forwards up front. The Wild deserve a ton of credit for turning this series into a coin flip. My point here is not exactly to say this game should be a pick'em, but instead that I just can't find a reason to back the Knights as such a heavy favorite when none of the numbers suggest they are deserving to be priced this high. Vegas' reputation seems to be inflating these odds.
I don't think the Knights losing this game should be considered a "choke," but instead would be another result that shows us what playoff hockey is really all about. You get two teams that do a lot of things well and who knows what happens.
Minnesota is sitting at +145 at DraftKings and are as high as +160 (bet365, PointsBet) at the time of writing, and I think there's value backing the underdog to be able to scrape out another result on Friday night.
I also see some value backing the Under 5.5 at -135 or better in this one. We have two goalies who are in great form, and neither team allows many high-quality scoring chances. I believe both groups should come out very sharp and detailed defensively for Game 7. As my colleague Stuckey pointed out, we know that the refs are unlikely to call much in a decisive Game 7, and players will skate with lots of discipline not wanting to risk a penalty which could ultimately blow up their season.
Pick: Minnesota +145 | Under 5.5 at -135 or better
How would you rate this article?