NHL Best Bets: Our Favorite Picks for Thursday, Including Devils-Islanders & Avalanche-Kings (Jan. 21)
Credit:
Rob Curtis/Icon Sportswire via Getty Images. Pictured: Gabriel Landeskog, Cal Petersen
Thursday features six intriguing NHL matchups starting at 7 p.m. ET, including Devils vs. Islanders and Kings vs. Avalanche.
Our staff breaks down their favorite bets for Thursday's slate below.
Thursday night's NHL slate is six games deep, starting at 7 p.m. ET and wrapping up with a showdown between the Stanley Cup favorite Colorado Avalanche and the longshot Los Angeles Kings at 10 p.m. ET.
Here are our favorite bets for Thursday's NHL action:
Pete Truszkowski: Devils (+130) vs. Islanders
The New York Islanders are an interesting team to bet on. Often, I find defensively-minded and structurally sound teams like the Islanders are undervalued in the betting market. This is a team I'd love to bet as an underdog or a short favorite, but it's definitely a team I'd look to steer away from as a substantial favorite.
New York has played three very different games to this point in the young season: a blowout win over the Rangers, a blowout loss to the Rangers and an uninspiring 1-0 win over Boston.
In both games Semyon Varlamov has started for the Isles, he has posted a shutout. While Varlamov has been marvelous, this emphasizes the way the Islanders play when they are at their best. They will slow the game down and try to grind out a win.
The reason the Islanders play this style is because there's not a lot of offensive firepower up front. Outside of Mat Barzal, who is one of the most watchable players in the league, New York employs a lot of solid, but not game-breaking players. Anders Lee, Josh Bailey, Jordan Eberle and Brock Nelson are all positive contributors, but they aren't going to score at extremely high rates.
The Devils have been a bit of a surprise to begin this season. They've gotten points in all three of their games, including upsets over the Bruins and Rangers. It's a small sample, but it's an encouraging start for a team that everybody wrote off in the deep East Division.
New Jersey's defense and goaltending has been the story to start the season. The Devils didn't allow an even-strength goal in their two-game set with the Bruins and MacKenzie Blackwood has a +3.9 Goals Saved Above Expectation (GSAx) through three starts.
Offensively, it's all about 2019 No. 1 overall pick Jack Hughes. After a rough rookie campaign, it looks like Hughes has taken a massive step forward. The 19-year-old has two goals and six points through three games and is coming off a dominant effort against the Rangers.
The Islanders have a habit of turning games into coin flips and while that is a positive against more positive teams, it can hurt them against inferior opponents because they usually won't run away with games.
After scoring just once in their last two games, I'm not in the mood to lay juice with the Islanders. The Isles may be the better team, but I think the Devils are a good bet down to +120.
Matt Russell: Senators (+105) vs. Jets
It takes a lot to suffer a bad beat on a side, but we saw that occur just outside of Canada's capital on Tuesday night. The Jets won the game in overtime, and the Senators managed a point towards the standings. This is consolation for their hard work on the ice, but doesn't do us bettors any good whatsoever for a game well-handicapped.
The game wasn't a particularly difficult handicap going in. The Jets were up against it from a scheduling standpoint, as the first team in the league to have to play a back-to-back against a team that didn't play the night before, and on the road, no less.
Given the situation, they went with their backup, Laurent Brossoit (-7.70 GSAA last season, per Hockey Reference) who is a considerable downgrade from starter and Vezina Trophy winner, Connor Hellebuyck (22.40 GSAA last season). Just more reason to like the Senators.
Sure enough, the Jets played nearly as badly as they did in Toronto the night before. On Monday, they mustered just a 28.37% share of the Expected Goals (XG%) against the Leafs. Tuesday wasn't much better, with a mere 33.3 XG%, as the Jets' offence scuffled to sub-1.00 Expected Goals For for the second straight night.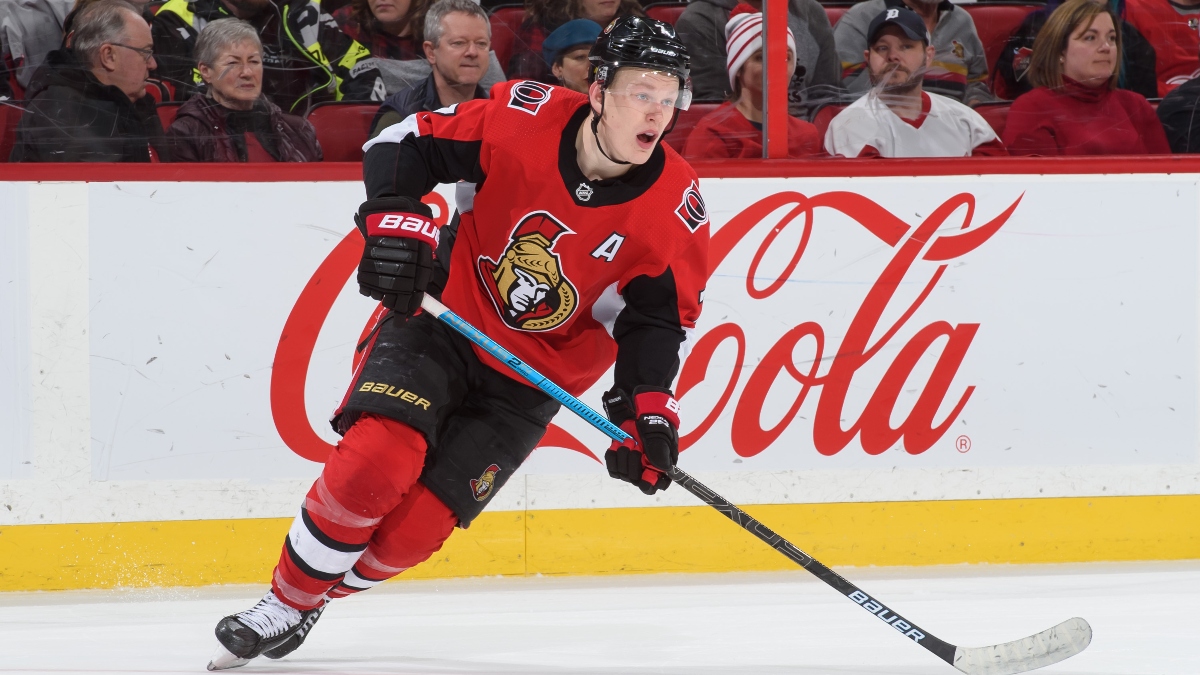 If the 3-1 loss to Toronto was flattering, the win over Ottawa (thanks to a tying goal with their goalie pulled, and an OT winner) was cosmetic surgery.
The main issue for the Jets, who will likely see Hellebuyck return to the crease for the rematch on Thursday, isn't in net. It's preventing chances on whoever is. While you could blame the inability of the offence to create scoring chances on the absence of star sniper Patrik Laine, even if he returns on Thursday, that won't help a defense that's given up 10 High-Danger Chances (HDC) per game in his absence.
The Senators have created nine, nine and 10 HDCs in their three games this season, showing consistency early on and slowly improving their rating in the market. They haven't been lucky either, converting at the league average of 14% on High-Danger Chances and a very average 20% on the power play.
Has their rating improved enough? The test may come on Thursday. Early in the season, we're trying to get a handle on what the implication of the second game of these two-game mini-series has on a team's win probability.
For the first few nights, it seemed like the team who lost Game 1 was a good bet to win Game 2. Like most short-term trends, that has waned. In fact, it's shifted to a point where, more frequently, the team that played poorly in the first game, improved in the second game regardless if they won the first game or not.
Simply put, there's a possibility the Senators just missed their chance for a win, rather than have some sort of edge for a revenge victory in the back end of this matchup.
So which one is it: Revenge or regression? Plus, how does it apply to the price we have to pay?
To answer the first question — like the original revenge hypothesis — there isn't enough of a sample to say with any certainty. However, the market has reacted to the return of the Jets' star netminder making Winnipeg a heavier favorite in the rematch.
While that makes sense from the goaltending improvement, it may not be taking enough consideration into just how poorly the Jets have played this week. Is it that simple to turn things around? After all, the Jets are somehow 2-1 despite my "Let's Do That Hockey" model we use on THE WINDOW: Sports Betting Podcast having them as 18% below average at 5-on-5.
What's the urgency to play a better game when you're getting this lucky?
I have the Senators rated 14% above average because of three quality performances this season, as they've deserved better than their 1-2 record, and are quickly becoming a "bet on" team this season — one of the teams that will be underrated in the market consistently this season.
Combining a price that looks to be getting better the second time around for the Senators as they flirt with plus-money on the moneyline, and our skepticism about whether Hellebuyck can save the day on a routine basis again this season, I'm led back to where we were on Tuesday night.
I'll take a second swing with the Senators, and hope to not have to find some hair to pull out when the horn blows to end the third period.
Jeremy Pond: Canadiens To Win in Regulation (+135)
Teams that just battled in an electric affair go at it again Thursday when Montreal faces Vancouver in the second game of a back-to-back set.
Finding goals was not a problem in Wednesday's tussle, with the Canucks prevailing via a 6-5 overtime shootout victory against the Canadiens. Bo Horvat and Brock Boeser each recorded two goals and assist on home ice at Rogers Place. Teammate J.T. Miller added three assists in the solid effort.
On the other side, former Canuck Tyler Toffoli's hat trick came as a slight consolation for a Montreal side that held a 36-28 shot advantage in the game. Goaltender Carey Price was anything but sharp, saving just 82 percent of the shots he faced in the showdown.
Despite the disappointing result, the Canadiens remained unbeaten in regulation with a 2-0-2 record. The Canucks, who have conceded a North Division-high 21 goals through fives games, improved to 2-3 on the season.
When it comes to the numbers and statistics, Montreal has a monster edge over Vancouver in the primary Fenwick advanced metrics.
The Canadiens sit on 45.85 FF/60 to 34.4 FA/60 for a +11.45 differential, which is drastically better than the Canucks (41.63 FF/60 to 46.08 FA/60 for a -4.45 differential) in both categories.
Montreal does hold a slight 2.51 — 2.41 edge in expected goals for percentage, generating a minuscule +0.10 xGF advantage. However, when you throw in the fact the Canadiens maintain a 1.73 xGA/60 to 2.92 xGA/60 margin, you have a situation favoring the visitors coming off a game they likely should have won.
That said, I am backing Montreal to exact a bit of revenge and will play it to grab the win in regulation at a ripe plus-135 odds in this spot.
I would jump on this number as early as possible, due to the fact I believe it will drift north and land somewhere in the neighborhood of +140 at first puck drop.
Michael Leboff: Kings (+210) vs. Avalanche
Puck Drop: 10 p.m. ET
The Colorado Avalanche are the Stanley Cup Favorites. They have the deepest roster in the NHL and their best player, Nathan MacKinnon, is arguably the most dominant player in the league.
The Los Angeles Kings are a Stanley Cup longshot. As of Wednesday night, only three teams had longer odds than Los Angeles at DraftKings. The Kings don't have a deep roster and they don't have a game-breaking star. Outside of Anze Kopitar, it's hard to point to any player on Los Angeles that would crack the top-half of Colorado's lineup.
This all sounds like a glowing recommendation for a bet on the Avalanche, but it's rarely that simple when betting on the NHL. In fact, I think this number will eventually get high enough that the Kings will be in range for a bet.
As poor as the Kings have played in 2021, they are a bit unlucky not to have won yet. Los Angeles opened with back-to-back overtime losses to the Minnesota Wild and then fell to the Avs, 3-2, on Tuesday night. Colorado was certainly the better team in that battle, but the Kings did a pretty good job limiting the Avs to just seven high-danger scoring chances throughout the contest.
The Kings boast some pretty weak 5-on-5 metrics to start this season but most of that is due to a poor performance in their second game against Minnesota. Los Angeles created more 5-on-5 expected goals in its first game with the Wild and it wasn't like the Avs blew the doors off the Kings on Tuesday. The ice was tilted, sure, but considering the gap in talent between Colorado and Los Angeles, it was an admirable performance.
The Kings will need to improve on that performance if they want to pull the upset, but that isn't out of the question. Don't forget, the Kings had some pretty good play-driving numbers in 2019. Los Angeles was a top-10 team in xGF/60, middle of the pack in xGA/60 and the Kings created more high-danger chances than they surrendered at 5-on-5.
| Stat (5-on-5) | Regular Season (70 games) | Rank |
| --- | --- | --- |
| Goals per 60 | 2.05 | 29th |
| Goals Against per 60 | 2.42 | 24th |
| Expected Goals per 60 | 2.46 | 9th |
| Expected Goals Against per 60 | 2.37 | 14th |
These odds are where they are for a reason and you lose this bet more often than you win it, but I don't think the Kings are without a hope in this one. The listed moneyline suggests that Los Angeles wins this game 32.3% of the time. I think that is a little bit low and would play the Kings at +205 or better.
How would you rate this article?