Perry's British Open Favorites Betting Guide: Is This Xander's Week to Shine?
Credit:
Credit: Orlando Ramirez. Pictured: Xander Schauffele
The betting favorites for the 2019 British Open include Rory McIlroy, Brooks Koepka, Dustin Johnson, Jon Rahm and Tiger Woods.
Joshua Perry analyzes the best bets among the players toward the top of the odds board.
The final major is upon us with the best players in the world set to take on Royal Portrush.
We got a little extra cash to burn heading into the week thanks to Bernd Wiesberger's victory at the Scottish Open. I liked him as a sleeper pick heading into this event, but off the win, he's not really much of a sleeper anymore.
We'll shift the focus to Northern Ireland, where The Open returns to Royal Portrush for the first time since 1951. The course is a relative unknown for most players. We've only seen the European Tour use it once for the Irish Open in 2012.
Let's do a deep-dive on the favorites in this year's field, picking out one who has some betting value.
The Course and Weather
Portrush will check in at 7,344 yards for a par 71, so it won't be overly long. Like most Opens, the weather will probably determine the difficulty. The early forecast appears to call for rain throughout the week which will lead to a softer course and aid scoring conditions.
My guess is those conditions will likely help players who are used to playing the type of courses we see on the PGA Tour. They should be able to play more target golf and expect the ball to stop pretty quickly. If the rain doesn't show up or the wind blows, the Euro tour players will have a little more of an advantage with the course playing to a more traditional links style.
Stay tuned to all of our coverage of The Open for more updates on the weather draw as Thursday gets closer.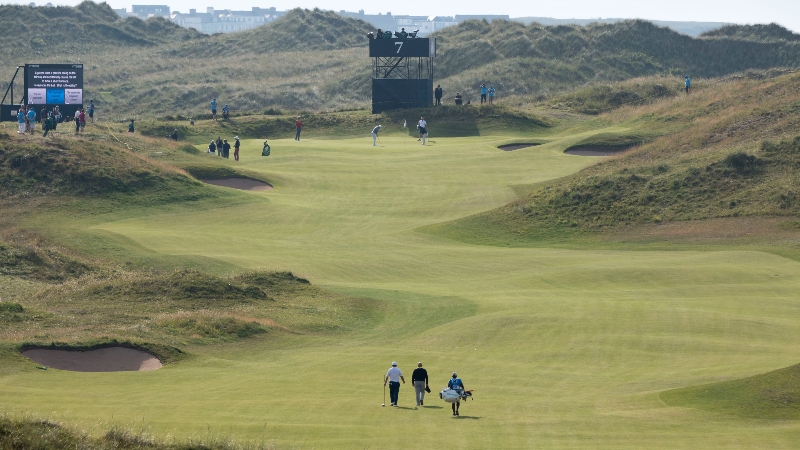 The Field
Everyone is here this week, but Rory McIlroy will garner the most attention. He's the favorite on his home track in the +800 range at most books. He's got a great Open track record and playing on a course he should be familiar with could be both an advantage and a bit of a distraction. We'll see how well he copes with it.
Brooks Koepka is right behind him in the +1000 range. Koepka is always going to be popular at majors. His caddie grew up playing at Portrush and is a member there, so he'll probably have some insight to pass along, as well.
Right behind them are Dustin Johnson, Jon Rahm, and Tiger Woods all in the +1400 range. Rahm has a couple Irish Open wins on his resume, so we know he feels comfortable in this part of the world. Johnson really hasn't been in great form and doesn't have a finish better than 20th since the PGA Championship two months ago. Woods hasn't played since the U.S. Open so we'll see if he's rusty. It's a real concern since he took an extended layoff after winning the Masters and followed it with a missed cut at Bethpage.
There's also a strong group in the +2000s starting with Justin Rose. He's another player who hasn't been in action since the U.S. Open, so rust will be the main concern here. as well. The defending champ, Francesco Molinari, is there at +2500, but he hasn't really been in form since letting the Masters slip away to Tiger.
Xander Schauffele is also at the +2500 number in most places. He's the first player listed that I'd look at adding to a card. He's putting together a strong major resume with four top-fives in 10 career starts. It doesn't seem to matter much about the course type, Xander has found his way into contention.
For now, I'm holding off on adding Xander, but will keep an eye on his odds pre-tourney and might hop on if he drifts a bit. He could also be an interested live add, depending on how Round 1 goes.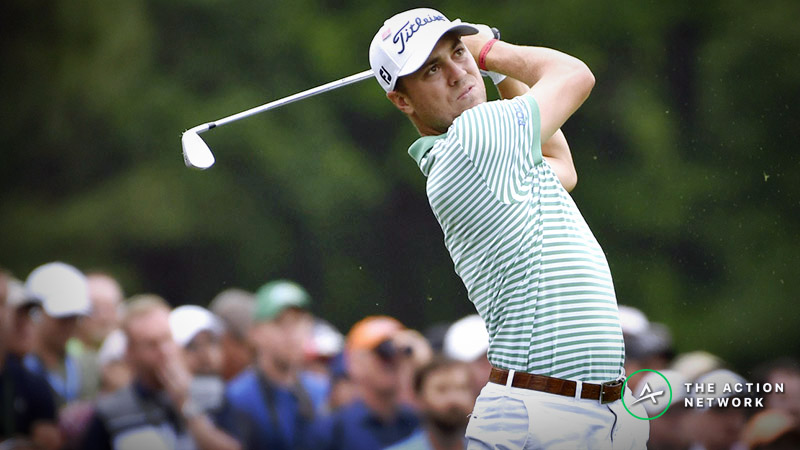 The last guys in this range are Justin Thomas, Henrik Stenson and Tommy Fleetwood at +2800. Thomas is on the card at +4500 already from a few weeks back. If you look hard enough, some there are some numbers in the +3000 range. Anything in the 30s is still a good number for someone of JT's caliber. He had a solid week at the Scottish Open, and the ball-striking has been great since he returned from a wrist injury. We'll just need the putter to cooperate.
Stenson is another guy whose ball-striking is dialed in, but the putter has been even worse off than Thomas. He was as good as anyone tee-to-green in Scotland, but couldn't get anything to fall on the greens. We know if the putter is rolling, he can take apart an Open set up.
Fleetwood has been a popular play at majors, but he seems to have fallen off the radar a bit recently. His form is OK, he's making the weekend and putting up decent results. Maybe without much focus on him this week, he'll work his way into contention.
The Card: Favorites
Justin Thomas +4500 (0.73 units)
How would you rate this article?