Palmetto Championship 2021 Odds, Picks, Predictions: 19 Outrights, Longshots & Sleepers on PGA TOUR
Credit:
Getty Images. Pictured: Rafa Cabrera-Bello, Luke List, Ian Poulter
The 2021 Palmetto Championship kicks off Thursday and features one of the weakest fields of the PGA TOUR schedule with just one week left before the U.S. Open.
We're targeting a handful of golfers in the 40-1 to 60-1 range, including Brandt Snedeker and Harold Varner III.
Get all our favorite 2021 Palmetto Championship picks below.
There's just one tournament between now and the 2021 U.S. Open, and it is the inaugural Palmetto Championship at Congaree Golf Club in South Carolina.
This event takes the place of the Canadian Open on the schedule, which couldn't be held because of COVID-19 travel restrictions to the Great White North.
With no course history to use and a major championship looming, it's anybody's guess how this week plays out. Oh, the joys of betting of golf.
Here are our favorite outright, longshot and prop bets for the Palmetto Championship.
Palmetto Odds & Predictions
---
Skip to: Outrights | Longshots | Props
---
Jason Sobel
Brandt Snedeker +5500 at DraftKings
It's been almost three full years since Snedeker's most recent of nine career PGA TOUR titles, and he's rarely found himself in serious contention since then. So, why here?
First off, there's some form. He's finished 17th-or-better in three of his last five starts. Secondly, he's often played some of his best golf in the Southeast region, winning three of those nine titles here. And lastly, he tends to play well in tough conditions, when grinding out pars isn't such a bad thing.
There's little doubt that his best golf is likely behind him — at 40 and with a game that doesn't match the power of so many other players, it's difficult to envision Snedeker moving into elite territory once again. But I also believe he's very much still capable of winning, especially against a field that doesn't boast many of those big-hitting stars.
Josh Perry
Harold Varner +4000 at FanDuel
There really isn't much that catches my eye this week, but I started my card with Varner at +5000. He's the type of guy who can do everything well, but it's never lined up for him all in the same week.
Over the past four months, he's had events in which he's gained at least four strokes off the tee, on approach, around the greens and with the putter. It's really just a matter of time before things all click for him in the same week.
The North Carolina native should be relatively comfortable in the state's southern neighbor. He was second his last start there at Harbour Town.
Chris Murphy
Keith Mitchell +4500 at DraftKings
Mitchell was my first click this week as he's always a consideration on bermudagrass courses. He also fits the bill as the 7,655-yard Par 71 layout of Congaree Golf Club will favor the longer hitters to some extent, even if it does play firm and fast as intended.
Mitchell has shown time and again that he can contend around difficult tracks and with the best in the world — he did it for his first TOUR win at the 2019 Honda Classic then in his battle after which he finished third to Rory McIlroy at this year's Wells Fargo Championship. This week's field is not in the same stratosphere of those two events, but the large layout and Champion Bermuda is in the same mold at Congaree as it was at Quail Hollow.
As one of the Sea Island guys, I wouldn't be surprised if Mitchell has some experience on this course, and his skillset is right in line with what should fit this track.
All of these factors combine to make the Georgia Bulldog my top play for the Palmetto Championship.
Matt Vincenzi
Ian Poulter +3700 at FanDuel

Poulter is heading to Congaree in excellent form, coming off back-to-back solid performances. The Englishman finished 30th at a difficult PGA Championship and followed it up with a third-place finish at the Charles Schwab Challenge. He gained an impressive 3.9 strokes on approach and 6.3 strokes tee-to-green at Colonial.
Poults has the excellent around-the-green game to compete at what may be a difficult course to get up and down at with steep run-off areas and firm and fast greens. He ranks eighth in the field in his past eight rounds and seventh in putting, with bermudagrass being his preferred putting surface.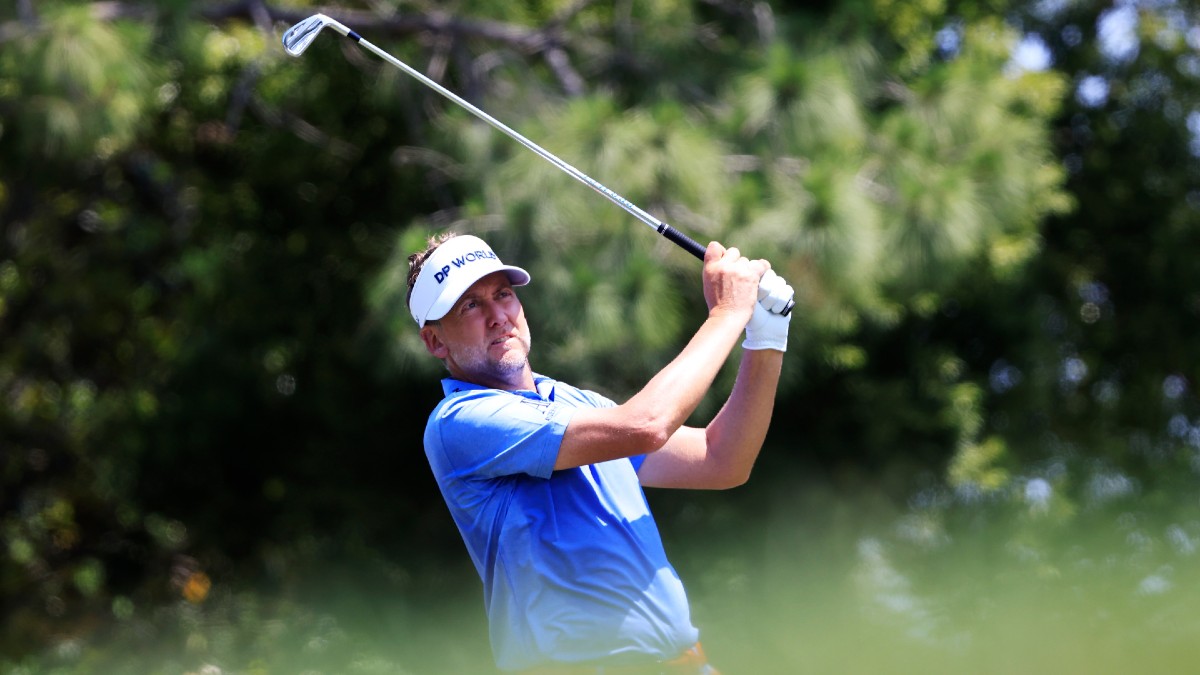 In addition to the excellent form, Poulter is highly motivated to notch a win and make a strong case to join the European team in the Ryder Cup at Whistling Straits.
In a week full of uncertainty, my headline bet is a fiery competitor who is certain to fight for my money at Congaree.
Landon Silinsky
Luke List +7500 at FanDuel
List is one of the few guys playing this week who has experience at Congaree, as according to Golf Digest, he holds the course record here. Obviously that did not come against other PGA TOUR golfers, but with everyone essentially flying blind this week, it's nice that he knows his way around.
Congaree boasts wide open fairways and minimal rough, which is right up List's alley, as he should be able to use his distance to his advantage and won't be penalized for propensity to spray it off the tee.
List is one of the best ball-strikers in this field, ranking No. 3 in SG: Off-the-Tee and 22nd on approach over his past 48 rounds. His putter is what consistently holds him back from contending most weeks, however he does putt better on bermuda compared to other surfaces. Tom Fazio designed this course as he did Corales Golf Course, where List posted a T-8 last September.
The top of the board does not offer much value this week, so getting a premier ball-striker at 75-1 in this weak of a field is a really strong bet.
Rob Bolton
Luke Glover at +4500 at FanDuel
Long-hitting ball-strikers should enjoy themselves at Congaree and the 41-year-old is a long-hitting ball-striker. He's also a Professional Ambassador for the club and attended the tournament's media day a month ago. So, I'm a little surprised that he's at this price anywhere even though he'd be ending a 10-year victory drought to upset the house. Hey, other 40somethings that very thing this season.
This stop is more like TPC Craig Ranch and less like Concession. Both were first-time sites of recent PGA TOUR competition, but there are a couple of dozen in the field at Congaree who have seen the place before. That reinforces the value.
Bryan Berryman
Harris English +3000 at FanDuel
Much has been made about the weakness of this field, and for good reason — it really is brutal. However, weeks like this are a great opportunity to buy low on talented golfers who won't have to wade through dozens of the top players in the world to find their way to the top of the leaderboard come Sunday.
This sets up for one of those spots for English, who has struggled since his victory at the Tournament of Champions back in January. With the reports coming out that this course will be playing firm and fast, holding the elevated greens on approach shots will be challenging. A ton of greens are going to be missed if the reports hold true, so I'll be looking for players who have strong around-the-green and putting statistics.
Over the course of his career, English has proven he is a tremendous short-game player. Recently, that skillset has been on display gaining 11.4 strokes on and around the putting surfaces over his last three events. Combine that with the recent ball-striking performance at the PGA Championship in which he gained 2.3 strokes on approach, I believe he is primed for a breakout performance.
Jason Sobel
Rafa Cabrera-Bello +8500 at DraftKings
RCB is exactly the type of player I like targeting in certain situations.
He's a world-class talent, having ranked as high as 16th at one point, who hasn't been playing anything close to world-class golf. There have been, however, some signs of improvement recently — though not enough to drop his price to a point where he's tough to play.
This is the same theory that has me bullish on the likes of Justin Rose and Rickie Fowler moving forward, only on a smaller scale. I like that improvement to continue for him this week.
Josh Perry
Hank Lebioda +14000 at DraftKings
Lebioda has gained over 10 strokes on his approach shots over the past two events combined, so the iron game appears to be in a good spot. When he's got the putter going with that iron play, it's led to a couple of top 20s over his last three starts.
Chris Murphy
Doc Redman +7500 at DraftKings
If there were ever a week for a young talent to break through, it's in a field like this one. Redman fits the mold of a player who has been on the cusp of that inaugural TOUR win, but has yet to get it done.
The Clemson grad comes into the week off three straight made cuts, including a top-10 finish at the Byron Nelson a few weeks back. He seems to have found something with his biggest weakness, the putter, over the past several weeks as he has gained 1.9 strokes or more on the greens in four straight tournaments.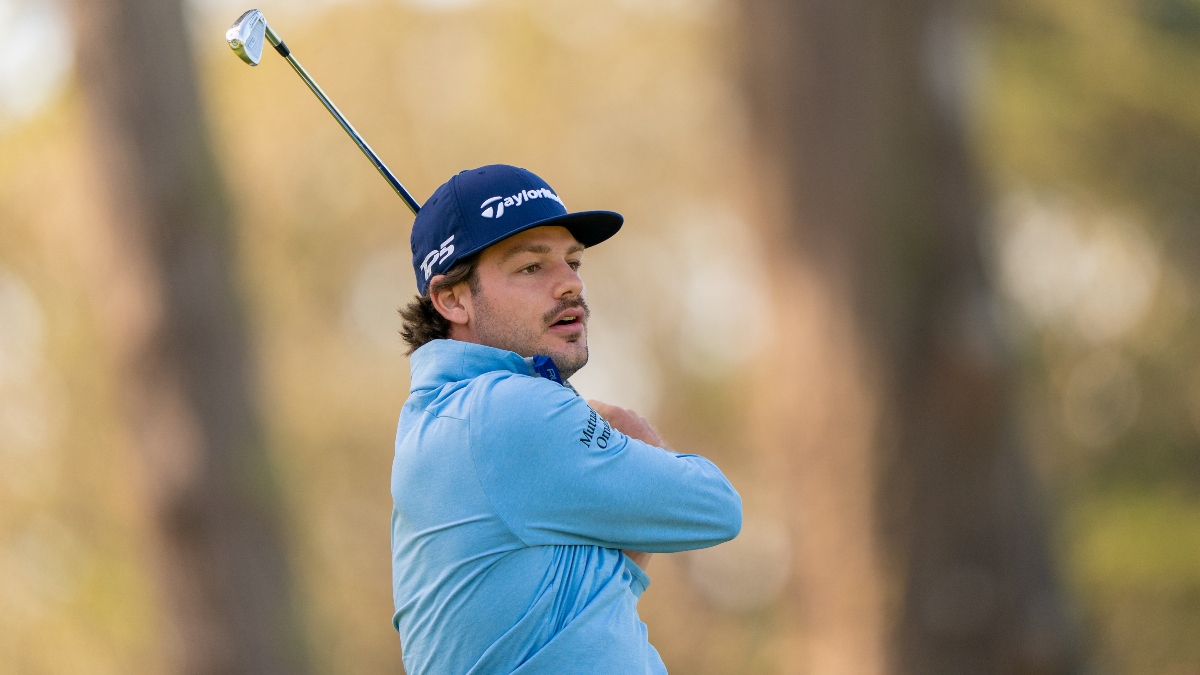 I expect the 2017 U.S. Amateur Champion to feel at home back on the bermudagrass of Congaree Golf Club. I like him to be able to contend throughout the weekend if he can get his normally sharp ball striking to match up with the putting stroke he's found over the past several weeks. This is the type of event where he can make the next big step in his career and we look back to wonder how he was at these odds in a weak field like this.
Matt Vincenzi
Satoshi Kodaira +16000 at DraftKings
Kodaira is historically an absolute wildcard from week-to-week. However, he has been somewhat consistent of late with his past two finishes being an 11th at Wells Fargo and a 13th at the Byron Nelson.
A previous winner on the TOUR, the Tokyo native has what it takes to claim the trophy in a weak field if he finds himself in contention on Sunday. His most recent strong finishes have been powered by a very hot putter, gaining 6.5 and 4.2 strokes in his past two starts, respectively.
He has also been quite solid from tee-to-green in which he has gained strokes in his past four events. If Kodaira can continue his steady play and put together another great putting week, he has a shot to win a tournament that is completely up for grabs.
Landon Silinsky
Tyler McCumber +20000 at FanDuel
McCumber can absolutely send it off the tee, ranking 16th on the PGA TOUR in driving distance this season. That will definitely come in handy this week as Congaree is set to play at over 7,600 yards.
Going back to Corales again, which also measures at well over 7,600 yards, McCumber finished T-18 and T-2 in his last two trips to the Fazio design.
He's been playing some strong golf of late as well, ranking 12th in SG: Approach, 11th in SG: Tee-to-Green and seventh in SG: Ball-Striking all over his past 16 rounds in this field. I like taking chances on some big hitters this week with the wide open fairways.
McCumber is as long as they come, and I'll gladly take my chances at 200-1.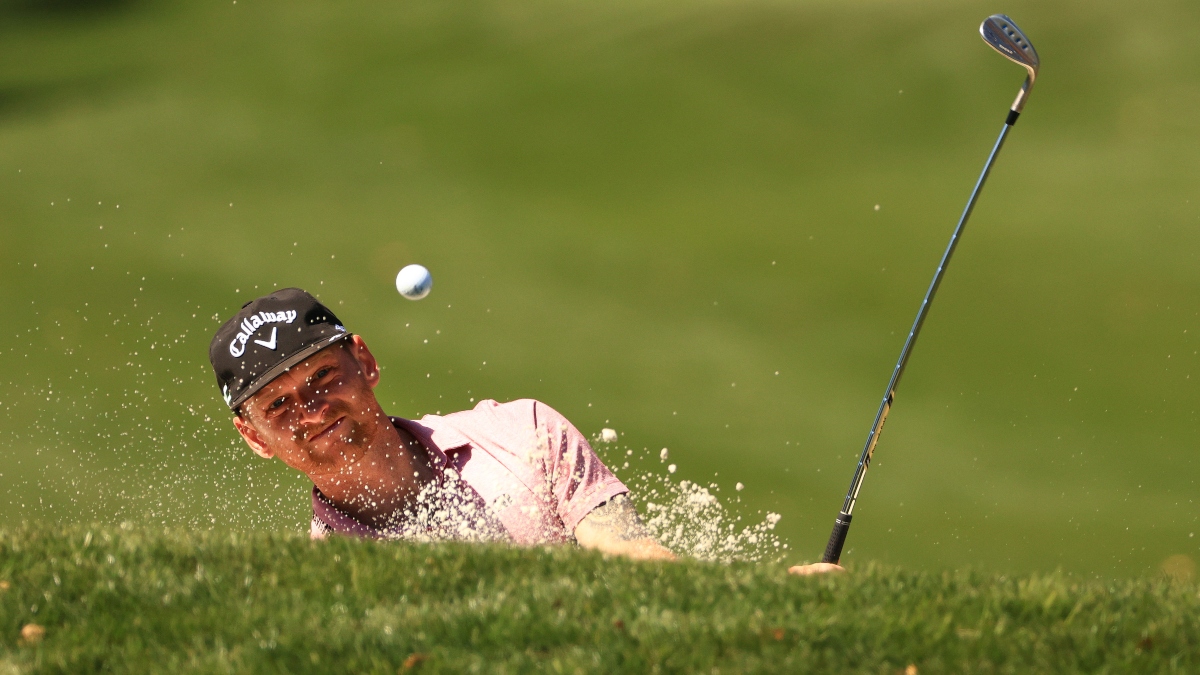 Rob Bolton
Martin Laird +8500 at DraftKings
This is a tough one because the field essentially is nothing but longshots. However, guys with lines that'd already qualify as stretches any other week are bridges too far for me.
The Scot already has a win this season in Vegas and he's fresh off a successful bid to qualify for the U.S. Open through the deepest of the sectionals in Columbus, Ohio. Throughout 2020-21, he's played up to his profile as a sharpshooter tee to green, slotting 20th in fairways hit, T11 in total driving and 22nd in greens in regulation.
In the last event in South Carolina, all he did en route to a T23 at the PGA Championship was lead the field in proximity to the hole and Strokes Gained Approach. He also was T2 in GIR. After a week off, he then took his talents to the Memorial and found the touch on the greens to rank 10th in SG: Putting.
Bryan Berryman
Vincent Whaley +8500 at FanDuel
As a relatively new face out on tour, Whaley has put together a very impressive run of late. He's rattled off four top-30 finishes in a row that have all come in pretty stacked fields.
During this impressive stretch of play, he's gained 4.6 strokes putting and 8 strokes around the green. This skillset will be very valuable this week, as I predict a lot of missed greens given the firm and fast nature of this golf course.
With the field strength lowered, and the hot stretch of play showing no signs of slowing down, Whaley deserves a dart throw this week. I recommend pairing this bet with a top 5 or top 10 bet as well, as you never know how a young gun like Whaley will handle the pressure if he finds himself in contention come Sunday.

---
Chris Murphy
Patton Kizzire Top 5 After Round 1 +900 at BetMGM
Let's get a little weird on an off week and look at the first-round market. BetMGM has been offering some top-5 odds for the first day, and the great thing that makes them different is that they pay all ties in full.
Kizzire is the best player in this field this season in First-Round Scoring Average, and while he is a player I like throughout the event, he really sticks out in this market. We get a nice +900 number on him, and he gets a preferred Thursday morning tee time. Also, Kizzire is one of the best bermudagrass putters on TOUR which gives him the capability to go low in any given round.
I have a hunch that Kizzire, as a nearby Sea Island resident, may have seen this course before, which will give him a leg up when the tournament starts. I'm buying Patton to make a quick bounce back off of his missed cut at the Memorial and to get off to a fast start this week at Congaree.
Matt Vincenzi
Joseph Bramlett Top 10 +900 at FanDuel
Bramlett is a golfer who fits the profile of the type of golfer I am looking for this week. He is extremely long off of the tee, ranking eighth in the field in driving distance. With some mammoth par 4s on the course, it will be a major advantage to be able to get the ball out there at Congaree.
While not a great putter, Bramlett is very good around the green, gaining close to one stroke per round on the field in his past five events. He missed the cut in his most recent event but had his best TOUR start to date in his prior tournament, finishing seventh at the Byron Nelson.
Landon Silinsky
Lucas Glover Top American +1600 at DraftKings
There's a bunch of Europeans who I think can take this thing down this week, especially up top with both Tyrrell Hatton and Matthew Fitzpatrick, but they're way too short to bet outright. We can hedge here by taking Glover as the top American this week. He is a member at Congaree, which should be very helpful since only a handful of guys in this field have ever seen the course before.
We're banking here that Glover outlasts the big four of Dustin Johnson, Brooks Koepka, Harris English and Harold Varner III, which I think is a very attainable goal, especially when you consider how he's been playing of late. Glover has made the cut in nine of his past 10 starts with two top-10 finishes at Colonial and at the Valero in that stretch.
Rob Bolton
Brooks Koepka to miss the cut +480 at FanDuel
We can't get enough of his self-confidence during majors, but that's next week, so let's put our money where his mouth is.
In his last five starts in opens, he's gone MC-MC-MC-Win-MC. (The victory was at TPC Scottsdale four months ago.) The logic is that since he's a force under the brightest lights, he might merely be going through the motions on the side stages where there aren't as many eyeballs.
Bryan Berryman
Hank Lebioda Top 20 +490 at FanDuel
I had to dig a little for this one, but I really like what the recent stats are showing for Lebioda.
He has made his last three cuts, two of which ended in top-20 finishes on difficult golf courses with difficult fields. He gained nearly 10 strokes on approach over those three events, while also gaining strokes on and around the greens.
Lebioda now gets a chance to ride this momentum into a weaker field, in which he's still priced at nearly 5/1 to crack the top 20. I'm willing to ride the recent hot stretch here and hope it's not a flash in the pan from a historically inconsistent golfer.
How would you rate this article?
This site contains commercial content. We may be compensated for the links provided on this page. The content on this page is for informational purposes only. Action Network makes no representation or warranty as to the accuracy of the information given or the outcome of any game or event.