MLB Home Run Derby Odds, Picks, Predictions: Best Bets for How to Back Shohei Ohtani, Joey Gallo & More (July 12)
Credit:
Gregory Shamus/Getty Images. Pictured: Defending Home Run Derby champion Pete Alonso.
Tonight's Home Run Derby promises to be quite the spectable with the league's premiere home run hitters taking swings at the Mile High City.
Our staff has identified a number of angles for how they're betting tonight's event.
Continue reading for our best bets for Monday night's Home Run Derby at Coors Field.
The MLB Home Run Derby is here! The 2021 edition of the pre-All-Star Game competition takes place tonight (8 p.m. ET, ESPN) from Coors Field in Denver.
AL MVP favorite Shohei Ohtani leads a field of sluggers taking aim at the Mile High City, and there are plenty of fireworks in store for fans and bettors alike.
The Home Run Derby also presents plenty of betting value, and our analysts have identified a plethora of their favorite bets to make tonight. From outright winners to matchups, props and more, we've got all your betting needs covered in the lead-up to tonight's event.
Here are our favorite bets from Monday night's Home Run Derby.
Home Run Derby Betting Odds
Player
Odds
Shohei Ohtani
+205
Joey Gallo
+450
Pete Alonso
+500
Matt Olson
+600
Trevor Story
+800
Juan Soto
+900
Salvador Perez
+1000
Trey Mancini
+1200
Odds via PointsBet and as of July 12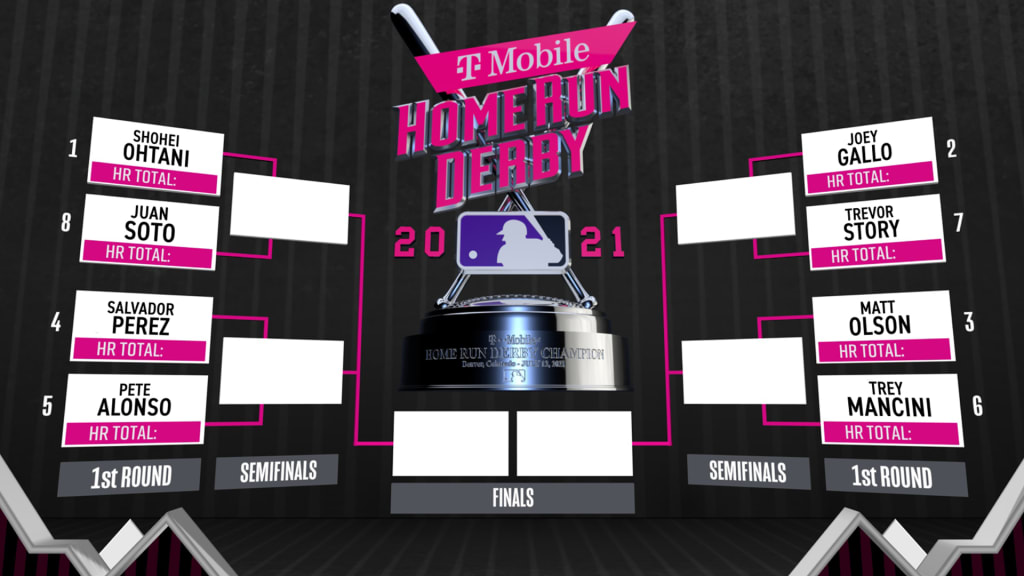 Joey Gallo +475
Available at DraftKings
Matthew Trebby: I'm not going to sit here and act like I know the specific skills required to win the Home Run Derby. The one thing I know is a key factor is pure, raw strength.
Joey Gallo has plenty of that. I'm not saying I expect him to hit one out of Coors Field on Monday night, but I'm not going to rule it out.
Gallo's 414-foot average home run this season is second among Derby participants to only Ohtani, and I think his raw strength is going to give him an edge. Something tells me Ohtani thrives against live pitching, and the fact that his hitting coach said he hasn't taken batting practice this season doesn't help his cause in this environment.
At +475, Gallo is close enough to the rest of the pack that I'll happily back him here.
Matt Olson +750
Available at PointsBet
Brad Cunningham: Olson doesn't jump off the page like Shohei Ohtani or Joey Gallo do, but he's in the top half of the field in expected home runs, run value for the heart of the strike zone, and launch angle.
He's pretty much strictly a pull hitter, so he will have to deal with the 17-foot fence in right field, but I love that he has a high average launch angle and his average home run distance is 407, so the right and right center field fence shouldn't be an issue.
Also, he is on the easier side of the bracket and wouldn't have to face Ohtani or Pete Alonso until the final round. So, I like his price at +750 and would play anything down to +600.
Mike Ianniello: When I am handicapping anything, I believe it is important to use your heart just as much as your brain. So I am going to start with my heart. There is nothing better than rooting for a gorgeous left-handed swing in the Home Run Derby.
Maybe it is Ken Griffey Jr. syndrome, but when I am watching somebody launch baseballs into orbit, I want them to be a lefty. It just looks so much cooler. That is a fact.
So right off that bat (see what I did there), that eliminates Pete Alonso, Salvador Perez, Trevor Story and Trey Mancini for me. Between the left-handed bats of Shohei Ohtani (+300), Joey Gallo (+350), Juan Soto (+500), and Matt Olson (+750), I believe the best value lies with Olson.
Over the last five years, Olson ranks seventh in baseball with a 92.7 average exit velocity and trails only Gallo in this field. His 37 barrels this season ranks seventh in the league.
Olson has a swing tailor-made for a Home Run Derby, with a long, powerful swing that results in almost two-thirds of his career home runs being pulled. With the timed format of the Derby, pulling the ball is the quickest way out of the ballpark to allow hitters to maximize their time.
With a favorable first round matchup against Mancini, and avoiding Ohtani until the Finals, I like the value on Olson to win the Home Run Derby.
D.J. James: This year's Home Run Derby is jam-packed with notable names across the MLB, and everyone seems to forget one of the most consistent power bats on the west coast: Matt Olson.
Olson ranks 10th in all of baseball in barrels per plate appearance. He hits in the 95th percentile when it comes to maximum exit velocity on the season at 115.3 mph, so imagine what this looks like with routine batting practice pitches coming his way.
Oakland ranked second-to-last in runs and home runs as a ballpark last season. It ranked last in Park Factors last season, so this is a variable which plays into Olson's favor. He is literally hitting in one of the hardest ballparks in the majors and still posting high home run totals.
Moving to Denver for the Derby should be a breeze for him, so the +750 line is a favorable line on the opposite side of the bracket from Shohei Ohtani. Take this to +650.
Shohei Ohtani To Make The Finals (+165)
Available at DraftKings
Jeff Hicks: I will keep this short and sweet. Since Statcast has been in our lives (2015), one of the Home Run Derby finalists has been the player with the hardest hit home runs in the first half (credit to Mike Petriello of MLB.com).
That would be Shohei Ohtani. Pretty simple, right?
I will take a perfect history based on an important stat for home runs and Ohtani at plus money to make the final. It is also tough to pass on Ohtani's over/under for longest home run at 499.5 feet (-115) based on his hard-hit rate of home runs.
American League Player To Win The Home Run Derby (-195)
Available at DraftKings
Sean Zerillo: The American League has five of the eight slots in the bracket, including four of the top five betting selections. DraftKings lists the American League as a -195 favorite (66% implied) to win the Derby.
I'm even more bullish on the AL and projected the combined chances for its five representatives at 68% (-212 implied).
The AL is guaranteed at least one spot in the semifinals, with Matt Olson (11.4%) and Trey Mancini (5.6%) squaring off in Round 1, and I have Shohei Ohtani (22.1%), Joey Gallo (16.2%), and Salvador Perez (12.7%) among my top four selections.
I would bet the American League to win the Home Run Derby, up to -200.
Salvador Perez (+175) Over Pete Alonso In The First Round
Available at William Hill
Kenny Ducey: You may have heard about Salvador Perez's impressive resume heading into this contest, and why he probably doesn't deserve to be one of the longshots to win. He has the second-highest average exit velocity among the players in the field, and the second-most expected home runs in baseball at 26.5. Playing in Kansas City and some other pitcher's parks, Statcast projects that he's been robbed of six homers, which is a staggering number.
The only man to top Perez in those categories is Shohei Ohtani, who also has the top average exit velocity on his homers this season at 109.6. According to Statcast, the leader in that category has made it to the finals every single year at the Derby over the last five, and won it three times.
To recommend a true best bet here, I want no part in fading Ohtani, who might have a Josh Hamilton-like magic moment here. I do, however, still want to capitalize on the value with Perez. Therefore, I'm going to take him to topple the defending champ Pete Alonso and set up a semifinal against (presumably) Ohtani.
Perez actually has Alonso beat in the exit velocity department this year and has hit 12 more expected home runs. Of course, with some cheese right down the middle, those numbers might not mean quite as much, but I'm believing in how hard Perez is hitting the baseball. He certainly doesn't deserve these odds.
There's also the added bonus of "guy who will try really hard in a skills competition" here, a la the big men in the NBA skills contest. I expect Perez to leave it all out there.
Shohei Ohtani To Hit The Longest Home Run (+500)
Available at DraftKings
Collin Whitchurch: I don't know if Shohei Ohtani is going to win the Home Run Derby, but his odds to hit the longest home run in the competition are simply too enticing to pass up.
This is less data-driven than it is about the narrative and the stories you hear about what Ohtani can do to a baseball. He's apparently not taken on-field batting practice all season long, and this will be the first time fans truly get to see him swing for the fences with no regard to anything else in his game.
The tales of what he's done in the rare instances when people have seen him try — in Japan or here in the United States — are stuff of legend at this point. There might be other players in the Derby — Joey Gallo, Pete Alonso — with more raw power (maybe, but probably not), but betting against Ohtani at this point feels like a fool's errand.
His outright price has been juiced accordingly because of this, and I don't see a lot of value in him besting the competition and winning the Derby, but I really like his chances of hitting the most jaw-dropping home run of the night. The longest home run prop has also been juiced from opening at 503.5 all the way up to 519.5, so I don't like that, either (although I'd lean over).
Instead, I'll keep it simple and pick the most prolific home run hitter of the season to hit the most prolific home run of the night. Ohtani to do that at +500 is great value, and I'd bet it to +400.
Exact Finals Matchups: Shohei Ohtani vs. Joey Gallo (+450) and Pete Alonso vs. Joey Gallo (+600)
Available at FanDuel
Michael Arinze: It's a bit disappointing that Shohei Ohtani and Pete Alonso are both on the left side of the bracket, because while Ohtani is the odds-on favorite, Alonso is the defending champion.
Ohtani won the 2016 Home Run Derby in Japan as a 22-year-old. There were only two rounds, and while I couldn't find a copy of the official rules, I surmised that in the first round, the participants were allowed 10 outs, but seven outs in the second round. While I'm sure that he's a better hitter now at 27, the change in format does present a different type of challenge that one has to consider.
There's also the challenge of being the favorite, which he'll have to endure. Juan Soto's a player who certainly shouldn't be discounted in the first round. He's not afraid of the big moment, and at 19, he was a key part of Washington's championship run in 2019.
Everything you hear from Alonso is that he's committed to defending his title. It's something that was on his mind just weeks into the season in April following a game at Wrigley Field (during which he hit a home run onto Waveland Avenue.) "If I get invited, I would love to do it," Alonso said. "I would love to defend my title."
This week, Alonso has already proclaimed that he's going to win it again. If anyone knows what it takes to win the competition, it's Alonso. He hit 14 home runs in the first round, 20 in the second, and 23 home runs in the final to win the 2019 crown, and he's certainly a live underdog to defeat Ohtani if both advance to the second round.
I think the best way to play this competition is to play an exact matchup in the finals with either Ohtani or Alonso going up against Joey Gallo from the right side of the bracket. Gallo might have the smoothest swing of any player in his bracket, and he's guaranteed to bat second in every matchup leading up to the final round. He also has a 19.6% barrel rate this season, while his first-round opponent, Trevor Story, has a 9.2% rate. I think Gallo's a much purer home run hitter than any of the other participants on the right side of the bracket, and batting second will be a massive advantage for him.
At FanDuel, you can find odds for the exact matchup in the finals. Ohtani vs. Gallo is currently listed at +450 (play down to +400), with Alonso v. Gallo at +600 (play down to +500). Both deserve strong consideration as a half-unit play.
Joey Gallo Over Shohei Ohtani In The Finals (+1275)
Available at DraftKings
Collin Wilson: Joey Gallo easily falls on the easier side of the bracket from a statistical perspective. Everything from launch angle, exit velocity and barrels has Gallo dominating this half of the bracket.
The public will be all over Shohei Ohtani and for good reason. He leads this field in xHR, average exit velocity, barrels and average home run distance.
The handicap comes in the path of this single elimination tournament. Ohtani versus Juan Soto will be an absolute spectacle, one where Ohtani may hit 30 home runs out of the gate. A potential matchup with 2019 winner Pete Alonso will require another physical and emotional hurdle.
By the time the winner of the left side of the bracket gets to Joey Gallo in the finals, it could be a troubling two minutes. Keep in mind that home runs past 475 feet get extra clock time. That is beneficial for the player with the longest home runs and the highest launch angle, and that is Joey Gallo.
Never forget the 2019 Home Run Derby where Vladimir Guerrero Jr. traded haymakers with Joc Peterson in the semifinals. It ultimately led to Vlad having nothing in the tank for Alonso in the finals.
Take Gallo over Ohtani and throw another half unit on Gallo over Salvador Perez, who's exit velocity and xHR dictate the Royals' catcher has a real chance to get through the bracket.
How would you rate this article?
This site contains commercial content. We may be compensated for the links provided on this page. The content on this page is for informational purposes only. Action Network makes no representation or warranty as to the accuracy of the information given or the outcome of any game or event.