MLB Home Run Props Today | Kerry Carpenter, Christian Walker, Mookie Betts (Friday, July 7)
Credit:
Getty Images. Pictured: Kerry Carpenter, Mookie Betts, Christian Walker
Baseball betting is one of a kind. Each day diving into a full slate is grueling and sometimes edges are nowhere to be found within a side or total. But opportunities to fade pitchers at a lesser degree remains a constant. One of the areas in which I've tapped into this season has been the player prop market. More specifically, looking at hitters and their total bases/home runsprops.
Whether it's a positive split or the wind blowing out in double-digit force, there's always opportunities to back some of MLB's best hitters to find the outfield seats. These bets are rarely not (+) money and home run props can often reach the 6-700 mark, providing plenty of value at a small cost.
That leads us to my new regular feature here at Action Network: DiSturco's Triple 7s. In each article, I will give out my three favorite total bases props and pair that with the odds for those same players to hit a home run.
The idea of Triple 7s comes from the slot machines. That's the ultimate jackpot and it's important to note the rarity of notching that feat. Similar to slots, parlaying all three players below to hit a home run is nothing more than a lottery ticket.
It's important to bet responsibly, and while I do bet every player o1.5 TBs (.5u) and to hit a HR (.1u), you shouldn't overextend yourself with a parlay of all three. It's a long shot for a reason.
But if you're feeling confident or have no plans and want to try and hit Triple 7s, pull the lever and cross your fingers. Today's lottery ticket comes with +14712 odds.
Visit our MLB Props page for a full list of props and odds for every player on the MLB slate each and every day.
Kerry Carpenter, Detroit Tigers
Blue Jays vs. Tigers, 6:40 p.m. ET
Opposing starting pitcher: Alek Manoah (RHP)
It's Alek Manoah's first start in over a month, and after his rocky minor league assignment that included an 11-run outing in the FCL, I will take a stab at fading the right-hander on Friday night. 
A switch flipped for the worse in the offseason for Manoah, who has been consistently tattooed. His xERA is up at 6.85 and he ranks in the bottom 10% of all pitchers in xBA, xSLG and walk rate. 
His barrel rate has nearly doubled from a season ago, when he was an All-Star, and with the sudden lack of control, hard hits and easier pitches have been grooved into the zone for the opposition. 
Manoah doesn't get stung by the long ball as much as you'd think. Rather, he's battered by hits and walks. He didn't even make it out of the first inning against Houston before being demoted (1/3 inning, six runs), but he hopes to put aside his woes against Detroit here. 
I took Kerry Carpenter in Triple 7s a couple weeks ago and the lefty came through for us, so I'm going back to the well here. The numbers when compared to his first stint in the bigs are like night and day. 
The lefty has seen his xBA skyrocket (.264 vs. .211) and his xSLG has neared .500. Carpenter's barrel rate remains in that double-digit mark and 44% of all hits against right-handed pitching have gone for extra bases. 
His numbers at home vs. on the road have been night and day, too. Carpenter has a .371 average and 1.000 OPS at Comerica Park. On the road? He's hitting just .181 with a .671 OPS. 
Carpenter is No. 1 on the team in isolated power (.228) against righties and is by far the most consistent Tiger (124 wRC+). Under the Friday night lights against a struggling Manoah, I am extremely high on the young slugger. 
I'm throwing .5u on over 1.5 total bases (+160) and .1u on HR (+600) at Bet365.

Christian Walker, Arizona Diamondbacks
Pirates vs. Diamondbacks, 9:40 p.m. ET
Opposing starting pitcher: Rich Hill (LHP)
After a breakout season in 2022, Christian Walker has quietly put together an even better year in 2023. 
The slugging first baseman already has as many doubles (25) as last year in 76 fewer games. His average has jumped up to .267, and he sits at a career-best .850 OPS. What's been even more impressive has been his approach at the plate and continual decline in strikeouts. 
I love the matchup for Walker on Friday against left-handed veteran Rich Hill. A third of Walker's hits against southpaws have left the park and 56% total have gone for extra bases. While he has just two hits in July, both have left the park and eight of his last 10 hits have gone for extra bases. 
The aforementioned Hill takes the mound on Friday and I've written all season about fading the 43-year-old. He ranks in the bottom 20% of all pitchers in xBA, xSLG and barrel rate, and he has seen both his chase and whiff rate drop once again. 
After an abysmal start to the season, Hill posted a 3.86 ERA in June. I don't expect that to continue given his advanced metrics and an xERA (5.51) that sits over a run higher than actual. 
I often backed Walker last season against left-handed pitching. The same is true today, but he's made strides against righties, too. That's important for late-game at-bats against a weak Pirates bullpen after Hill leaves the game. Among all Diamondbacks hitters, Walker has been the most consistent — when it comes to wRC+ and ISO — against both sides. 
I'm throwing .5u on over 1.5 total bases (+105) at DraftKings and .1u on HR (+400) at FanDuel.
---

Mookie Betts, Los Angeles Dodgers
Angels vs. Dodgers, 10:10 p.m. ET
Opposing starting pitcher: Griffin Canning (RHP)
Mookie Betts is a mainstay here at DiSturco Triple 7s. 
Batting atop the Dodgers lineup, Betts not only gets to see four to five at-bats, but his continued power surge from last season has been most noticeable. It's not even the All-Star break and Betts already has as many home runs as in 2021, and his .930 OPS is his best since 2018. 
The Dodgers' offense is best against right-handed pitching and Betts is a chief reason. He is second in wRC+ (143) and third in isolated power (.255). 
In general, Betts' advanced numbers have been incredibly impressive. He has a 12% barrel rate — he hasn't reached double digits since 2019 — and has seen both his xBA and xSLG skyrocket when compared to the last couple of seasons. 
His plate discipline has come a long way — he's in the 99th percentile in chase rate — and he's above average in all the major categories: xSLG, hard-hit%, average exit velocity, etc. 
Over the last 15 days, Betts has been on fire, too. He has six home runs and 87% of all hits have gone for extra bases.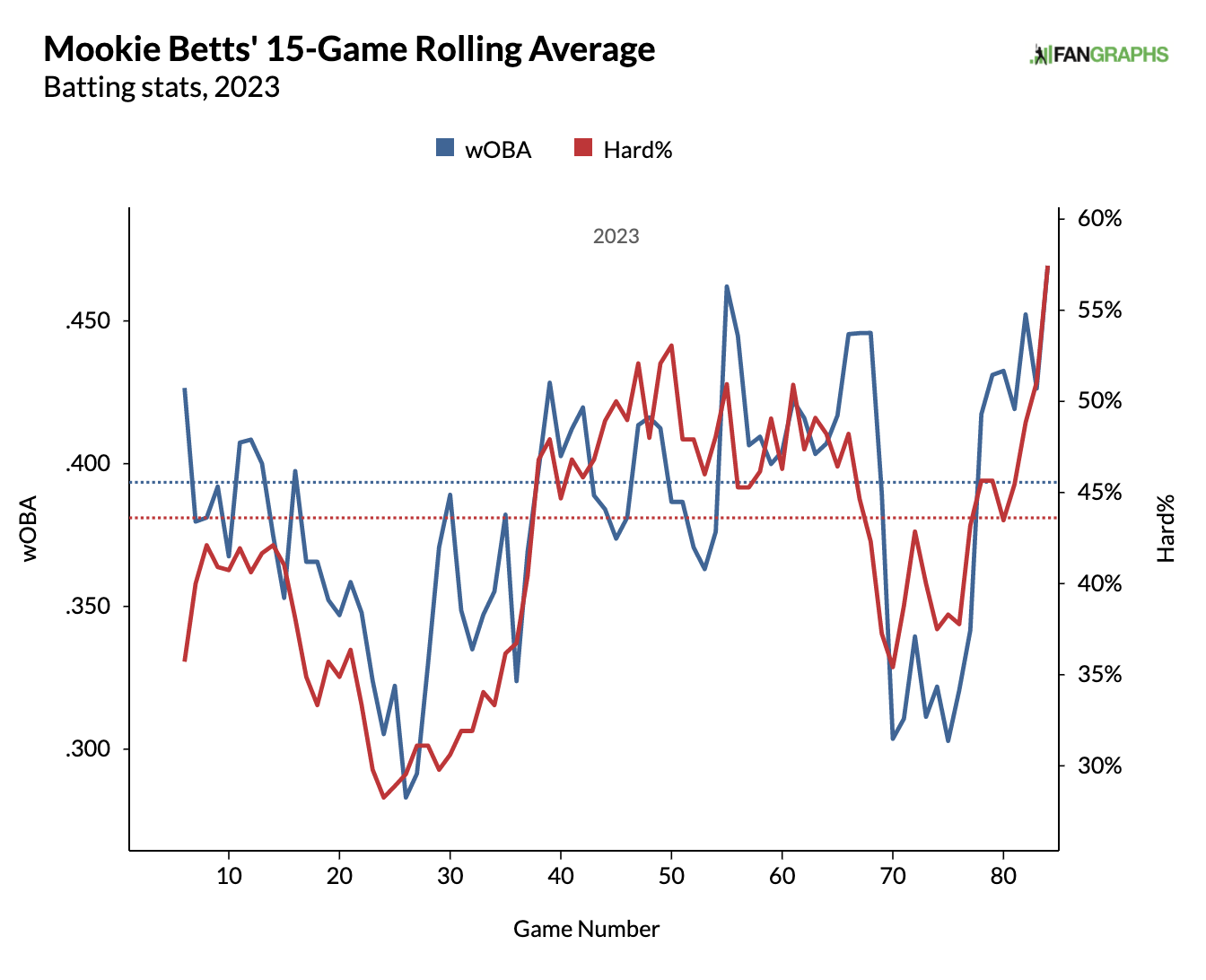 He draws a plus matchup on Friday against Griffin Canning and the banged-up Angels. While Canning is about league average in barrel rate, he is inside the bottom 10% of all pitchers in average exit velocity. Opponents are able to crush him — career-worst 46% hard-hit rate — and he enters with a 1.5 HR/9. 
End your night with some Betts props. The do-it-all superstar has been dominant at the plate and should continue his success in a plus matchup on Friday night. I'm throwing .5u on Betts over 1.5 total bases (+110) and .1u on HR (+360) at DraftKings.
---
DiSturco's Triple 7s Home Run Bets for Friday, July 7
Kerry Carpenter (+600)
Christian Walker (+400)
Mookie Betts (+360)
If you like all three plays and want to try a spin at hitting triple 7s, a $10 parlay of these three home run props at Bet365 comes in at $1,471.20
How would you rate this article?
This site contains commercial content. We may be compensated for the links provided on this page. The content on this page is for informational purposes only. Action Network makes no representation or warranty as to the accuracy of the information given or the outcome of any game or event.