MLB Predictions Today | Expert Picks, Projections for Tuesday, April 11
Credit:
Getty Images. Pictured: Jacob deGrom, Dustin May and Aaron Nola.
Today's MLB slate includes 15 games and plenty of opportunities to find betting value.
Lead MLB analyst Sean Zerillo breaks down his betting card and includes all of his favorite bets below.
Continue reading for Zerillo's breakdown for the MLB slate on Tuesday, April 11th.
Welcome to Opening Pitch, my column that you'll find daily throughout the 2023 MLB season.
My goal for Opening Pitch is to highlight my top daily projection edges for MLB moneylines and totals, share my favorite bets and provide some betting notes and analysis, mainly as I react to opening and overnight lines while using my baseball betting model.
I will look to release a new version of Opening Pitch daily between midnight and 3 a.m. ET; after I enter my overnight bets in the Action Network App and update the MLB projections. Hopefully, you will use it as your morning betting guide to get ahead of the baseball markets.
You can find my projections for every MLB game in the Action App (on both the PRO Projections tab and the game pages) and our Projections Hub (which you can bookmark).
You can also shop for the best lines on our odds page.
Expert Picks for Tuesday, April 11
New York Yankees vs. Cleveland Guardians
Gerrit Cole vs. Hunter Gaddis
First Pitch: 6:10 p.m. ET
We had the pleasure of betting on — and cashing — a juicy plus-money ticket on Hunter Gaddis in Seattle against the Mariners, through limited credit of his own (3 2/3 IP, 5 H, 4 R, 1 BB, 4 K). Gaddis also pitched well in a follow-up start against the Athletics (6 IP, 1 H, 2 BB, 4 K).
Still, it's difficult for me to find a more significant starting pitching advantage from a projection perspective in any individual matchup. Gerrit Cole is a genuine ace — one of the best starters in baseball (2.6 Model Weighted ERA) — while Gaddis (>5 Model Weighted ERA) is below replacement level.
There is one other pitching matchup on this slate with a projection gap wider (Jacob deGrom vs. Jordan Lyles), and you'll see that I have action on the favorite there, too. Still, gaps this wide are a relative rarity throughout MLB's 2,430-game regular season schedule.
I think the line for Cole is a bit short. Cole's F5 (First Five Innings) prices have been consistently actionable since MLB banned the sticky stuff, and he had that awkward press conference where he admitted to cheating.
That press conference occurred on June 8, 2021. Over the remainder of the 2021 season, Cole went 9-8-2 on the F5 line, costing a consistent $100 bettor -$344 (-18.1%).
However, Cole's spin rate crept back the following season (you can guess as to why), and since the start of the 2022 campaign, Cole is 24-8-6 (75%, +$430, 11.3%) on the F5 moneyline, including a 2-0 start to this season.
I projected Cole's F5 moneyline at -200 for Tuesday; you can bet the Yankees F5 line up to -183.
Oakland Athletics vs. Baltimore Orioles
Kyle Muller vs. Grayson Rodriguez
First Pitch: 6:35 p.m. ET
Although many laughed when he took the ball on Opening Day,  Kyle Muller can be an effective mid-rotation starter at the MLB level.
I think that Grayson Rodriguez has ace potential out of the gate. We bet Rodriguez at a juicy price against Jacob deGrom in his MLB debut, and after a rocky first inning, he settled down (5 IP, 4 H, 2 R, 1 BB, 5 K).
The Orioles were projected to have the better bullpen that day, and a tied game favored our plus money bets with both starters removed, but sometimes your bet in precisely the spot you hope to get, and it doesn't come through.
Rodriguez will have off days where his command alludes him, he walks a few hitters and falls apart. Some pitchers — like early career Noah Syndergaard or Shohei Ohtani — seem to have one inning in every outing where they have no command, and whether they find a way to get through that inning determines their pitching line for the day.
I'll watch Rodriguez closely to see whether he has that tendency to lose his command completely for an inning in every outing; otherwise, I expect him to cook.
I projected Baltimore as a 69.1% favorite in the first half; bet the Orioles F5 moneyline to -200.
Boston Red Sox vs. Tampa Bay Rays
Garrett Whitlock vs. Shane McClanahan
First Pitch: 6:40 p.m. ET
I suspect we will continue to find value in betting against the Rays until they lose. When a big winning or losing streak becomes a story in MLB, I typically see a market overcorrection the other way, as public bettors pile on and hope to ride the streak until it ends.
We nearly got the Rays on Monday at +140 in a 1-0 loss, but cashed an easy Under 8.5 to push the game.
You can bet Boston again for Tuesday — down to +145 –– even though Shane McClanahan looks closer to his mid-2022 form when he was the AL Cy Young betting favorite than his late 2022 form when he likely ran out of gas down the stretch.
Play their F5 moneyline to +141.
Garrett Whitlock is an underrated pitcher with a 3.21 xFIP in 152 career innings, a third of a run behind McClanahan, though that gap doubled in 2022.
In other words, I view McClanahan as a true ace but would rate Whitlock with the number twos (albeit over fewer innings), and I doubt most people view him this way.
I expect another close and competitive matchup between these two rivals; hopefully, the Red Sox can pull out a plus-money coinflip this time.
Miami Marlins vs. Philadelphia Phillies
Jesus Luzardo vs. Aaron Nola
First Pitch: 6:40 p.m. ET
I cannot blame Billy Beane for trying to do whatever he could to put his last competitive team over the hump, but dealing a then-injured Jesus Luzardo for a few months of Starling Marte might have set Oakland back from a long-term perspective.
Since the deal, Luzardo has regained health and fastball velocity. Aside from McClanahan (97.5 mph), Luzardo (97.2 mph) is the hardest-throwing southpaw starter in the sport.
Aaron Nola — typically a model of consistency — has gotten roughed up in two starts against the Rangers and Yankees, but still projects as one of the best starters in the National League.
I project a slight edge on the Phillies' F5 line, up to -161 straight or -170 as a parlay piece.
Additionally, bet their full game moneyline to -149.
San Diego Padres vs. New York Mets
Ryan Weathers vs. David Peterson
First Pitch: 7:10 p.m. ET
Among starting pitchers who have taken the ball multiple times this season, Gaddis and Ryan Weathers (career 5.4 ERA, 5.31 FIP, 4.79 xFIP) project as the least effective arms in my model (projection range 4.8 to 5.2 for Weathers). David Peterson has had his moments, but remains in my No. 4 starter tier (4.1 weighted ERA).
Both offenses are elite, but the Mets are particularly poor defensively, too. With rookie Francisco Alvarez behind the plate (presumably against a lefty), perhaps Peterson struggles to get strikes against a challenging and patient lineup on the edges of the zone.
For the first time all season, we have some favorable hitting weather at Citi Field (68 degrees at first pitch, 11.5 mph winds out to right field).
I projected the F5 total at 5.28; bet an Over 4.5 to -145 or an Over 5 to -108.
I would need -114 or better to bet Over 8.5 (projected 9.13); the bullpens should be able to keep things tighter.
Lastly, bet the Mets' F5 moneyline to -132, given the advantage for Peterson over Wweathers.
Chicago White Sox vs. Minnesota Twins
Lance Lynn vs. Pablo Lopez
First Pitch: 7:40 p.m. ET
Pablo Lopez has been an excellent addition to the Twins rotation — alleviating some concerns in Minnesota with Luis Arraez picking up right where he left off and threatening to win a batting title. I'm very excited about our Arraez hits leader bet; I think he will run away with that category if he stays healthy, but I digress.
Despite warm temperatures for this time of year in Minnesota (74 degrees at first pitch), strong winds blowing out to left field (10 mph), and Lynn coming off of one of the worst starts of his career (4 1/3 IP, 9 H, 8 R, 3 HR, 3 BB, 5 K) against the Giants, I do like the F5 Under 4.5 up to -125, compared to my number (3.95).
I would need -108 or better to play Under 8 for the full game (projected 7.49).
And you can bet the White Sox down to +133.
Kansas City Royals vs. Texas Rangers
Jordan Lyles vs. Jacob deGrom
First Pitch: 8:05 p.m. ET
Despite a career 5.1 ERA, Jordan Lyles is the fourth-most profitable F5 (first five innings) pitcher in our Action Labs database (since 2005). For a consistent $100 bettor, Lyles has amassed a $1,960 profit and a 9.1% ROI, despite a 90-101-25 record (47.2%) in the first half of his starts.
Jacob deGrom has only been slightly profitable on the F5 moneyline for his career (104-68-44, +$116, 0.5% ROI) despite a 60.4% win rate.
I have downgraded deGrom since the season began, too. While he was dominant in spring — and showed flashes in his last start against the Orioles — I'm uncertain that deGrom has sustainability beyond four innings in any start; his effectiveness seems to tail off dramatically.
That said, I still projected the Rangers as significant favorites (78.1%, -358 implied) in the first half of Tuesday's matchup. I see nearly a 2.5-run difference in my Model Weighted ERA between deGrom (2.35) and Lyles (4.8). Additionally, Texas has far superior offense, defense and baserunning throughout its position player group.
You can lay Rangers F5 up to -320; or reduce your exposure in a parlay (to -335) with one of my other projected F5 favorite edges on Tuesday's card.
St. Louis Cardinals vs. Colorado Rockies
Miles Mikolas vs. Kyle Freeland
First Pitch: 8:40 p.m. ET
The Cardinals' F5 moneyline is another potential parlay piece on Tuesday's card.
You can bet St. Louis in the F5 market straight, up to -155, or include it in a parlay to -160.
The Cardinals had the No. 1 offense against left-handed pitching last year by a significant margin (131 wRC+; Houston ranked second at 124), and I project them to be nearly as dangerous against lefties right now (129 wrC+). I would amplify that further when Paul DeJong (career 101 wRC+ vs. lefties) returns to the fold, too.
Kyle Freeland has always fared much better against lefties (career 3.93 xFIP) than righties (4.7), and the Cardinals can trot out nine right-handed or switch-hitting bats against him.
Los Angeles Dodgers vs. San Francisco Giants
Dustin May vs. Alex Wood
First Pitch: 9:45 p.m. ET
Dustin May will make the NL All-Star team this season if he stays healthy. And if he has the longevity for a full workload — after tossing 53 combined innings in the past two years — May could be an NL Cy Young dark horse.
The Dodgers needed May to take a huge step forward to solidify a rotation with plenty of question marks beyond Julio Urias.
May had a relatively dominant spring — and posted back-to-back quality starts against a frisky Diamondbacks squad. The underlying metrics and Statcast numbers don't necessarily blow you away thus far, but I see the evolution.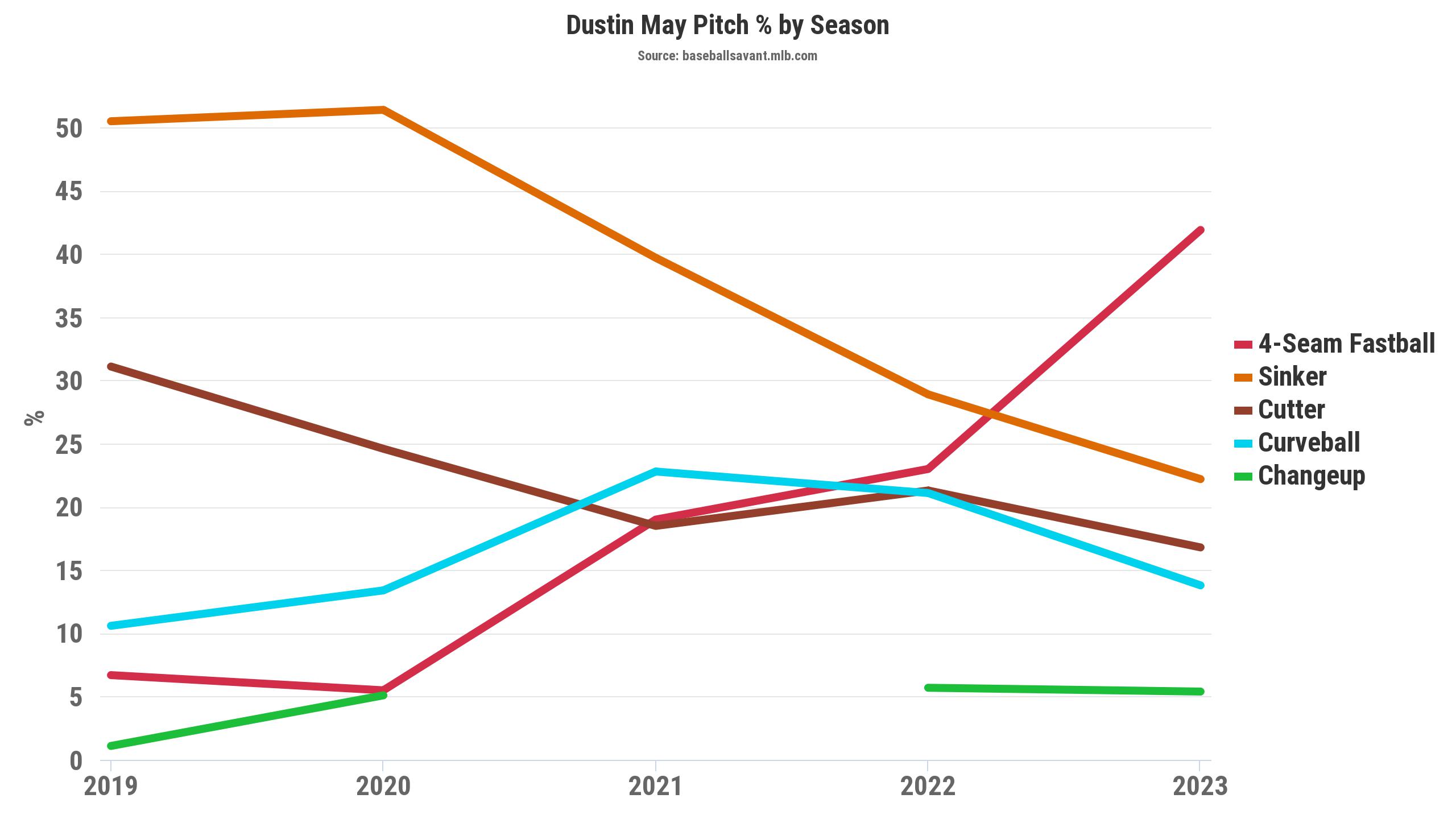 Through two starts, May is throwing his four-seamer more than ever before (42%). Among starting pitchers, he is tied for third with Sandy Alcantara in fastball velocity (97.6 mph), behind Hunter Greene (99 mph) and deGrom (98.6 mph).
But May hasn't dialed back his cutter or sinker usage as much as he's pulled away from his curveball. My first reaction when I saw his new pitch usage was just based on the percentages. "May is now Lance Lynn with five extra ticks of velocity."
Through two starts, May has thrown a four-seamer, sinker, or cutter 80.9% of the time — second behind only Nestor Cortes (85.9%), with Drew Rasmussen (79.2%), Aaron Civale, Luis Garcia (78.6%), and of course Lance Lynn (77.9%), all in the company behind.
I see value in the Dodgers' F5 moneyline up to -141 straight, or -147 in a parlay, and I think May's upside is beyond my current ERA projection (3.45).
Zerillo's Bets for April 11
For additional bet notifications, follow me in the Action Network App. 
Baltimore Orioles F5 (-155, 0.5u) at BetMGM and (-180, 0.25u) at Caesars), bet to -200
Boston Red Sox F5 (+155, 0.5u) at Draftkings (bet to +141)
Boston Red Sox (+160, 0.75u) at BetRivers (bet to +145)
Chicago White Sox (+145, 0.5u) at WynnBet (bet to +133)
Detroit Tigers (+240, 0.25u) at WynnBet (bet to +240)
Jordan Walker, Over 1.5 Total Bases (+110, 0.1u) at DraftKings (Bet to +105)
Milwaukee Brewers F5 (-130, 0.5u) at WynnBet (bet to -131)
New York Mets F5 (-130, 0.5u) at WynnBet (bet to -132)
New York Yankees F5 (-165, 0.5u) at BetMGM (bet to -183)
Parlay (+161, 0.5u) at FanDuel (parlay to -170 and -160): Philadelphia Phillies F5 (-168) / St. Louis Cardinals F5 (-160)
Parlay (+126, 0.5u) at FanDuel (parlay to -147 and -335): Los Angeles Dodgers F5 (-142) / Texas Rangers F5 (-300)
Philadelphia Phillies F5 (-150, 0.25u) at Caesars (bet small to -161)
Philadelphia Phillies (-145, 0.5u) at FanDuel (bet to -149)
San Diego Padres / New York Mets Over 4.5 (-120, 0.5u) at DraftKings (Bet to -145 or 5, -108)
Seattle Mariners / Chicago Cubs, Under 11.5 (+100, 0.5u) at DraftKings (bet to -112)
St. Louis Cardinals F5 (-159, 0.25u) at WynnBet (bet small to -160)
How would you rate this article?
This site contains commercial content. We may be compensated for the links provided on this page. The content on this page is for informational purposes only. Action Network makes no representation or warranty as to the accuracy of the information given or the outcome of any game or event.