MLB Picks Today | Odds, Expert Projections for Tuesday, June 27
Credit:
Getty Images. Pictured: Ha-Seong Kim, Willy Adames, Ryan Jeffers.
Welcome to Opening Pitch, my column that you'll find daily throughout the 2023 MLB season.
My goal for Opening Pitch is to highlight my top daily projection edges for MLB moneylines and totals, share my favorite bets and provide some betting notes and analysis, mainly as I react to opening and overnight lines while using my baseball betting model.
I will look to release a new version of Opening Pitch daily between midnight and 3 a.m. ET; after I enter my overnight bets in the Action Network App and update the MLB projections. Hopefully, you will use it as your morning betting guide to get ahead of the baseball markets.
You can find my projections for every MLB game in the Action App (on both the PRO Projections tab and the game pages) and our Projections Hub (which you can bookmark).
You can also shop for the best lines on our odds page.
Expert Picks for Tuesday, June 27
San Diego Padres vs. Pittsburgh Pirates
Editor's note: Yu Darvish was scratched from tonight's start because of illness. Reiss Knehr will start for the Padres.
Yu Darvish vs. Rich Hill
First Pitch: 7:05 p.m. ET
The Padres have a significant starting pitching advantage, with Yu Darvish (3.62 xERA, 105 Pitching+) facing Rich Hill (5.44 xERA, 98 Pitching+).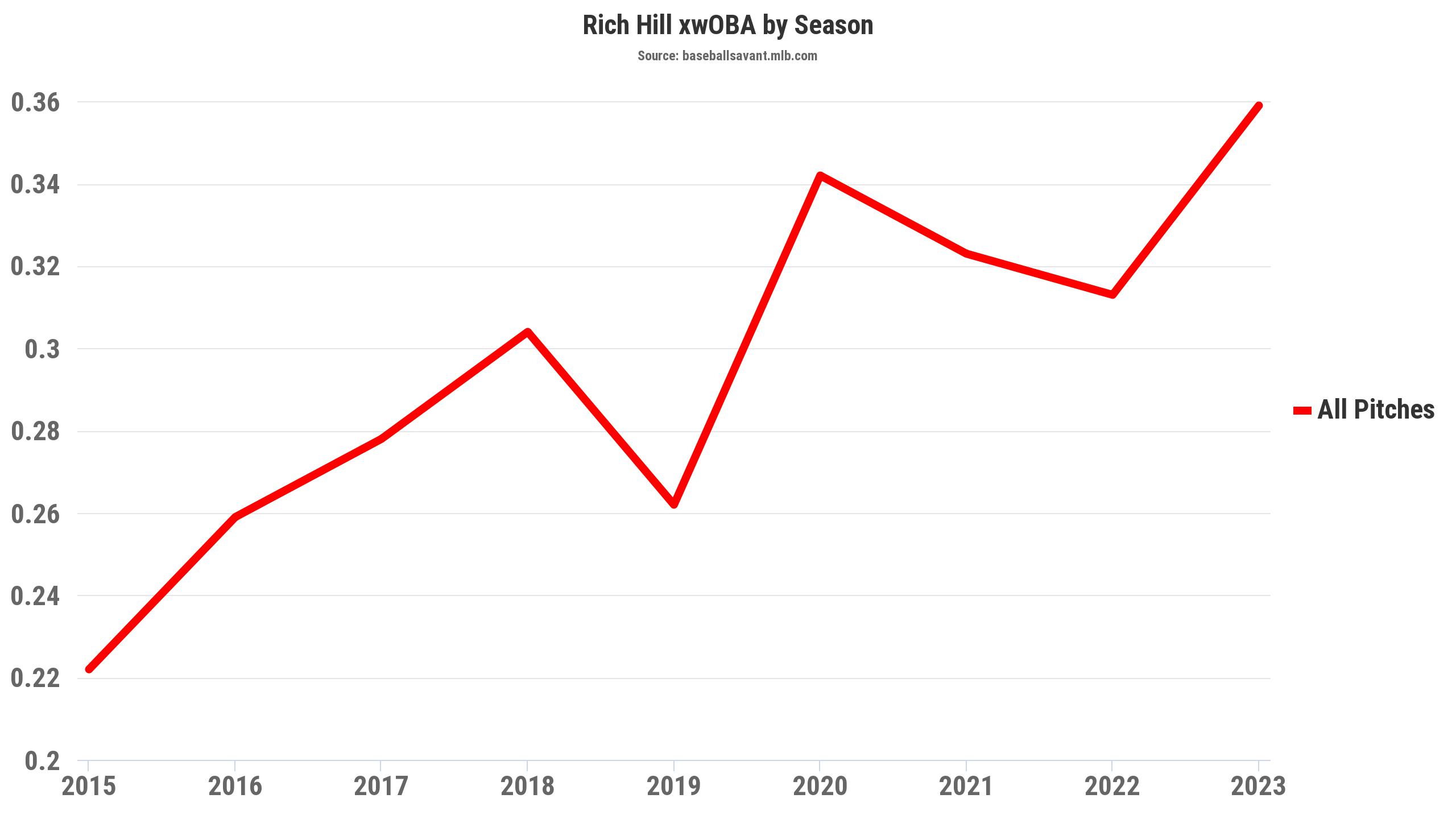 Their offense should have the splits advantage, too. Both teams have performed much better against lefties than righties this season. San Diego ranks fourth (115 wRC+) against southpaw pitching; Pittsburgh ranks 24th against righties (87 wrC+). Still, everything needs to be player-driven; you can't just look at past results without context and use it to predict future outcomes. For example, Manny Machado (135 wRC+ vs. lefties since 2021) missed 20% of their games this season, and Gary Sanchez (career 110 wRC+ vs. lefties) has only gotten regular playing time for a month.
My model thinks the current Padres lineup should be even better against left-handed pitching (projected 124 wRC+) than they have been this season, and it thinks the Pirates (projected 84 wrC+) should be slightly worse than they have been to date against righties.
I project the Padres as -190 favorites (65.6% implied probability) for the first five innings (F5) and would use their F5 moneyline as a parlay piece up to -182.
You can also bet Over 9 to -110 (projected 9.52) or potentially bet a Padres' team total if you can get Over 5 (+100) or Over 4.5 (to -120) compared to my projection of 5.44.
Milwaukee Brewers vs. New York Mets
Julio Teheran vs. David Peterson
First Pitch: 7:10 p.m. ET
Julio Teheran continues to provide solid innings for the Brewers (1.53 ERA, 3.29 xERA, 4.75 xFIP) thanks to solid command (104 Location+). Even after walking four batters in his most recent outing, Teheran's K-BB% is at its best level since 2016.
He has a new weapon, throwing a cutter (85.6 mph) 26.8% of the time. Pitching models view the offering as below average (80 Stuff+). However, the pitch is deceptive – generating an impressive .259 xwOBA thus far.
David Peterson (8.08 ERA, 5.17 xERA) has gotten continually shelled this season, despite underlying indicators (3.42 xFIP, 17% K-BB%) in line with last season (3.83 ERA, 3.94 xERA, 3.31 xFIP, 17.2% K-BB%).
Peterson deserves a lot of the damage he's received, but a .404 BABIP, 58.8% strand rate, and a 25% HR/FB rate are all unsustainable; Peterson's ERA should be in the low 5s, not the low 8s.
He draws a matchup on Tuesday with a Brewers team that has struggled mightily against left-handed pitching (79 wRC+, 29th). Still, I project value on the Brewers against the fading and flailing Mets; I set Milwaukee's projection at +116 (46.4% implied odds); bet that moneyline down to +125.
Minnesota Twins vs. Atlanta Braves
Joe Ryan vs. Bryce Elder
First Pitch: 7:20 p.m. ET
I'll continue to wait for the Bryce Elder regression. The 24-year-old righty is a highly effective pitcher; however, until he increases his strikeout rate, it's difficult to project Elder as anything better than a high-end No. 3 starter (3.78 xERA, 3.66 xFIP). Elder has a built-in bailout machine — a career 54.2% groundball rate — which leads to many double plays.
Still, it's tough to maintain a .271 BABIP and an 82.8% strand rate over any 25-start stretch, let alone the first 25 outings of your career. Even if Elder improves as a pitcher, he may never have a stretch where he runs this hot again (career 2.69 ERA, 3.96 xERA, 3.85 xFIP). Regression comes for everyone; Elder's K-BB% (14.2%) is barely above the league average (14%). Those luck categories are due to regress toward the league average (.296 BABIP, 71.9% strand rate).
Among 115 qualified starting pitchers (min. 50 innings pitched, Joe Ryan ranks first in xERA (2.44) by a wide margin over Zach Eflin (3.04). Pitching models place him 11th (104 Stuff+, 106 Pitching+) among the same group of pitchers but rank Elder 97th (98 Stuff+, 97 Pitching+); in the bottom quartile of starters.
A matchup between right-handed pitchers also helps the Twins' chances; they rank 10th against right-handed pitching (104 wRC+) but 28th against lefties (86 wRC+). Additionally, the Braves have the best offense in baseball against left-handed pitching (138 wRC+) but are somewhat more manageable for a right-handed starter (115 wRC+, 3rd).
Ryan's splitter (27.6% usage rate), which he introduced this season, should be handy; Atlanta has a positive run value against all pitch types except for splitters (22nd).
I projected the Twins as -103 F5 (50.6% implied) and +110 full-game underdogs (47.5% implied). Bet Minnesota in both halves, to +105 (F5) and +120 (full game).
New York Yankees vs. Oakland Athletics
Jhony Brito vs. Paul Blackburn
First Pitch: 9:40 p.m. ET
Paul Blackburn was quietly effective over 21 starts (4.28 ERA, 4.14 xERA, 3.89 xFIP) for the Athletics last season, and he's improved through five turns this year (3.27 xERA; K-BB% up from 12.6% to 19.7%).
Pitching models think that Blackburn (86 Stuff+, 100 Pitching+) and Jhony Brito (5.41 xERA, 93 Stuff+, 101 Pitching+) are comparable. However, Brito doesn't control the strike zone (7.1% K-BB%) and gets barreled up (11.%) nearly twice as often as Blackburn (5.8% career).
The Yankees have struggled offensively without Aaron Judge in the lineup, and until this game hits the bullpens, I think the Athletics should be favored.
I projected Oakland as -106 favorites (51.5% implied odds) for the first half (F5); bet the A's F5 moneyline to +102. The difference in the bullpens (3.89 xFIP, 5th for the Yankees vs. 5.33 xFIP, 30th for Oakland) is stark, and I see a similar gap (1.4 runs) between the projected bullpen ERAs in my model.
Washington Nationals vs. Seattle Mariners
Jake Irvin vs. Bryan Woo
First Pitch: 9:40 p.m. ET
You can use Bryan Woo (2.46 xERA, 106 Stuff+, 110 Pitching+) and the Mariners F5 moneyline (projected 72% or -257 implied) up to -245 to close out our F5 parlay with the Padres F5 moneyline. Alternatively, you can add a straight bet on Mariners F5 up to -233.
Woo has three above-average pitches (102 Stuff+ on his four-seamer, 113 on the sinker, 112 on his slider), and he's brought his solid command from Double-A (seven percent walk rate) straight to the majors.
He's several tiers better than Jake Irvin (4.93 xERA, 97 Pitching+), and while the Nationals' offense is serviceable against lefties (12th in wRC+), they struggle against righties (86 wrC+, 26th).
Zerillo's Bets for Tuesday, June 27
For additional bet notifications, follow me in the Action Network App. 
Cleveland Guardians / Kansas City Royals, Under 9.5 (-115, 0.5u) at FanDuel (bet to -118 or 9, +100)
Cincinnati Reds / Baltimore Orioles, Under 9 (-110, 0.5u) at DraftKings (now bet the Over to 8.5, -110 or pass)
Cincinnati Reds / Baltimore Orioles, Over 8.5 (-110, 0.5u) at Caesars (bet to -110)
Detroit Tigers F5 (+180, 0.5u) at Caesars (bet to +162)
Miami Marlins (+115, 0.5u) at WynnBet (bet to +115)
Milwaukee Brewers (+135, 0.5u) at DraftKings (Bet to +125)
Minnesota Twins F5 (+108, 0.5u) at FanDuel (bet to +105)
Minnesota Twins (+130, 0.5u) at DraftKings (Bet to +120)
Oakland Athletics F5 (+102, 0.5u) at FanDuel (bet to +102)
San Diego Padres / Pittsburgh Pirates, Over 9 (-104, 0.5u) at FanDuel (bet to -110)
Seattle Mariners F5 (-220, 0.25u) at Caesars (small to -233)
Parlay (+130, 0.5u) at FanDuel: San Diego Padres F5 (-174) & Seattle Mariners F5 (-215) (parlay to -182 and -245)
Parlay (+237, 0.5u) at DraftKings: Houston Astros (-115) & Philadelphia Phillies (-125)
Philadelphia Phillies / Chicago Cubs, Under 8.5 (+100, 0.5u) at BetMGM (bet to 8, -110)
How would you rate this article?
This site contains commercial content. We may be compensated for the links provided on this page. The content on this page is for informational purposes only. Action Network makes no representation or warranty as to the accuracy of the information given or the outcome of any game or event.