MLB Picks Today | Odds, Expert Projections for Friday, May 12
Credit:
Getty Images. Pictured: Javier Baez, Paul Goldschmidt and Mackenzie Gore.
Welcome to Opening Pitch, my column that you'll find daily throughout the 2023 MLB season.
My goal for Opening Pitch is to highlight my top daily projection edges for MLB moneylines and totals, share my favorite bets and provide some betting notes and analysis, mainly as I react to opening and overnight lines while using my baseball betting model.
I will look to release a new version of Opening Pitch daily between midnight and 3 a.m. ET; after I enter my overnight bets in the Action Network App and update the MLB projections. Hopefully, you will use it as your morning betting guide to get ahead of the baseball markets.
You can find my projections for every MLB game in the Action App (on both the PRO Projections tab and the game pages) and our Projections Hub (which you can bookmark).
You can also shop for the best lines on our odds page.
Expert Picks for Friday, May 12
Cincinnati Reds vs. Miami Marlins
Graham Ashcraft vs. Eury Perez
First Pitch: 6:40 p.m. ET
Perhaps the projections are low on Perez — a 20-year-old behemoth (6'8, 220 lbs) who makes the 6-foot-5 Sandy Alcantara look small. Four different projection systems put Perez's rest-of-season FIP between 4.51 and 4.62, a far cry from the 2.85 xFIP he posted in six Double-A starts this season (31 IP, 9 BB, 42 K).
Perez can hit triple-digits on his fastball, with excellent movement, alongside a plus changeup and a pair of breakers. Scouting reports also give Perez above-average command; he has ace potential.
And I like that the Marlins — who stand 19-19 through six weeks — are thrusting him into a potential wild card hunt, deciding that he had nothing left to learn in the minors after 23 Double-A starts. They'll hope to complete his development at the MLB level.
While I expect Perez to surpass expectations (and beat those projections), Graham Ashcraft (4.02 xERA in 2022; 4.13 in 2013) is a high-floor arm who will keep the Reds competitive in every start.
I projected Cincinnati at +116 in this matchup coming off their series victory over the Mets. Bet the Reds' moneyline down to +126.
Seattle Mariners vs. Detroit Tigers
Marco Gonzales vs. Matthew Boyd
First Pitch: 6:40 p.m. ET
The Tigers remain a team to target against left-handed pitching, carrying a 101 wRC+ against southpaws since the start of last season, compared to an MLB-worst 75 wRC+ against righties.
And there are few pitchers I love to bet against as much as Marco Gonzales, who has carried an expected ERA north of 4.5 over the past three seasons — close to replacement-level territory.
Matthew Boyd has also pitched better than his 2023 results might indicate (5.28 ERA, 3.79 xERA), and I give the Tigers the starting pitching edge in this matchup.
Bet the Tigers down to -102 (F5) and +111 (full game) in both halves of this contest.
New York Mets vs. Washington Nationals
Tylor Megill vs. Mackenzie Gore
First Pitch: 7:05 p.m. ET
The Mets' starting pitching is falling apart, and they might need Tylor Megill (6.19 xERA) to rediscover his 2021 form (3.85 xERA in 18 starts) to help save their season. Megill's swinging strike rate dropped by about 33% after that excellent rookie year, and his walk rate has also increased, leaving him as a back-end starter on paper rather than the frontline potential he initially showed.
Conversely, Mackenzie Gore is trending toward a breakout season (3.71 xERA) after an extended minor league stay and a rough rookie year in San Diego (4.50 ERA, 5.21 xERA).
Behind Gore, I see a distinct starting pitching advantage for the Nationals, and I would bet their moneylines in both halves against the floundering Mets down to +109 (F5) and +114 (full game).
While the Mets rank as a top-10 offense against right-handed pitching, they fall to a bottom-10 team against lefties — a similar split they carried throughout much of last season.
St. Louis Cardinals vs. Boston Red Sox
Adam Wainwright vs. James Paxton
First Pitch: 7:10 p.m. ET
Fenway Park and a Red Sox team that is an MLB best 24-12-1 to the Over seem primed for a slugfest on Friday night, with warm temperatures (79 degrees at first pitch) and winds blowing out to right field.
James Paxton — who has tossed 21 2/3 innings since 2019 — will make his Red Sox debut after tossing exactly that many innings over six starts in the minors (21 2/3 IP, 18 H, 15 ER, 16 BB, 26 K). Paxton had more walks (5) than strikeouts (4) in his last outing, and he didn't record more than 16 outs in any start. FIP projections have Paxton between 4.34 and 5.11 right now, and it's difficult to forecast anything better after a long layoff and shaky minor-league outings.
Adam Wainwright (3.77 xERA) will make his second start of the season and hope to bring stability to a struggling Cardinals staff. Still, Wainwright showed significant signs of decline last season (4.53 xERA) and in the WBC this spring, and at age 41, he's lost another tick of velocity: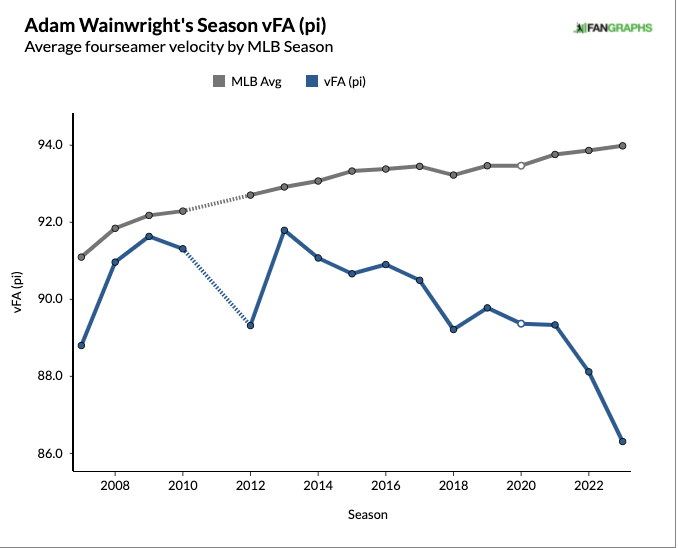 The Cardinals — with Nolan Arenado and Paul Goldschmidt in the middle of their order — hit lefties as well as any team (MLB best 128 wRC+ vs. lefties since the start of the 2022 season). I was able to bet the Cardinals at open at +120, and I like that bet at +109 or better. However, I doubt that line comes back into range.
Still, given the weather, my skepticism of both starters, and the extreme split for both teams, I like the Overs in this matchup. For reference, the Red Sox rank second against right-handed pitching this season (119 wRC+) but 19th against lefties.
I projected the totals at 6.28 (F5) and 11.26 (full game); I bet an F5 Over up to 6 (+100), and a full game Over 10.5 to -119.
Chicago Cubs vs. Minnesota Twins
Drew Smyly vs. Sonny Gray
First Pitch: 8:10 p.m. ET
We have some encouraging Under weather in Minnesota (69 degrees at first pitch with 9-mph winds blowing in from center field), triggering an Action Labs system for wind and weather, which has generated an 8.7% ROI to the Under since 2005.
I projected the total at 7.13 after inputting my weather adjustment for Friday's conditions at Target Field. Bet Under 8 to -122, or Under 7.4 to -104.
Drew Smyly (2.78 xERA) and Sonny Gray (2.84 xERA) are thriving this season, so I don't need any convincing to fire at this Under.
Kansas City Royals vs. Milwaukee Brewers
Josh Taylor vs. Corbin Burnes
First Pitch: 8:10 p.m. ET
Corbin Burnes has looked rather pedestrian through seven starts, carrying a K-BB% less than half his rate from 2022 (24.1%) and nearly one-third of his peak in 2021 (30.4%). Burnes' strikeout rate has dipped more than ten percent, year over year, and his underlying indicators have shot up closer to 4, making Burnes more of a mid-rotation starter than an ace.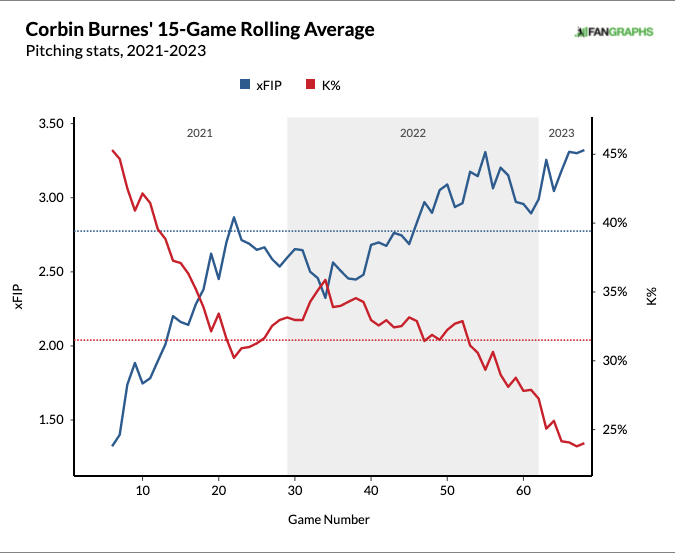 The betting market is still treating him like the latter, and Burnes may have a chance for one of his better night's this season against a Royals' offense that ranks 26th against right-handed pitching (82 wRC+).
Still, I projected the Royals at +177 (36.1% implied) in this matchup, and I would bet Kansas City down to +193 (34.1% implied) at a two percent edge compared to my line.
Thirty-year-old lefty Josh Taylor has proven effective in the bullpen (32.4% strikeout rate, 3.20 xFIP since the start of last season) and will attempt to carry that form into the rotation for Kansas City.
San Francisco Giants vs. Arizona Diamondbacks
John Brebbia vs. Ryne Nelson
First Pitch: 9:40 p.m. ET
As I mentioned on Thursday, I expect to bet on Arizona and against San Francisco throughout most of their season series. The Diamondbacks own a distinct advantage in the two areas most benefitted by the new ruleset: speed and defense.
I projected Friday's matchup as a coin flip, and you can bet the Diamondbacks at +107 or better.
John Brebbia will open for the Giants ahead of Alex Wood (4.00 xERA in 2022), who is likely stretching out in his first start off of the IL.
Ryne Nelson has thrived on weak contract through ten major league starts (4.47 ERA, 3.69 xERA), and Arizona's elite defense should help to raise his floor. I'm happy to continue betting the Snakes at plus money at home.
Zerillo's Bets for Friday, May 12
For additional bet notifications, follow me in the Action Network App. 
Arizona Diamondbacks (+110, 0.5u) at WynnBet (bet to +107)
Cincinnati Reds (+130, 0.5u) at WynnBet (bet to +126)
Detroit Tigers F5 (+100, 0.5u) at BeTMGM (bet to -102)
Detroit Tigers (+125, 0.5u) at DraftKings (bet to +111)
Kansas City Royals (+200, 0.5u) at WynnBet (bet to +193)
New York Yankees / Tampa Bay Rays, Under 8 (+105, 0.5u) at Caesars (bet to -102 or 8.5, -120
St. Louis Cardinals (+120, 0.5u) at DraftKings (bet to +109)
St. Louis Cardinals / Boston Red Sox, F5 Over 5.5 (-115, 0.5u) at FanDuel (bet to -135 or 6, +100)
St. Louis Cardinals / Boston Red Sox, Over 10 (-120, 0.5u) at WynnBet (bet to 10.5, -119)
Washington Nationals F5 (+110, 0.5u) at FanDuel (bet to +109)
Washington Nationals (+115, 0.5u) at WynnBet (bet to +114)
How would you rate this article?
This site contains commercial content. We may be compensated for the links provided on this page. The content on this page is for informational purposes only. Action Network makes no representation or warranty as to the accuracy of the information given or the outcome of any game or event.