MLB Odds, Expert Picks: Projections & Predictions for All 10 Monday Games
Credit:
Getty Images. Pictured: Mookie Betts, Nathaniel Lowe, Elly De La Cruz.
After a number of afternoon games, Monday's MLB slate features 10 more matchups.
MLB analyst Sean Zerillo broke down plenty of Monday showdowns and came through with picks for Rays vs. Rangers and Yankees vs. Angels.
Check out all of Zerillo's picks and projections for Monday's MLB games below.
Welcome to Opening Pitch, my column that you'll find daily throughout the 2023 MLB season.
My goal for Opening Pitch is to highlight my top daily projection edges for MLB moneylines and totals, share my favorite bets and provide some betting notes and analysis, mainly as I react to opening and overnight lines while using my baseball betting model.
I will look to release a new version of Opening Pitch daily between midnight and 3 a.m. ET; after I enter my overnight bets in the Action Network App and update the MLB projections. Hopefully, you will use it as your morning betting guide to get ahead of the baseball markets.
You can find my projections for every MLB game in the Action App (on both the PRO Projections tab and the game pages) and our Projections Hub (which you can bookmark).
You can also shop for the best lines on our odds page.
Expert Picks for Monday, July 17
Los Angeles Dodgers vs. Baltimore Orioles
Emmet Sheehan vs. Grayson Rodriguez
First Pitch: 7:05 p.m. ET
Emmet Sheehan has a 3.25 xERA in a limited sample (20 2/3 innings), but pitching models view him favorably, with a 105 Stuff+ rating and two above-average offerings (115 fastball, 100 slider).
Emmet Sheehan strikes out three and spins six NO-HIT INNINGS in his MLB debut!

Before tonight, the No. 13 @Dodgers prospect had never pitched above the Double-A level. pic.twitter.com/Tqi3ky8AS9

— MLB Pipeline (@MLBPipeline) June 17, 2023
Grayson Rodriguez posted a 103 Stuff+ number across 45 innings thanks to three above-average offerings, but struggled with command en route to a 7.35 ERA. His 16.6% strikeout minus walk rate was better than the league average (14.1%). A pitcher with those types of strikeout and walk numbers would typically generate an ERA in the low fours or high threes (3.91 xFIP).
However, Rodriguez allowed home runs at an unsustainable (13 in 45 1/3 innings, or 2.58 HR/9) but not necessarily undeserving clip (6.01 xERA).
Both young pitchers offer a wide range of outcomes against two top-tier offenses; the Dodgers rank fourth against righties (114 wRC+) this season, while Baltimore ranks eighth (107 wRC+).
Perhaps the Orioles have the late-game bullpen advantage after giving Felix Bautista and Yennier Cano a breather in a tight game on Sunday. The Dodgers used a trio of arms — Brusdar Graterol, Evan Phillips and Alex Vesia — on both Saturday and Sunday.
Still, I projected the Dodgers as -128 favorites for the first five innings (F5) and -118 favorites for the full game. Bet the Dodgers to -118 (F5) and -110 (Game).
San Francisco Giants vs. Cincinnati Reds
Logan Webb vs. Brandon Williamson
First Pitch:  7:10 p.m. ET
After a down 2022 season underneath the hood (14.5% K-BB%, 3.59 xERA, 3.31 xFIP) compared to his breakout 2021 campaign (20.5% K-BB%, 3.18 xERA, 2.79 xFIP), Logan Webb has cut his walk rate to a career-best 4.6% and his strikeouts have moved back towards 2021 levels. He is squarely in the NL Cy Young conversation (fourth in NL Pitching WAR; two months with a sub 1.5 ERA, including July).
Since Elly De La Cruz arrived in the majors in early June, the Reds rank ninth offensively (108 wRC+). They have 55 steals — 17 more than any other team — over that span. Webb has permitted 41 career steals on 55 attempts, which is a reasonably high success rate, and I expect the Reds to deploy baserunners aggressively against him.
Brandon Williamson (5.67 xERA) has looked better with each major league start. His minor-league numbers (6.39 xFIP in Triple-A) didn't inspire any confidence, and projection systems remain low on his current ability (projected FIP range 5.15 to 5.75). Still, Williamson has a 4.25 xFIP in his past five starts (20 IP, 6 BB, 17 K), and improved command (100 Location+) has raised his floor.
Offensively, the Giants project much better against right-handed pitching (103 wRC+, 13th) than southpaws (94 wRC+, 24th), so perhaps Williamson can continue on his current run. Hopefully, he'll implode enough to cash our total instead if he doesn't.
Bet the Reds to +135, and play the Over 9.5 to -116, compared to my projections of +125 and 10.2, respectively.
Tampa Bay Rays vs. Texas Rangers
Shane McClanahan vs. Dane Dunning
First Pitch: 8:05 p.m. ET
McClanahan left his last start on June 30 with a back issue and hasn't pitched since, but his strikeout rate was trending in the wrong direction even before that outing.
In his first 12 starts of the season — through the end of May — McClanahan posted a 29.1% strikeout rate and was above 25% in all but one start. In five starts in June, the strikeout rate dipped to 17.8% and never surpassed 22% in any individual outing. His Stuff+ dropped from 113 to 108 between those two samples, and his velocity dipped slightly too. That injury might have been ailing McClanahan longer than his last outing. Zoom out, and a pattern emerges: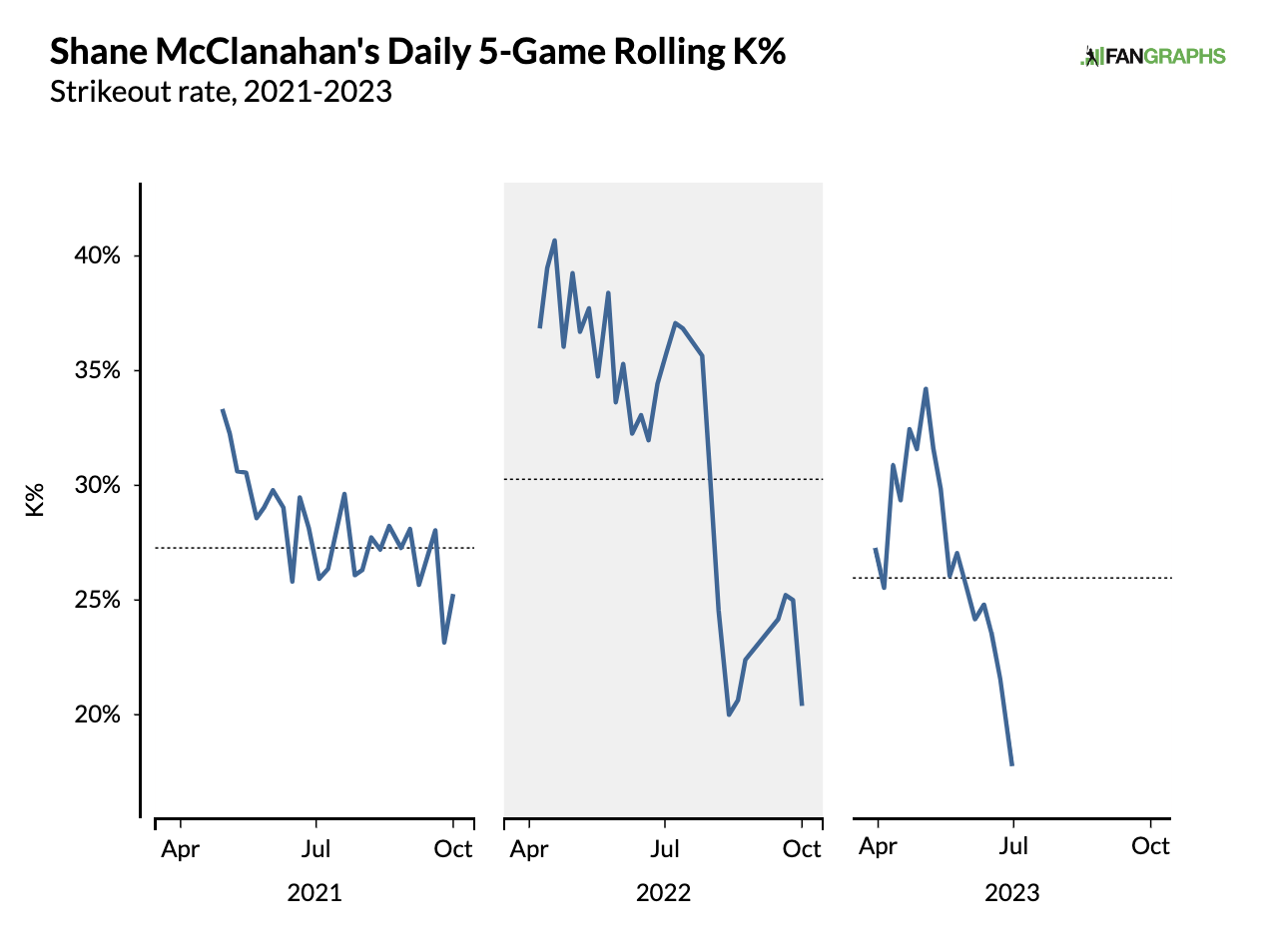 The Rangers present a problematic matchup even for a fully healthy McClanahan. Texas ranks second against right-handed and left-handed pitching this season, and although the Rangers perform better against lefties (133 wRC+), McClanahan carries reverse splits (career 3.70 xFIP vs. righties, 4.64 vs. lefties).
Dane Dunning (4.72 xERA, 98 Pitching+) is a severe regression candidate (2.84 ERA, .268 BABIP, 77.8% strand rate, 6.5% HR/FB rate) with decent command but minimal strikeout ability (bottom 15% among starting pitchers). He permits far too many balls in play to continually emerge unscathed, and when his luck categories regress toward his career numbers (.304 BABIP, 12.5% HR/FB rate), teams will score in bunches against him.
Like McClanahan, Dunning has a tough draw against a Rays offense that ranks first against right-handed pitching (121 wRC+) on the season, although they started hot early and rank 11th (111 wRC+) over the past 30 days. Bet McClanahan to record Under 5.5 strikeouts up to -125.
And once this game turns to the bullpens, the Rangers should have the pitching advantage.
Bet Texas to even money in what we hope is a higher-variance slugfest. And add the Rangers' F5 moneyline at +112 or better.
Detroit Tigers vs. Kansas City Royals
Matt Manning vs. Jordan Lyles
First Pitch: 8:10 p.m. ET
While Jordan Lyles has made waves for his 20-loss potential, his xERA (4.84) is essentially the same as in 2022 (4.94). Lyles' strand rate (53.1%) has moved from just about league average to nearly 20% below average, while his home run rate has skyrocketed. If his BABIP (.256) were also closer to his career mark (.302), Lyles' ERA (6.42) might be over nine.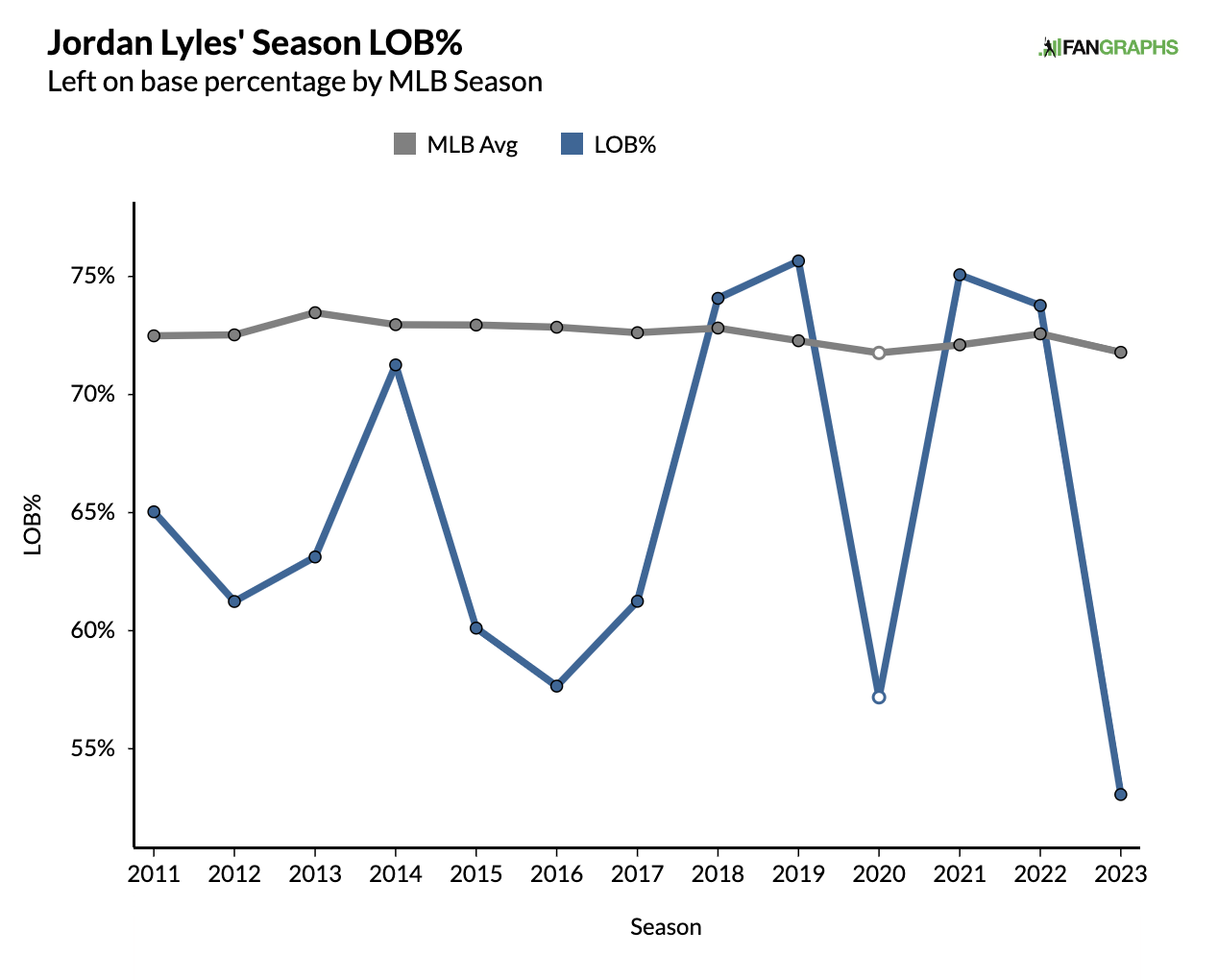 Still, pitching models place Lyles at a 97 Pitching+ figure — right in line with last season's mark — while Matt Manning (4.41 xERA) stands at 100 in five starts at 29 innings since returning from the IL.
Both starters offer an above-average slider alongside an otherwise subpar repertoire, but Manning has slightly better command. Otherwise, I don't project a significant difference between them (4.7 Model Weighted ERA for Manning; 5.15 for Lyles). They are a No. 5 starter and a replacement level arm, respectively.
These teams feature the two worst offenses against right-handed pitching this season (84 wRC+ for Detroit, 76 for Kansas City) and represent relatively soft matchups for either starting pitcher.
I projected the total at 8.66; bet Under 9.5 to -122 or Under 9 to -103.
Additionally, bet the Royals to +106 (48.6% implied); I set Kansas City as slight home favorites (projected -102, or 50.6% implied odds).
New York Yankees vs. Los Angeles Angels
Luis Severino vs. Griffin Canning
First Pitch: 9:38 p.m. ET
Both starting pitchers in this matchup have higher-than-average blowup potential.
Luis Severino has permitted 19 hits and 16 runs across his past two outings (combined 6 2/3 IP); his velocity level has bounced around this season, from as high as 98 mph on May 27 to a low of 95.2 mph on July 1. It re-spiked to 96.6 mph in his last outing on July 6. Still, Severino got hammered by the Orioles, even though his Stuff+ bounced back from 76 to 104 between the two starts.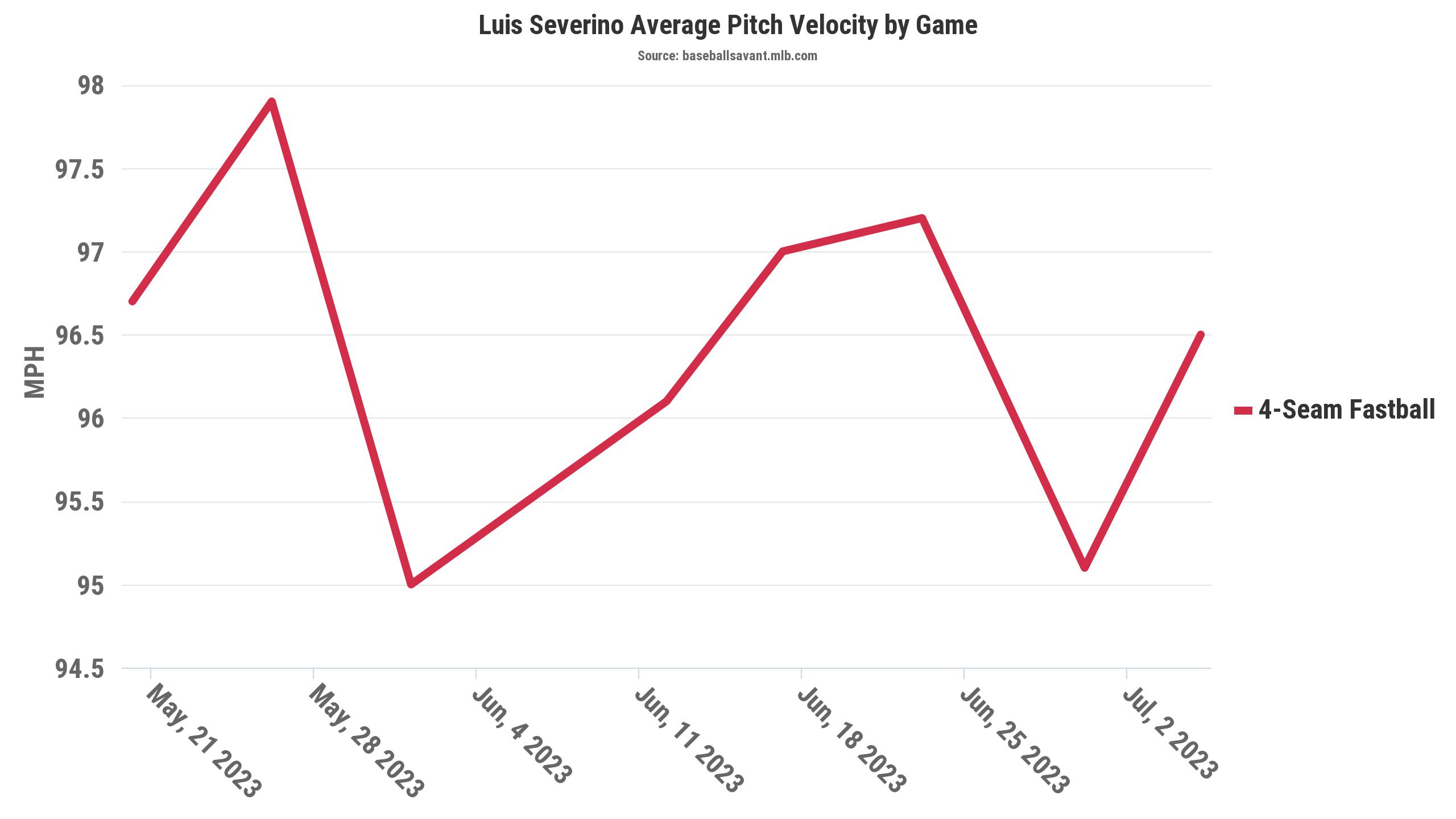 The Angels have hit even without Mike Trout in the lineup (109 wRC+ since his injury). They have a top-six offense against both right-handed and left-handed pitching.
Griffin Canning (4.29 xERA) was highly shaky in his last outing against the Dodgers (2 2/3 IP, 5 H, 4 R, 1 BB, 0 K) and has continued to permit an abundance of home runs (29 in his past 27 starts). Even though the Yankees have struggled on offense (27th in wRC+) without Aaron Judge in their lineup, Canning is a league-average arm, and his longball issue lowers his potential floor in any outing.
I projected the total at 8.8 runs; bet Over 8 to -122 or Over 8.5 to -103.
Zerillo's Bets for Monday, July 17
For additional bet notifications, follow me in the Action Network App. 
Cincinnati Reds (+140, 0.5u) at WynnBet (bet to +135)
Cincinnati Reds / San Francisco Giants, Over 9.5 (-115, 0.5u) at DraftKings (bet to -116)
Kansas City Royals (+115, 0.5u) at WynnBet (bet to +106)
Kansas City Royals / Detroit Tigers, Under 9.5 (-115, 0.5u) at DraftKings (bet to -122 or 9, -103)
Los Angeles Dodgers F5 (-104, 0.5u) at FanDuel (bet to -118)
Los Angeles Dodgers (-105, 0.5u) at DraftKings (bet to -110)
Minnesota Twins (+130, 0.5u) at WynnBet (bet to +125)
New York Yankees / Los Angeles Angels, Over 8 (-120, 0.5u) at DraftKings (bet to -122 or 8.5, -103)
Oakland Athletics F5 (+140, 0.5u) at Caesars (bet to +127)
Shane McClanahan, Under 5.5 Strikeouts (-110, 0.25u) at BetMGM (bet to -125)
Texas Rangers F5 (+114, 0.5u) at FanDuel (bet to +112)
Texas Rangers (+110, 0.5u) at WynnBet (bet to +100)
How would you rate this article?
This site contains commercial content. We may be compensated for the links provided on this page. The content on this page is for informational purposes only. Action Network makes no representation or warranty as to the accuracy of the information given or the outcome of any game or event.